Mujadara Recipes - Authentic Lebanese Mujadara with Rice, Lentils, Onions
Lentils are usually something you steer well clear of, and avoid with relish. However, the classic Lebanese Mujadara is a stellar exception.
Combining the lentils with rice and dark brown, caramelized onions makes an appealing dish that tantalizes the senses - combining aroma, taste, visual appearance and texture. The aroma lingers and permeates into the memory banks.
Mujadara is made from lentils, rice (or cracked wheat, Bulgur or even Quinoa or chick peas). It can be served moderately hot, or at room temperature. It can be combined with other dips and Lebanese dishes as a mezze, or and appetizer, often served with herbs and yogurt.
Mujadara is easy to make and is very versatile as you can use whatever ingredients you have in you kitchen at the time.
It makes a great entrée, side dish, main meal served with dips and Lebanese bread, and a fabulous snack.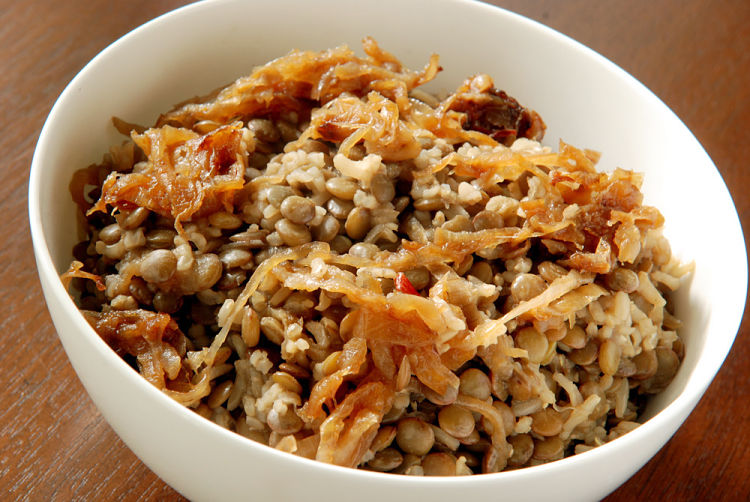 Tips for Making Homemade Authentic Mujadara
Cracked wheat can be used in place of the rice, and you can use brown rice to boost the nutrients and taste.
The mixture can be blended after adding the Caramelized onions, but this ruins the classic texture that many people love.
The onions should be caramelized so that they are very dark brown, but not burnt. If you go too far the burnt onions can cause a bitter taste and this will ruin the dish. Also the burnt onions won't disappear magically into the cooked lentils, like the soft unburnt ones do.
Onions with burnt edges are also undesirable. So it is worth taking the time to get the onions cooked correctly.
Mujadara is delicious eaten with torn pieces of your favorite flat bread and a nice green salad.
Simple, Authentic Mujadara Recipe
1 tablespoon olive oil
1 cup long grain rice, brown rice (or coarse cracked wheat, add extra flavor)
4 cups diced brown onion
1/4 cup canola oil (or similar)
1 cup of large whole, brown or green lentils, well rinsed
salt and pepper to taste
For the Optional Fried Onion Ring Garnish
1 large onion cut into very thin rings
grape seed or rice bran oil for frying
Put the lentils and 2 cups of water into a small saucepan. Using high heat, bring to the boil, then reduce the heat and simmer gently, stirring occasionally, until lentils are just about cooked. Don't overcook them or they will be mushy. Cooking time is 10-15 minutes depending on the size of the lentils. Remove from heat. Meanwhile, heat the canola oil over medium high heat in a large, heavy pan, with a lid. Add the onions and cook, while stirring until the onions start to get a deep golden brown color. Cook for 10 minutes, add a pinch of salt. Lower the temperature and cook for another 10 minutes, stirring frequently to stop the onions burning. Sprinkle with a pinch of salt as the onions cook. Remove the pan with the onions from the heat and add 2 cups of water. put the pan back on the stove, bring to a boil, then reduce heat and simmer for 5 more minutes. This will help soften the the onions and the liquid will become golden brown.

Add the rice and partly-cooked lentils to the onion mixture in the pan and bring to a boil. Sprinkle with salt and pepper. Reduce the heat to low and cook until all the liquid has been absorbed into the rice and the lentils have finished cooking. Don't overcook as you want the rice and lentils to still have texture. Serve into bowls and garnish with onion rings cooked as described below.

Heat the canola oil over high heat in a small saucepan. Test the temperature with a small piece of onion. When the piece causes many bubbles to form around it and the onion floats to the top the oil is ready. Using small batches, fry the onion rings until crisp and golden brown. Remove each batch when cooked and drain on paper towel. Serve the crisp brown onion rings on top of the mujadara.
Spicy Mujadara Recipe
3 white onions, sliced into 1/4-inch (6mm) rings
1/4 cup canola oil
2 tablespoons olive oil
1 teaspoon salt
3/4 cup water
3/4 cups white rice, rinsed (or brown rice)
1 tablespoon garlic powder
1 1/2 tablespoon ground cumin
1 teaspoon salt
2 cups water
1 cup dry lentils (green, orange or brown), washed and rinsed
Put 2 cups water, 1 teaspoon salt, garlic powder, cumin in a pot, add the lentils, bring to the boil and then lower the heat. Simmer on very low heat for 20-30 minutes until the lentils just begin to soften. Add the rice, 1 teaspoon of salt, 3/4 cup water and the olive oil. Cover the pot and cook gently for about 40 minutes until both the rice and lentils have softened (but don't over-cook).
Using the method described above, or a very low cooking technique to brown the onions until they are caramelized and a deep brown color (don't burn). When cooked serve the lentil mixture into small bowls and top with the caramelized onions.
Mujadara with Leeks and Leafy Green Vegetables
4 cups trimmed and chopped vegetables greens, such as spinach, chard, or even parsley or coriander
1 cinnamon stick
1 bay leaf
1/4 teaspoon cayenne pepper
1/2 teaspoon ground allspice
1 1/2 teaspoons ground cumin
3/4 cup long-grain rice
2 garlic cloves, finely chopped
1/4 cup extra-virgin olive oil, or grape seed oil
2 1/2 teaspoons salt
2 leeks with the roots trimmed off (retain only the light green and white parts)
1 cup green or brown lentils
Place lentils in a large bowl. Pour in warm water to cover the lentils by about 1 inch (2.5 cm). Let soak while preparing the other ingredients. Slice the leeks in half lengthwise. Wash under running water to ensure there is in grit inside. Then slice crosswise.

Add the oil and garlic to a large heavy frying pan or Dutch oven, and heat using a medium-high setting. Add leeks and fry while stirring often, until they are crisp and golden brown (generally 5 - 10 minutes. Stir in the rice and sauté for an additional two minutes. Add the allspice, cumin and cayenne. Drain the lentils that have been soaking and add to the pot. Add the bay leaf, cinnamon stick, 2 teaspoons salt, 4 1/4 cups water. Bring to the boil and then reduce to a simmer. Cover with a lid and cook, using low heat for about 15 minutes.

Rinse greens in a colander, shake dry and add to the top of the lentil mixture, to wilt them. Cover the pot with a lid and cook for 3-5 minutes more. Check that the rice and lentils are tender, but a little firm and that and greens are wilted. Remove from heat and set aside with the lid on for about 5 minutes. Serve into bowls and garnish with the crisp brown leeks that were cooked previously.