Baileys Irish Cream Recipe
Baileys Irish Cream is a beautiful blend of cream and whiskey. It has been touted as the cure for the common cold - Just Lie down with a bottle of Baileys and a Straw! You can easily make your own homemade version using fresh cream, coffee, chocolate, vanilla and Whiskey, which is simply wonderful.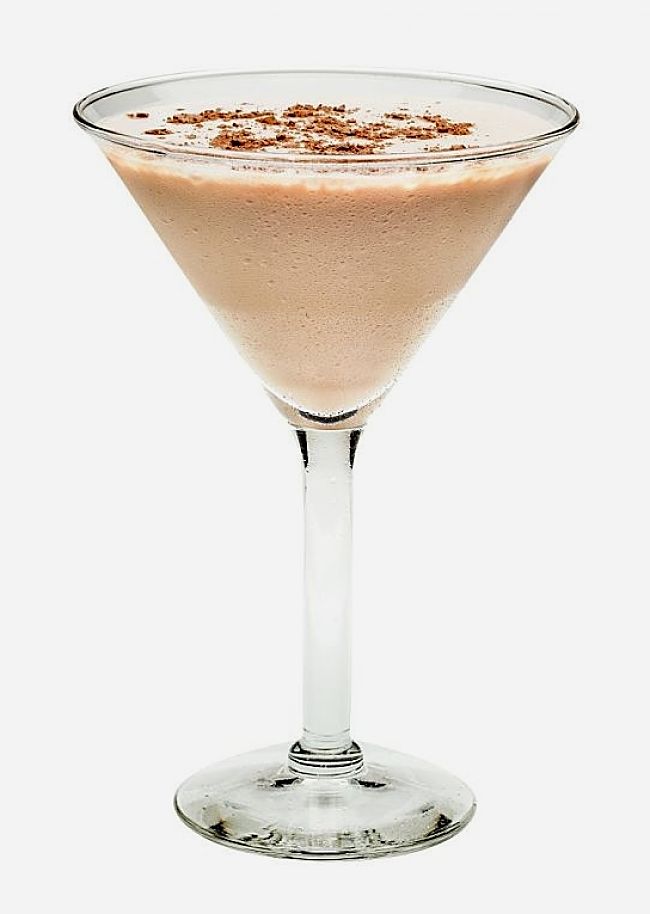 History of Baileys Irish Cream
In 1971, a group of managers at the Irish Whiskey company, Gilbey's of Ireland, were looking for a new international product based on a unique Irish drink. It had been known for a long time that Whiskey combined with about 50% fresh cream was a great way to settle an upset stomach. Mixing whiskey and cream together produced as delightful smooth drink. While you could mix the cream and whiskey together when fresh is required refrigeration. Bailey's found a secret way to get the cream and whiskey blend to last. So homemade Baileys Irish Cream is the original drink and you can easily make it at home using Irish, Scotch or other Whiskey.
The developers worked for three years to finalised their commercial recipe adding a little chocolate and vanilla. The first commercial Baileys Irish Cream was released at the end of 1974.

The whiskey and cream are homogenized with the help of an emulsifier derived from refined vegetable oil. This process stops the alcohol and cream from separating during storage. This is hard to duplicate in the homemade product but the mixture can simply be shaken to blend the ingredients. No preservatives are needed because the alcohol preserves the cream. Glanbia, an Irish dairy company has been the source of the cream for more than thirty years.

The commercial Baileys Irish Cream has a shelf life of about 30 months and will retain its taste for more than 2 years even after opening if kept in a refrigerator.

The commercial Baileys Irish Cream is made using a secret recipe by mixing whiskey, cream chocolate nibs, vanilla, burnt sugar, and raw sugar and has a shelf life of two years. It has a declared alcohol content of 17% alcohol by volume. Baileys is also used in many recipes, such as desserts and cakes.

If you love the luscious, rich and creamy taste of Bailey, why not make a homemade version in your own kitchen? Baileys is easy to make. You only require a few commonly available ingredients. You can innovate and try version variations to suit your taste by adding various varieties of chocolate, almond extract, various varieties of coffee and various liqueurs.
List of Ingredients
Whipping cream, fresh cream or Light cream - depends on your preference
Sweetened condensed milk
Eggs (optional)
A bottle of fine Irish whiskey (preferred), or another variety (Scotch)
Fresh coffee, Instant coffee or coffee extract
Hershey's chocolate syrup or equivalent
Vanilla essence
Method
The ingredients are simply combined and mixed in a blender. Refrigerate and then grab a glass and enjoy his delightful drink.
The cream and eggs are a fresh product and the mixture should be stored in the refrigerator and will only remain fresh for a few days. Now that should not be a problem!

Baileys has launched various varieties including biscotti, mint chocolate and creme caramel. Clearly you can add various ingredients to make your own varieties. Baileys is also used for commercial ice creams. You could also us it for your own homemade varieties.
First Homemade Irish Cream Recipe
3 eggs
1 cup Irish whiskey
1 can condensed milk
1 tablespoon Hershey's chocolate syrup
1 tablespoon vanilla Blend and refrigerate
Keep refrigerated and shake well before serving. It will remain fresh for a few days if kept cold.
Second Homemade Irish Cream Recipe
1 cup Light cream
1 cup Irish Whiskey
1 teaspoon of Vanilla
1 teaspoon of Almond extract
2 tablespoons of Chocolate syrup
14-oz can sweetened condensed milk
1 teaspoons of Instant coffee crystals
Combine all the ingredients and blend on a high setting for about 30 seconds. Store in a tightly sealed container and refrigerate. The Irish Cream will keep for at least 2 months if kept cool. Make sure you shake the bottle well before serving.
Third Homemade Irish Cream Recipe
300 ml thin cream
200 g milk chocolate
750 m1 evaporated milk
3 teaspoon boiling water
1 tablespoon instant coffee
750 m1 Irish or Scotch Whisky
400 g can sweetened condensed milk
Place chocolate into a heat-proof bowl or double saucepan. Stir over a saucepan of simmering water until the chocolate melts. Remove from heat. Gradually add condensed milk, whisking briskly as mixture thickens. Continue whisking until completely blended. Transfer to a large mixing bowl and gradually add evaporated milk. Whisk until smooth. Add cream, coffee (dissolved in boiling water) and Scotch whisky. Mix well, then pour into sterilised bottles.
Related Articles
=> Homemade Sports Drinks for Revitalizing After Exercise
=> Drink Only When Thirsty - Beware: Drinking Excess Water Can Be Fatal
=> How Much Caffeine? Comparison Charts for Food, Coffee, Tea, Energy Drinks
=> Which Wines are Worth Cellaring and Aging Before Drinking
=> Health Benefits of Drinking Pure Plain Water
=> Health Benefits Drinking Coffee and How Caffeine Lowers Risk of Depression
=> Energy Drinks: Side Effects, Health Concerns, Dangers with Alcohol
=> Best Easy Homemade Stock Recipes for Soups, Stews, Curries and Drinks
=> Sorrel Recipe Ideas : Soups, Sauces, Quiche, Jamaican Food, Drinks
=> Homemade Energy Drinks and Electrolyte Replacement Drinks
=> Homemade Kahlua Recipes - How to Make Kahlua Coffee Liqueur Drinks