Barbecued and Grilled Oysters with Spicy Mustard Sauce Recipe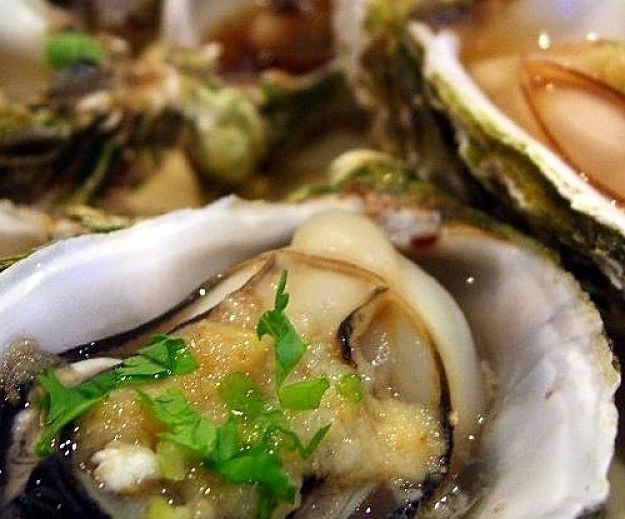 Original Image by the Author: Fabulous and delicious grilled or barbecued oysters with homemade mustard sauce
This is a delicious way to grill or barbecue oysters for those people who do not like to eat them raw.
Make the special barbecue sauce first. Then take the oysters in their shells, add some crispy, chopped bacon and a little of the homemade sauce.
Place the oysters on a grill or barbecue, close the lid for a couple of minutes until the sauce starts to bubble and then they are ready.
Garnish, with celery leaves, fresh herbs, fresh chillies, a drizzle of soy sauce, a squeeze of fresh lemon juice and they are ready to enjoy.
Ingredients
1 bunch fresh thyme, coriander or basin finely chopped
Freshly ground black pepper to taste
1 teaspoon smoked paprika (pimento)
1 teaspoon ground cumin
1 tablespoon dry mustard (choose a high quality one)
1 tablespoons white vinegar
1/4 cup molasses
1/4 cup brown sugar
2 cups ketchup (homemade preferred)
1/4 cup minced fresh chillies
2 garlic cloves, crushed or finely chopped
1/2 brown onion, finely chopped
Extra-virgin olive oil
For the Sauce
Heat some olive oil in a hot saute pan or small frying pan. Fry the garlic, onion and chilli until translucent (about 5-10 minutes). Add all the other ingredients, apart from the thyme, and simmer for 10 - 15 minutes. Remove from heat; mix in the thyme an d adjust the seasoning and acidity to taste. Set aside.

Grilling or Barbecuing the Oysters

Finely chop one pound of bacon (500g) and fry until brown and crisp. Prepare 2 dozen large oysters on their half shells. Top each oyster with a teaspoon of BBQ sauce, and add a sprinkle of chopped crispy bacon. Transfer to a heated barbecue grill or indoor grill and close lid for a minute or two. This will help caramelize the sauce.
They are done when the sauce surrounding the oysters just begins to bubble. Remove from grill and garnish with chopped, fresh herbs, sliced chillies and a squeeze of fresh lemon juice and serve.