Beer Can Burgers - Bacon and Meat Bowl Burger Recipes with Stuffing, Toppings, Sauces
Discover how to transform your burger patties into edible bowls wrapped in bacon and filled with cheese, onions, vegetables and herbs. Topped with your favorite source this is the ultimate bun less low carb burger.
What about the beer can? Yes this dish goes well with a nice cold beer, but the can is used as a mold to shape the meat bowl before cooking.
Beer can burgers can be grilled, barbecued, pan-fried or baked. They are very versatile both in terms of the recipe and ingredients for the base and for the stuffing and toppings.
If you use a small glass bottle or smaller can, you can make mini beer can burgers that are an ideal party food or a barbecue treat.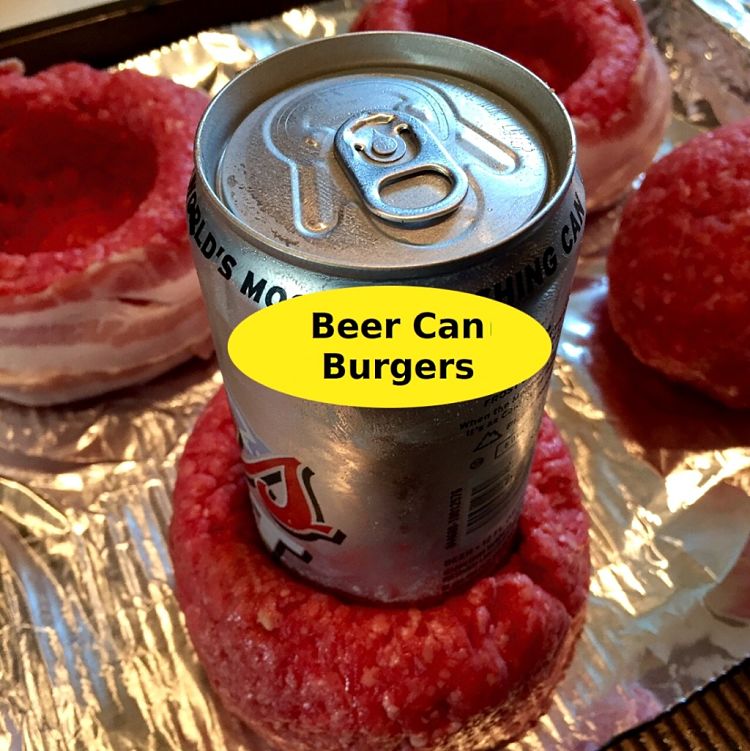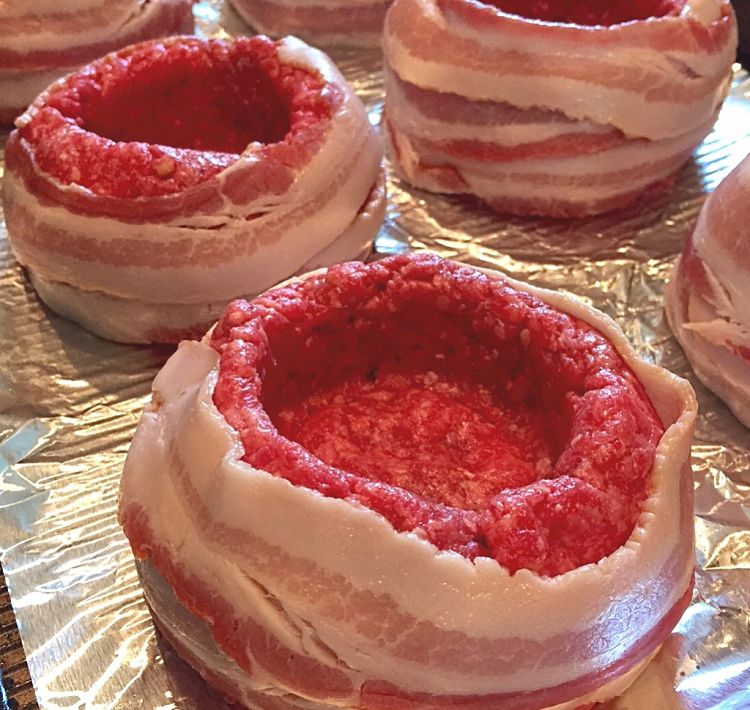 Homemade Beer Can Burgers - A New Delightful Barbecue Treat
Making Beer Can Burgers is Easy as Pie
► Take fairly large balls of ground beef using the recipes provided below. Push a beer can down on top and use your fingers to form a cup or bowl that extends up the sides. You can make them shallow or deep. You can also use various can sizes and bottles to make small or large bowls. You can wrap a slice of bacon around the perimeter and secure it with a wooden or metal skewer.
► The cups are then pre-cooked by grilling, baking, pan-frying with a lid, or barbecuing. This is required otherwise the filling may nor be cooked.
► Then, you can add any filling you want. You can start with a slice of bacon or cheese at the bottom and fill the burger cup with mushrooms, peppers, herbs, spices, garlic and onions, or whatever you like. Cooking the filling is a good idea as it reduces the risk that the filling will not cook properly.
► Next you add your choice of topping such as cheese and a sauce.
► Finally you bake the burgers for about 45-60 minutes in a preheated oven at 300 degrees F ( 150 degrees C). Better still, grill or barbecue the burgers, or pan-fry (covered) for an hour or so until the cheese has melted, and the filling has cooked properly. The final cooking time is reduced if both the meat cups and filling are pre-cooked before assembly. Top with your favorite sauce and serve with or without buns.
Beer Can Burger Recipes
Spicy Beer Can Burgers with Mushrooms, Bell Peppers and Cheese
Ingredients
Salt to taste
1/2 cup shredded cheese
5 thin slices of cheese
6 to 8 mushrooms, sliced
1/2 onion, thinly sliced
10 slices thick-cut bacon
Freshly ground black pepper
2 tablespoons Worcestershire sauce
1/2 green bell pepper, finely chopped
1 or 2 tablespoons rice bran or grape seed oil
2 teaspoons Gourmet Burger Seasoning your favorite mixed spice
Spicy Beer Can Burgers with Mushrooms, Bell Peppers and Cheese
2-1/2 pounds ground chuck steak or similar low fat beed (chicken and pork can also be used)
Method
Place the meat into a large bowl. Season with salt, pepper and spices. Shape into five balls. Press a full can of beer down on the center each meat ball. Using your fingers, drag some of the meat up the sides of the can, to form a shallow cup or bowl. Wrap one or two slices of bacon, depending on their length around the base of each cup and secure with toothpicks. Pre-cook the meat cups for 15-20 minutes, depending on their thickness. This is optional, but it ensures the beer can burgers are cooked right through.
Heat the oil in a frying pan over moderate to high heat and stir-fry the vegetables until they soften (about 5 minutes or so). Sprinkle a little shredded cheese in the bottom of each burger cup, and then fill with the vegetables. Top with the sliced cheese and a sprinkling of black pepper and spices. Preheat your grill or barbecue to moderate-high temperature. Cook for about 45 minutes and then test for doneness. The cheese should have melted and browned. It may take 60 to 75 minutes to cook them. Use a meat thermometer and aim for a minimum internal temperature of 165 degrees F (74 degrees C). Rest for 5-10 minutes and then serve on buns with lettuce, salad and your favorite sauce. Or serve bun less with a salad.
Spicy Barbecued Beer Can Burgers Recipe with Beans, Onions and Peppers
Ingredients
Salsa to serve
1 can chili beans
1 teaspoon olive oil
8 oz (250 g) shredded or cubed cheese
1 1/2 lb (750 g) beef chorizo
1/2 large onion, finely chopped
Shredded cheddar cheese to serve
2 tablespoons red peppers flakes
2 lb (1 kg) Fresh ground beef 93/7
1/2 large red onion, finely chopped
1/2 sweet red pepper, finely chopped
1/2 sweet orange pepper, finely chopped
1/2 sweet yellow pepper, finely chopped
Bacon slices for wrapping around the meat cups
2 tablespoons Chipotle chili powder (or similar)
Method
Preheat your grill or barbecue to 400 degrees F (200 degrees C). Mix the hamburger and beef chorizo together and season with salt, pepper, red pepper flakes, and the chili powder. Divide the meat into several balls, depending on the size you want to make. Press a beer can down on each ball and shape into cups with your fingers. Wrap strips of bacon around the base and secure
with tooth picks and add a slice of cheese. Start cooking the empty burger cups on your grill.
Prepare the filling by frying the onions and mixed peppers until tender. Add the chilli beans, mix and then set aside. Wait until the meat cup begin to cook and set, and the bacon is about half-way cooked. Then, add the onions, beans and pepper filling to the cups, and top with grated cheese. Grilled the beer can burgers for about 40-60 minutes. Use a meat thermometer to check they are cooked properly. The minimum internal temperature before removing from the grill should be 165 degrees F (74 degrees C). Rest for 5 minutes and serve topped with cheese, herbs, salad, toppings and sauces. Buns are optional.
Spicy Beer Can Burger Recipe with Cheese and Bell Pepper Topping
Ingredients
1 beer can
kosher salt
4 burger buns
8 slices bacon
4 slices tomato
4 pieces lettuce
2 lb (1 kg) ground beef
1 teaspoon garlic powder
Freshly ground black pepper
1 tablespoon Worcestershire sauce
for the topping
2 cups cubed cheddar
1 bell pepper, sliced
1 onion, thinly sliced
1 jalapeño, thinly sliced
4 slices provolone cheese or similar
Method
Heat your grill or barbecue to moderate-high. Season the beef in a large bowl with the Worcestershire sauce and garlic powder. Roll into 4 balls, and then press a beer can in the middle to shape into bowls, pushing the beef up the sides of the beer can. Wrap two slices bacon around each of the 4 bowls and gently twist the beer can out. Season each bowl with salt and pepper. Stuff with cheddar, jalapeño, peppers and onions, mixed in a bowl. Top with a slice of provolone and grill until the burger is cooked (about 30-45 minutes) for medium, longer for well-done. Serve on burger buns with lettuce and tomato, and your choice of sauce.
Bacon and Mushroom Beer Can Burger Recipe
Ingredients
Cooking spray
1 unopened beer can
1/4 cup barbecue sauce
1 cup sauteed mushrooms
12 slices aged tasty Cheddar
1 1/2 lb (750 g) ground chuck steak
8 slices bacon, cooked and crumbled
1 jalapeno, sliced thin on the bias
4 onion rolls, buttered and griddled
Method
Preheat a gas grill or flame/coals barbecue to moderately hot (300 degrees F; 150 degrees C). Divide the ground chuck steak into 4 equal size balls. Wrap the beer can with aluminum foil and spray with a bit of cooking spray. Firmly press the the can into each balls, pressing up the sides to form a "meat bowl." Remove the can and patch any holes. Place a slice of Cheddar cheese into each meat bowl, then a tablespoon of barbecue sauce, 1/4 cup of mushrooms, 1/4 of the crispy crumbled bacon, 4 jalapeno slices and 2 more slices of cheese. Grill or barbecue the burgers for 20 to 30 minutes. Use a lid to melt the cheese topping.
Beer Can Burger Recipe with Cheese and Mixed Vegetable Filling
Cooking spray
8 slices of bacon, thick cut
1 can of beer or soda, well chilled
2 pounds (1 kg) ground beef, well chilled
Coarse salt and freshly ground black pepper
For the vegetable filling
2 tablespoons steak sauce
1 tablespoon butter or olive oil
8 slices provolone cheese (or similar)
1/2 cup diced sweet onion (1 small onion)
1 red bell pepper, trimmed, seeded, and diced
8 ounces (250 g) white mushrooms, cleaned, trimmed, and sliced
4 bakery-style hamburger buns, buttered and toasted (optional)
Method
Line a shallow rimmed baking sheet with foil and spray with cooking spray. Divide the meat into 4 equal pieces. Wet your hands and form the meat into 4 balls. Place the balls on the baking sheet and press with a beer can, pulling up the side to form a meat cup. Refrigerate, uncovered, for 30-60 minutes. Meanwhile, prepare the filling by melting the butter in a skillet and frying the mushrooms, bell pepper, and onion until tender. Mix through the steak sauce and set aside to cool. Season the inside of each burger with salt and pepper and add 1/4 of the filling. Wrap each with bacon strips, securing with toothpicks. Grill over moderate heat for 30-45 minutes until starting to brown. Add slices of cheese and finish the cooking. Use a lid to ensure the top is cooked. Place the burgers on the toasted buns, if desired, or transfer to plates. Serve with your favorite sauce and other ingredients.
Baked Beer Can Burgers
Ingredients
Pinch of salt
4 bacon rashers
4 free-range eggs
4 pineapple rings
1 onion finely diced
1 cup panko breadcrumbs
500 g (1 lb) beef mince
1 egg for preparing the meat
1 cup cheddar cheese, grated
1 tablespoon Worcestershire sauce
2 tablespoons tomato sauce (ketchup)
1 beer can for creating the cups (you could use a soft drink/soda can or cider can as well)
Method
Pre-heat oven 180 degrees C (360 degrees F) and line a baking tray with baking paper. In a large bowl mix the beef mince with an egg, the breadcrumbs, sauces and a pinch of salt. Divide the burger mixture into 4 even round portions and use the beer can as a mould to create meat cups. Wrap a slice of bacon around the burger and secure with some kitchen string. Then, remove the can. Repeat with the remaining burger mixture to create 4 cups. Sprinkle some onion in the cavity of each burger, followed by a slice of pineapple. Next, break an egg on top of the pineapple slice and then sprinkler grated cheese on top. Transfer the burgers to the oven and bake for 30-40 minutes or until cooked through. Serve with salad or on a burger bun with tomato, lettuce and your choice of sauce. You can also cook on a BBQ with the hood closed.
The Ultimate Beer Can Burger Recipe Filled with Mixed Vegetables
Ingredients
1 can beer
4 strips bacon
1 tomato, diced
1 cup onion, diced
1 lb (500 g) ground beef
1 red bell pepper, sliced
2 large mushrooms, sliced
salt and pepper, to taste
1 green bell pepper, sliced
4 cloves fresh garlic, quartered
1 block smoked cheddar cheese, cubed
Method
Grill or fry the sliced and diced vegetables for 5-10 minutes so they are partially cooked. Form the meat mixture into 4 cups wrapped with bacon strips. Fill each one with 1/4 of the vegetables and top with cheese. Grill covered for 30-35 minutes, or until cooked internally. Serve as is or on buns.
Just Perfect Vegan Burger Recipe
Ingredients
1/3 cup warm water
1 cup grated carrots
1 teaspoon ground cumin
1 teaspoon chili powder
1 teaspoon dried oregano
3 tablespoons ground flax
2 large garlic cloves, minced
1/2 cup sunflower seeds, toasted
1 to 2 tablespoons tamari, to taste
1 tablespoon extra-virgin olive oil
Freshly ground black pepper, to taste
1/2 to 3/4 teaspoon fine sea salt, to taste
1/3 cup finely chopped fresh parsley or cilantro
3/4 cup finely chopped red onion or yellow onion
1/2 cup rolled oats, processed into a coarse meal*
1 (14 oz ; 275 g) can black beans, drained and rinsed
1/2 cup spelt bread crumbs (or bread crumbs of choice)
1 to 2 tablespoons oat flour (or flour of choice), as needed
Method
Preheat the oven to 350 degree F (175 degrees C) and line a large baking sheet with parchment paper. Whisk the ground flax in water in a small bowl. Then set aside for about 5 minutes to soak and thicken. Add the drained black beans to a large bowl and mash with a potato masher, to a coarse paste. Fry the onion and garlic with and a pinch of salt in a small pan set to medium-high, for 3 to 5 minutes, or until the onion softens. Transfer the onion mixture to the bowl with the mashed beans and add the flax, parsley (or cilantro), sunflower seeds, tamari, egg, grated carrots, chili powder, oregano, and cumin. Mix well until thoroughly combined. Then, stir through the bread crumbs, coarsely chopped oats and oat flour until the mixture comes together. Season with salt and pepper, to taste.
Shape the dough into 8 patties, working the mixture to avoid any crumbling. Place the patties onto the baking sheet and bake for 15 minutes, gently flip, and bake for another 15-20 minutes until patties are firm and golden. Cool the patties on a cooling rack for 5-10 minutes before serving as this firms them up. Serve in a bun or lettuce wrap with your desired toppings and sauce.