Best Alfajores Recipe Collection for Shortbread Sandwich Cookies
Alfajores are soft, delicate, cookie sandwich treats with shortbread made with cornstarch and a delightful variety of fillings. The cornstarch produces a soft, crumbly cookie and the dough is smooth with a silky texture that is easy to work with. Alfajores originated in Spain, but are very popular in many South American countries that have different recipes in Peru, Columbia, Argentina, Chile, Bolivia, Paraguay and Uruguay. There are subtle variations in the cookie pastry and the fillings. This collection of the best ever Alfajores recipes offers a good choice of the varieties available to help you choose your favorite version.
Simple Alfajores Recipe Made with Cornstarch
Ingredients
1 teaspoon salt
3 teaspoons brandy
1 teaspoon baking powder
2 teaspoons vanilla extract
2 large free range egg yolks
1/4 teaspoon bicarbonate soda
100 g (3.5 oz) granulated sugar
100 g (3.5 oz) desiccated coconut
165 g (6 oz) cornflour (cornstarch)
1 teaspoon finely grated lemon zest
125 g (4 oz) plain all-purpose flour
140 g (5 oz) unsalted butter, at room temperature
2 cans sweetened condensed milk (about 400 g; 14 oz each), with labels removed
Method
Make the dulce de leche for the filling by filling a large saucepan of water with water and bringing to the boil. Carefully lower the unopened condensed milk cans into the pan on their sides. Simmer for 3 1/4 hours making sure the cans remain submerged by topping up with hot water. Never let the water level fall as the cans may explode. See the recipe below for a safer version for making the dulce de leche filling. Preheat your oven to 180 degrees C (355 degrees F). Next, make the cookie dough by combining the lemon zest with the brandy and vanilla extract in a small bowl or cup. Combine the cornflour, all purpose flour, baking powder, bicarbonate of soda and salt in a large bowl. Beat sugar and butter for about 3 minutes using an electric mixer until light, creamy and fluffy. Add the yolks and brandy mixture in small batches and beat until just combined. Add the flour mixture and beat on low speed using the electric mixer until the dough forms a ball. Divide the dough ball in half and roll each half into a log shape about 4 cm (1 1/2 inch) thick. Wrap the dough logs in plastic wrap and place in the refrigerator for about 2 hours. Grease and line 3 flat baking trays with baking paper. Remove the dough from the oven and unwrap to remove the plastic wrap. Slice the logs into rounds about 3 mm (1/8 inch) thick. Place the rounds onto the prepared trays, and bake in the preheated oven for about 5-8 minutes, or until the edges begin to darken to a golden brown color. When cooked remove the trays and allow the cookies to cool completely. Prepare the filling by transferring the dulce de leche into a small bowl and combining with 1 teaspoon of vanilla extract and a large pinch of salt. Flip half the cookies over and pipe or spoon a thick layer of dulce de leche onto the bottom surface of the cookies. Add the remaining cookies to form a cookie sandwich with the dulce de leche in the middle. Roll the sides of the cookie sandwich in desiccated coconut.
Alfajores Recipe with Caramel Filling from Chile
Ingredients
2 free range egg yolks
2 cups plain flour, sifted
1/4 teaspoon anise extract
1/2 teaspoon vanilla extract
50 g (2 oz) pure icing sugar, sifted
275 g homemade dulce de leche (or canned caramel)
200 g (7 oz) unsalted butter (chilled), chopped into cubes
Method
Mix the flour, icing sugar and a pinch of salt with the butter in a food processor or electric mixer until mixture has the consistency of bread crumbs. Add the anise, vanilla and egg yolks while mixing and process until a wet dough forms. Transfer to a small bowl, cover with plastic wrap and refrigerate for 1 hour. Next, roll the dough to a thickness of 5 mm (1/8 inch) thick. Cut out about 20 discs using a 6 cm ( 2 inch) cookie cutter. Place on a greased flat baking tray lined with parchment paper. Cover the tray with another baking sheet and refrigerate for about 30 minutes. Meanwhile, preheat your oven to 180 degrees C (355 degrees F). Bake the Alfajores biscuits for about 15 minutes or until they are light brown in color. ransfer the biscuits to a rack and cool completely. Pipe or spoon dulce de leche over half the biscuits which have been flipped over. Then, top with the remaining biscuits. Dust with extra icing sugar and serve immediately or store in an air-tight container.
Simple and Safe Way to Make Dulce de Leche
Dulce de leche is a combination of sweetened condensed milk and sugar that is slowly cooked until the sugars caramelize. A safe and simple way to make it is to bake sweetened condensed milk poured in a dish in a water bath in the oven. To do this heat your oven to 425 degrees F (218 degrees C). Empty one or two cans of sweetened condensed milk into a pie plate or shallow baking pan and sprinkle with salt. Cover the bowl tightly with aluminum foil and place in a deep roasting pan. Add enough hot tap water to reach halfway up the sides of the pie plate. Transfer the baking dish to the oven and bake for 1 hour. Carefully remove the baking pan from the oven. Remove the pie plate. Carefully remove the foil covering to avoid any steam. Whisk the Dulce de Leche mixture until smooth. Recover the pie plate with foil and return it to the baking pan. Add more hot water to reach halfway up the side of the pie plate. Bake for a further 30-45 minutes until the dulce de leche is has a golden brown color (similar to peanut butter). Remove the pie plate from the oven and set aside on a wire rack to cool. Remove the foil from the pie plate and whisk the dulce de leche until smooth. Store the Dulce de leche is an air tight container in the refrigerator.
Argentinean Alfajores Recipe
Ingredients
3/4 cup white sugar
2 1/2 cups cornstarch
3 free-range egg yolks
2 teaspoons lemon zest
1/2 cup shredded coconut
1/2 teaspoon baking soda
2 teaspoons baking powder
1/2 teaspoon lemon extract
1/2 teaspoon vanilla extract
1 jar dulce de leche (12 oz; 340 g)
1 2/3 cups unbleached all-purpose flour
1 cup unsalted butter, at room temperature
Method
Preheat your oven to 350 degrees F (175 degrees C). Grease two baking sheets with baking oil spray and line with parchment paper. Mix the flour, baking soda, baking powder and cornstarch, together in a small bowl and set aside. Using an electric mixer or food processor, beat the butter and sugar together in a large bowl until the mixture is light and fluffy. Add the egg yolks one at a time, mixing well after each addition. Add the vanilla and lemon extract and lemon zest and beat again. Next, gently fold in the flour with a wooden spoon, and mix briefly until a crumbly dough is formed. Using your hands form the dough into a ball. Wrap the dough with plastic wrap and refrigerate for 30-60 minutes. Then, roll the dough out to about 1/4 inch (5 mm) thick. Cut into small rounds using a cookie cutter. Place the cookies, well separated on the lined cookie sheets. Bake in the preheated oven for 7-10 minutes until light golden brown in color. Remove the cookies and cool on a wire rack. Spread the underside of half of the cooled cookies with a teaspoon of dulce de leche. Then, use the other half of the cookies as tops to make the cookie sandwiches. Roll the sides in the shredded coconut. Serve immediately.
Chocolate Alfajores Recipe - Alfajores Negros
Ingredients
1/2 cup sugar
1 1/2 cups flour
1 free range egg
1/2 teaspoon salt
1 teaspoon vanilla
1/2 cup cornstarch
2-3 tablespoons rum
2 tablespoons honey
6 tablespoons butter
1/4 cup cocoa powder
1/2 teaspoon baking soda
1 1/2 cups dulce de leche
1/2 teaspoon baking powder
1 tablespoon instant coffee powder
2 tablespoons vegetable shortening
2 cups chocolate chips (semisweet or bittersweet)
2 tablespoons Nutella (or similar chocolate hazelnut spread)
Method
Whisk all the dry ingredients together in a large bowl. Slice the butter into small cubes and using your fingers, rub the butter into the flour mixture until the mixture has the consistency of breadcrumbs. Stir in the honey, extracts, egg, and Nutella. Add the rum one tablespoon at a time, kneading the dough mixture after each addition. Work the dough into a smooth ball. Wrap the dough with plastic wrap and set it aside for 30 minutes. Preheat your oven to 350 degrees F (120 degrees C). Next, roll the dough out on floured surface to about 1/4 inch (6 mm) thick. Cut rounds out of the dough using a cookie cutter and place the rounds onto a baking sheet lined with parchment. Bake the cookies for about 8-12 minutes, or until just barely firm and golden brown in color. Take the cookies out of the oven and cool on a wire rack. Spread the underside of half of the cookies generously with dulce de leche and top with another cookie. Chill cookies before dipping in melted brown or white chocolate. Chill before serving.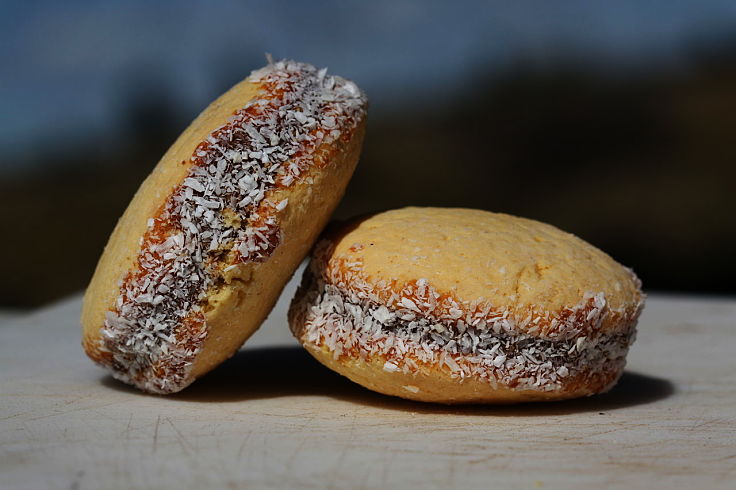 Source:
By VINZ (Own work) [CC BY-SA 3.0], via Wikimedia Commons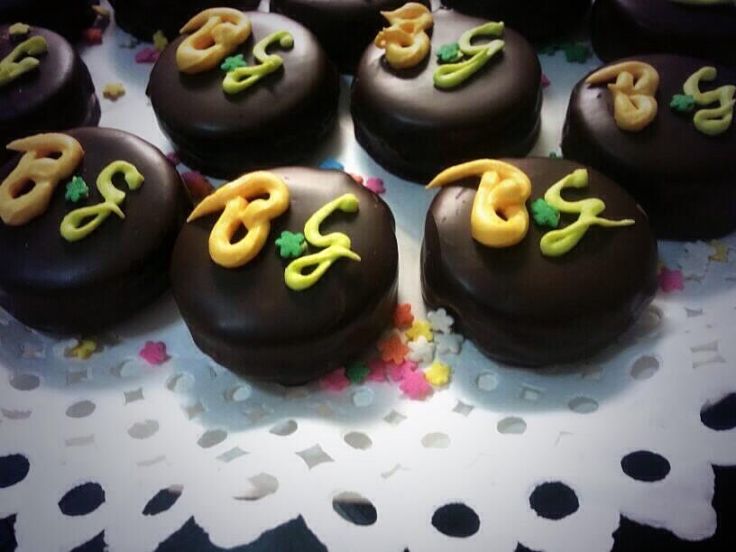 Source:
By Conyann2009 (Own work) [CC BY-SA 4.0], via Wikimedia Commons
Source: Original Image - John Anderson 2016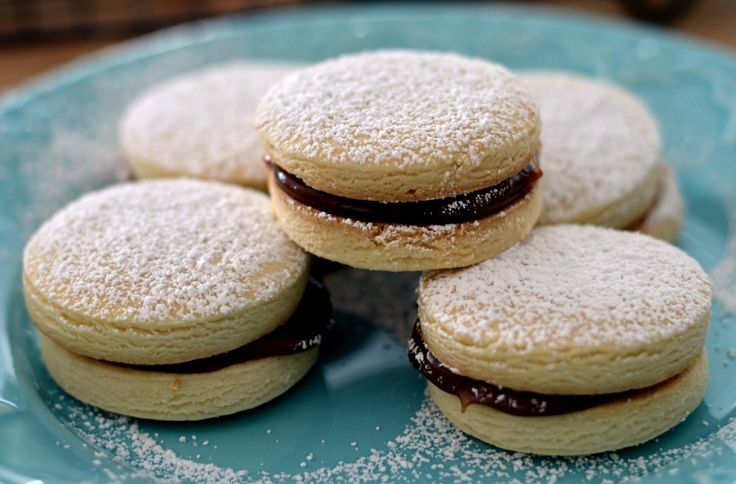 Source: Original Image - John Anderson 2016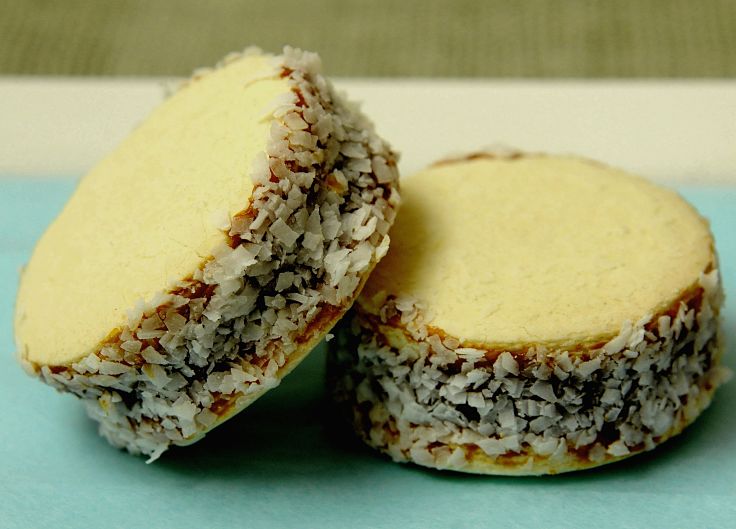 Source: Original Image - John Anderson 2016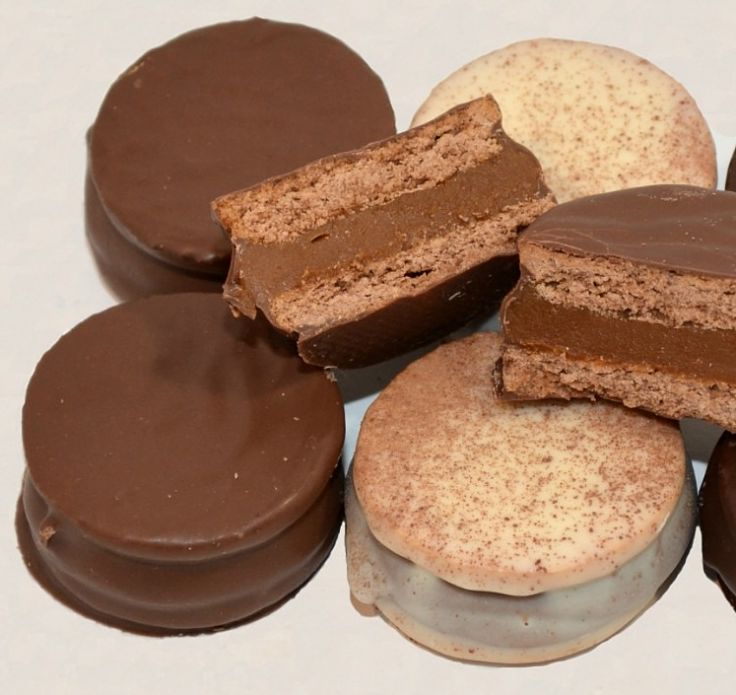 Source: Original Image - John Anderson 2016