Best Beetroot Recipes Using Grilled, Roasted, Boiled, Fresh Beets
Beetroot belongs to the same plant family as spinach and chard. Both the roots and leaves are edible. Despite a slightly bitter taste, the leaves are very nutritious, though they are seldom eaten. While commonly having a rich purple colour, white and golden colored beetroot root varieties are also available.
Recently the humble beetroot has been elevated to almost mythical health benefit status as a superfood, especially for elite athletes such as runners and cyclists for its ability to boost stamina during races and training.
Beetroot smoothies drunk before exercise have been claimed to boost performance by more than 10%. It is thought that this relates to the high level of nitrates in beetroot that are converted to nitric oxide which may help boost tolerance to high-intensity exercise. Beetroot is ease to grow in the garden and in pots.
Other benefits of beetroot are in lowering blood pressure and improving circulation, as well as anti-inflammatory and anti-oxidant benefits. Beetroot roots have high sugar content, and can be eaten raw or processed and can be made into smoothies as a natural stimulant before exercise.
Apart from smoothies, most beetroot is bought as canned beetroot eaten in salads, but this is rather boring.
As this article shows, there are many other ways of eating and enjoying beetroot in a variety of dishes and baked goods.
Discover the exciting collection of best ever beetroot recipes that are provided.Beetroot has exceptional nutritional benefits, especially the greens, which can be prepared and eaten in the same way as spinach and other greens.
Beetroot greens are rich in iron, calcium, folic acid, and vitamin C, B6 and A. The roots are an excellent source of folic acid, soluble fibre, plant protein, antioxidants, and the minerals: nitrate, manganese, iron and potassium.
Enjoy your daily dose of mythical beetroot using the following recipes.
Beetroot Smoothie Recipes
Beetroot and Mixed Fruit Smoothie Recipe
1 cup strawberries
8 ounces almond milk
1 small orange, peeled
1/2 cup frozen blueberries
1 small beet root, peeled and chopped
Grapes, Beetroot, Carrot and Green Tea Smoothie
1 cup red grapes
8 ounces green tea, chilled
1 medium carrot, finely chopped
1 teaspoon freshly grated ginger root
1 clementine, peeled and seeded removed
1 small beetroot bulb, peeled and chopped
Beetroot, Apple, Ginger and Yogurt Smoothie Recipe
1/2 cup Greek yogurt
1/2 teaspoon fresh ginger, grated
1 medium apple, sliced into small pieces
1 beetroot, peeled, sliced into small pieces
Beetroot, Spinach, Apple and Almond Milk Smoothie Recipe
1/2 cup red grapes
1 cup spinach, washed
1 cup raw almond milk
1 small beet, finely chopped
1 large apple, peeled and sliced
Beetroot, Citrus, Berry and Banana Smoothie Recipe
1 cup water
1 cup raspberries
1/2 cup blueberries
1 medium size banana
1 small orange, peeled
1 small beet root, finely chopped
Basic Recipes for Cooking Fresh Beetroot
Oven Roasted Beets Recipe
Preheat oven to 425 degrees F (220 degrees C). Toss the washed beets with oil in a deep-sided baking pan and season with salt, herbs and pepper. Cover the dish tightly with two layers of foil. Roast the beets until tender - test with a knife or skewer (generally about 45-60 minutes depending on their size). Allow to cool a little and then rub with paper towls to remove the seeds. Re-season with salt and pepper.
Grilled or Barbecued Beets
Peel the beets and slice into quarters. Place in the center of two layer sheet of foil. Drizzle oil over the beets and season with salt and freshly ground pepper. Fold the foil over the beets and crimp ends to form a packet. Grill in the pocket until the beets are tender (generally about 20-30 minutes, depending on the size of the beets and the grill temperature. Thick beet slices, or half beets can be grilled or barbequed on the plate or rack. Brush the beet slices or halves with olive oil or vegetable oil and add a liberal sprinkling of salt and pepper. Grill the beet slices for 8-10 minutes over moderate heat until the insides are tender. Cooking the beets this way adds a smoky flavor and enhances the sweetness and character of the beets. Slices of sweet potato can be cooked at the same time.
Steamed Beets Recipe
Place a steamer basket in a saucepan or steamer. Add hot water and heat until the water boils. Then reduce the heat to create a vigorous simmer. peel the beets and slice thickly or cut into quarters. Cover and steam the beets until they are tender (generally about 15-20 minutes).
Boiled Beets Recipe
Wash and peel the beets, slicing the larger ones into quarters or thick slices. Add enough salted water to a large pot to just cover the beets. Bring the water to the boil and then reduce to a vigorous simmer. Add the beets and boil until the beets are just tender (about 15-20 minutes). Various herbs and spices can be added to the water. Drain, season with salt and pepper and a little butter and serve hot.
Mixed Root Vegetable Chips Recipe
Cutting root vegetables very thinly can be used to make delightful chips which can be deep- or shallow-fried or grilled on a hot plate or grate (larger slices required). The mixture of colors adds to the appeal of this dish.
Ingredients
250 g (8 oz) sweet potato, peeled
250 g (8 oz) beetroot, peeled
250 g (8 oz) potatoes, peeled
rice bran or grape seed oil, for deep frying
Method
Slice the root vegetables as thin as possible and set aside. Wash and drain the slices after storing in water to prevent browning. Pat the slices dry with paper towel. For deep frying, heat the oil in a fryer or large large pot to 190 degrees C (375 degrees F). Working with small batches, fry the slices until golden brown, gently moving them around to prevent them from sticking together while frying. Drain the cooked slices on paper towel and sprinkle with lots of salt while hot. Serve warm. The chips will crisp up as they cool. Once cold store in an airtight container – if you can resist eating them, then and there.
Quinoa and Chocolate Muffins with Beetroot Recipe
Ingredients
4 eggs
1 cup quinoa
1/2 teaspoon salt
1 cup cacao powder
1 cup coconut sugar
3/4 cup butter, melted
1/3 teaspoon baking soda
1/3 cup light coconut milk
1 1/2 teaspoons baking powder
3/4 cup raw beetroot, well-grated
seeds of 1 vanilla pod (or 1 teaspoon vanilla extract)
Method
Preheat the oven to 350 degrees F (180 degrees C). Grease and line a 12-cavity muffin tin with muffin liners or baking paper. Wash and drain the quinoa thoroughly and transfer to a saucepan with 2 cups of water. Bring the water to the boil, then lower the heat and simmer the quinoa for 8-10 minutes. then switch-off the heat and leave in the saucepan for another 10 minutes to complete the cooking. Fluff the qunioa grains with a fork and set aside. Using a blender or a bowl and fork, whisk the eggs, coconut milk and vanilla and combine well. Transfer 2 1/2 cups of the cooked quinoa to the liquid, along with the baking powder, baking soda, salt, cacao, sugar, beetroot and butter. Mix well. Transfer the mixture to the muffin pans and bake for about 30 minutes (use a skewer to test to ensure the center of the muffins is cooked. Remove from the oven and cool the muffins in the pan. Turn the muffins out onto a wire rack to cool. Serve when warm.
Carrot, Beetroot and Hazelnut Cake
Ingredients
2 eggs
60 g (2 oz) honey
1/4 cup buttermilk
2/3 cup vegetable oil
1 medium carrot grated
160 g plain (5 oz) flour
1 medium beetroot grated
1/2 teaspoon baking powder
1/2 teaspoon ground ginger
1/2 teaspoon ground cardamom
1/2 teaspoon ground cinnamon
1 cup lightly packedbrown sugar
1/2 teaspoon bicarbonate of soda
1 vanilla bean, halved lengthways and seeds scraped
155 g (5 oz) hazelnuts, toasted and coarsely chopped
Method
Preheat the oven to 350 degrees F (175 degrees C). Grease a medium size loaf tin and line with baking paper. Sift the flour, bicarbonate of soda, baking powder and ground spices into a bowl. Whisk or beat the eggs, honey and sugar until light and creamy. Lightly whisk the oil, buttermilk and vanilla bean seeds together in a small bowl. Combine this mixture with the egg mixture and then fold in the sifted flour. Add the grated vegetables and about half of the toasted and chopped hazelnuts. Transfer the mixture into the loaf tin. Add the remaining chopped hazelnuts to the top of the cake. Bake in the pre-heated oven for 50-60 minutes or until cooed in the center. When cooked remove and let stand in the tin to cool for about 5 minutes, and then turn the cake out onto a wire rack to cool.
Beetroot Curry Recipe
Ingredients
1 teaspoon cinnamon
1 teaspoon caster sugar
1 teaspoon chilli powder
3 teaspoon white vinegar
50 g (2 oz) ghee or butter
1 teaspoon ground coriander
1 large onion, finely chopped
200 ml (3/4 cup) coconut milk
2 green chillies, finely chopped
2 cloves of garlic, thinly sliced
1 medium size beetroot cut into small squares
1 sprig curry leaves leaves (or curry powder)
Method
Heat the butter or ghee in a heavy saucepan or pot using moderate heat. Fry the onions and green chilli for 6–8 minutes or until the onions are translucent but not brown translucent. Add the garlic and curry leaves and fry for another 2-3 minutes. Add the chopped beetroot and the rest of the ingredients ingredients. Cover the pot and simmer gently until the beetroot is tender, stirring occasionally (generally 15–20 minutes. Season to taste with salt and pepper. Add extra chilli or curry if needed and serve with other curries and rice.
Beetroot Risotto Recipe
Ingredients
1/2 lemon juiced
pinch fresh thyme
olive oil for frying
Salt and black pepper
fresh herbs for serving
175 g (6 oz)risotto rice
80 ml (1/3 cup) white wine
2 shallots, peeled and chopped
250 g (1/2 lb) fresh beetroot
2 garlic cloves, peeled and chopped
3 1/2 cups of vegetable or chicken stock
35 g (1 oz) butter, plus a knob for later
50 g (2 oz) Parmesan cheese, freshly grated
Method
Wash the beetroot, peel and simmer for about 20 minutes until tender and then set aside to cool. Bring the stock to the boil in a saucepan and then lower the temperature to a simmer then lower to a simmer. Puree the hot beetroot using a blender or food processor. In a deep frying pan or pot, fry the shallots and garlic in a little oil and cook for about 5 minutes. Add the rice and stir well to coat all the rice grains with the oil. Fry the rice for a minute or two while stirring stirring. Increase the temperature. and add the wine a little at a time and stir until it is mostly absorbed into the rice. Add the stock in small batches, waiting until each portion of the liquid is absorbed. Continue until all the stock has been added and absorbed (generally about 15-20 minutes). Season the rice with salt, freshly ground pepper and lemon juice to taste. Add the beetroot puree and half of the Parmesan and stir through the mixture. Stir the butter through the rice to make it glossy. Serve the risotto in shallow bowls topper with Parmesan, fresh herbs and a spoon full of beet puree.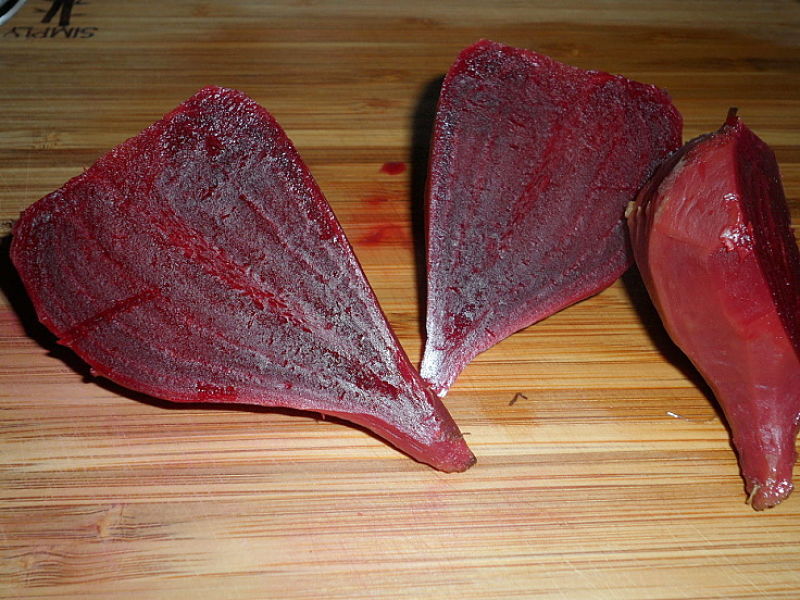 Source:
gran [CC-BY-3.0], via Wikimedia Commons
Source:
Ewan Munro [CC-BY-SA-2.0], via Wikimedia Commons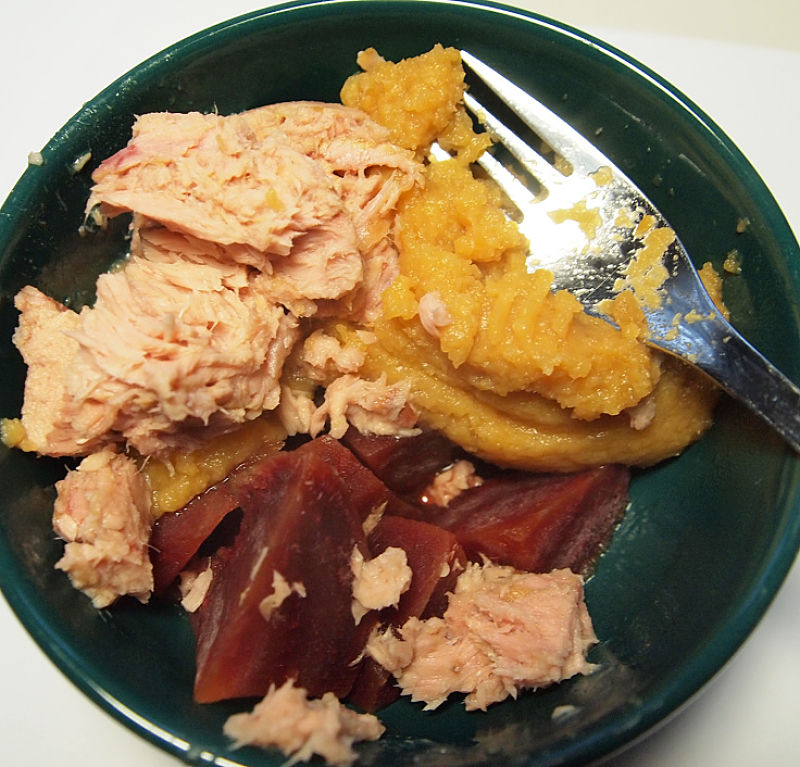 Source:
Tiia Monto [CC-BY-SA-3.0], via Wikimedia Commons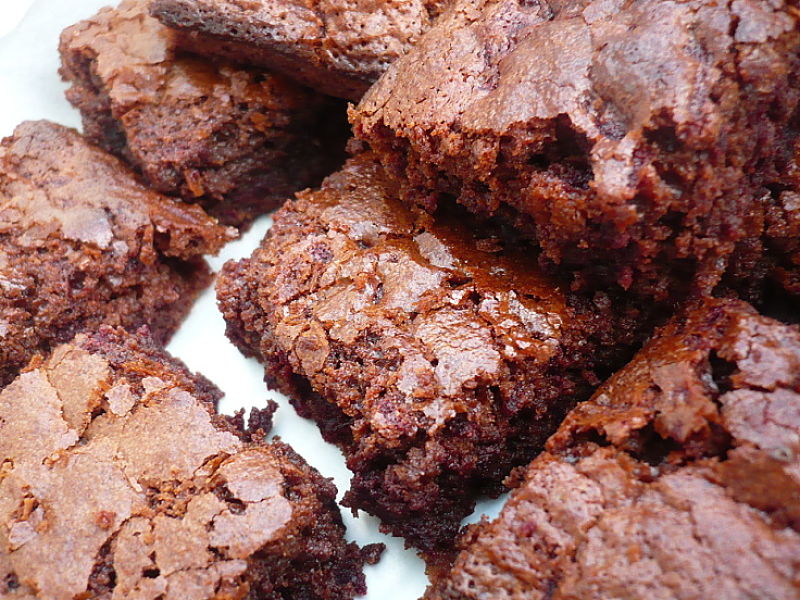 Source:
dichohecho [CC-BY-2.0], via Wikimedia Commons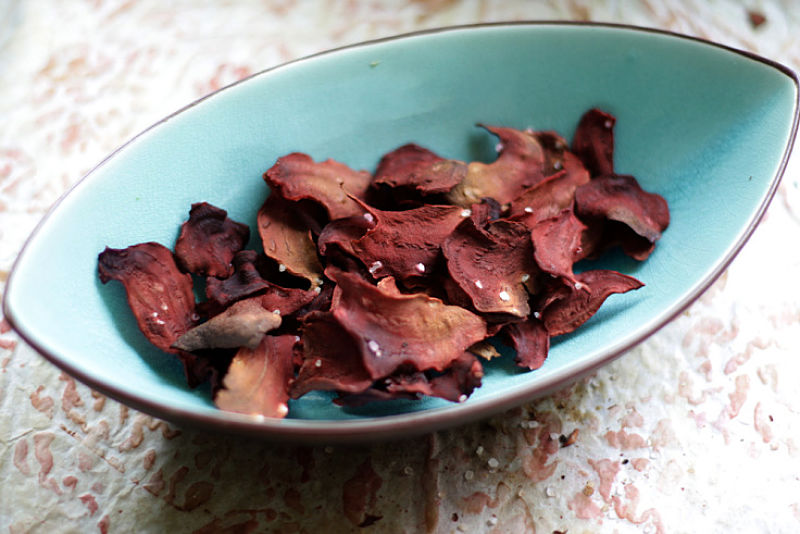 Source:
Suzette [CC-BY-2.0], via Wikimedia Commons