Best Blue Cheese Recipes for Dips, Sauces, Bakes, Pasta and Meat Dishes
Blue cheeses derived from cow, sheep or goat milk have unique sharp, salty, creamy and rich flavors that are ideal for cooking and for making sauces, dips and dressings.
The 'Blue' color is produced by cultures of the mold Penicillium that are added to the cheese in a way that the cultures for streaks or spots throughout the cheese, most of which are soft rather than hard.
There are many varieties of blue cheese produced throughout the world with many famous brands such as Roquefort, Gorgonzola, Danablu and Blue Stilton. Blue cheeses have a distinctive smell derived from the mold and bacteria added to the culture.
This article summaries the nutrition facts for blue cheese and provides the best ever recipes for blue cheese dips, sauces, dressings, baked goods, pasta sauces and various meat dishes.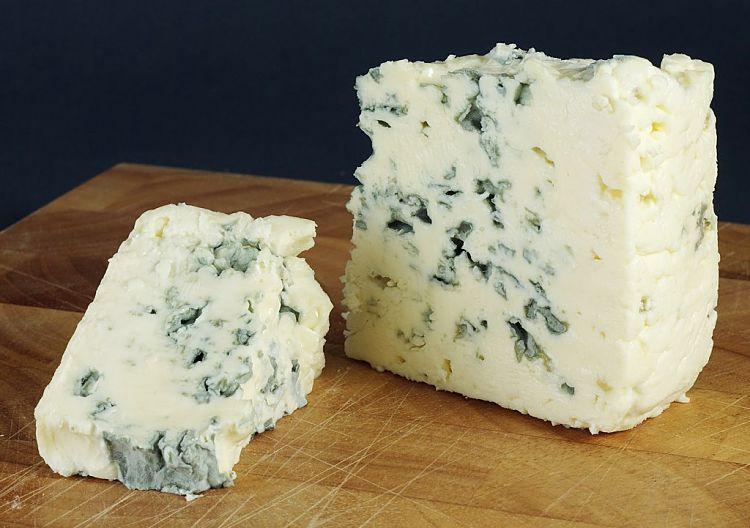 Best Blue Cheese Recipes
Bruschetta with Blue Cheese, Broccoli and Capers
Blue cheese is ideal for various forms of cheese on toast because of its saltiness and strong distinctive taste. It also melts easily, and combines well with herbs and other ingredients that compliment the taste and soft texture of blue cheese.
Ingredients
Salt
2 tablespoons capers
Extra virgin olive oil
Freshly ground black pepper
200 g (7 ounces) stichelton or similar blue cheese
4 slices of good quality sourdough bread
12 shoots of broccolini (or broccoli shoots or tops separated)
Method
Chop to separate the stalks and tops of the broccolini. Stir-fry the broccolini until tender. The stalks require about three times as much frying as the tops. Fry the stalks first and when tender add the tops and fry for an addition minute. Toast the sourdough slices and drizzle with olive oil. Crumble about a quarter of the cheese on to each slice and top with the broccolimi. Sprinkle capers an each slice. Toast briefly to just melt the cheese.
Baked Blue Cheese and Mushrooms Recipe, Topped with Bread Crumbs
The soft texture and earthy taste of mushrooms pairs well with blue cheese
Ingredients
Salt
30 g ( 1 oz) tarragon
2 garlic cloves, finely chopped
570 ml (2 1/2 cups) double cream
40 g (2 oz) shallots, finely chopped
Freshly ground black pepper to taste
220 g ( 8 oz) good quality breadcrumbs
200 g (7 oz) blue cheese, cut into small pieces
2 tablespoons of rice brain or grape seed oil, for frying
400 g (14 oz) mushrooms (with strong flavor and mixed varieties)
Method
Preheat your oven to 180 degrees C (350 degrees F). Using a large heavy frying pan or saucepan, fry the shallots in a little oil for 2 minutes. Then, add the mushrooms and fry until starting to soften. Add 1/4 cup of water to the frying pan to create steam to wilt the mushrooms. Season to taste with salt and pepper. Add a little more oil, then the garlic and blue cheese. Stir while cooking and then add the cream. Cook while stirring until the mixture reduces and thickens. Add the tarragon. Transfer the mixture to an oven proof pan and scatter the bread crumbs on top. Bake for about 20 minutes until the bead crumbs have browned and the sauce starts to bubble. Serve hot.
Roasted Leeks and Beets Recipe with Blue Cheese and Dill
This warm winter salad or side serve has robust flavors that are offset with dill and blue cheese. The sweetness and firm texture of the beets blends well with the creamy soft, sourness of the blue cheese.
Ingredients
4 sprigs thyme
50 g (2 oz) butter
Salt and black pepper
Extra virgin olive oil
1 teaspoon dill seeds
1/4 cup of dry white wine
2 garlic cloves, finely chopped
50 g 2 oz) good quality blue cheese, crumbled
50 g (2 oz) of beetroot tops or spinach or chard
400 g (14 oz) beetroot, washed and cut into wedges
2 leeks, washed and cut into rounds ( 2 inches or 5 cm)
3 stalks of fresh dill, finely chopped (or 2 teaspoons of dry dill)
Method
Preheat your oven to 180 degrees C (350 degrees F). Place the beetroot wedges into a heavy baking tray. Season with salt and freshly ground black pepper and drizzle with olive oil. Cover with a sheet of foil and roast for about 30 minutes. Then, remove the foil, turn the beets and bake for an extra 20 minutes until they are soft and have started to caramelise. Put the leaks in a separate baking tray with the leeks. Sprinkle with garlic and thyme and pour over the white wine. Place a dot of butter on each piece. Cover with foil and roast for about 35 minutes. Give the tray a shake halfway through cooking. Note: both the leeks and beets can be baked at the same time. Stir-fry the beet tops or spinach leaves until they wilt. Sprinkle the dill seeds over the greens. Combine all the ingredients in one of the baking trays and mix gently. Sprinkle the crumbled blue cheese on top together with the dill fronds. Heat in the oven for 5-10 minutes to warm and melt the cheese slightly. Serve hot or warm.
Easy Baked Cheesecake Recipe with Blue Cheese
Ingredients
100 g (3 oz) butter, melted
3 medium eggs, lightly beaten
100 g 3 oz) full-fat sour cream
50 g (2 oz) plain flour, seasoned
500 g (16 oz) full-fat cream cheese
250 g (9 oz) blue cheese, crumbled
1 tablespoon thyme leaves, chopped
2 teaspoons of runny honey, plus extra for serving
50 g (2 oz) walnuts, toasted and whizzed to crumbs
150 g (5 oz)oatcakes or other biscuits, blended to fine crumbs
Method
Preheat your oven to 140 degrees C (275 degrees F). Grease a 9 inch (20 cm) springform cake tin and line the base and sides with baking paper. Combine the crushed walnuts and the oatcake crumbs with the melted butter in a bowl until thoroughly combined. Then, transfer the mixture to lined cake tin. Using the back of a wooden, press the crumb mixture around the sides and based to for a well-compacted base layer. Chill the base until needed. Next, maker the filling by beating the cream cheese until smooth. Add the sour cream, crumbled blue cheese and eggs, beating again as each portion is added. Mix well until smooth. Gently fold the flour into the cheese mixture. Add the thyme leaves and honey and mix well. Transfer the mixture into the cake tin. Bake for about 60 minutes until just set. Turn off the heat and allow the cheesecake to cool completely in the oven. Serve warm or after chilling, with grapes or ripe figs, mint leaves and a drizzle of extra honey.
Baked Blue Cheese Custard Dip Recipe
Ingredients
Salt
100 g (3 oz) milk
500 g (16 oz) cream
100 g (3 oz) egg yolks
Freshly ground black pepper
250 g (8 oz) stilton or other blue cheese
Method
Preheat your oven to 150 degrees C (300 degrees F. Blend the blue cheese, milk and egg yolks until smooth. Add the cream, season to taste and blend until smooth. Pour into and serving bowl and bake for about 20 minutes. Serve with chopped walnuts, herbs, crusty bread or savory crackers.
Meatballs Stuffed with Dates, Bacon and Blue Cheese Recipe
Ingredients
Salt to taste
1/4 cup milk
1 egg, beaten
8 ounces sliced bacon
2-3 pitted dried dates
1/3 cup panko breadcrumbs
Freshly ground black pepper
1 1/2 pounds (750 g) ground beef
1/2 cup flat-leaf parsley, roughly chopped
3 ounces (100 g) blue cheese, crumbled (about 1 cup)
Method
Preheat the oven to 350 degrees F (180 degrees C). Bake the bacon slices on a rack positioned over a baking sheet, until crispy and golden brown (about 20 minutes). Allow to cool, then cut with a knife or crumble with your hands into bite-size pieces. Remove the rack from the baking sheet. Increase the oven temperature to 400 degrees F (205 degrees C). Divide each date into quarters lengthwise and then cut several times. Add the panko breadcrumbs to the milk into a large mixing bowl and let stand for 3 minutes. Add the crumbled bacon, ground beef, the egg, about half of the chopped parsley, 1 teaspoon salt and some freshly ground black pepper. Mix with a wooden spoon or your hands until just combined. To make the meatballs take one tablespoon of the meat mixture. Flatten it slightly in your hands and insert 2 pieces of the dates and 1/2 teaspoon crumbled blue cheese in the center of each meatball in turn. Top with a little more meat mixture and roll to form tight balls. Place the assembled meatballs onto the baking sheet that was used to cook the bacon. Bake the meatballs until browned on the outside and cooked in the center (about 15 minutes). Serve using the remaining chopped parsley as a garnish.
Blue Cheese Pasta with Broccolini and Walnuts
Ingredients
juice of 1 lemon
1/2 cup chopped walnuts
200 g (7 oz) penne pasta
2 tablespoons of olive oil
100 g (5 1/2 oz) blue cheese, cubed or crumbled
250 g (8 oz) broccolini stems or broccolini florets
Method
Stir fry the broccolini or broccoli until tender. Fry the walnut pieces in a little olive oil for about 4 minutes. Cook the penne pasta in boiling water until just 'al dente'. Note: the pasta will continue cooking while the dish is being assembled. Avoid overcooking the pasta. Drain the pasta, and then add back to the pan. Add the walnuts, creamy blue cheese, broccolini and heat gently while stirring until the cheese just starts to melt. Squeeze over the lemon juice and serve hot.
Simply Delicious, Creamy Blue Cheese Dip Recipe
Ingredients
salt
3 tablespoons buttermilk
3 tablespoons sour cream
2 tablespoons mayonnaise
freshly ground black pepper
1/4 teaspoon sugar (or honey)
2 teaspoons white wine vinegar
2 1/2 ounces (100 g) blue cheese
1/8 teaspoon garlic powder (or one small clove of fresh garlic, crushed)
Method
Crumble the blue cheese and mix into the buttermilk in a small bowl until well combined. Mix in the mayonnaise, vinegar, sugar, sour cream, and garlic until well blended. Season to taste with salt and freshly ground black pepper.
Flank Steaks Recipe - Stuffed With Blue Cheese, Bacon and Baby Spinach
Note: The same stuffing mixture can be used for flattened chicken breasts and pork loin
Ingredients
For the marinade
1/4 cup olive oil
1/2 teaspoon salt
2 teaspoons brown sugar
2 garlic cloves, minced
1/4 teaspoon black pepper
1 1/2 lb (750 g) flank steaks
2 tablespoons balsamic vinegar
1 teaspoon Worcestershire sauce
For the stuffing
salt
1/4 cup dark beer
1/2 cup blue cheese
2 garlic cloves, roasted
1/4 cup red onion, diced
1 scallion, finely chopped
4 slices bacon, finely chopped
2 tablespoons panko breadcrumbs
1/2 cup baby spinach leaves, washed
Method
Combine the marinade ingredients and pour into a resealable plastic bag with the flank steak. Marinate for about an hour or two in the refrigerator. Fry the bacon in a large heavy skillet until crispy and well cooked. Remove the bacon, leaving the fat in the pan. Fry the garlic in the pan for about 2 minutes. Add the dark beer and spinach. Season with salt and pepper and cook for 1-2 minutes. Add the panko crumbs, blue cheese and bacon and mix well. Remove the steak flank from the marinade and drain. Spread the stuffing mixture over the middle of the flank steak. Roll up the steak flank and tie using kitchen twine. Roast the steak in the oven at 350 degree F (175 degrees C). Serve with mashed potatoes and steamed vegetables.
Blue Cheese Nutrient Summary (100 g serving)
Calories: 350
Fat: 29 g
Carbohydrates: 2 g
Fiber: zero
Protein: 21 g
Calcium: 528 mg
Magnesium: 23 mg
Potassium: 256 mg
Sodium: 1146 mg
Zinc: 2.7 mg
Thiamin: 0.03 mg
Riboflavin: 0.4 mg
Folate: 36 micro g
Niacin: 1.0 mg
Vitamin B-6: 0.17 mg
Vitamin A: 721 IU
Vitamin E: 0.25 mg
Vitamin D: 0.5 micro g
Vitamin K: 2.4 micro g
Comparison of Nutrients in 100 g of Common Cheeses, listed from low to high fat contents
| Cheese (100 g serving) | Calories (kcal) | Total Fat (g) | Calcium (mg) | Sodium (mg) |
| --- | --- | --- | --- | --- |
| Cottage | 93 | 2 | 70 | 411 |
| Ricotta, part skim milk | 139 | 8 | 275 | 125 |
| Mozzarella, part skim milk | 257 | 16 | 793 | 625 |
| Feta | 268 | 21 | 500 | 1128 |
| Mozzarella, whole milk | 303 | 22 | 511 | 635 |
| Camembert | 303 | 25 | 393 | 853 |
| Parmesan | 396 | 26 | 1200 | 1621 |
| Provolone | 357 | 27 | 764 | 885 |
| Romano | 393 | 27 | 1078 | 1214 |
| Gouda | 361 | 28 | 707 | 828 |
| Brie | 339 | 28 | 186 | 635 |
| Edam | 361 | 28 | 739 | 978 |
| Swiss | 386 | 28 | 800 | 193 |
| Blue | 357 | 29 | 536 | 1410 |
| Brick | 375 | 30 | 682 | 568 |
| Goat | 368 | 30 | 300 | 521 |
| Muenster | 371 | 30 | 725 | 635 |
| Monterey | 378 | 31 | 753 | 543 |
| Colby | 400 | 32 | 693 | 610 |
| Gruyere | 418 | 33 | 1025 | 339 |
| Cheddar | 407 | 34 | 728 | 628 |
| Cream | 346 | 35 | 100 | 325 |
| Havarti | 393 | 36 | 21 | 643 |
| Mascarpone | 446 | 46 | 107 | 57 |