Best Braised Belgian Endive, Witloof, Recipes for Appertizers, Side Dishes and Salads
Belgian endive, also known as witloof or witlof, has a small head of cream-coloured, bitter leaves. It is grown underground or indoors away from sunlight to keep the leaves white rather than green. The method for growing blanched endives was discovered by chance in the 1850s in Belgium. Today France is the largest producer and user of endive. The tender, usually white, leaves of Belgian endive have a delightful, slightly bitter taste, which enliven any salad when chopped and eaten raw. Most people do not realise how Belgian endive can be cooked and used as an ingredient in many dishes apart from salads. They can be baked, roasted, grilled, barbecued, stir-fried, boiled, or cut and cooked in a milk sauce.
his article summarizes the nutrition facts for Belgian endive and the ways to prepare this versatile vegetable. It also includes a collection of the best ever Belgian endive recipes.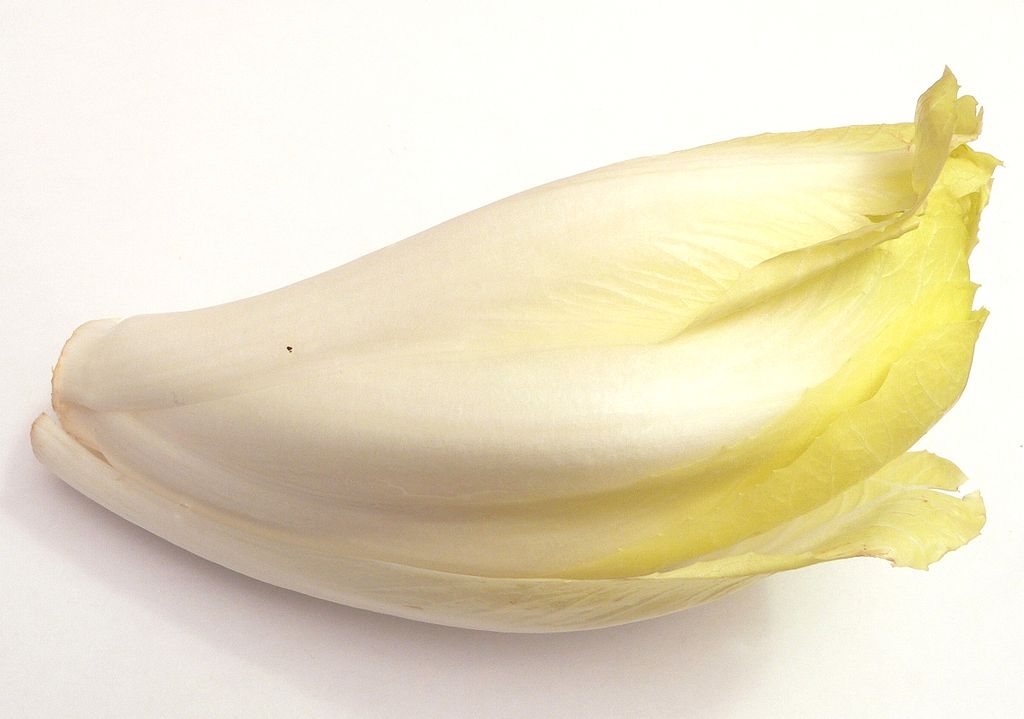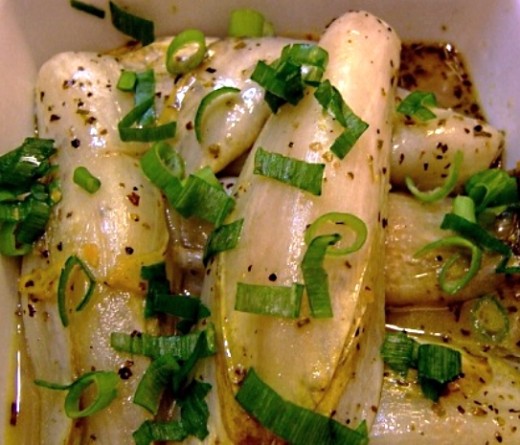 How to Grow Belgian Endive in Your Graden
To grow Belgian Endive requires a two step process.
► Step 1: Plant endive seeds in spring in relatively rich soil to promote healthy growth, strong roots and lush green head foliage.
► Step 2: After the plants have matured and reached full-size, gently and carefully dig up the roots with a gardening fork. Cut off the leaves and tops leaving 1-2 inches (2-5 cm) or so above the root bulb. Trim the roots as well leaving a length of 6-8 inches (15-20 cm).
When you are ready to grow and harvest the Belgian endives, pack the roots upright in a bucket and fill in the space around them with sand or loose sandy soil. Water the plants well and leave the bucket covered in a warm place. It is vital to cover the bucket properly, as this ensures the shoots are white.
After about three weeks, you can harvest large Belgian endive shoots. Removing the hard central core helps to reduce the bitterness.
Belgian Endive Nutrition facts
A summary of the nutrition data for Belgian endive is shown in then table below for a 100 g serving compared with Green pepper, Cabbage, Chinese Cabbage and Spinach. The key points are:
► Belgian endive is an excellent source for Vitamins A, E and C.
► Calories are relatively low with only 18 calories per 100 g.
► Dietary fiber is highest for all the vegetables shown
► Protein levels and Calcium level are moderate
► Belgian endive is also a good source of folate and other B group vitamins.
► Most of the nutrients in Belgian endive are preserved when eaten raw, or lightly braised or stir-fried.
► Belgian endive has no cholesterol or saturated fat.
Best Ways to Cook Belgian Endives
Roasted Belgian Endive Method
Belgian endive becomes tender and sweet when roasted on a sheet of parchment paper spread over a shallow baking sheet. To enhance the flavor add a garnish of chopped chives and a sprinkle of balsamic vinegar or a squeeze of lemon juice. Line a greased low-rim baking sheet with parchment paper. Cut 6 large endives in half and place cut-side up on the baking sheet allowing lots of room between pieces. Drizzle with 1 1/2 tablespoons extra-virgin olive oil and season with salt and freshly ground black pepper. Roast for 20 minutes in a pre-heated oven at 400 degrees F (200 degrees C). Flip the endives over and finish the roasting for another 10 minutes until the endives are very soft and golden brown in color. Serve warm or room temperature with the garnishes.
Seared Belgian Endive Method
Rinse 4-6 heads of Belgian endive and then cut each one in half lengthwise. Heat a skillet or heavy frying pan on a moderate. Add the endives cut side down and toss briefly to brown the outside. Then add 2 tablespoons of hot water to the pan to create steam. Cover the pan immediately with a lid and cook on a low setting for about 4 minutes, or until the endive is tender and light brown in color.
Stir-Fried Belgian Endive Method
Cut the core-like stem out of the heads and wash them under cool running water. Drain in a colander and shake to get rid of excess moisture. Chop the leaves and stems into medium size pieces.
Bring a pot of water to the boil and dump the leaves into the water for only 2 minutes. This softens the leaves and makes them easier to stir fry. Transfer the leaves to the colanderto drain. Heat 2 tablespoons of rice bran or grape seed oil in a heavy frying pan or wok ser to medium high temperature. Fry the endive pieces in small batches until just starting to brown. You can add garlic and a dash of soy sauce or sweet size to adjust theb taste. Endive can be added to mixed stir fried vegetables.
Belgian Endive Cooked in Butter and White Wine Vinegar
Ingredients
1 cup water
3 tablespoons butter
2 teaspoons sugar
2 teaspoons salt
1 teaspoon white wine vinegar
1/4 teaspoon freshly ground black pepper
6 medium-size Belgian endives, rinsed and dried, cut lengthwise and quartered
Method
Combine all the ingredients apart from the endives in a large heavy frying pan. Bring the mixture to the boil and then reduce to a vigorous simmer. Add endives to the frying pan so they are well spread out in a single layer. Braise, stirring occasionally for about 10 minutes until the endives are tender. Then, increase the temperature to high and cook until almost all of the liquid has evaporated and the endives are golden brown in color.
Grilled or Barbecued Belgian Endive Method
Ingredients
salt to taste
1 tablespoon balsamic vinegar
olive oil (for preparing the grill)
4 Belgian endives, rinsed and dried
2 tablespoons extra virgin olive oil
freshly ground black pepper to taste
1 tablespoon fresh oregano, finely chopped
Method
Heat a barbecue grill or indoor stove grill, or a griddle over high heat. Brush with olive oil and make sure it is very hot. Trim away the tough, woody core of the endive and then slice in half lengthwise. Mix 1/2 tablespoon fresh oregano with the olive oil in a cup and use it to brush the cut sides of the endive. Place the endive halves on the grill in batches, with the cut side down. Grill until the edges have started to brown and curl (about 3 - 4 minutes). Remove to serving dish and drizzle with oregano and balsamic, Add salt and freshly ground black pepper to taste.
Seared Belgian Endive Recipe With Walnut Sauce
Ingredients
salt to taste
1/4 teaspoon salt
2 teaspoons lemon zest
1 tablespoon walnut oil
1/4 cup walnuts, finely chopped
1 tablespoon extra virgin olive oil
Freshly ground black pepper to taste
1 small garlic clove, finely chopped
2 tablespoons parsley, finely chopped
4 large heads Belgian endive heads with bottoms removed, sliced in half lengthwise
Method
Assemble the sauce by combining the walnuts, garlic, parsley, lemon zest and 1/4 teaspoon of salt and set aside. Heat the olive oil over moderate heat in a heavy frying pan. Put the endive halve, cut sides down into the frying pan so that they are spread out in a single layer. Season with salt and pepper and cook in the covered pan for about 5-7 minutes, until the cut side is golden brown. Remove from heat and transfer to a platter or to individual plates, cut side up. Remove the endives and place on serving plates with the cut side facing up. Drizzle with walnut oil and top with the walnut sauce. Serve warm.
Belgian Endive Salad Recipe with Apples and a Cranberry Vinaigrette
Ingredients
For the Vinaigrette
1 tablespoon white wine vinegar
2 tablespoons extra-virgin olive oil,
2 tablespoons cranberry juice concentrate
For the Salad
2 apples, peeled and chopped
1/2 cup cranberries, chopped
1/3 cup walnuts, toasted and coarsely chopped
1/4 cup scallions, spring or green onions, thinly sliced
4 Belgian endive heads, washed, drained and sliced thinly, crosswise
Method
Mix the vinaigrette ingredients together in a small bowl, Season with salt and pepper and set aside. Combine the sliced endive and apples together in a medium size serving bowl. Pour on the dressing. Sprinkle the green onions, cranberries and toasted walnuts on top and serve.
Baked Belgian Endive Recipe with Walnuts and Pecorino Romano Cheese
Ingredients
1/4 cup extra virgin olive oil
1/4 cup walnuts, coarsely chopped
1/3 cup freshly grated Pecorino Romano cheese
2 pounds (1 kg) Belgian endives (about 8 heads), trimmed, and sliced into quarters lengthwise
Method
Preheat oven to 350 degrees F (180 degrees C). Place the endives into a 13 x 9 inch (26 x 20 cm) shallow baking dish or baking sheet in a single layer. Drizzle with the oil and sprinkle over the walnuts and cheese. Bake with the pan covered with foil for 30-40 minutes, until the endives are tender. Serve hot.
Belgian Endive Recipe au Gratin Style
Ingredients
1 cup milk
salt to taste
2 tablespoons butter
2 tablespoons all-purpose flour
4 teaspoons grated Parmesan cheese
freshly ground black pepper to taste
1 cup grated Gruyere cheese, or similar
8 slices good quality ham or prosciutto
8 heads Belgian endive heads, with core trimmed
1/4 teaspoon ground nutmeg, more or less to taste
Method
Lightly grease a shallow baking dish. Boil the endives in a large pot of salted water for 5-10 minutes until tender. Melt the butter in a small saucepan. Whisk in the flour and stir to make a paste and cook the flour. Using a whisk, gradually add the milk in small portions, combining well after each addition. Whisk until the white sauce thickens and then stir in 3/4 cup of Gruyere cheese. Mix and then add the nutmeg, Parmesan cheese, salt and pepper, and mix well. Cook gently over medium-low heat for about 10 minutes while stirring frequently. Preheat your oven broiler on a low setting, or a grill within the oven. Drain the endives and wrap a slice of ham around each one with a slice of ham or prosciutto, and place into the baking dish in a single layer. Pour the cheese sauce over the endives and sprinkle with the remaining parsley and 1/4 cup Gruyere cheese. Cook the endives under the preheated broiler until cheese starts to bubble and is golden brown (10 minutes). Alternatively bake in a preheaed oven to 350 degrees F (180 degrees C) for about 20-30 minutes.
Nutrient Data for 100 g Belgian Endive Compared with Similar Vegetables
| Nutrients for 100g serving | Belgian Endive | Green pepper | Cabbage | Cabbage, Chinese | Spinach |
| --- | --- | --- | --- | --- | --- |
| Calories | 18 | 20 | 24 | 13 | 23 |
| Carbohydrates (g) | 3.5 | 4.6 | 5.7 | 2.1 | 3.6 |
| Dietary Fiber (g) | 3.5 | 1.7 | 2.4 | 0.98 | 2.31 |
| Total Fat (g) | 0.1 | 0.2 | 0.11 | 0.14 | 0.33 |
| Protein (g) | 1.12 | 0.87 | 1.21 | 1.54 | 2.97 |
| Sodium (mg) | 24 | 3 | 18 | 64 | 79 |
| Vitamin A (percent daily allowance) | 41% | 7% | 2% | 88% | 185% |
| Vitamin C (percent daily allowance) | 12% | 134% | 59% | 74% | 46% |
| Calcium (percent daily allowance) | 5% | 1% | 4% | 10% | 10% |
| Iron (percent daily allowance) | 5% | 2% | 2% | 4% | 17% |