Best Chermoula Sauce and Marinade Recipes for Fish, Seafood, Chicken and Meat
Chermoula is a marinade and sauce popular in Moroccan, Algerian and Tunisian cooking that is becoming very popular throughout the world. It is mostly used to flavor fish and other seafood, but it is also used for grilled and barbecued chicken, beef and other meat dishes. The Moroccan version is a rub powder or marinade made from dried parsley, paprika, cumin, pepper and salt. Other versions as a sauce, strangely resemble pesto because the outcome is a thick sauce laden with fresh green coriander (cilantro), or other herbs and garlic. The ingredients for the sauce vary and can include black pepper, ground chili peppers, fresh coriander, chopped onion, saffron, salt, cumin, garlic, pickled lemons, lemon juice and scented oils.
There are many different recipes for various purposes and dishes. This article provides a range of recipes to get you started. You can develop your own versions to suit your tastes, preferences and ingredients that are available.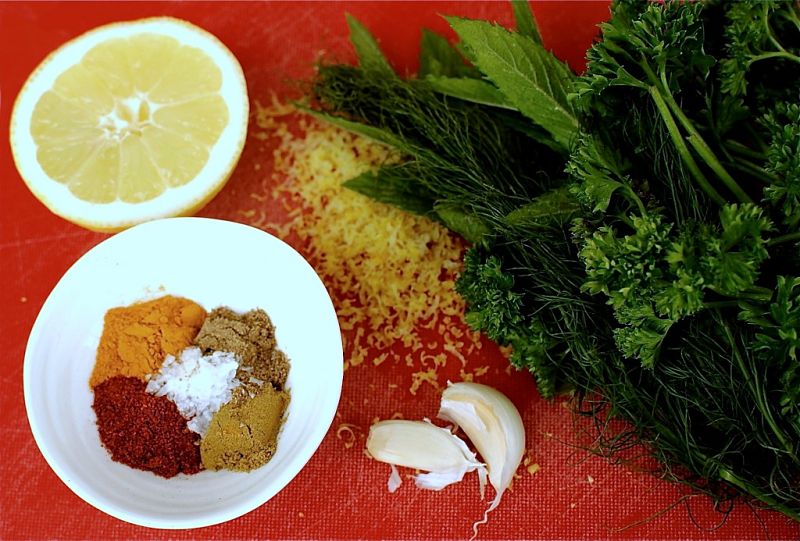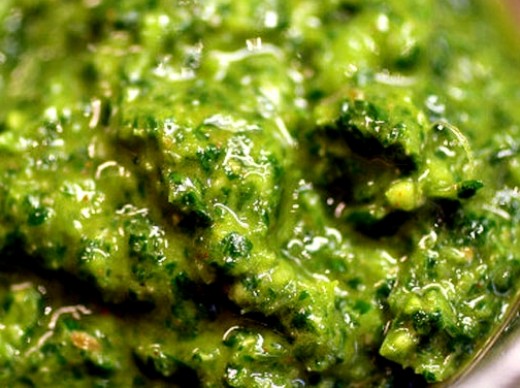 Fresh Herb Chermoula Recipe
Ingredients
2 tablespoons freshly squeezed lemon juice
2 tablespoons of high quality Extra Virgin olive oil
2 - 4 cloves of garlic, peeled and coarsely chopped
2 small fresh red chillies (seeds removed), coarsely chopped
1/2 cup fresh coriander (cilantro) leaves
1/2 cup fresh continental parsley leaves
1/2 teaspoon sweet paprika
1 teaspoon ground coriander
1 teaspoon ground cumin
Method
Place cumin, paprika and ground coriander and in a heavy frying pan or saucepan over low heat and heat slowly while stirring for about 1-2 minutes to activate the aroma of the spices. Transfer parsley, chillies, fresh coriander, garlic and the heated spice mixture in the bowl of a blender or food processor and pulse until ingredients are very coarsely chopped. Add the lemon juice, oil and pulse again several times until the herbs are finely chopped and the mixture becomes a thick paste or sauce.
Fresh Herb Chermoula - Recipe 2
Ingredients
2 teaspoons sea salt
1 teaspoon smoked paprika
1 teaspoon chilli powder
1 1/2 teaspoons ground turmeric
1 teaspoon ras el hanout
2 teaspoons ground cumin
1 teaspoon ground coriander
4-6 cloves garlic
2 spanish onions peeled and roughly chopped
1/2 bunch coriander (cilantro) roughly chopped
1/2 bunch fresh Italian parsley, roughly chopped
freshly squeezed juice from two lemons
Extra Virgin olive oil
Method>
Transfer all ingredients into the bowl of a blender or food processor and pulse until the mixture is a thick paste, but with the herbs in relatively large pieces. The paste can be made in advance and stored in an airtight container, with a thin layer of olive oil on top, in the refrigerator.
Chermoula Style Spice Rub
Ingredients
1 teaspoon paprika
1 teaspoon ground cumin
1 teaspoon caraway seeds
2 teaspoons freshly ground black pepper
2 tablespoons ground coriander
1/4 teaspoon salt
Method
Mix all the dry ingredients. This mixture can be used to make a marinade by adding olive oil, garlic and coriander to make a paste.
Baked White Fish Fillets with Chermoula Marinade, Celery and Tomatoes
Ingredients
Chermoula marinade (as above)
1/4 cup Extra Virgin Olive oil
1 x 400g (12 oz) tin of chopped tomatoes
4 x 250g (8 oz) firm white fish fillets of similar
4 sticks of celery, trimmed and chopped
Sea salt
Method
Preheat the oven to 180 degrees C (350 degrees F). Toss the fillets in half the Chermoula paste. Keep the remainder to spread over the top of the fillets. Place the chopped tomatoes and celery into a baking dish and place the fish fillets on top. Spread the rest of the paste on the fillets, sprinkle with pepper and salt and cover with a layer of foil. Bake in oven for about 20-30 minutes, until the fish is tender. Serve with cous cous, rice, or boiled potatoes.
Chermoula Style Swordfish with Boulangere Potatoes and Herb Salad
Ingredients
Boulangere potatoes

200 g (7 oz) butter, cut into tiny squares
2 teaspoons freshly ground white pepper
4 teaspoons sea salt
300 ml (10 oz) chicken stock
1 kg (2 lb) desiree or similar potatoes, peeled
Silicon or baking paper
Non-stick spray
2 baking trays
foil
Method
Slice potatoes thinly. Spray a large baking tin with non-stick spray and line with silicon paper. Spread the potato slices on the silicon paper in a thin layer. Sprinkle with salt and pepper and add some of the chicken stock, a few cubes of butter. Do with additional layers of potatoes until all are used. Cover with baking paper, and wrap in foil. Then bake for 3 hours. Refrigerate the potatoes in the tray overnight, then cut into rectangular wedges for serving.

Herb salad

1 bunch flat leaf parsley
4 stems English spinach
3 stems of mint, leaves only, chopped
1 bunch of coriander, leaves only, chopped
1 bunch of chervil, leaves only, chopped
10 shallots, sliced
300ml extra virgin olive oil
Cornflour
Method
Peel the shallots, then dice and sprinkle with dust cornflour. Deep fry the shallots until crisp. Place the remaining ingredients in a bowl, drizzle of with olive oil and lemon juice, and add the fried shallots. Season with salt and pepper to taste.
Fish
One piece of Swordfish fillet per person.
Place fish fillets on an oven tray and spoon over the chermoula and bake in a pre-heated moderate oven (180 degrees C; 350 degrees F) for about 15 minutes. Bake the potato squares on a separate baking dish.
Serving
To serve, start with a square of potato, add a piece of baked fish and top with herb salad.
Chermoula Grilled Chicken
Methoid
Coat boneless chicken legs, thighs or sliced breasts in chermoula paste. Leave overnight to marinade. Remove the chicken pieces and season with salt and pepper. Grill or barbecue over high heat, reduce the heat to complete the cooking (slice one piece to ensure inside is cooked. Slice the chicken pieces while warm and toss with scallions, coriander (cilantro) and lime juice.