Best Chicken Strip Recipes, Crumbed, Grilled, Fried, Fabulous Sauces and Tips
Crumbed chicks strips tossed in flour, dipped in egg wash, coated with crumbs and fried, grilled or barbecued and served with a tangy dipping sauce has to be one of the best ever snack foods.
Simply delicious, and easy to prepare, homemade chicken strips are much better than the tired and tasteless varieties you can buy ready-made at the supermarket.
The chicken in the prepares strips is ordinary quality, the coatings dry and floury and the dipping sauces insipid cocktails of chemicals - preservatives, artificial flavors and tenderizers.
With a little extra time you can marinade the chicken tenderloins or breast strips for even better taste and tenderness. Simply marinade the chicken pieces in garlic and olive oil for a few hours beforehand.

This article has a collection of the best ever homemade chicken strip recipes and dipping sauces for you to try.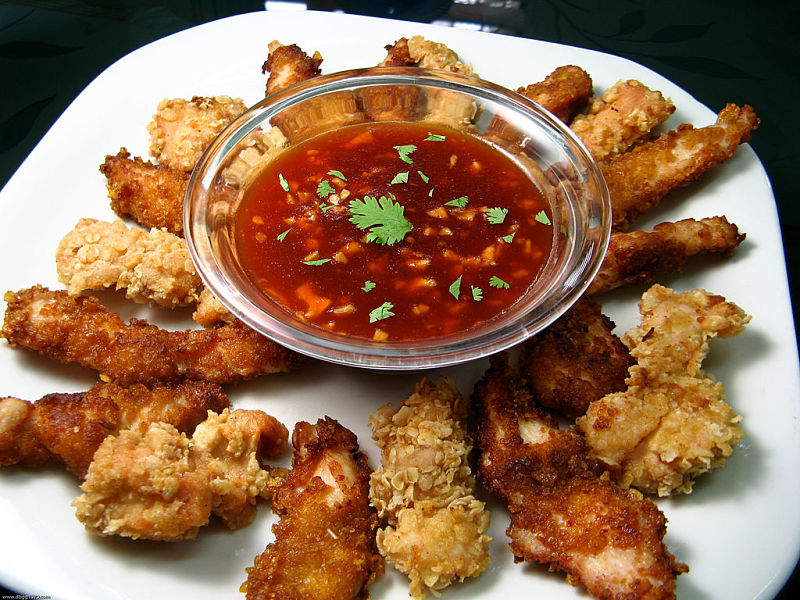 Crumbed Chicken Strips with Tangy Plum Sauce
Ingredients for the Chicken
100ml (3 1/2 fl oz) vegetable oil
1 teaspoon salt
1 tablespoon finely chopped flat-leaf parsley
400g (14 oz) fine breadcrumbs or Japanese panko
300ml milk (10 fl oz) or buttermilk
3 eggs
200g (7 oz) plain flour
1kg ( 2 lb) chicken tenderloins or chicken breast cut into strips (marinated in garlic and olive oil for 2 hours, if you have time)
paprika and cayenne pepper (optional for the crumb mix)
Ingredients for the Plum Sauce
3 cloves garlic, minced
1/4 cup orange juice
1/4 cup dry white wine
1 tablespoon sugar
1/4 cup light soy sauce
1/2 cup vegetable oil
4-6 large plums, pitted and chopped
Freshly ground black pepper to taste
To make the Plumb Sauce
Puree the ingredients in a blender or food processor (or finely chop the plums by hand). Transfer mixture to small heavy saucepan. Bring the mixture to the boil on high heat and them reduce the heat to allow the mixture to simmer for 10-15 minutes. Let cool and place in a small bowl for serving

To prepare the chicken strips
Remove any sinews or fat from the chicken. Take three small bowls and arrange in position to crumb the chicken pieces. Place the flour in the first bowl. Whisk the eggs in a second bowl. Combine the breadcrumbs, garlic salt, parsley, sea salt, and any other flavors you want to add together in the third bowl. Progressing through the bowls, thoroughly coat each piece of chicken, first with the flour, then in the egg wash - wipe off the excess on the side of the bowl, then toss in the breadcrumbs. Heat the oil in a heavy-based fry pan (or a deep fryer). Cook the chicken on both sides until golden brown and cooked through. The oil should be hot to ensure the coating is crisp. Drain the chicken strips on paper towel, and serve with the plum dipping sauce.
Baked Crumbed Chicken Strips with Parsley and Parmesan
4 chicken fillets, cut into thin strips
15 ml (1 tablespoon) fresh parsley, finely chopped
15 ml (1 tablespoon) grape seed oil
45 ml (3 tablespoons) finely grated Parmesan cheese
4 slices whole wheat bread, processed into fine crumbs
2 egg whites
salt and pepper to taste
Preheat the oven to 220 degrees C (430 degrees F). Place greased aluminium foil on a large baking sheet. Using paper towel, thoroughly pat dry the chicken strips and season lightly with salt and pepper. In a small bowl whisk the egg whites until frothy. In another bowl mix the breadcrumbs, Parmesan cheese, parsley and oil, and then spread the mixture evenly on a large plate. Dip each chicken strip in the egg white and roll in the crumb mixture to combine well. Transfer the crumbed chicken strips on the baking sheet and bake for about 7 minutes a side or until golden and done. The strips can be grilled and barbecued.
Baked Chicken Strips with Coconut Bread Crumbs
1 lb (500g) chicken tenderloins or chicken breasts, sliced into long strips about one inch thick (3 cm)
2 tablespoons canola oil
1/2 teaspoon black pepper
1 teaspoon salt
3/4 cup shredded coconut
3/4 cup panko bread crumbs
2 eggs
1/2 cup all purpose flour
Preheat oven to 400 degrees F (200 degrees C). Create a line of bowls for coating of each strip. On one plate place the flour, put the whisked eggs in a second bowl. Combine panko crumbs, coconut, salt, and pepper in a wide, shallow bowl. Take each chicken strip and roll it in the flour, shake off the excess. Dip the floured strip in the egg. Gently toss and press the chicken strip in the panko and coconut mixture, to thoroughly coat each side. Heat a large skillet over moderate to high heat. Add about one tablespoon oil and swirl over the pan to coat. Add chicken strips in batches in a single layer, well spaced. Cook each strip for about 3 minutes on one side, then flip and cook the other side for a further 3 minutes, until they have a lovely brown color. Transfer the chicken strips to a foil lined baking sheet, greased with nonstick cooking spray. Cook the strips in the hot oven for 10-20 minutes, to ensure the chicken is cooked right through and the coating is crisp.
Walnut-Bread Crumble
2 tablespoons macadamia oil, or another tasty nut oil
zest of one lemon
3 tablespoons fresh thyme (or another herb you like)
3 cloves of garlic, very finely grated
1/2 cup walnuts
3 slices of whole meal bread
salt, spices and cracked pepper to taste
Toast the bread in toaster, cool to harden and then make into crumbs using a blender. Add the rest of the ingredients to the processor and pulse several times to make the crumble mix. Vary the pulsing to vary the coarseness of the crumble.
Grilled or Baked Chicken Strips Coated with Walnut-Bread Crumble
500 g (one pound) chicken tenderloin or breasts sliced into strips
1/2 cup corn flour or rice flour
1 large, or 2 small eggs lightly whisked or beaten
Walnut-breadcrumb mix spread out on a plate (see above)
You can either choose to pan-grill or bake in the oven. Preheat the oven to 400 degrees F (200 degrees C), or use a grill or barbecue for cooking on medium to high heat. If grilling in the oven, preheat to 180 degrees C and line an oven tray with non-stick baking paper. Prepare the chicken strips by rolling in flour, dip in egg and coat with crumbs. Press the chicken into the coating mix to ensure all surfaces are well covered. Bake the strips on a foil lined baking tray in the oven for 10 minutes, turning once or until chicken is cooked. Or if grilling, heat a grill or barbecue over medium to high heat and grill for about 4 minutes each side.
Tangy Honey Mustard Dip
1 tablespoon lemon juice
2 tablespoons mayonnaise
1/2 cup honey
1/2 cup Dijon mustard
Salt and pepper, spices to taste
Mix all the ingredients in a small bowl and season with salt and pepper.
Garlic and Chili Mayo Dipping Sauce
1 cup mayonnaise
1/3 cup chili garlic sauce
1/4 cup ketchup or sweet/hot chili source
1 tablespoon water
2 teaspoons coarsely ground pepper
4 teaspoons Worcestershire
4 teaspoons Dijon Mustard
1/4 teaspoons smoked paprika
1/2 medium onion, minced
2 large garlic cloves, minced
1/2 cup extra virgin olive oil
Whisk all the ingredients together in a medium size bowl.
Apricot Dijon Mustard Dipping Sauce
1/4 cup apricot preserves sweetened with fruit juice and chopped
2 tablespoons Dijon mustard
1 tablespoons honey
2 tablespoons homemade chicken stock
2 onions finely chopped
2 spring onions finely sliced including the greens
1/2 teaspoon of corn flour
Add the apricots, mustard and chicken stock to a small saucepan and heat over medium-high heat, add the corn flour dissolved in a little water and stir until the mixture thickens slightly. Add the onions and greens, and fresh herbs to taste. Add salt and pepper to taste.