Best Chicken Wings Recipes - Baked, Fried, Grilled, BBQ, Crock Pot Recipes
Whether you are cooking an appetizer, snacks for a party, a delicious weekend lunch, or a family dinner, chicken wings are delicious and very versatile. They are easy to prepare and inexpensive.
There is a huge variety of different ways to cook them and lots of taste variations to try - spicy, savory, sweet and sour, barbecued, tomato salsa, crisp, Asian styles and slow cooked gems.
Chicken wings come either as bone-in or boneless version, though technically true wings have bones. Historically, chicken wings were very cheap because few people wanted them.
But now that people know how to prepare delicious snacks from them, the price has increased, but they are still one of the cheapest cuts of poultry you can buy.
This article includes the best ever recipes for fried, baked, grilled, barbecued, and slow cooked, crock pot recipes for chicken wings.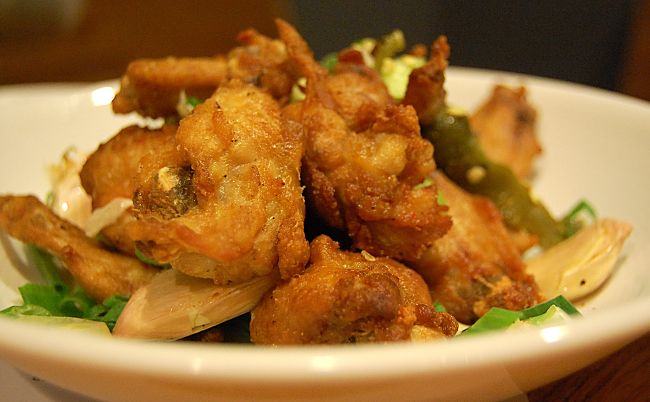 Best Ever Chicken Wing Recipes
Caramelised Shallow Fried Chicken Wings Recipe
These wings are pan fried in a delightful sweet and sour sauce that is caramelised during the cooking.
12 large chicken wings, with all the tips removed and chicken wings sliced in half at joint
1 teaspoon sesame seeds, or other seeds, or spices to use as a dressing
1 tablespoon minced garlic
2 teaspoons wine vinegar
1 tablespoon honey
2 tablespoons peanut butter
1/3 cup soy sauce
1/2 cup white sugar
1 cup water
Add the garlic, wine vinegar, honey, peanut butter, soy sauce, sugar and water to a heavy frying pan or skillet and heat using a medium temperature setting until the mixture is smooth, well combined and the sugar has completely dissolved. Put all the wings into the sauce, cover the pan (use foil if there is no lid), and gently simmer for about 30 minutes. Then remove the lid and simmer for a further 30 minutes until the sauce has thickened and the chicken wings are tender. Monitoring regularly, turn the wings over and spooning sauce over the wings. When cooked, sprinkle with sesame seeds or fresh herbs.
Baked Garlic and Ginger Chicken Wings Recipe
These chicken wings have a sticky, spicy, ginger and garlic glaze.
1 cup all-purpose flour
2 tablespoons vegetable oil
3 tablespoons hot chili sauce
salt and ground black pepper (to taste)
5 pounds (2 1/2 kg) of chicken wings, with tips removed, and separated at joints
cooking spray
For the glaze
1 tablespoon soy sauce
1/2 cup packed brown sugar
1/2 cup rice vinegar
1 tablespoon chili and pepper sauce
2 tablespoons fresh ginger root (finely minced)
3 crushed garlic cloves
Preheat the oven to 400 degrees F (200 degrees C). Line two large baking sheets with foil. Lightly grease the foil with cooking spray. Transfer the chicken pieces to large mixing bowl and add salt, pepper, vegetable oil and hot sauce to season the pieces. Toss to coat all of the pieces, thoroughly. To coat the chicken pieces with flour, all the flour and pieces to a large sturdy plastic bag. Seal the bag and shake to shake to coat with the flour leaving no uncovered spots. Place the wings onto the baking sheets, leaving a gap between each piece. Spray the wings with some extra cooking spray. Place the baking sheets into the oven and bake the chicken wings for about 30 minutes. Carefully turn over each pieces and cook the other side for about 30 minutes. Check that the chicken is cooked inside and crisp on the outside.
To make the glaze mix the garlic, chili paste, rice vinegar, ginger, brown sugar and soy sauce buy whisking in a saucepan. Put on the stove and bring the sauce mixture to the boil and then remove from heat. Place about half the chicken wings in a large mixing bowl and pour about half the glaze sauce over the wings. Mix the wings around with tongs to coat each chicken wing evenly. Transfer to a tray for serving. Repeat with the remainder of the chicken wings and glaze.
Marinated Grilled and Barbecued Chicken Wings Recipes
This recipe features soy and chili sauce as a marinade. The wings are grilled or barbecued.

Marinade for Chicken Wings:
3 pounds (1 1/2 kg) chicken wings, with tips removed and separated at the joints
1/2 cup Italian-style salad dressing
1/2 cup soy sauce
Sauce:
1/4 cup butter
1/4 cup hot pepper or chili sauce to taste
1 teaspoon soy sauce
To marinate the chicken wings, choose a large sturdy zip-top bag plastic bag and add the soy sauce and Italian dressing, and then add the chicken wings. Close the bag and toss the wings to coat evenly with the soy sauce mix. Refrigerate overnight, or for a minimum of 4 hours.
To cook the chicken wings preheat an indoor grill or barbecue using medium heat. Melt the butter in a small saucepan, stir in the hot pepper sauce and one teaspoon of soy sauce and set aside as a glaze. Remove the chicken wings from the marinade and dry thoroughly. Cook the chicken wings on the grill or barbecue, turning regularly, for about 25-30 minutes. Test and keep cooking until the outside of the chicken is well browned and the flesh inside is longer pink. When cooked pour the soy and butter sauce over the chicken wings as a glaze.
Grilled Mustard and Ginger Chicken Wings Recipe
1/2 teaspoon ground ginger
1/4 cup soy sauce
4 garlic cloves, minced
2 teaspoons olive oil
1/2 cup Dijon mustard
3 pounds ( 1 1/2 kg) chicken wings
Subdivide the chicken wings into two pieces, after discarding tips. Mix the other ingredients in a large bowl. Add wings and mix well to evenly coat with the mustard sauce. Cover the bowl and marinate for 35-50 minutes. Place the chicken wings on the grill using tongs and brush with the remaining mixture as they are cooking. Grill over medium heat on an indoor grill or a barbecue for about 10-15 minutes, each side.
Roasted Chicken Wings Recipe with Mustard and Parmesan
2 tablespoons (30 ml) minced fresh parsley
1/2 cup (125 ml) dry bread crumbs
1/4 teaspoon (1 ml) salt
1/4 teaspoon (1 ml) cayenne pepper
1/4 cup (60 ml) Dijon mustard
2-1/2 lb (1.1 kg) chicken wings, (about 17), with tips removed and halved at the joints
1/4 cup (60 ml) grated Parmesan or Romano cheese
2 tablespoons (30 ml) lemon juice
Preheat the oven to 400 degrees F (200 degrees C) oven. Place in the chicken wings in a large bowl and add lemon juice, Dijon mustard, salt and cayenne pepper and toss to coat the wings well. In large shallow dish, combine Parmesan cheese, bread crumbs and parsley. Transfer the wings to the mixture coat each piece thoroughly over. Transfer to a foil-lined baking sheet, keeping wings in a singe layer and well separated. Cook the wings in the preheated oven for 30-40 minutes. Test that the wings are crisp and not pink on the inside.
Hot and Spicy Deep-Fried Chicken Wings Recipe
10 chicken wings
1/2 teaspoon garlic powder
1/4 teaspoon ground black pepper
1/4 cup hot chili sauce (or other hot sauce)
1/4 cup butter
oil for deep frying
1/4 teaspoon salt
1/4 teaspoon cayenne pepper
1/4 teaspoon paprika
1/2 cup all-purpose flour
Mix the flour, salt, paprika and cayenne pepper together in a small bowl. Transfer the chicken wings to a large flat dish and dust with the flour mixture until they are all well coated. Cover the dish and refrigerate for 60 - 90 minutes. Add enough oil to a deep fryer so that it will just cover all the wings. Heat the oil in a deep fryer till the temperature is about 375 degrees F (190 degrees C). Next, mix the hot sauce, butter, garlic and pepper in a small saucepan over low heat until the butter is melted. Combined well and then remove from the heat and transfer to a jug for serving. Fry the chicken wings in the hot oil for 10-15 minutes, or until the wings start to turn golden brown. Remove from heat and serve in a bowl with the hot sauce.
Fried Chicken Wings Recipe - Korean Style
These wings have a very crunchy exterior because they are dipped in a thin batter and fried twice. For extra zing you can soak the chicken wings for 12 hours in a saline solution with garlic, peppercorns, bay leaves, lemons halves and parsley to boost the taste. This is optional.

For the salt marinade bath (optional)
8 cups water
1/4 cup sea salt
1 tablespoon black peppercorns
4 cloves garlic, peeled, but left whole, or halved
2 tablespoons honey
4 1/2-inch piece fresh ginger, finely chopped
1 lemon, washed and halved
For the chicken:
3 lbs (1/2 kg) chicken wings, with tips removed, halved at the joint
1 1/3 cups water
1/2 cup cornstarch
1/2 cup all-purpose flour
Canola or peanut oil
1 tablespoon honey
1 tablespoon sesame oil
1 1/2 tablespoons rice vinegar
3 tablespoons gochujang (Korean chili paste, or alternative)
3 tablespoons soy sauce
2 large pieces of fresh ginger, peeled and chopped
5 cloves garlic, peeled and roughly chopped
For the brine - Mix all the ingredients in a large pot and bring to a boil and simmer for about one minute, mixing to dissolve the salt. Remove from the heat an refrigerate until cool. Place the chicken in the brine mix, cover, and leave for 12-24 hours.

For the sauce glaze - Mince the garlic and ginger and then transfer to a pot or saucepan with the rest of the ingredients. Bring the mixture to the boil, reduce the heat and simmer for about 5 minutes, stirring several times, until sauce starts to thickened. Then set the mixture aside.

For frying the chicken - pour the oil into a pan to a depth of about 2 inches (5 cm). Heat the oil to 350 degrees F (175 degrees C). Mix the flour and cornstarch in a medium bowl, add the water and whisk until smooth to form the matter. Drain the chicken if it has been brined and dry thoroughly. Working in small batches, dip the chicken in batter and fry until the chicken wings are golden brown (generally about 5-7 minutes). Remove the cooked chicken pieces to a cooling rack in the baking sheet to catch the drips. Repeat for the remaining chicken piece.

Next fry the chicken wings a second time until they are crisp and have a deep reddish-brown color (generally about 4-6 minutes). Let chicken cool slightly and serve with the sauce.
Japanese Style Fried Chicken Wings Recipe
In this recipe the chicken wing surfaces are carefully made very dry and then fried twice until the skin is very crisp. After being coked they are glazed with in a peppery-sweet soy based sauce. The wings are brushed with the glaze immediately they come out of the hot oil. This helps to caramelizes the glaze, sealing the surfaces and helping to keep the outer layers crisp.
800 grams chicken wings (about 1.75 pounds)
1 tablespoon potato starch
1 tablespoon balsamic vinegar
1 medium clove or garlic, finely chopped
1 1/2 teaspoon finely chopped fresh ginger
3 tablespoons mirin
3 tablespoons sake
2 3/4 tablespoons soy sauce
3 tablespoons dark brown sugar (packed down)
1/2 teaspoon salt
1/2 teaspoon black pepper
vegetable oil for frying
Place the chicken wings in a medium-large bow, season with salt and pepper and then refrigerate for at least 60 minutes. The slat helps draw moisture out of the chicken.

To make the glaze put the sugar, sake, mirin, ginger juice, soy sauce and garlic in a shallow pan. Heat to boiling over medium heat, pour in the vinegar, then remove from the hot plate and transfer to a large bowl and set aside for the glaze to cool.

Add about two inches (5 cm) of vegetable oil to a heavy pot or saucepan and heat to 320 degrees F (160 degrees C). Dry the chicken pieces thoroughly to remove as much moisture as possible. Sprinkle the potato starch on the wings and toss to ensure they are evenly coated with the starch. Fry the chicken wings in small batches for about 10 minutes. When all the pieces have been fried once it is time for the second fry. Increase the oil temperature to 375 degrees F (190 degrees C). Fry the chicken wings again in smaller batches until the wings are moderately brown in color (about 2-3 minutes for each batch). As each batch is removed from the fryer, toss quickly in a small bowl with the glaze. Transfer to a serving bowl, sprinkle with black pepper and toasted sesame seeds and sere immediately.
Crock Pot Chicken Wings Recipe
5 1/2 pounds (2 1/2 kg) chicken wings, split and tips discarded
2 teaspoons salt
1 teaspoon garlic powder
2 1/2 teaspoons chili powder
3 drops hot pepper sauce
2 tablespoons Worcestershire sauce
1/4 cup black strap molasses
1/4 cup freshly squeezed lemon juice
1 can or bottle chili sauce
Transfer the chicken wings to the bowl of slow cooker. Using a medium bowl combine together the salt, garlic powder, chili powder, salsa, hot pepper sauce, Worcestershire sauce, molasses, lemon juice and chili sauce. Pour the mixture onto the chicken and mix. With the slow cooker set to Medium-Low cook for about 5 hours.
Related Articles and Recipes
=>Raising Chickens for Eggs, Meat, Gardens, Plus Showing, Family Fun, Education
=> Honey Mustard Chicken Recipe - Baked with Rosemary and Black Pepper
=> Yogurt Marinated Chicken Recipes for Barbecue or Grill
=> Best Ever Chicken With Apple Recipes
=> Best Parmigiana Recipe Collection-Chicken, Veal, Meat, Vegan
=> Best Chicken Strip Recipes, Crumbed, Grilled, Fried, Fabulous Sauces and Tips
=> Homemade Chicken Nuggets Recipe for Kids, Baked with Delicious Dips
=> Peruvian Chicken Recipes Showcase Modern Peruvian Cuisines
=> Jamaican Jerk Spices Rub Recipes for Pork, Beef, Lamb, Turkey, Chicken and Fish
=> Velvet Chicken Recipes - Chinese Velveting Techniques for Meat
=> Baked Whole Chicken Recipes