Best Christmas Cake Recipe Ever - Rich, Dark Fruit Cake for Anytime
The trouble with Christmas cake is that you generally only bake it once a year. This increases the risk of disaster, especially if you try a new recipes and you are unaware of all the tips and tricks needed to navigate your way safely through the minefield of all the things that can go wrong.

Well don't despair, help is at hand with three fabulous easy recipes that have been used successfully for decades. There is also a wonderful list of tips for baking a perfect dark, rich cake that is spicy, packed with boozy fruit, nuts and dried fruit - bursting with flavor, moist, rich but not heavy or stodgy.

These recipes, tips and ideas can be use to make a rich dark fruit cake, anytime not just at Christmas.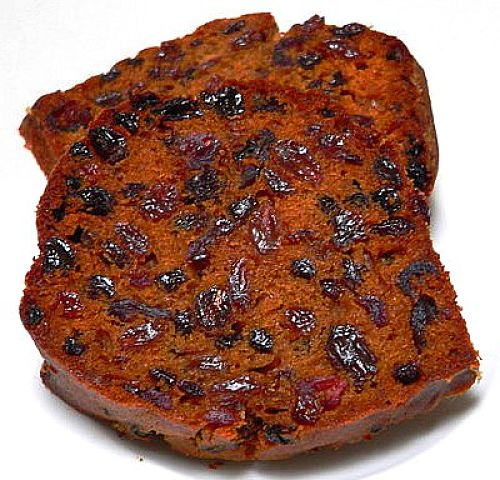 List of Tips and Tricks for Cooking Rich, Dark, Moist Fruit Cakes
Use an oven thermometer to verify the oven temperature during baking, as the thermostat may be inaccurate. If you have a fan oven, reduce the temperature by about 10% as fan ovens tend to be effectively a little hotter than conventional oven.
Check the oven door seals properly, and if necessary use something to keep it sealed. Don't open the oven door until the cake is more than 50% though the cooking time.
Line the cake tin well using about three layers of lining paper and grease it well - there is nothing worse than having the cake stuck in the tin.
Make sure you use the correct size cake tin for your chosen quantity of ingredients - not too large, or the top won't brown and form a dome shape - not to small or the cake will ooze down the sizes.
Soak any fruit for a few days (preferred) or overnight, in rum, whiskey or other alcohol or fruit juice so that the fruit becomes plump and absorbs the flavours before baking.
Add the eggs slowly at the creaming stage to try to avoid curdling.
When baking the cake add a tin with about two pints (one litre) of water in it, at the bottom of the oven. This will keep the atmosphere is the oven moist in the oven while it is cooking and will help it keep moist.
To test for doneness, gently press the top of the cake with your little finger. If the cake surface springs back into place the cake is cooked. However, you will need to check that the core of the cake is cooked as well. Insert a thin skewer into the central interior of the cake and if it comes out clean it should be cooked. However, the mixture is very moist and you need to check that what sticks to the skewer is not cooked cake. Try several locations
After baking, cool the cake so that it is warm to the touch, and sprinkle several tablespoons of tablespoons or brandy or rum over the cake. You can use orange juice if you don't want to use alcohol.
Store the cake that has been sprinkled with brandy, wrapped in two layers of greaseproof paper. Add an outer layer of foil and store it in a container that is virtually air-tight. The longer you store it, the better and more rounded the flavor will be. You can add extra alcohol or fruit juice and re-wrap the cake several times to increase the intensity of the flavor.
Before you start mixing the ingredients make sure that you bring them all to room temperature.
Measuring all the ingredients accurately and consistently.
Sweet as dried fruit is, don't be tempted to leave out the sugar as its important for developing the texture of the cake when combined with the flour and shortening. Brown sugar or molasses adds to the darkness of the cake and adds extra flavor.
Wholemeal flour can be used, but add extra raising agent to offset any tendency for the cake to be heavy.
Always bake fruit cakes in a pre-heated oven with the pan placed in the center of the oven.
Although the recipes vary in the recommended rising agent bicarbonate soda helps to keep the fruit cake relatively light.
Before you start making a fruit cake, make sure you have enough time (3 hours). Mixing the ingredients generally takes about 30 - 40 minutes and baking will take around 2 - 2 1/2 hours. You also need time to prepare and soak the fruit beforehand and to add sherry of brandy to the cake after it has been baked.
Rich, Dark Christmas Cake and General Purpose Fruit Cake Recipes
Christmas Cake RECIPE 1
30 g (1 oz chopped hazelnuts
70 g (2 oz) ground hazelnuts
1/2 teaspoon of nutmeg
1 teaspoon cinnamon
1 teaspoon mixed spice
pinch of salt
250 g (8 oz) plain flower
4 eggs
250 g (8oz) butter
250 g (8 oz) molasses or dark brown sugar
1/4 bottle of dark or spiced rum
175 g (6 oz) glace cherries, halved
60 g (2 oz) dried dates, stoned and chopped
250 g (8 oz) dried currants
250 g (8 oz) sultanas
500 g (1 lb) seedless raisin
juice of one orange
finely grated rind of one orange
Place the cherries, dates, currants, sultanas, raisins and orange rind, in a bowl and mix.
Add the freshly squeezed orange juice and about 1/4 pint (150 ml) of rum to your bowl and mix. Cover and set the mixture aside for a several of days, mixing every day (all the liquid should be absorbed by the dried fruit).

Grease your baking tin (20 cm; 9 inch) and line with 2-3 layers of baking parchment paper. Cream the butter and sugar together and mix by hand until fluffy or use a beater or food processor. Add the eggs one at a time, and keep mixing until light and fluffy. Sift the flour, spices and salt together into a bowl. Transfer the creamed butter and sugar mixture to a large mixing bowl and fold in the flour. Add the chopped nuts, ground nuts and soaked fruit mixture and gently mix it all together.

Transfer the mixture to your prepared cake pan. Place a double layer of greaseproof paper over the top of your cake tin. Bake the at 150 degrees C (300 degrees F) for a conventional oven; 140 degrees C (280 degrees F), for a fan-forced oven. Bake the cake in the centre of the oven for about 2 hours. Then test for doneness using a finger to press against the surface. If it springs back the cake is probably cooked. Use a skewer to check that the core of the cake is cooked. If the cake has not finished cooking, remove the baking paper from the top, and return the pan to the oven for 10-15 minutes. Repeat and check again until the cake is cooked.

Leave your cake to cool completely in the tin before removing it. Take some some rum, sherry or brandy and drizzle lightly over the cake. Transfer the cake to a suitable container and store in a cool place. If you don't have a lid you can use foil. Add extra sprinkles of brandy or sherry every two or three days. Flip the cake over between these additions to ensure the liquid penetrates evenly. Don't use too much liquid or the cake will turn into a pudding and become soggy.
Christmas Cake RECIPE 2

25 g (1/2 oz)crystallised ginger, chopped
50 g (1 oz) whole almonds
Zest of 1 lemon (grated)
50 g (1 oz) ground almonds
1 teaspoon mixed spice
1/2 teaspoon baking powder
130 g (5 oz) plain flour
4 eggs, beaten
125 g (4 oz) muscovado sugar
125 g (4 oz) butter, softened
125 ml (1/4 pint) whisky, or brandy (extra for adding after cake is cooked)
100 g mixed peel
100 g (3 oz) glacé cherries, cut in half
100 g (3 oz) dried figs, roughly chopped
250 g (8 oz) sultanas
250 g (8 oz) currants
Place the peel and dried fruit in a bow, and the whisky, mix and cover and let soak overnight or for several days. Grease your baking tin (20 cm; 9 inch) and line with 2-3 layers of baking parchment. Preheat the oven to 140 degrees C (280 degrees F).

Cream the sugar and butter together until light, creamy, smooth and fluffy. Next, while continuing to mix, gradually add the eggs, beating as each egg is added (stops curdling).

Sift the flour, ground almonds, baking powder, spice and salt together and then fold this into the creamed butter mixture. Add the fruit, lemon zest, chopped almonds and ginger, some extra whisky ( or brandy) and mix gently to combine.

Transfer the mixture into your greased and lined baking tin. Bake in the preheated oven for about an hour, then cover the tin with foil, and bake for an additional 30 minutes. Test whether it is cooked by inserting a skewer into the middle of the cake. If it comes out clean it is cooked. Otherwise cook for an additional 10 minutes and check again. Repeat until the cake is cooked.

Let the cake to cool in the tin and then remove the cake, but leave the baking paper attached. Wrap the cake well in greaseproof paper and store in an airtight container until ready to be cut and served. Add more brandy or sherry at intervals while it is being stored.

Christmas Cake RECIPE 3 Very Easy Christmas Cake (boiled ingredients)
1 tablespoon rum for adding to the baked cake
340 g packet pastry mix
1/2 teaspoon lemon essence
1/2 teaspoon vanilla essence
1/2 teaspoon Parisian essence
4 eggs, lightly beaten
1 teaspoon mixed spice
1 cup brown sugar ( firmly packed in cup to measure)
1 cup water
1/2 teaspoon bicarbonate of soda
1/4 cup coarsely chopped glace ginger
1/4 cup halved red glace cherries
1 cup dark rum
1 kg (2 lb) mixed dried fruit
Grease a deep round cake pan (22 cm; 8.5 in) and add three layers of baking paper to the sides and base. Extend the paper above the edge of the pan.

Place the dried fruit, cherries and ginger in a large bowl. Add the rum, cover and set aside for at least two hours, stirring occasionally. Leaving overnight is better.

Add the bicarbonate of soda to the water in a large saucepan. Add fruit mixture, sugar and spice. Heat the mixture until the sugar is dissolved, stirring constantly. Heat to boil and simmer for about three minutes. Remove from the stove and transfer the mixture to a large bowl. Cover with foil and let stand overnight.

The next day add the pastry mix, eggs and essences and combine well. Pour into the greased and lined baking tin. Bake in a moderate oven, 180 degrees C (350 degrees F), for about 2 hours. Test for doneness with a skewer and cook for an additional 10 minutes is not completely cooked. Test and cook for longer if required. Remove from oven, cool the cake in pan before removing. Sprinkle extra rum over the top of the cake when cool.
Related Articles and Cke Recipes
=> Light Fruitcake Recipe with Gin Soaked Raisins
=> Best Potato Latkes Recipes - Easy to Make Crisp Potato Pancakes
=> Vietnamese Banh Xeo Recipes - Homemade Crisp, Lacy, Light Vietnam Pancakes
=> Best Easy Carrot Cake Recipes in the World and Best Icing, Frosting
=> Korean Seafood Pajeon Pancakes Recipe with Fresh Local Squid
=> Best Simnel Fruit Cake Recipe with Tips and Variations
=> Best Honey Cake Recipes - Bee Inspired by these great recipes
=> Best Ripe Mushy Banana Recipes for Banana Bread, Cakes, Muffins and Desserts
=> Tres Leches Cake Recipe - Easy to Make Latin American Dessert
=> Tips for Baking - Tricks for Cakes, Muffins, Cupcakes, Cookies, Scones
=> Easy Banana Bread and Quick Simple Banana Cake Recipes and Tips
=> How to Make Pancakes from Scratch - Recipes, Tips, Variations