Best Ever Coleslaw Recipes: Easy, Creamy, Delicious Homemade Summer Slaw
Like many things making an excellent summer coleslaw is an artistic edible creation, despite its inherent simplicity.
The devil is in the detail that transforms basic ingredients of raw shredded raw cabbage and a mayo-based dressing into a taste sensation with a creamy, tangy, rich taste and slightly crunchy texture.
It is the minor extra ingredients, spicy, herbs and flavors that make all the difference, turning an ordinary coleslaw from a side dish into a feature and stand-out.
Discover the best ever summer slaw recipes that can be easily made at home for salads, barbecues, picnics and dinner parties. Coleslaw is great on sandwiches and hamburgers and as a side dish for many meals.
A good coleslaw makes a summer meal or barbecue a treat and a delight. Enjoy!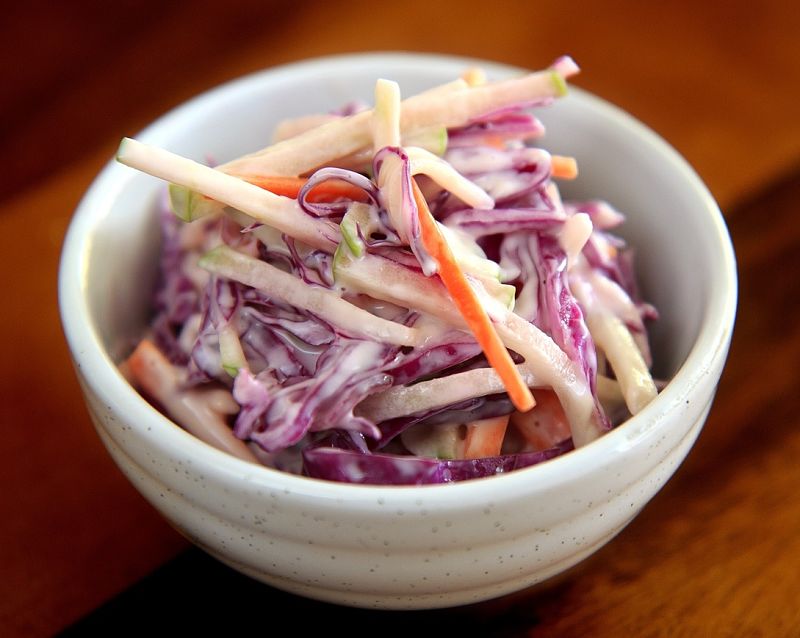 Top 20 Tips for Perfect Homemade Coleslaw
The classic old coleslaw was soggy with a taste dominated by commercial mayonnaise. It doesn't have to be that way. Discover how to make the perfect coleslaw with the following stellar tips:
The Cabbage
White cabbages rather than green are generally favoured, to provide extra crunch, green or red cabbage has more flavor. Why not try a combination to get the best of both worlds - crunch and flavor.
Slicing the Cabbage
Don't shred the cabbage too finely, as it will lack texture and intrigue and can be rather mushy if cut too finely. Chopping it by hand introduces some delightful variation in thickness and size of the pieces which can be charming. Remove the outer leaves of the cabbage, but retain some of the green ones. Rinse the cabbage well with cold water. Slice the cabbage in half, then cut each half in half again, so you have four quarters. Then cut away the core from each quarter. Lay each quarter of the cabbage on a cutting board and slice evenly into matchstick sized pieces or slightly thicker if you prefer.
You can julienne the carrot by hand, but a mandolin works great for this task. As a last resort you can shred the carrot, but the presentation is not as nice.
Hydrating and Drying the Chopped Cabbage
Immersing the shredded cabbage in ice-cold water for half an hour ensures the cabbage is 'plumbed' with water ensuring maximum crunchiness. It probably depends on how fresh the cabbage is when you slice it. Use the sliced cabbage immediately as it quickly loses moisture if set aside without the dressing. Another tip in the opposite direction is to thoroughly squeeze any excess water out of the chopped and soaked cabbage. This prevents the coleslaw from becoming too runny and it prevents the dressing taste from being reduced via dilution. Some people sprinkle the chopped cabbage with salt before squeezing to further dry it out. To do this, shred your cabbage, toss in about a tablespoon of salt and let sit for 10 minutes before draining off and squeezing well to remove the excess moisture. A dry cabbage will soak up the dressing in a better way.
The Dressing
The choice is between a simply transparent dressed made with oil and vinegar or a more creamy version made with a homemade mayonnaise. You can prepare a simply quick dressing in the food processor, by combining egg yolks, sunflower oil, a mixture of English and Dijon mustards and white wine vinegar. Drizzle in the oil while pulsing and add 2 tablespoons of yogurt stirred through at the end. See the recipes below for other alternatives. A buttermilk dressing is favored inthe American south, which is thickened with sour cream and mayonnaise and sour cream, and flavoured with cider vinegar and mustard. This has a tangy and fresh tasty while having a creamy color and consistency. Most coleslaw dressing recipes include mustard, either Dijon or English. But, you can use horseradish instead, to provide a peppery hot taste, with the slight bitterness of the cabbage. The dressing should not be too sweet.
Onion included or Not?
Many people do not like raw onion in coleslaw, but red onion and spring onions work very well and are not overpowering.
Sweet Peppers, Other Vegetables or Not?
Grated green, red and yellow peppers add taste interest, and color to the coleslaw, but the peppers need to be sliced very finely and used sparingly. Dill, spring onions, carrots and other vegetables and herbs can also be added.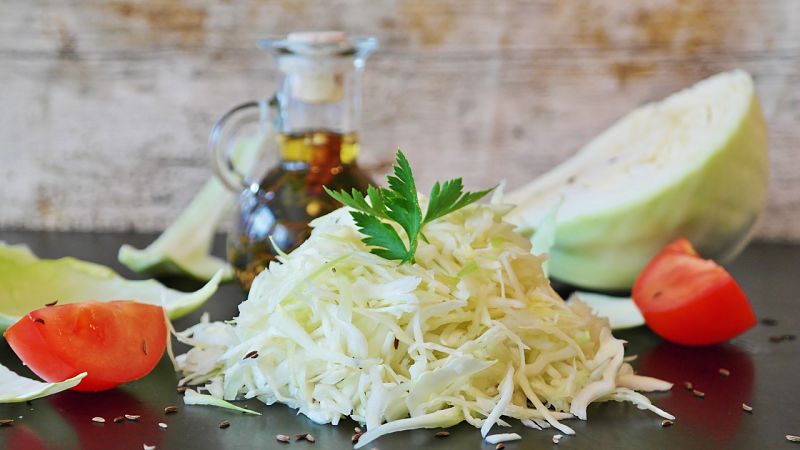 Best Ever Coleslaw Recipes
Rich Coleslaw With Mustard, Walnuts, Herbs and Grapes
Ingredients
Salt to taste
2/3 cup sour cream
1 tablespoon sugar
3/4 cup walnut pieces
1 tablespoon dijon mustard
8 scallions, finely chopped
Freshly ground pepper to taste
2 tablespoons apple cider vinegar
2 tablespoons extra-virgin olive oil
2 cups seedless green grapes, chopped
3 tablespoons fresh dill, finely chopped
3 tablespoons fresh cilantro, finely chopped
3 tablespoons fresh tarragon, finely chopped
1 medium size head fresh and crisp green cabbage, finely shredded
Directions
Spread the walnuts in a single layer on a baking sheet and bake in a moderate oven until lightly toasted (about 5-7 minutes). Set aside to cool and then chop or crush into coarse pieces. Make the homemade dressing by whisking the vinegar, sugar, mustard, 1/2 teaspoons pepper and 1/2 teaspoon salt in a large bowl. Gradually whisk in the olive oil, a little at a time until the dressing is well blended. Then, add the sour cream and whisk to combine well. Add the cabbage, tarragon, scallions, grapes cilantro, dill and toasted walnuts to the bowl. Toss to coat the shredded cabbage with the dressing. Chill before serving.
Just Perfect Coleslaw Recipe
Ingredients
1 teaspoon salt
2 medium carrots
1/4 medium red cabbage
1 teaspoon caster sugar
1/4 medium white cabbage
1 tablespoon white wine vinegar
2 spring onions, finely chopped
1 tablespoon creamed horseradish, or to taste
5 tablespoons good mayonnaise (preferably homemade)
Method
Cut the cabbage into quarters and remove the woody core. Shred the as finely as you prefer. Peel the carrots and slice them into long thin strips or slices. Add to the cabbage in a large bowl. Add the salt, sugar and vinegar, toss together, transfer to a colander, and set aside in the sink or a large container to drain for about an hour. Meanwhile, make the mayonnaise by mixing together all the ingredients adding the amount of horseradish you prefer for the taste you want. Add the dressing to the cabbage a bowl, gradually. When the consistency is what you prefer and add the spring onion. Serve immediately.
Creamy Cole Slaw Recipe with Onion, Carrots and Mustard
Ingredients
2 teaspoons celery salt
2 tablespoons sour cream
2 tablespoons white vinegar
2 large carrots, finely shredded
2 tablespoons grated Spanish onion
Salt and freshly ground black pepper
1 tablespoon dry mustard (good quality)
2 tablespoons sugar (more or less to taste)
3/4 cup best-quality mayonnaise (homemade preferred)
1 medium size green cabbage, finely shredded (must be fresh)
Method
Choose a firm and fresh, young cabbage with bright colors. Combine the freshly shredded carrots and cabbage in a large bowl. Whisk the mayonnaise with the pepper, salt, celery salt, mustard, vinegar, sugar, onion and sour cream in a medium bowl until well combined. Then, evenly distribute through the cabbage mixture. Taste and adjust the seasoning to your liking, adding more sugar, salt, mustard, salt and pepper as required.
Sweet, Sour and Spicy Coleslaw Recipe
Ingredients
1 cup sugar
Salt to taste
1/4 cup mustard
1 medium onion, shredded
1/2 teaspoon cayenne pepper
Freshly ground black pepper
4 carrots, peeled and shredded
2 teaspoons apple cider vinegar
1/2 cup good quality mayonnaise (homemade preferred)
2 lb (1 kg) shredded green cabbage (about half a large cabbage)
Method
Gather all the shredded vegetables in a large bowl and mix to combine well. Make the dressing by whisking together the mustard, cider vinegar, mayonnaise, sugar, 1 teaspoon black pepper and the cayenne pepper in a medium bowl. Season with salt. Mix the dressing through the cabbage mixture and season again with salt and pepper. Taste the coleslaw and adjust the taste and thickness to your liking. Chill covered before serving.
Red Cabbage Coleslaw Recipe with Basil, Mint and Lime Juice
Ingredients
Salt
1 tablespoon honey
Bunch of fresh mint
1/2 cup grape seed oil
1/4 cup fresh basil leaves
Freshly ground black pepper
1/2 red onion, coarsely chopped
2 cloves garlic, coarsely chopped
1/4 cup freshly squeezed lime juice
1/2 cup freshly squeezed orange juice
1/2 head red cabbage, finely shredded
2 tablespoons cilantro leaves, finely chopped
Method
Place all ingredients, part from the shredded cabbage in a blender and pulse into a smooth paste. Season with salt and freshly ground black pepper. Taste and adjust the seasoning to your liking. Place the cabbage in a large bowl, add the sauce and toss to coat all the cabbage pieces. Chill before serving
Crunchy Coleslaw Recipe with Bell Peppers, Celery and Mustard
Ingredients
Salt
3 tablespoons sugar
1/2 cup apple cider vinegar
Freshly ground black pepper
4 scallions, finely chopped
1 1/2 teaspoons celery seeds
1 1/2 teaspoons mustard seeds
2 stalks celery, finely chopped
1/2 cup good quality mayonnaise
1/2 head green cabbage, shredded
3 tablespoons whole-grain dijon mustard
6 bell peppers (red, orange and yellow), cut into thin strips and then chopped
Method
Dissolve the sugar and 2 teaspoons salt in the vinegar poured into a large bowl. Add the cabbage, scallions, celery, the bell peppers, 1/2 teaspoon pepper, mustard seeds and celery seeds, and mix well. Add the mayonnaise and mustard and chill before serving
Creamy Coleslaw Recipe with Ginger, Herbs and Peanut Butter
Ingredients
2 teaspoons honey
1 tablespoon soy sauce
1 tablespoon spicy mustard
1 tablespoon toasted sesame oil
2 tablespoons fresh cilantro, chopped
Juice of one lime (about 2 tablespoons)
1/4 cup fresh basil leaves,thinly sliced
2 teaspoons peeled and grated fresh ginger
2 tablespoons roasted, creamy peanut butter
3 scallions, both the green and white parts, thinly sliced
2 to 3 tablespoons roasted unsalted peanuts, coarse chopped
6 cups thinly sliced red cabbage (about 1/2 medium head of cabbage)
Method
Whisk together the lime juice, honey, ginger, soy sauce, sesame oil, mustard and peanut butter in a large bowl. Add the basil, cilantro, cabbage and scallions and toss well to coat all the cabbage pieces with the dressing. Chill and serve with the peanuts and extra herbs sprinkled on top.
Spicy Peach Coleslaw Recipe
Ingredients
for the Dressing
salt to taste
1/2 lemon, juiced
1/4 cup mayonnaise
1/2 teaspoon white sugar
2 tablespoons rice vinegar
1 tablespoon vegetable oil
1 1/2 teaspoons Dijon mustard
1 pinch cayenne pepper, or to taste
1 tablespoon Asian chili pepper sauce (such as sambal oelek)
for the Coleslaw
fresh herbs
salt and pepper to taste
2 fresh peaches, pitted and chopped
1 tablespoon thinly sliced fresh chives
1/2 (2 pound; 1 kg) cabbage - quartered and thinly sliced
4 tablespoons of mixed finely sliced vegetable such as carrots, bell peppers and onion
Method
Make the mayonnaise by combining the lemon juice, rice vinegar, Dijon mustard, chili sauce, vegetable oil and sugar in a bowl and whisking vigorously until dressing is smooth. Season with salt and cayenne pepper. Place shredded cabbage into a large bowl. Add the peaches and 1 tablespoon chives. Lightly toss until combined. Pour the dressing over the coleslaw in small batched and stir until coated. Only add enough dressing to achieve the consistency you want.