Best Easy Carrot Cake Recipes in the World and Best Icing, Frostings
If you enjoy carrot cake with your morning coffee or tea break it's time to have another go at making carrot cake at home. Perhaps your previous attempts have been way to dry and lacked the soft moist texture and spicy fruitiness that lifts carrot cake from mediocre to stellar.
A lovely homemade carrot cake is the crowning climax of a special dinner party or a morning tea.
Carrot cake is very healthy and can be made into cup cakes to provide flavorsome snacks and lunch box treats.
This article includes some fabulous tips for making the perfect carrot cake at home.
It includes the best ever recipes for rich, moist carrot cakes that are easy to make.
Discover carrot cakes that twinkle your taste buds, with a heavenly aroma and a delightful texture that showcases the ingredients such as nuts and dried fruit.
The best icing and frosting recipes are also included. Enjoy!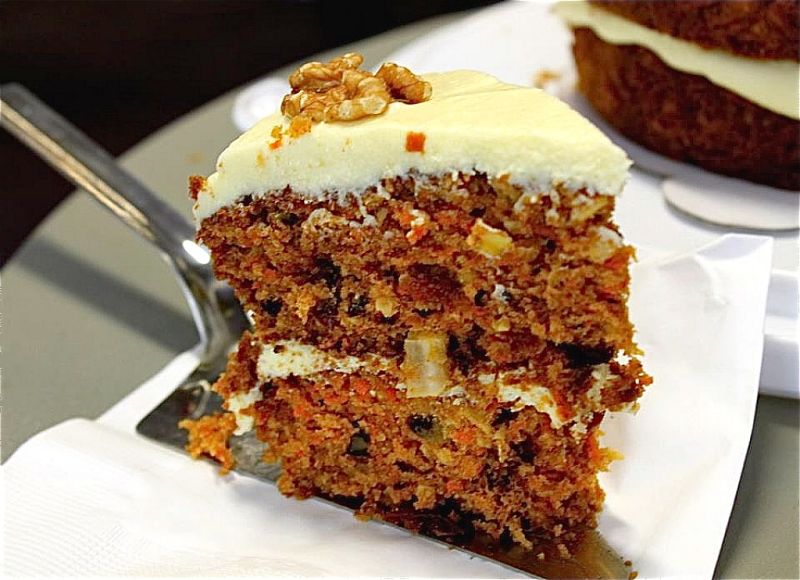 Carrot Cake Tips
Use oil instead of butter - While most cakes are better with butter, your carrot cake will be much moister if you use a light vegetable oil such as canola. You can use oil to replace some or all of the butter. Using oil will ensure the carrot cake has the right firmness, moisture and texture you like.

Grate your own carrots - Using pre-shredded carrots from the grocery store are often too dry and may be the wrong size and shape. Choose nice firm fresh carrots that a full of moisture and peeled. Use a food processor or hand grater (much preferred) to get just the right texture and size for the grated carrot. No need to dry them but shake off excess moisture.
Use fresh spices - Don't add some tired and dreary all spice 'mix' to your lovely carrot cake. Opt for real cinnamon, nutmeg and ginger, freshly ground or freshly purchased from health food stores rather than the supermarket dead and lifeless powder varieties.

Add orange zest to the batter - Orange zest is one of the best secrets for making perfect carrot cakes. Just grate the skin of one large fresh orange and mix the zest into the batter when you add the carrots.

Add shredded coconut to the mix - Many people add shredded coconut to the icing or frosting as decoration, but it can add an extra dimension to the taste. Try adding up to 1 cup or shredded coconut to the mixture. It is an option, as some people don't like it.
Walnuts are probably better than Pecans - Walnuts are a must in most in carrot cakes because of their distinct flavor, texture and the way they complement the sultanas and spices in the cake. Chopped pecans and other nuts can be used but walnuts are best.
Plump the Dried Fruit before Adding to the Mixture - If your dried fruit such as sultanas, raisins or dried cranberries, or even dried apricot pieces are dry when you add them to the mixture, they won't magically become moist and plump. You can easily plump the fruit by steaming or immersing in hot water for a few minutes. You can also soak the fruit in rum or other spirits. Drain and pat the fruit fry before using it.
Oiling the Baking Pan - Take care to butter or oil the baking pan thoroughly and then it flour it or line with parchment. Moist carrot cake mixtures are very sticky and tend to stick to the pan.
Gently add the flour to the mixture - As for most cakes the flour should be gently blended into the batter and gently stirred and not beaten vigorously. After the flour, stir in the carrots, shredded coconut fruit and nuts.
Rotate the pan midway through the cooking time - Rotate the baking sheets or cooking pan when halfway through the cooking. This ensures that the cake will cook evenly, as all ovens have hot spots and cold spots.
Testing When is the Cake is Done - There are several ways to test for doneness. More than one method may be required for very moist cakes that can be sneaky and feign being uncooked.
A carrot cake will bounce back when touched in the center when it is cooked.
A cooked cake will separate from the side of the pan
A cake tester, knife or a long skewer that comes out clean when into the center of the cake shows it is cooked.
Trust your sense of smell. A cooked cake will tell you it is cooked via the aroma
Leave the cake to cool thoroughly - A hot carrot cake may appear to be set, but it is still fragile, especially if the nuts, fruit and carrots are in large pieces. Let the cakes cool in their pans for 15-20 minutes, or very gently remove an place on a wire rack to cool. Run knife around edge of the cake in the pan. Place a wire rack over the pan and flip over to release the cake. Make sure the cake is properly oiled and lined with baking paper. Let the cake cool completely before icing or serving it. A moist cake takes longer to cool than a dry one.
Wholemeal Flour – It is a matter of taste, but wholemeal flour adds flavor and extra moistness to a case, while increasing its density. Replacing half the all purpose flour with good quality wholemeal flour is a good compromise – lightness versus taste and moistness.
Carrot Cake Recipe using Wholemeal Flour and Pecans
For the cake:
100 g toasted pecans, roughly chopped. Extra pecan halved for decoration
200 g carrots, peeled and evenly grated
100 g raisins, dried cranberries or sultanas
Zest of 1 orange
1/2 teaspoon grated nutmeg
1 teaspoon ground cinnamon (fresh)
1/2 teaspoon salt
1 teaspoon bicarbonate of soda
200 g self-raising wholemeal flour (or half white flour)
3 large free-range eggs
150 g soft light brown sugar
150 g melted butter, extra butter for greasing the pan
For the icing:
150 g cream cheese
Zest of a small lemon and its juice
50 g light brown soft sugar
Grease 2 x 18 cm (8 inch) sandwich tins and line with baking paper. Preheat the oven to 180 degrees C (350 degrees F). Combine the sugar, melted butter and eggs in large mixing bowl and blend using a whisk until the mixture has doubled in size and has a creamy texture. Sift the salt, flour, spices and bicarbonate of soda into a bowl. Then fold the flour gently into the liquid mixture, being careful to retain as much air as possible. Stir in the the remaining ingredients and spoon into the tins. Bake in the pre-heated oven for about 30 minutes until a knife inserted into the middle of the cake comes out clean. Cool in the tins before removing and complete the cooking on a wire rack.
For the icing: Beat or whisk all the icing ingredients well and refrigerate. After the cakes have cooled to room temperature and been removed from their tins, cover the cakes with the icing. Decorate the cakes with pecans, almond slivers and shredded coconut.
Carrot Cake with Walnuts and Pineapple
For the cake:
1/2 cup (125 ml) chopped walnuts
1 cup (250 ml) drained crushed canned pineapple
2 cups (500 ml) grated carrots
1 teaspoons (5 ml) vanilla
3/4 cup (175 ml) vegetable oil
3 fresh eggs
3/4 cup (175 ml) packed brown sugar
3/4 cup (175 ml) granulated sugar
1/2 teaspoons (2 ml) nutmeg
3/4 teaspoons (4 ml) salt
1 teaspoons (5 ml) baking soda
2 teaspoons (10 ml) cinnamon
2 teaspoons (10 ml) baking powder
2 cups (500 ml) all-purpose flour
For the Icing:
1/2 teaspoons (2 ml) vanilla
1/4 cup (60 ml) butter, softened
1 cup (250 ml) icing sugar
8 oz (250 g) package of cream cheese, softened
Grease and flour a 13 x 9-inch (3.5 litre) metal cake pan. Preheat the oven to of 350 degrees F (180 degrees C). Using a large bowl, mix all the dry ingredients together: sifted flour, cinnamon, baking powder, baking soda, nutmeg and salt. In another bowl, beat the brown and granulated sugars, oil, eggs and vanilla until smooth. Fold into the flour mixture in the large bowl and stir until just combined. Add the pineapple, carrots, and pecans, stir, and then transfer to the pan. Bake on the central shelves of the oven for about 40 minutes. Test for doneness. Let cool in the pan on rack until reaches room temperature.
For the Icing: Using a mixer, beat the butter and cream cheese together until smooth. While mixing add the vanilla, icing sugar in batches of about one third. Continue mixing until the icing is smooth and creamy. Spread over the cake and refrigerate.
Sultana Carrot cake with Orange Flavored frosting
200 g (7oz) carrots, grated
175 g (6oz) soft light brown sugar
175 ml (6 fl oz) sunflower or canola oil, plus extra for greasing
3 free-range eggs
pinch of salt
1/2 teaspoon bicarbonate of soda
1 teaspoon baking powder
One whole nutmeg, finely grated
1 teaspoon ground cinnamon
Zest of one medium size orange
75g (3oz) pecans, snapped into medium-size pieces
75g (3oz) sultanas, plumped
200 g (7oz) self-raising all-purpose flour
30g (2oz) of shredded coconut (optional)
For the icing:
25 g (1oz) pecan nuts, roughly broken
Zest of one medium orange
200 g (7oz) full-fat cream cheese
1 teaspoon fresh orange juice
100 g (3.5 oz) unsalted butter, softened
100 g (3.5 oz) icing sugar
Preheat the oven to 160 degrees C (320 degrees F). Grease and line a 20 cm (8 inch) square, loose-bottomed cake tin with parchment paper. Place the salt, bicarbonate of soda, baking powder, grated nutmeg, cinnamon, orange zest, pecans, sultanas and sifted flour in a large bowl and combine well. In a separate bowl, beat the eggs until smooth. Slowly add the sugar and sunflower oil while whisking and mix until well combined. Add the egg mixture to a well made in the centre of the flour mixture and fold it to just combine. Mix in the carrots and coconut. Transfer the mixture to the cake tin and bake for about 35 to 40 minutes (test for doneness). Cool the cake in the pan for 10-15 minutes and then carefully remove the cake and cool on a wire rack.
For the icing: Carefully sift the icing sugar and beat with the butter and orange juice until creamy and light (you can use a wooden spoon for this). Add the orange zest and cream cheese and beat to get a smooth and creamy consistency. Cover and refrigerate for about 30 minutes and then spread over the cake. Decorate with shredded coconut and pecans.
Carrot Cake with Pistachio and Dried Apricots
2 tablespoons pure vanilla extract
1/2 cups milk
1 1/2 cups olive oil
4 large eggs
1 1/2 cups chopped, shelled pistachios
1 1/2 cups chopped dried apricots
3 cups grated carrots
1/2 teaspoon good quality, fresh allspice
1 teaspoons freshly grated nutmeg
1 1/2 teaspoons cinnamon
1 1/2 teaspoons salt
1 tablespoon baking soda
2 teaspoons baking powder
1/2 cup dark brown sugar
1 1/2 cups sugar
3 cups all-purpose flour
Pre-heat the oven to 350 degrees F (180 degrees C). Butter 2 x 8-inch (20 cm) round cake pans. Mix the baking soda, flour, salt, sugars, baking powder, allspice, cinnamon and nutmeg in a large bowl. Add the carrots, nuts, apricots to the flour mixture. In a separate bowl mix the eggs, milk, olive oil and vanilla together in a medium bowl using a whisk or mixer. Add to the flour mixture and stir in until just combined. Transfer the mixture to the cake tins, bang on the bench top to eliminate air bubbles. Bake the cakes for about 40 minutes, changing the position of the pans in the oven after about 20 minutes. Test for doneness and when cooked remove and cook the cakes in their pans for about 20 minutes. Remove and complete the cooling on wire racks.
Carrot Cake Cupcakes
1 teaspoons vanilla
1/3 cup whole milk
3/4 cup vegetable oil
2 large eggs
1 cup finely chopped walnuts
3/4 cups raisins plumped
2 large carrots, peeled and grated
1/2 teaspoons nutmeg
1 teaspoons cinnamon
1 teaspoons salt
1 teaspoon baking soda
1 teaspoon baking powder
1/2 cup light-brown sugar
3/4 cup granulated sugar
1 1/2 cups all-purpose flour
For the Frosting:
3 tablespoons simple syrup
1 teaspoons vanilla
2 cups icing sugar
4 tablespoons unsalted butter
1 package (8-ounce) cream cheese
For cupcakes: Preheat oven to 350 degrees F (170 degrees C). Line one 6-cup and one 12-cup muffin tin with paper liners. In a large bowl mix all the dry ingredients and add the raisins, grated carrots and walnuts. In another bowl, whisk eggs, then slowly add the milk, oil and vanilla while mixing. Add the egg mixture to the dry ingredients and mix until just combined mixture. Transfer the batter to the muffin tins. Bake the muffin trays for about 15-20 minutes, testing for doneness, and swapping the tins position in the oven. Remove the cupcakes and cool on a wire rack.
For frosting: Using an electric mixer set to medium speed, beat the butter and cream cheese until fluffy and light (about 4 minutes). Add the vanilla, sugar and simple syrup and beat again until the frosting is creamy and smooth (about 60-90 seconds). Ice each cupcake with the frosting.