Best Easy Guacamole Recipes with Healthy Variations
A stunning and delicious guacamole is hard to find. It is tricky to get the right balance with the ingredients. A fabulous guacamole should taste tangy and fresh, despite the creamy richness of ripe avocado. The extra ingredients make all the difference for a perfect guacamole that should be chunky so that all of the components retain their original tastes. Key extra ingredients to include are some lime juice, raw and finely chopped red or white onion, fresh herbs such as coriander, some green or red chili, perhaps a little tomato, and of course a good quality avocado that is ripe but firm, sliced, but not mashed. However, there is no definitive recipe as such, and there are many variations.
Discover the best tips for making your perfect guacamole and some fabulous recipes and variations to try.
Tips for Perfect Guacamole
Onion or Not?
Traditional Mexican guacamole is seasoned with a salt and some garlic.
However, red, white or spring onions also round out the taste and are worth considering. Red and spring onions may be a better choice for a milder taste.
Tomatoes or Not?
Once again there is a lot of debate about this.
The sharp and acid taste of tomatoes helps to counter the creaminess of the avocados.
Chillies or Not?
Fresh green chillies are widely used, either serrano or jalapeño chillies.
Fresh red chillies or dried flakes can give the avocado and lift, and can make the taste buds stand up and take notice.
Dairy - Sour Cream or Yogurt?
A little research shows that adding a little sour cream is quite common in Mexico. But while it adds creaminess it also can make the guacamole heavy and can swamp the other flavors. If you use cream, then be very sparing in the amount you add.
Coriander (Cilantro) and Lime
Although these ingredients may not be traditional in Mexico, the lime adds zing to the dish, and the coriander adds color and an aromatic element which deepens and enhances the flavor of the other ingredients.
Best Guacamole Recipes
Ingredients
Juice of 1 lime
1/2 cup fresh coriander, chopped
1 ripe medium tomato, finely diced
2 spring onions, sliced very thinly
1–3 fresh green chillies, finely chopped
3 ripe avocados, peeled and seeds removed
Salt and Freshly Ground Black Pepper to taste
Method
Place one teaspoon of onion, chilli and coriander, with some coarse salt into a pestle and mortar, and grind to a paste. Cut the avocados unto cubes, leaving about half of the pieces intact, and mashing the rest. Add the chilli paste to the cut avocado in a small bowl, mixing to combine well. Mix in the chopped tomatoes and the remaining of the chillies, onions and coriander. Add lime juice and mix through. Season with salt and freshly ground pepper to taste. Serve immediately.
Spicy Sriracha Guacamole Recipe
Ingredients
3 avocados - peeled, pitted, and cut into cubes
1 tablespoon lime juice
1 teaspoon salt
1/2 cup red onion, diced
3 tablespoons fresh cilantro, chopped
1 serrano pepper, finely chopped
1/2 cup tomatoes finely chopped
3 teaspoons Sriracha (see the recipe below)
Method
In a medium sized bowl add the meat of three avocados, lime juice, salt, onion, chopped cilantro, chopped serrano pepper, and Sriracha. Stir the ingredients are just blended. Add the tomatoes and stir in the tomatoes. Place guacamole on a plate for serving, and drizzle additional Sriracha if desired.
Sriracha Recipe for Guacomole
Ingedients
1/3 cup water
1 tablespoon salt
1/2 cup white vinegar
4 cloves garlic, peeled
3 tablespoons light brown sugar
1 pound (500 g) red jalapeno peppers, stems trimmed
1/2 pound (250 g) red serrano peppers, stems trimmed
Method
Chop the serrano and jalapeno peppers, after removing the seeds, and transfer into a blender bowl. Add the brown sugar, salt, garlic and water. Blend using short pulses until smooth. Transfer the contents to a large glass container and cover with a lid or plastic wrap. Sert aside in a cool dark place for 3-5 days to allow it to ferment and bubble, mixing several times during the process. Once fermented, pour the contents back into the blender bowl, add the vinegar and blend until smooth. Filter the mixture through a fine mesh strainer into a saucepan, forcing the pulp through the strainer. Bring the saucepan to the boil, reduce to a simmer and cook for 5-15 minutes to allow the sauce to thicken. Allow the Sriracha sauce to cool before adding to jars of bottle. The sauce keeps well in the refrigerator.
Chunky Style Guacamole Recipe with Red Onion, Chilli and Coriander
Ingredients
Juice 1 large lime
1 large ripe tomato
1/2 cup of coriander, chopped
3 avocados, very ripe but firm
1 small red onion, finely chopped
1 green or red chilli, with seeds removed and finely chopped
Method
Use a knife to finely chop the tomato to a pulp on a board, and then tip into a medium size bowl. Peel and remove the seeds from the avocados. Then, spoon out the flesh into the bowl with the tomato. Add all the other ingredients to the bowl, mix and then season with salt and pepper. Keep the avocado chunky. Scatter with the coriander and serve immediately.
Spicy Guacamole with Serrano Chillies, Onion and Tomato
Ingredients
Salt to taste
1/2 teaspoon salt
2 ripe but firm avocados
1/2 ripe tomato, finely chopped
1 tablespoon of fresh lime juice
1/4 cup cilantro, finely chopped
1/4 cup of red onion, finely chopped
Freshly ground black pepper to taste
2 serrano chiles, with stems and seeds removed, finely chopped
Method
Scoop out avocado flesh and place into a mixing bowl. Using a fork, roughly break the avocado apart without mashing it into a paste. Sprinkle with salt, pepper and lime juice. Add the cilantro, chopped onion, black pepper, and chillies. Serve immediately.
Source:
Nikodem Nijaki [CC BY-SA 3.0], via Wikimedia Commons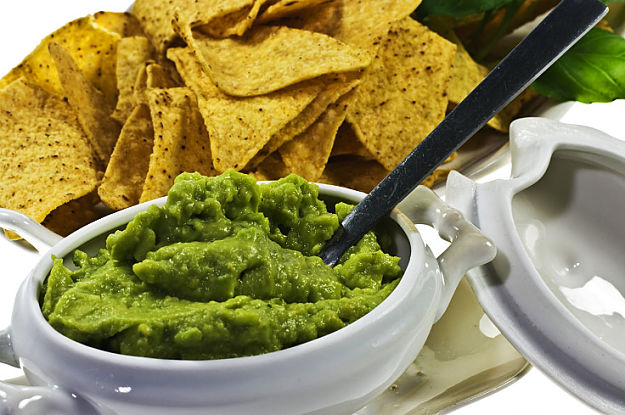 Source:
Nikodem Nijaki (Own work) [CC BY-SA 3.0], via Wikimedia Commons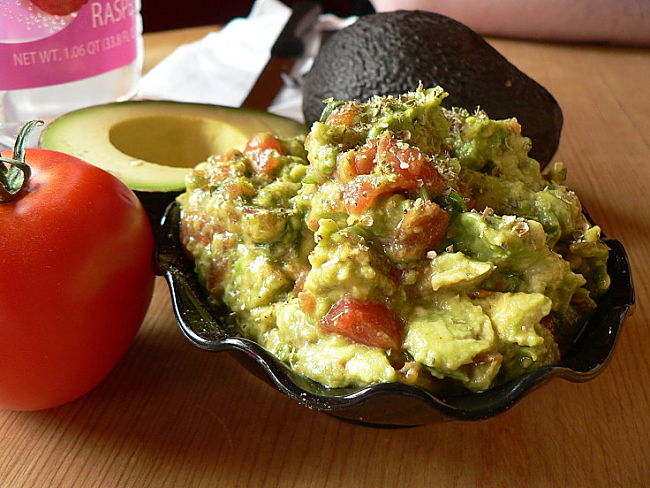 Source:
stu_spivack (guacamole) [CC BY-SA 2.0], via Wikimedia Commons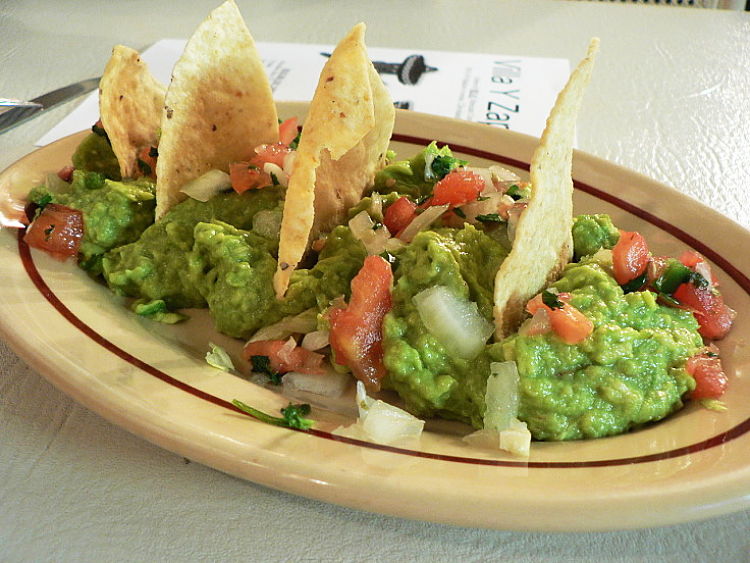 Source:
Stuart Spivack [CC BY-SA 2.0], via Wikimedia Commons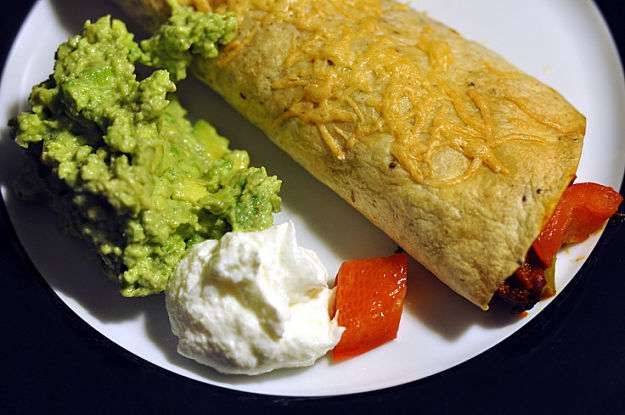 Source:
cyclonebill [CC BY-SA 2.0], via Wikimedia Commons