Best Ever Chicken With Apple Recipes
Apples pair well with chicken using a variety of recipes. The slight acidity and sweetness of apples smooths and softens the taste of the chicken. Various forms of apple based ingredients can be used including cider, fresh apples and applesauces.

Various types of apples can be used for various dishes, but the firm tart apples are generally best for cooking. The texture of apples that are not over-cooked also adds complexity to the dish.

Apples are also healthy and contain lost of fiber and natural sugars. This can improve the nutrient balance in the dish by replacing other ingredients that have high calories, such as potatoes or peas.

Below are a fabulous set of recipes for Chicken with Apple you can try.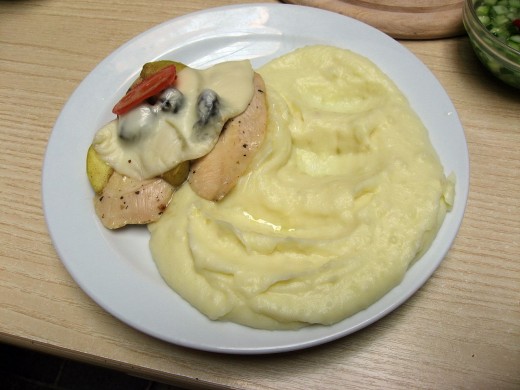 Chicken with apples olives and mashed potatoes
Pan Fried Chicken with Spiced Apples
Ingredients
1/2 teaspoon salt
1/4 teaspoon ground cinnamon
3 teaspoons unsalted butter,
1 tablespoon fresh lemon juice
1 cup good quality chicken broth
1 teaspoon freshly grated lemon zest
1/4 teaspoon freshly ground black pepper
3 teaspoons rice bran oil or grape seed oil for frying
1 1/2 pounds (750 g) chicken breasts, with skin removed and trimmed
2 apples, preferably Granny Smith or Braeburn that are peeled, cored and sliced thinly
1 1/4 teaspoons herbes de Provence (equal quantities of savory, rosemary, thyme, oregano, basil, marjoram, fennel seeds)
Method
Prepare the spiced apples by gently frying in a skillet. Sprinkle lemon juice, cinnamon and other spices over the freshly sliced apples in a bowl. Heat 1 teaspoon of oil and 1 teaspoon of butter. When bubbling, add the apples until they just start to soften (about 5 minutes).
To prepare the chicken, place the two breasts between sheets of plastic and pound with a meat mallet to flatten to a thickness of 1/2 inch (1 cm). Mix 1 teaspoon herbes de Provence with the salt and pepper in a cup and then spread out onto baking paper. Push and rub the salt and herbs into all surfaces of the chicken. Heat 1 teaspoon butter and 1 teaspoon oil in a large heavy skillet over high heat. Fry the chicken pieces, one at a time until just cooked (no sign of pink inside, generally 2-3 minutes per side). Remove to a platter and keep warm. Add more oil and butter and cook the remaining piece of chicken. Remove this piece of chicken. Add the lemon zest, 1/4 teaspoon of herbes de Provence and broth to the hot pan. Boil the mixture after scraping off any residues in the bottom of the pan until it is slightly reduced and started to thicken (generally about 3 minutes). To serve, add one piece of chicken to a plate. Top with a half of the sauteed apples, and spoon over some of the sauce
Chicken Breast Stuffed with Fresh Apple and Cheese
Ingredients
1/4 cup water
1 tablespoon water
1/4 cup dry white wine
1 1/2 teaspoons cornstarch
2 chicken breasts with skin removed
2 tablespoons shredded Cheddar cheese
1 tablespoon Italian-style dried bread crumbs
1/2 cup chopped fresh apple (peeled and cored)
1 tablespoon rice bran oil (or grape seed oil)
1 tablespoon chopped fresh parsley (used as a garnish when serving)
Method
Mix the cheese and apple with the bread crumbs and set aside. Place the chicken breasts between sheets of plastic wrap or waxed paper on a chopping board and flatten with a rolling pin or meat mallet to and 1/4 inch thick ( 8 mm ). Place half of the apple mixture in the center of each chicken breasts. Roll each breast and secure toothpicks. Heat the oil in a heavy skillet over medium-high heat. Brown the stuffed chicken breasts well on all sides using tongs to hold them in place when searing. Add 1/4 cup of water and the wine to the pan and scrape the bottom of the pan to bring the residue into the mix. Cover the pan and simmer for about 15 - 20 minutes, or until the chicken is just cooked in the center. Remove the chicken and keep warm in the oven. Dissolve the cornstarch in a tablespoon of water and stir into the juices in the pan used to cook the chicken. Stir until the sauce thickens. Serve the chicken spooning over some of the sauce and garnishing with parsley.
Chicken Roasted in Cider with Peas, Pancetta and Shallots
Ingredients
2 cups dry cider
2 sprigs of rosemary
150 g (4 oz) fresh peas
2 tablespoons rice bran oil
100 g ( 3 oz) pancetta, cubed
2 cloves of garlic, finely chopped
2 heaped tablespoons crème fraîche
20 shallots, peeled and cut in half
Whole chicken (about 3 pounds; 1.5 kg)
Method
Preheat the oven to 180 degrees C (355 degrees F). Heat the oil in a hot frying pan, heavy skillet or Dutch oven. The pan should be suitable for baking the chicken with a lid. Fry the garlic and pancetta for several minutes until the garlic is transparent. Add the rosemary sprigs and shallots and fry for another minute. Clear the center of the pan and add the chicken. Seasoning well with salt and freshly ground black pepper. Pour the cider around the chicken, cover and then place in the preheated oven. Cook the chicken for about one hour and then test for doneness. Cook for the last 15 minutes with the lid removed. Cook the peas in a pan and prepare the mashed potatoes or couscous while the chicken in roasting. Carve the chicken and serve with peas and mashed potatoes sauce.
Best Plain Apple Sauce Recipe
Ingredients
Juice of 1 Lemon
1/2 cup brown sugar (packed)
1 cup Apple Juice Or Apple Cider
1 teaspoon Cinnamon, (and Nutmeg as an option)
6 pounds (3 kg) Apples (cored, peeled and thinly sliced)
Method
Place all the ingredients in a large saucepan or pot and simmer over medium heat for 25 minutes, stirring regularly. Leave the apples firm rather than overcooking them. Pureed the apples with a fork, or using a blender of food processor until the sauce is as smooth as you want for the dish.
Spicy Apple Sauce Recipe
Ingredients
2 whole cloves
1/4 teaspoon nutmeg
1/2 tablespoon cinnamon
2 tablespoons brown sugar
4 apples, peeled, cored and sliced
1/2 teaspoon fresh ginger (finely chopped) or ground ginger
Method
Place the apples in the saucepan with 1/2 of water. Add the sugar and spices and simmer the apples for about 30 minutes, until the apples have started to soften. Crush the apples using a fork or potato masher and heat gently to thick the sauce.
Rich, Tart Apple Sauce Recipe
Ingredients
pinch of salt
3/4 cup or water
1/4 cup brown sugar
1 whole cinnamon stick
small pinch ground ginger
small piece of lemon peel
1/4 teaspoon ground cardamom
4 large apples peeled, cored and sliced
1/2 teaspoon fresh squeezed lemon juice
Method
Place all the ingredients with the apples in a heavy pan and bring to the boil over Cmedium heat. Simmer until the apples start to soften. Use a fork or apple masher to break down the apples into the desired consistency.
Images for Recipes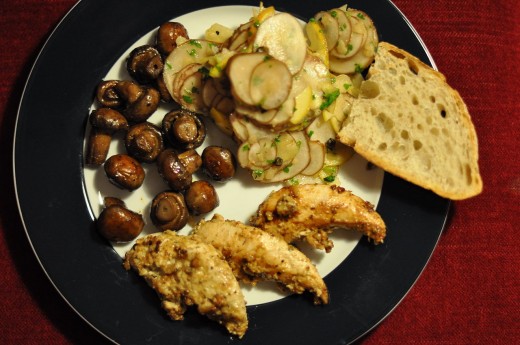 Chicken with spiced apples and grilled mushrooms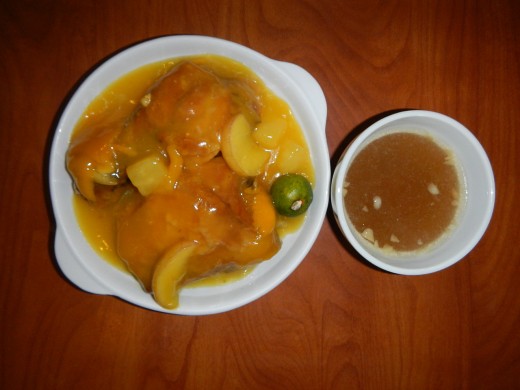 Slow cooked chicken with apples and other fruit.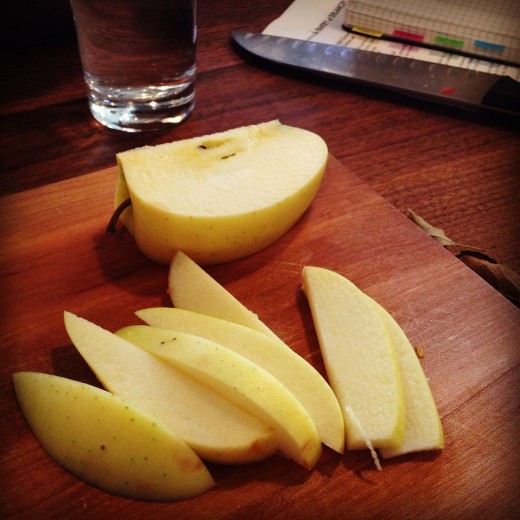 Always start with good quality firm and tart apples for chicken dishes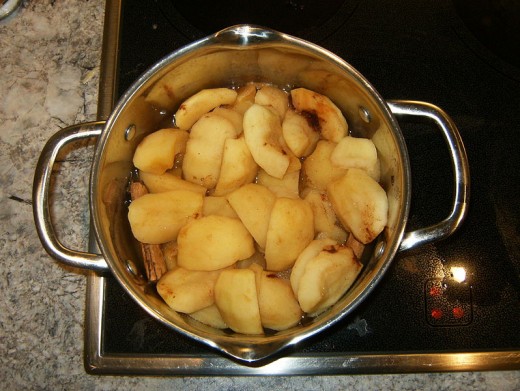 Cooking the apples to make apple sauce