Best Ever Coleslaw Recipe Collection - Tips for Perfect, Healthy, Tasty Slaw
The name 'coleslaw' is probably derived from the Dutch word 'koolsla' meaning cabbage salad. It is a very simple salad made with shredded raw cabbage and vinaigrette or mayonnaise dressing. Other ingredients such as green or red pepper, onion, garlic, carrot, herbs, mustard and chili are added in small quantities.
Part of the problem with most coleslaw is the use of commercial mayonnaises in the recipe, which have insipid and often 'chemical' tastes that are overpowering. The other problem is the type of cabbage used, its freshness, and how it is processed. The shredded fresh cabbage should be neither too thick, nor too thin, and there should be just enough 'crunch'.
Then there are issues with the extra ingredients such carrot, onion, bell peppers, vinegar and mustard. Once again, getting the right balance between taste and texture is the key.
Don't despair! This article provides the tips and recipes for making perfect homemade coleslaw every time.
Enjoy fantastic homemade coleslaw recipes - just the way you like them.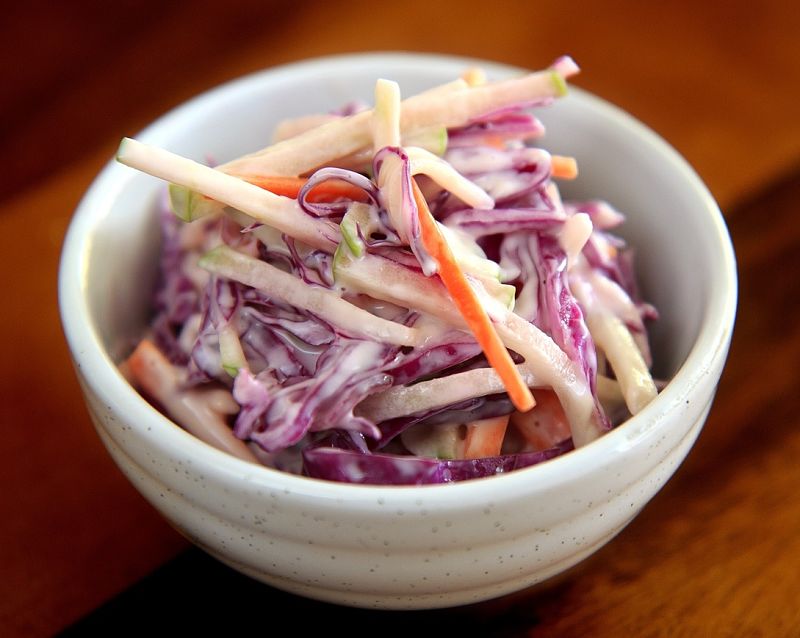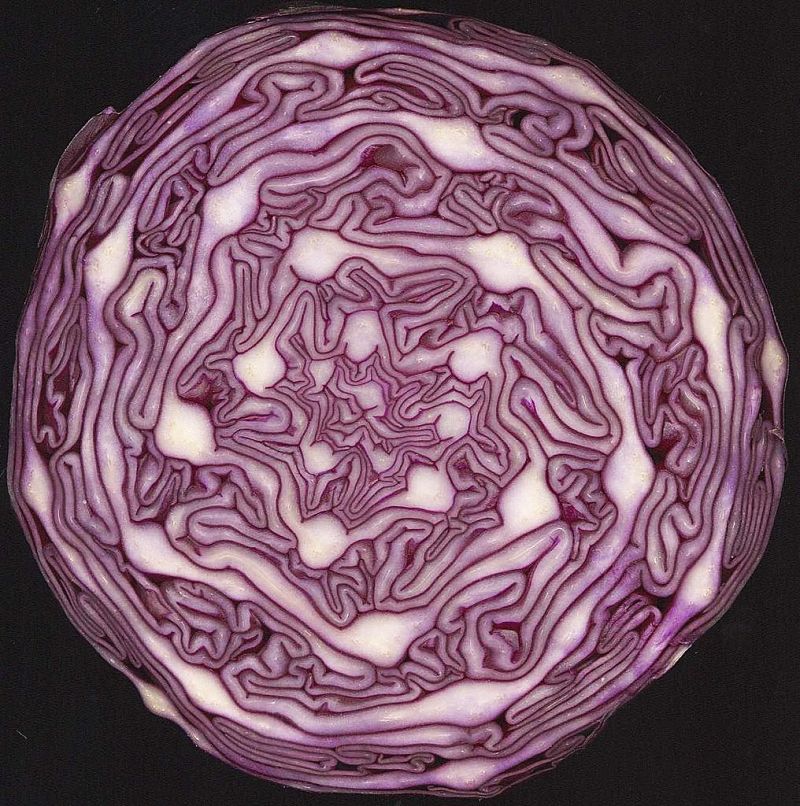 Tips and Options for the Perfect Coleslaw
White cabbages are preferred, but the red, purple and green varieties can have extra crunch and interesting colors. Make sure the cabbage is fresh and firm - not old and limp. Avoid the central core as it can be tough and stringy.


If the cabbage looks a little 'tired' or limp you can revitalise it. Immerse the shredded cabbage in ice cold water for a few hours and this will revive it.
Some cooks marinate the shredded cabbage in vinegar, sugar and salt for about an hour before use. This imparts a delicious tangy taste, that is not too strong.
Chopping the coleslaw by hand, adds some variety and texture. Shred it finely, but not microscopic as you want something to munch on. If you use a blender or food processor, pulse it using a small number of short burst to coarsely chop the cabbage.
Use grated carrot and onion very sparingly. The onion should be very finely sliced to add to the taste of the cabbage without dominating it. Carrots are best sliced as long strings or thin slivers. Chives are a gentler alternative to onions.
The Dressing - Some people like a simple dressing of oil and vinegar, but most prefer a creamy mayonnaise. Make sure you make it yourself as the commercial varieties contain artificial ingredients that ruin the taste of a perfect coleslaw. See the recipes below.
Most coleslaw recipes use mustard, either English or Dijon. Make sure it is the finest quality and has the taste you desire. Coarse mustard varieties with whole seeds, add color and texture. An excellent alternative is horseradish.
Simple Homemade Mayonnaise for Coleslaw - Recipe 1 with Lemon Juice
3/4 cup extra virgin olive oil
1/2 teaspoon dry mustard powder
1/2 teaspoon salt
2 tablespoons + 1 teaspoon fresh lemon juice
1 egg (choose farm eggs that are as fresh as possible, warm to room temperature) temperature)
Place the egg, dry mustard, lemon juice, salt and 2 tablespoons of the olive oil in the bowl of a food processor or blender. Pulse for a few seconds until everything is well combined. Then, while the motor is running, slowly pour in the remainder of the olive oil in a fine stream. Blend for an extra few seconds until the olive oil is blended into the mixture and it forms a thick emulsion. Transfer the mayonnaise into jug or bowl, ready to be added to the coleslaw.
Mayonnaise for Coleslaw - Recipe 2 with Vinegar
2 cups extra virgin olive oil (depends on what is needed)
1/4 cup white vinegar (or cider or wine vinegar)
2 teaspoons dry mustard powder
2 teaspoons salt
2 large free-range eggs (fresh and warmed to room temperature)
Put all the ingredients, apart from the olive oil in a blender or food processor, and pulse for about 30-40 seconds. While the motor is still running, gradually add the olive oil in a very thin stream. When all the oil has been added, and an emulsion has formed, pulse for another 10-20 seconds.
Nutrients in a Serving of Typical Plain Coleslaw
| Nutrients per serving | |
| --- | --- |
| Calories | 78 |
| Protein (g) | 2 |
| Total Fat (g) | 4 |
| Saturated fat (g) | 0 |
| Carbs (g) | 11 |
| Fbre (g) | 2 |
| Cholesterol (mg) | 0 |
| Sodium (mg) | 328 |
| % Rec. Daily Allowance | **** |
| Calcium | 5% |
| Iron | 5% |
| Vitamin A | 39% |
| Vitamin C | 47% |
| Folate | 20% |
Mayonnaise for Coleslaw - Recipe 3 with Mustard
3/4 cup extra virgin olive oil (or coconut oil)
1 teaspoon Dijon-style mustard
1 tablespoon lemon juice
1 teaspoon freshly minced garlic
1 egg yolk at room temperature
1 egg at room temperature
salt and pepper to taste
Add the egg yolk, egg, lemon juice, garlic and mustard to a blender or food processor (or use a stick blender). Blend together by pulsing for about 30 seconds. Keep blending on a low speed while pouring in a fine stream of the oil, until the mixture thickens and emulsifies.
Nutrients in Coleslaw
The nutrient data for a standard serving of coleslaw is sown in the table opposite.
Best Coleslaw - Recipe 1 with Horseradish
2 spring onions, finely chopped
1 tablespoon creamed horseradish, or to taste
5 tablespoon homemade mayonnaise
1 tablespoon white wine vinegar
1 teaspoon caster sugar
1 teaspoon salt
2 medium carrots
1/4 medium red cabbage
1/4 medium white cabbage
Slice the cabbage in half and remove the woody central core. Shred the cabbage as finely as you can by hand. Wash and peel the carrots. Use the peeler to slice off long thin carrot slices. Cut these into narrow strips, and combine with the shredded cabbage. Place into a bowl and add the sugar, salt and vinegar. Mix well and transfer to a colander to drain. Set aside for about an hour. Drain the cabbage and carrot mixture, squeezing to remove any remaining liquid. Transfer to a bowl and add the chopped spring onions. Spoon in the mayonnaise, combine well and serve.
Best Coleslaw - Recipe 2 with Vinaigrette
1/4 cup chopped fresh parsley
1/2 teaspoon celery seeds
1 teaspoon dry mustard
4 teaspoons granulated sugar ( or honey)
2 tablespoons extra virgin olive oil
1/3 cup white wine vinegar
1/2 red onion, sliced very thinly
3 cups finely grated carrots
1 1/4 teaspoon salt
8 cups cabbage, washed, drained and shredded
Toss cabbage with one teaspoon of the salt in a large bowl. In a second bowl, combine together the onions, carrots and remaining salt. Let both bowls stand for about 1 hour. Transfer the cabbage to a colander and press hard to squeeze out any excess moisture. Return the drained cabbage to the bowl and add the carrots and onion and combine well.

In a small bowl, whisk the vinegar, sugar, oil, mustard and celery seeds to combine well. Pour over the cabbage mixture and add the parsley (plus other herbs). Cover and refrigerate for 1 hour before serving.
Best Coleslaw - Recipe 3 with Apple Cider Vinegar, Herbs and Mayonnaise
1 head green cabbage, finely shredded
1 carrot, finely grated
1/2 teaspoon dried tarragon, or 1 tablespoon of fresh tarragon
1/2 cup sugar of 1/4 cup of honey
1 1/4 cup homemade mayonnaise
1/4 cup onion, finely grated
2 tablespoons canola oil
1 tablespoon apple cider vinegar
Combine the cabbage, carrots and onion in a large bowl. In a separate small bowl,
whisk the mayonnaise, vinegar, tarragon, oil and sugar together until smooth. Pour the dressing mixture over cabbage and vegetables and toss to mix. Chill before serving.