Best Ever Galette Recipes - Apple, Blueberry, Potato, Fruit, Savory
What is a galette? Galette is a French expression for various round, flat, tarts, usually partially open, and made a flaky pastry base.
You can find many great galette recipes here for many favorites such as: Apple, Blueberry, Fruit, Cheese, Potato and other savory galettes.
These dessert and savory tarts are generally not baked in pans, but are free-standing, either as individual tarts or larger tarts that are sliced before serving.
In the recipes below the filling is placed directly onto puff pastry rounds, and the pastry edges around the perimeter are folded up to encase the filling.
The tart base becomes crisp during baking and provides a firm tasty base and sides for savory and dessert dishes.
Galettes can be filled with a huge variety of ingredients such as fruits, vegetables, diced meat and cheese and can make a delightful main course, desserts or single-serve snacks.
This article describes how to make galette dough and provides a range of fruit, dessert and savory galette recipes that can be easily adapted to your tastes and preferences.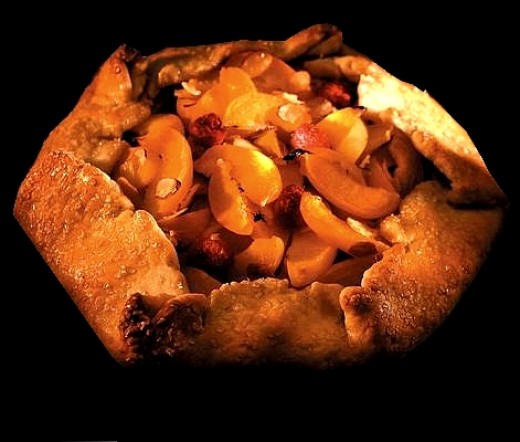 About Galettes
Galettes are very easy and quick to prepare. There are only three ingredients required for a basic galette: pastry dough (you can use prepared puff, flaky or pie pastry, or make your own), fruit and a little sugar.
To prepare the galette simply roll your homemade pastry into a thin sheet, or take a prepared sheet and place out onto a baking paper lined baking sheet.
Place your sliced, lightly sweetened fruit such as apples and peaces or berries into the center of the pastry, leaving a broad border perimeter area around the edge of the pastry.
Fold up the edges of the pastry to partially cover the fruit and form the side of the tart.
You can make individual galettes by cutting rounds from the pastry sheets or using half or a quarter sheet.
Bake the pastries at 350 degrees F (175 degrees C), until the pastry is crisp and light brown in color.
Sliced apples, stone fruits, berries, almonds, pears, mango and most other fruits make excellent galettes. You can add nuts and combine the fruits for extra flavor.
Homemade Gallete Dough (or you can use prepared frozen Puff of Flaky Pastry Sheets)
2-1/2 cups general-purpose flour
2 tablespoon of sugar
1/2 teaspoons of salt
8 oz. (225 gm) unsalted butter, sliced into 1/2-inch (1 cm) pieces and chilled
about 2/3 cup ice water

Add the sifted flour, salt and sugar to a large bowl and mix well. Add the chilled butter and using your hands a standard mixer, a pastry blender, or a food processor, blend until the butter is evenly distributed but is still in large, visible pieces throughout mixture. Add the ice water to the flour and butter. Mix the dough with your hands until it comes together. Gentle push the dough with the palms of your hands to make streaks of butter through the mixture. Do not over mix as you want to retain the butter streaks through the dough. Shape the dough into two balls, wrap in plastic and place in the refrigerator for about 60 minutes. Roll the dough into round disks ready for the filling.
Mixed Fruit Galette
1 galette pastry sheet (or puff or flaky pastry)
1 egg beaten (with 1 teaspoon milk added)
1/4 teaspoon cinnamon
1/4 cup almond powder
3 tablespoons raw brown sugar
1/2 teaspoon almond extract
3 tablespoons slivered almonds, lightly roasted
1 pound (500 g) apricots, pitted and quartered or halved (or other stone fruit)
6 ounces (170 g) cherries, pitted and cut in half
extra egg for coating the pastry before baking

Place the pastry round on a baking sheet lined with parchment, a let it thaw so that it can be folded up to make the sides of the tart. Combine the apricots, cherries, slivered almonds, 2 tablespoons of the sugar and almond extract in a bowl and gently mix together. Sprinkle the almond powder in a fine layer over the pastry, leaving a 2-3 inch (5-7 cm) border all around, which will be used to form the sides. Transfer the fruit to the center of the pastry top and then fold the edges up an partially in over the fruit to form a free-form tart about 9 inches (20 cm) in diameter. Place the baking sheet in the freezer for about 4- 60 minutes, to help ensure the galette maintains its shape. Preheat the oven to 350 degrees F (175 degrees C). Brush the exposed edge of the galette with the egg wash. Combine one tablespoon of sugar with the 1/4 teaspoon cinnamon and sprinkle over the top of the galette pastry and fruit. Bake for about 60 minutes until the pastry is light brown and the fruit is bubbly. Remove from the oven and let stand for about 15-20 minutes before serving.
Apple Galette Recipe
2 tablespoons sugar
2 tablespoons melted butter
2 large Granny Smith (or other apples), peeled and thinly sliced
4 (25 x 25cm - 12 in x 12 in) puff pastry sheets
Honey, to serve

Preheat the oven to 350 degrees F ( 175 degrees C). Cut four 12 cm ( 6 in) circles from the puff pastry. Place on a lightly buttered baking tray, lined with baking paper. Place the apples, in a spiral overlapping in the center of the pastry. Brush with the melted butter and sprinkle with sugar. Transfer to the oven and bake for about 20-30 minutes until the pastry is crisp and golden brown and the apples are just cooked (still a little firm). Cool a little before drizzling with honey and serving.
Potato and Smoked Salmon Galette
4 ounces (150 g) thinly sliced smoked salmon
1 tablespoon drained capers
2 tablespoons whipping cream
Salt and pepper to taste
1 sheet frozen puff pastry dough, thawed
8 ounces (250 g) thin-skinned white brushed potatoes
1 cup thinly sliced leeks (rinsed well)
2 teaspoons olive oil

Cook the leeks in a little oil for about 10 minutes and let cool. Slice the potatoes crosswise very thinly. Place the thawed puff pastry flat on a lightly floured board. and trim off the corners to make a round shape and place on a greased baking sheet. Place the cooked leeks in the center of pastry round, leaving a wide border around the edge. Season with salt and pepper. Arrange potato slices in spirals, making slightly overlapping layers over leeks. When done, fold the edges of the dough up and over the outer edge of the potato layers. Pour cream over potatoes and bake at 350 degrees F (175 degrees C) for about 35 minutes. Top the cooked tart with smoked salmon slices and capers while still warm.
Blueberry Galette Recipe
1 egg, beaten
1 tablespoon cold butter
1 galette dough disk
1/2 cup sugar
1/4 teaspoon salt
1/4 teaspoon cinnamon
1 tablespoon fresh lemon juice
1 tablespoon grated lemon zest
2 tablespoons cornstarch
3 cups fresh blueberries
cooking spray

Preheat oven to 350 degrees F (15 degrees C). Line a baking sheet with foil and spray with cooking spray. In a large bowl mix the blueberries, lemon zest, cornstarch, lemon juice, sugar, cinnamon and salt. Place the dough onto a baking sheet and spoon the berry mixture into the center of the dough, leaving a wide border. Fold the edges up and over the berries. Place dots butter on top of blueberries and brush the pastry with beaten egg. Bake for about 25-35 minutes until the filling is bubbling and the base is golden brown.
Savory Cheese Galette Recipe
1 sheet of puff or flaky pastry or rolled galette pastry
1 tsp finely shredded basil leaves
1/4 cup crumbled fresh goat cheese
1/2 coarse sea salt
1 egg, beaten, for wash
1/4 tsp cracked black pepper
1/4 cup crumbled crispy bacon
1/4 cup of sliced onion bulb
4 cloves of garlic crushed
1/4 cup fresh corn kernels
1/2 teaspoon kosher salt, plus more for seasoning
4 Tablespoon fresh bread crumbs
1 Tablespoon minced fresh oregano leaves
1/2 cup shredded Italian fontina cheese
1/2 cup shredded fresh basil leaves

Preheat oven to 350 degrees F (15 degrees C). In a small bowl combine the fontina cheese, basil leaves and oregano leaves. In a second bowl, combine the bread crumbs and the 1/2 teaspoon of salt. In a third small bowl, combine the crushed garlic, corn kernels, sliced onion and bacon. Place the galette dough sheet on parchment paper on a baking sheet. Place the cheese mixture into the center of the dough, leaving a wide border. Sprinkle over about half of the bread crumb mixture. Add a layer of tomatoes, overlapping slightly, add half of the corn mixture. Repeat to form more layers until all the ingredients are used. Fold the edges of the dough up and over the filling pleating as you go. Brush the edges of the dough with the egg wash and sprinkle with the sea salt. Bake for about 25-35 minutes.
Images for Recipes