Best Ever Spanish Tapas Recipes - Homemade Treats
Tapas are a collection of small savory appetizers, or snacks served as snacks or in a group to be shared between a group of family members or friends as a main meal. Spanish Tapas are also fabulous as party food. Tapas come in a huge variety of tastes and types and may be cold or hot. Seafood tapas, chicken and pork tapas are common, but vegetables and fruit, often served with prosciutto and cheeses, are also common. It is the variety which is the major attraction of tapas. They are easily served and eaten without disturbing conversations and social interaction. But excellent tapas can become the major talking point between guests.
Sharing a tapas meal with friends, or tapas served at a party is a great way to enjoy sharing a huge variety of tastes and food type in small dishes. Spanish tapas bar restaurants are popular in many countries, but now you can enjoy making your own tapas for family and friend. You can cook two or three dishes for a snack or cook many more for a mail meal.
Generally the tapas ingredients are whole foods, lightly cooked with fresh herbs and spices and are very healthy and wholesome. Sharing and enjoyong tapas is a delightful social experience.
Enjoy cooking the wide range of best ever tapas recipes for your next dinner party, family gathering or celebration.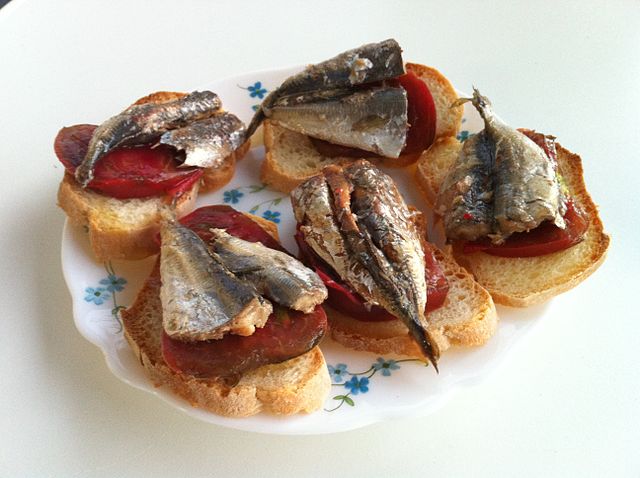 Smoked Paprika Almonds Recipe
Ingredients
2 1/2 cups raw almonds
1 tablespoon coarse sea salt
1 tablespoon extra virgin olive oil
1/2 teaspoon smoked sweet Spanish paprika (or hot paprika), more or less to taste
Method
Preheat oven to 400 degrees F (200 degrees C). Spread the almonds over a shallow baking sheet and dry-roast in the oven for 8-10 minutes, flipping over occasionally. Cook the almonds until they are golden brown and crunchy. Add the smoked paprika and sea salt to a small spice grinder or mortar and pestle and grind to a fine powder. Drizzle the hot roasted almonds with olive oil and sprinkle with the salt and paprika spice mix. Serve warm.
Tortilla Espanola a Classic Tapas Recipe
Ingredients
1/3 cup olive oil
1/2 teaspoon salt
6 fresh range eggs
Freshly ground black pepper
1 small white onion, thinly sliced
1 pound red potatoes, cleaned and thinly sliced
Method
Heat the olive oil over over moderate heat in a large, heavy, oven-proof frying pan. When hot add the onions and potato slices and fry stirring occasionally, until golden brown. Remove the onion and potatoes and drain on paper towel in a colander. Whisk the eggs in a small bowl and season with salt and pepper. Pour the egg mixture into the pan and add the potatoes and onions. Stir to mix, lower the heat to moderate-low and cook for 3-4 minutes, lifting the pan and sliding the contents to stop the egg mixture sticking to the pan. Cook over low heat for 3-4 minutes, shaking the skillet occasionally so the eggs don't stick to the bottom. Place the pan under the grill or broiler set on high and brown the top of the dish. Remove from the oven, transfer to a serving plate and cut into slices. Serve serve immediately.
Plum Tapas Wrapped in Spanish Serrano Ham
Ingredients
Serrano ham (thinly sliced)
Plums or peaches cut into quarters, seeds removed
Method
Tear up slices of the Serrano ham. Wrap the ham slices around the plum wedges and secure with toothpicks.
Char Grilled Apple Wedges and Manchego Cheese Tapas Recipe
Ingredients
1 tablespoon garlic oil
1 tablespoon fresh chives, chopped
1 apple, cored and cut into 16 wedges
50 g (1 1/2 oz) mancheo cheese, cut into 8 cubes
1/4 ciabatta bread (about 150 g; 5 oz), or similar
Method
Heat a griddle pan or heavy frying pan until very hot. Slice the ciabatta into 8 cubes, brush with garlic oil and fry on the griddle for 2-3 minutes, turning frequently until well-browned all over. Remove the ciabatta cubes and set aside. Place the apple wedges onto the griddle and cook for 2-3 minutes, flipping over once until browned with prominent grill lines. Serve by placing 2 slices of apple on top of each cube of bread and sprinkling with chopped chives.
Grilled Marinated Squid Tapas with Parsley and Garlic
Ingredients
Salt to taste
1 tablespoon oil
2 cloves of garlic
1 tablespoon bread crumbs
Freshly Ground black pepper
1 tablespoon of chopped parsley
1 3/4 lb (800 g) small squid or baby octopus
For the Marinade
1 tablespoon of olive oil
1 tablespoons of apple cider vinegar
1 pinch of Espelette pepper Or similar)
1/2 teaspoon fresh thyme, finely chopped
Method
Thoroughly clean the squid or baby octopus and cut length-wise into strips, leaving the tentacles whole. Place the squid into a small ceramic bowl. Add the marinade ingredients, mix and set aside or 60-90 minutes. Then, briefly fry the squid in batches on a barbecue grill, hot griddle or stove grill. Do not fully cook at this stage. Set the squid aside. Mix the breadcrumbs, chopped garlic and parsley in a bowl and mix. Add the squid and toss to coat. Return the squid to the grill and cook until brown on all sides. Sprinkle the squid with fresh thyme, drizzle with olive oil and apple cider vinegar and season with salt and pepper. Serve warm or chilled.
Marinated Raw Tuna Slices Tapas Recipe, with Mushroom Slices
Ingredients
Lime wedges, to serve
2 tablespoons caster sugar
2 tablespoons manzanilla sherry
Extra-virgin olive oil, to serve
200 gm piece of sashimi-grade tuna
200 gm assorted mushrooms, thinly sliced
1/2 bunch of chives, cut into short lengths
Method
Combine the sugar, sherry and 2 tablespoons sea salt in a ceramic dish. Add the tuna, mix well and cover the dish with plastic wrap or a lid and marinate in the refrigerator until the next day. Drain and wipe the excess marinade off the tuna pieces and slice thinly. Place mushroom slices around a plate and top with tuna slices, chives and a drizzle of extra virgin olive oil. Place mushrooms and chives on plates, top with tuna, season with , squeeze over lime juice, drizzle with extra-virgin olive oil and serve.
Spanish Gambas Al Ajillo, Garlic Shrimp Tapas Recipe
Ingredients
1 teaspoon pimentón
1/3 cup extra-virgin olive oil
50 grams (2 oz) garlic, roughly chopped
1 tablespoon parsley, minced for the garnish
salt and freshly ground black pepper to taste
450 grams (1 lb) shrimp (prawns), peeled and veins removed
Method
Preheat the oven to 400 degrees F (200 degrees C) and place the rack in the center. Heat a heavy, oven-ready, frying pan to high heat, add the olive oil and fry the shrimp in small batches to keep the pan temperature hot. Set the prawns aside. Fry the garlic for 2 minutes and add the pimentón stirring to combine well. Put the shrimp back into the pan in a single layer and season well with salt and freshly ground black pepper. Place the pan in the preheated oven and baked until the shrimp is pink and cooked in the center. Remove the pan, sprinkle with parsley and serve hot.
Marinated Grilled Flank Steak and Goat Cheese Baguette Recipe
Ingredients
Salt
1/2 cup fig jam
1-2 loaves baguette
6 ounces goat cheese
2 tablespoons olive oil
1 tablespoon smoked paprika
Freshly ground black pepper
1 red bell roasted, skin removed and sliced
1 1/2 pound (750 g) flank steak (or eye fillet steak)
2 teaspoons red chilli pepper flakes (or 1 teaspoon fresh chilli chopped)
Method
Mix the pepper flakes, paprika, olive oil, salt and freshly ground pepper together in a small bowl. Add the steak, mix to combine and cover the bowl with plastic film. Refrigerate to marinade the steak for 6 hours or overnight. Heat a grill pan over high heat. Remove the flank steak or other steak pieces from the marinade, drain well and wipe with a paper towel Grill the flank steak over high heat, turning once (about 8-10 minutes). Let steak rest for 10 minutes and then slice. Next slice the baguette loaves thinly and toast. Add a fine drizzle of olive oil to the toast, and then add a serving of the steak, goat cheese, red bell pepper slices and a small dollop of fig jam. Serve hot.
Spanish Tapas Chicken Recipe with Chorizo and Olives
Ingredients
1 teaspoon sugar
1 courgette, sliced
1 red pepper, sliced
1 tablespoon olive oil
2 garlic cloves, crushed
2 chicken breasts, sliced
1 teaspoon ground paprika
400 g (1 lb) can chopped tomatoes
115 g (4 oz) chorizo sausage, sliced
150 ml (1/2 cup) double-strength chicken stock
2 tablespoons basil, chopped, plus extra to serve
Method
Heat the oil in a wok to high. Add the garlic, fry until transparent, and then add the chorizo and chicken and fry for 2-3 minutes. Toss in the courgette and red pepper and stir-fry for several minutes. Next, add the ground paprika, basil, sugar, stock and chopped tomatoes. Bring to the boil and then simmer for 4-5 minutes until the vegetables tender, but still crisp. Distribute to bowls and serve with a topping of basil leaves or coriander.
Spicy Pork Skewers Tapas Recipe
Ingredients
drizzle of olive oil
1 teaspoon ground cumin
1 teaspoon dried oregano
500 g (1 lb) pork fillet
1 garlic clove, finely chopped
1 tablespoon fresh thyme leaves
1 teaspoon hot or sweet pimentón
salt and freshly ground black pepper
For the mojo picón
2 garlic cloves
1 slice white bread
1 teaspoon cumin seeds
5 dried cayenne chillies
1 teaspoon sweet pimentón
2 teaspoons sherry vinegar
4–5 tablespoons Spanish olive oil, plus extra for frying
Salt and freshly ground black pepper to taste
Method
Remove any excess fat from the pork and then slice into 2 cm (1 inch) cubes. Place the pork in a ceramic or glass bowl with a lid. Add the pimentón, oregano, thyme, cumin, freshly ground black pepper, a little olive oil and garlic. Mix well and set aside to marinate for 60-90 minutes, preferably overnight. Next, make the mojo picón by first frying the bread in a little olive oil. Drain the bread on paper and tear into pieces. Using a pestle and mortar or food processor, grind together the fried bread pieces salt, vinegar, pimentón, cumin seeds, cayenne chillies and the garlic to form a smooth paste. Next, thread the marinated pork cubes onto skewers and cook over a charcoal grill, barbecue, griddle or standard oven grill set to very high heat. Cook for about 2 minutes on each side, turning as the meat darkens. Season with salt and pepper and serve with the mojo picón.
Spicy Meatballs and Tomato Sauce Tapas Recipe
Ingredients
50 g breadcrumbs
500 g (1 lb) minced beef
1/2 teaspoon ground nutmeg
1 small onion, coarsely chopped
1 free range egg, lightly beaten
1 tablespoon extra-virgin olive oil
2 cloves of garlic, finely chopped
4 tablespoons flat-leaf parsley, finely chopped
For the Spicy Tomato Sauce
1 teaspoon paprika
Crisp crust bread to serve
1 tablespoon sherry vinegar
2 garlic cloves, finely chopped
300 g (10 oz) tomato puree (canned)
1/2 tablespoons dried chilli flakes
3 tablespoons extra-virgin olive oil
Method
Start by making the tomato sauce. Heat a little olive oil in a frying pan and fry the garlic, chilli and paprika for 2-3 minutes. Add the tomato puree and vinegar. Reduce the heat to low and season with sea salt and freshly ground black pepper,. Simmer the sauce for 30-40 minutes, until it starts to thicken. Next, make the meat balls by heating 1 tablespoon of olive oil in a heavy frying pan over medium heat. Fry the garlic and onion for 3-4 minutes until softened. Allow to cool and transfer to a bowl with the egg, beef, parsley and breadcrumbs. Season with salt and pepper, add the nutmeg and combine well. Using a wooden spoon, or your hands, shape the mixture into about 20 bite-sized balls. Set the meat balls aside on a try, cover with plastic wrap and leave in the refrigerator for about 30 minutes. Heat some olive oil in a large frying pan over high heat, and fry the meat balls in batches for about 10 minutes, turning frequently, until browned all over and cooked in the center. Put all the meat balls back into the pan and add the spicy tomato sauce. Simmer for 8-10 minutes over low heat. Transfer the meat balls and tomato sauce to a serving bowl and sprinkle with parsley, coriander or basil leaves. Serve hot.
Crispy Squid Tapas with Capers Recipe
Ingredients
200 g (7 oz) plain flour
fresh herb leaves, for serving
1 garlic clove, finely chopped
300 g (10 oz) squid tubes, cleaned
lemon or lime wedges, for serving
rice bran or grape seed oil for frying
5 tablespoons mayonnaise (good quality)
2 tablespoon capers, drained and chopped
Method
Cut the squid into rings about 0.5 cm (1/4 inch) thick. Place the flour into a freezer bag and season well with salt and freshly ground black pepper. Add the capers and squid to the bag and shake well to coat all the rings thoroughly with the flour. Combine the mayonnaise and garlic together and transfer to a serving bowl as a sauce. Deep dry the squid rings in batches using hot oil until crisp and brown. Each batch should take about 3 minutes to cook. Remove the squid when cooked and drain on kitchen paper in a colander. Serve immediately with the mayonnaise sauce and wedges of lime or lemon.
Baby Peppers Stuffed with Cheese and Potatoes Tapas Recipe
Ingredients
8 baby peppers
1 free range egg
2 large potatoes, boiled and mashed
3 tablespoons finely chopped chives
4 tablespoons freshly grated Parmesan cheese
salt and freshly ground black pepper for serving
85 g (3 oz) provolone cheese, cut into tiny cubes
2 tablespoons of olive oil, for drizzling when serving
Method
Preheat the oven to 200 degrees C (400 degrees F/). Remove the stalks from the peppers and set aside to be added back later. Remove the seeds being careful to leave the outside of the peppers intact. Mix together the egg, chives, mashed potatoes, provolone and Parmesan cheese, salt and pepper. Mix well and then using a teaspoon stuff each of the peppers with the mixture, about 3/4 three-quarters full. Then, put the stalks back in place to seal the peppers. Stack the stuffed peppers against each other in a single layer on the base of an oven-proof dish or baking tray. Drizzle with olive oil and bake for 30-40 minutes until tender. Serve immediately.
Shallow Fried Prawns and Garlic Butter Tapas Recipe
Ingredients
salt
50 g (2 oz) butter
1 tablespoons olive oil
freshly ground black pepper
2 garlic cloves, finely chopped
1/2 cup parsley, finely chopped
12 large raw prawns, heads removed
Method
Using a large heavy frying pan or a wok heat the oil and butter until very hot. Add the garlic, stir fry briefly and then add the prawns and stir-fry for 4-5 minutes into pink and just cooked inside. Season with salt and freshly ground black pepper, drizzle with olive oil and chopped parsley.
Tortilla Españnola - The King Of Tapas
Ingredients
10 large free range eggs
1 1/4 lb (560 g) onions, diced
4 cloves garlic, finely chopped
1 large green bell pepper, finely chopped
4 cups good quality Extra Virgin olive oil
2 1/2 lb (1.2 kg) russet potatoes or similar
Salt and freshly ground black pepper to taste
Method
Place the chopped green pepper, onions and garlic in a large bowl. Peel the potatoes, cut into quarters, lengthwise and then into very thin slices. Add the sliced potatoes to the onion mixture and season with salt and pepper. Heat the oil over high heat in a heavy deep pot or Dutch oven. Drop a potato slice into the oil to test if it is at the right temperature. When the slice bubbles vigorously and floats, add all of the potato-onion mixture. Cook the mixture for 20 to 25 minutes, until the potatoes are soft. Drain the potatoes in a colander and set aside to cool to room temperature. Whisk the eggs in a large bowl. Stir the potatoes into the egg mixture. Heat a non-stick skillet over moderate to high heat with a teaspoon of oil. When it is very hot and the oil just starts to smoke, pour in the potato mixture and spread evenly over the base of the pan. Lower the heat to medium and then use a spatula or similar tool to gently drag the edges of the potato tortilla in towards the center to release any uncooked egg to flow out the sides and start to cook (similar to cooking an omelette). Cook for about 4 minutes, cover the pan with a baking sheet or several sheets of foil. Using oven mitts or a towel, carefully flip the pan over onto the sheet or lid. Return the pan to the stove and slide the inverted tortilla, back into the pan. Cook the other side for about 3 minutes. Both sides of the tortilla should have a golden brown and the tortilla should have set. Test if the inside is cooked by inserting a metal skewer into the center. There should be no uncooked egg on the skewer, but do not over-cook it and remember that the cooking will continue after it has been removed from the stove. Serve warm or at room temperature in slices with a sauce and topped with fresh herbs such as coriander.