Best French Toast Recipes - Simple, Easy, Healthy and Decadent
The best French toast is soft and creamy on the inside, without being soggy or too soft, and nicely browned and slightly crisp on the outside. It should hold its shape when being eaten. But, it should not be too dry.
The heart of ideal French toast is of course the bread. Avoid the uninspiring white sandwich loaf and rustic bread styles with thick crusts. Also avoid any bread with large holes. The bread should be firm when cut and the slices should be not too flexible.
Slightly stale bread is best with a distinctive interesting taste and texture. Both wholemeal and multigrain varieties are a good choice as long as they can quickly soak up the egg mixture. But don't rush the dipping and allow the egg to soak into the bread to ensure it infuses into the structure of the beard.
The bread variety Challah which is made with both butter and eggs is probably the ultimate choice as the French toast made with it has a delightful creamy soft internal texture and the egg infuses well into the bread.
Choose whole loaves rather than sliced loaves so you can slice to the optimal thickness of 2 cm (3/4 - 1 inch. French and Italian style breads are also an excellent choice.
Potato breads and herb breads are also good choices. If you only have soft fresh bread, one tip is to toast it lightly to stiffen the slices before using it. Good French toast also depends on using good quality fresh eggs.
See the fabulous array of great recipes to try.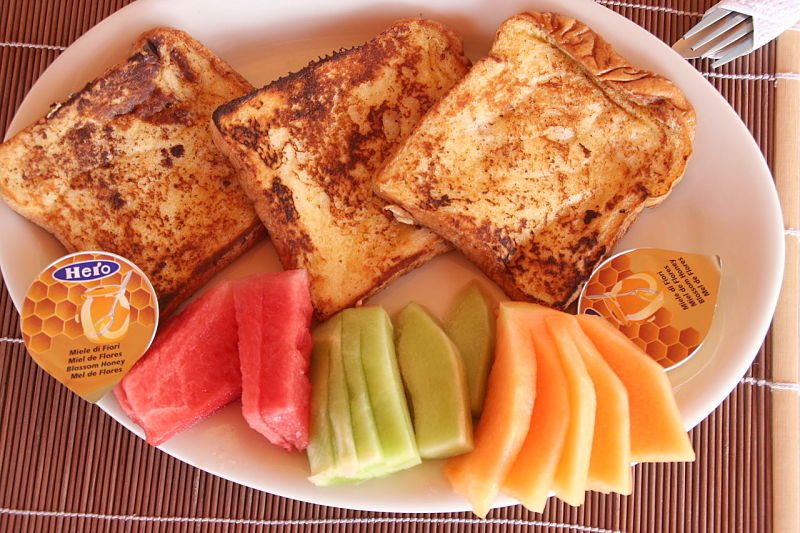 Other Tips and Tricks
The The Egg Mixture - Custard
The lightly beaten egg and milk mixture used as dip for your bread is fundamentally a simple custard. Choose fresh good quality free-range eggs as the eggs are the key to the flavor of the French toast. You can use half-and-half, whole milk or skim milk if you prefer. Cream is too rich for most people.
To Dip or Soak?
Quick dipping of the bread works with thinner lighter styles of bread allowing a brief 30-60 second soak. Thicker bread slices and heavier wholemeal and multigrain bread require longer soaking. Use a large square cake pan which will allow 2-4 slices to be soaked at once. Make sure that the egg is completely whisked into the liquid. Any bits of white or yolk from the egg will remain separate and cook into hard pieces. make sure any excess custard drips off of the bread before it is placed into the pan to avoid a thick custard layer developing beneath the bread as it cooks.
Sweet and Flavored Bread, Additions to the Custard and to the Cooked French Toast
Fresh herbs and spices can be added to the custard to boost the taste. Some people like to use herb bread, raisin bread and other flavored loaves. Add some sugar or maple syrup to the custard provides a sweeter taste. Various sweet and savory toppings can be added to the cooked French bread. This includes fried and poached eggs and sautéed spinach, bacon, ham, mushrooms, onions with fresh herbs.
Best Plain French Toast Recipe
Ingredients
3 large eggs
Pinch of salt
1 cup half-and-half
1 tablespoon of sugar
2 to 3 tablespoons butter, plus more for serving
8 slices of bread, about 2 cm (1-inch) thick, cut from a slightly stale loaf, or slightly toast fresh bear slices
Toppings (optional)
Method

To make the custard, mix a whisk the half-and-half, eggs, salt and sugar in a small bowl and pour into a square cake pan. Make sure the egg is completely combined with the liquid.

Place a frying pan on the stove over medium-low heat.

Soak the bread slices two or four of a time by adding them to the custard and soaking for 30-60 seconds per side.

To cook the French toast, add 1 tablespoon of butter to the hot pan. When the butter melts and starts to foam, tilt the pan to spread over the base of the pan. Lift the pieces of bread one at a time and hold vertically to let any excess custard drip off. Lay the bread slice gently in the frying pan. After a few minutes, left the slice of bread briefly to check if the bottom surface has turned golden brown. Flip when the first side is cooked and brown the other side. Take care that the bread does not burn. As each slice is cooked transfer to a warming plate in the oven. Wipe the pan and add a small amount of extra better before frying the next slice.
Sweet French Toast with Honey Recipe
Ingredients
3 large eggs
1/4 teaspoon salt
1 cup half-and-half
4 tablespoons butter
2 tablespoons honey, warmed slightly in a microwave oven
8 slices day-old country loaf, brioche, challah bread, or similar - lightly toast fresh bread slices
Method

Mix and whisk the eggs, half-and-half, honey and salt in a medium size bowl. Pour the well whipped custard mixture into a square cake pan. Dip the bread slices in the custard mixture and allow to soak for 30-60 seconds on each side (depending on the type of bread). Remove the slices and allow to drain just before cooking. Heat a small frying pan over

Melt 1-2 tablespoon of butter in a small frying pan. Cook one to two slices of bread at a time, depending on the size of the pan. Cook until golden brown on one side (about 2-3 minutes) and then flip and cook the other side. Transfer the cooked slices to a warm oven and cook the remaining slices. Serve with optional toppings and maple syrup.
Fluffy French Toast Made with Flour in the Custard
Ingredients
3 eggs
1 cup milk
1 pinch salt
12 thick slices bread
1 tablespoon white sugar
1/4 cup all-purpose flour
1 teaspoon vanilla extract
1/2 teaspoon ground cinnamon
Method

Add the flour to medium-size mixing bowl. Combine the eggs with the milk in a small bowl and whisk briefly to combine. Add the salt, vanilla extract, cinnamon and sugar until smooth. Whisk the mixture into the flour in a separate bowl. Heat a medium frying pan over moderate heat and melt a tablespoon of butter until it bubbles. Dip and soak the bread slices in the mixture poured into a flat square cake pan, turning once. Fry the bread on each side until golden brown.
French Toast with Vanilla, Spices and Rum Added to the Custard
Ingredients
3 large eggs
Pinch of salt
2 tablespoons rum
2 tablespoons sugar
1 teaspoon cinnamon
1/8 teaspoon nutmeg
1 tablespoon vanilla
1/2 to 3/4 cup half & half
6-8 slices of suitable bread, slightly stale and cut to about 2 cm thick (1 inch)
Method

As above with the spices, vanilla and rum added to the custard.
Gluten-free Pumpkin Puree French Toast
Ingredients
3 eggs
pinch of nutmeg
1/4 cup pumpkin puree
4 slices gluten-free bread
1 teaspoon vanilla extract
1 teaspoon of ground cinnamon
1-3 tablespoon milk or almond milk
1-2 tablespoons of brown sugar (optional)
Method

Mix and whisk the eggs, milk, pumpkin puree, cinnamon, nutmeg and vanilla and a small bowl and transfer to a square cake tin. Dip and soak the slices of bread in the egg mixture for 1-2 minutes, depending on the type of bread.

Fry the bread slices using the method outlined in the previous recipes.
Rich French Toast Made with Cream Cheese and Skim Milk
Ingredients
2 whole eggs
1/2 cups skim milk
1 loaf French bread
2 tablespoons butter
1 tablespoon cinnamon
3 tablespoons fruit spread, puree or jam
1/2 pack cream cheese (4 oz, 125 g) (at room temperature or warmed in a microwave)
Method

Combine the cream cheese with fruit spread or puree. Whisk the eggs, cinnamon and milk and combine well. Push small portions of the cream cheese into 'pockets' in the bread slices. Dip, and soak each piece of bread in the in egg mixture, turning to coat both sides. Heat a frying pan using a moderate-high setting and melt 1-2 tablespoons of butter in the pan. Add the bread slices, two at a time, to the pan and cook until golden brown on both sides. Serve immediately with a topping of melted butter and maple syrup.