Best Gourmet Taco Recipes : Fabulous Homemade Tacos
Let's face it, the standard homemade tacos can become mundane even when you use fresh ingredients and homemade guacamole and sauces. Lift your tacos to gourmet status with this collection of the best ever fabulous taco recipes that will truely astound and intrigue your family and friends. The ingredients are very special, the sauces are wonderful, and the flavors and texture are delightful. Some of these recipes are Mexican, others are from various other cultures. But rest assured these gourmet tacos are out of this world!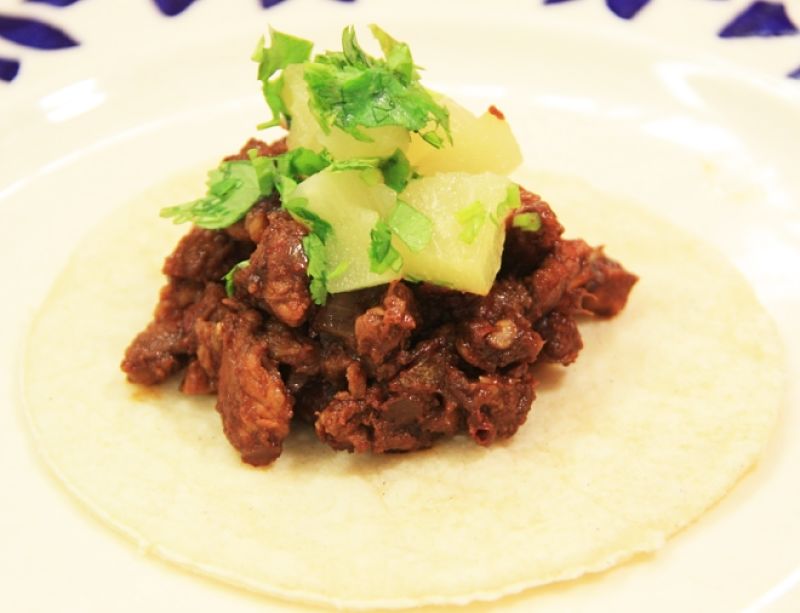 Very special Taco al Pastor - Pork and Pineapple Recipe.
Source: https://commons.wikimedia.org/wiki/File%3AO1_Taco_al_Pastor.jpg
Homemade Tacos al Pastor Recipe (Mexican Gourmet Taco Classic)
Ingredients
1 fresh lime
1/2 cup sour cream
8 fresh corn tortillas
10 cloves garlic, peeled
1 tablespoon cumin seeds
1 tablespoon kosher salt
1 tablespoon dried oregano
1 teaspoon red pepper flakes
1/2 cup coriander (cilantro)
1 medium onion, cut into segments
3 teaspoons grape seed oil or rice bran oil
2 tablespoons ancho chili powder (or similar)
1 pineapple, peeled, cored, cut into 2.5 cm (1 inch) cubes
450 g (1 lb) lean pork shoulder, sliced into cubes (2 cm; 3/4 inch)
Method
Set aside 1/2 cup of pineapple chunks and 1/2 cup of onion and keep cool. Add the remaining pineapple, red pepper flakes, salt, oregano, cumin, chili powder, garlic and onion to a blender or food processor bowl. Pulse the mixture into a coarse paste. Place this marinade with the pork pieces into a large plastic zip-top bag. Squeeze to remove the excess air. Then, close the bag and marinate in the refrigerator overnight. Then, on the next day, stain the pork and discard the marinade. Heat a heavy saute pan over high heat. Add enough oil to just cover the base of the pan and heat until very hot and starting to smoke. Working in small batches, heat a single layer tortillas until they just begin to char (generally about 1 minute per side). Flip the tortillas over and cook the other side for about one minute. Combine all the batches and wrap the tortillas in aluminum foil to keep them warm.
Using the same pan, add some more oil and heat until very hot. Add the pork and pineapple (which you have set aside) and cook for 1-2 minutes, stirring frequently, until well browned. Shake the pan to evaporate all the liquid and to dry the pork pieces (generally about 5-7 minutes is required).
Combine the juice of 1/2 lime with the sour cream in a small bowl and whisk to for a thick sauce. Slice the remaining half of the lime into 4 wedges, for serving. Coarsely chop 1/2 cup the coriander (cilantro) leaves. Serve the tortillas with a serving of the pork and pineapple mixture, cooked onion, chopped coriander. Top with teaspoon of the lime sour cream, and dressed with a lime wedge and some extra coriander.
Fabulous Gourmet Fish Tacos Recipe with Fresh Herbs
Ingredients
Salt to taste
4 tablespoons water
3 eggs, lightly whisked
2 cups all-purpose flour
2 cups panko bread crumbs
1/4 bunch chives, chopped
1/2 cup cilantro, chopped
Freshly ground black pepper to taste
3 limes, cut into wedges for garnish
1/2 head savoy cabbage, finely shredded
Grape seed oil or rice bran oil, for frying
2 pounds (1 kg) firm white-flesh fish fillets (skinned and cleaned with bones removed), sliced into strips
For the Spicy Mayonnaise Sauce
1 cup sour cream
1 cup mayonnaise
Juice of half a lemon
1 Chipotle pepper, seeded and very finely chopped,
2 tablespoons of Adobo sauce
Salt and freshly ground black pepper to taste
For the Spicy Onion and Radish Salsa
2 limes
1 red onion, diced
5 red radishes, diced
Flesh of 2 mangoes, diced
1 tablespoon chili powder
1/4 cup extra-virgin olive oil
1/2 bunch fresh cilantro, chopped
Salt and freshly ground black pepper to taste
Method
Clean, rinse and dry the fish fillets, slicing length-wise into wide strips. Place the flour in a bowl. Lightly beat the eggs in another bowl with a little water. Place the seasoned panko bread crumbs in another bowl and season to taste with salt and pepper. Dredge the pieces of fish in the flour, shaking well to remove any excess. Then, dip in the beaten egg, and finally into the bread crumbs. Once all the fish pieces have been breaded, prepare a deep fryer or deep heavy frying pan by heating several cups of oil to a temperature of 375 degrees F (150 degrees C) oil. As the fish pieces are cooked, drain on paper towels and season with salt and pepper. Set aside in a warm oven until ready to serve.
Prepare the spicy mayonnaise by adding the Chipotle in Adobo sauce, sour cream, mayonnaise, and lemon juice to a blender bowl. Pulse until the mixture has a creamy texture. Season with salt and pepper and set aside.
Prepare the spicy mayonnaise by adding the chipotle, Adobo sauce, sour cream, mayonnaise, and lemon juice to a blender bowl. Pulse until the mixture has a creamy texture. Season with salt and pepper and set aside.
To serve, set up the tacos on a plate surrounded by the dish of salsa, spicy mayonnaise sauce, and the fish. In another bowl place the shredded savoy cabbage, chopped chives and cilantro leaves. Toast the corn tortillas lightly over an open flame (or on on your stove top) and allow your guests to assemble their own tacos from the ingredients.
Gourmet Braised Pork Tacos Recipe
Ingredients
4 bay leaves
1/2 cup sugar
Salt to taste
Juice of 2 limes
2 cups chicken stock
1 (12-ounce) bottle beer
2 red chiles, thinly sliced
2 cups of fresh orange juice
2 cups shredded tasty cheese
1/4 head red cabbage, shredded
2 small red onions, thinly sliced
2 onions, peeled and cut into wedges
Freshly ground black pepper to taste
2 tablespoons extra-virgin olive oil
4 large cloves garlic, finely chopped
4 pound (2 kg) boneless pork shoulder
1/2 cup oregano leaves, finely chopped
1 tablespoon of adobo sauce (or similar)
2 tablespoons grape seed or rice bran oil
1 cup pickled jalapenos, drained and sliced
1 chipotle pepper, seeded and finely chopped,
1 1/2 cups white balsamic vinegar, or white wine vinegar
16 corn or flour tortillas, charred over open flame or on the stove top and kept warm in a towel
Method
Preheat the oven to 325 degrees F (160 degrees C). Season the pork liberally with salt and freshly ground black pepper, and set aside for 30 minutes at room temperature. Then, dry the pork with paper towels and fry in a Dutch oven or deep heavy pan over high heat, with 2 tablespoons of oil. Evenly brown the pork and cook for 10-15 minutes, turning frequently. Remove from the pan a set aside. Using the same pan, lower the heat to moderate and heat one tablespoon of oil, rotating the pan to distribute it. Then, fry the garlic, onions, oregano, sliced chilli pepper and 2 bay leaves for about 7-8 minutes. Add the beer to the pan and for about 3 hours, or until the pork is tender. Transfer the pork to a cutting board, cover with foil and set aside for 30 minutes. When rested and cool enough to handle, pull the pork apart with 2 forks.
Meanwhile simmer the braising liquid left in the pan over medium heat until reduced by half. Add the lime juice, chipotle chilli and adobo sauce. Add the shredded pork and stir well.
While the pork is simmering, prepare the red onions by adding the sugar, white wine vinegar, a teaspoon of salt, 1 teaspoon of chilli pepper and bay leaves to a small pan. Bring the pan to the boil and then reduce to a simmer over low heat. Fry the onions until soft and then add to the vinegar and sugar mixture. Simmer gently until most of the liquid has evaporated.
To serve, place the pulled pork on a platter with shredded cabbage, crumbled cheese, cooked onions. Lightly char the tortillas and allow your guests to assemble the tacos.
Gourmet Tacos with Grilled Skirt Steak and a Spicy Grilled Tomato Salsa
Ingredients
Salt to taste
8 flour tortillas
2 tablespoons canola oil
8 ounces (225 g) sour cream
1 1/2 pounds (0.7 kg) skirt steak
1 medium red onion, thinly sliced
1/2 head romaine lettuce, shredded
Freshly ground black pepper to taste
1 ripe avocado, peeled, pitted and diced
For the grilled tomato salsa
Juice of 2 limes
2 serrano chillies
4 cloves garlic, peeled
6 plum tomatoes, halved
1 small red onion, coarsely chopped
Salt and freshly ground black pepper
1/4 cup chopped fresh cilantro (coriander) leaves
2 tablespoons canola oil, plus more for brushing tomatoes
Method
Preheat your grill or barbecue grill to high. Wrap tortillas in aluminum foil and warm in a your oven or on the top shelf of your barbecue. Brush steak with oil and season with salt and pepper on both sides. Grill on one side until golden brown and slightly charred, about 3-4 minutes. You can also use a griddle pan for this. Flip the steak over and cook on the other side for about 3 minutes, until the steak is medium rare. Let the steak rest for 5 minutes then slice into 1/4 inch against the grain into 1/4-inch (0.5 cm) thick slices. While the steak is resting heat the oil in a saute-pan to moderate and fry the onion, chillies and garlic until soft. Brush the tomatoes with oil, season with salt and freshly ground black pepper and grill on both sides until slightly charred and soft. Transfer the grilled tomatoes and onions/garlic mixture to a food processor or blender. Add the lime juice, salt and pepper to taste and process the mixture until smooth. Add the cilantro and pulse briefly once of twice and transfer to a bowl.
Fill each tortilla with some lettuce, 3-4 pieces of grilled steak, grilled tomato salsa, onion slices, sour cream, and avocado.
Seared Scallop Gourmet Tacos with Cumin, Tomatillo Guacamole and Mango Salsa
Ingredients
For the seared scallop tacos
1/4 teaspoon salt
1/4 teaspoon ground cumin
8 (6-inch) corn tortillas
1 to 2 tablespoons unsalted butter
1 1/4 pounds large sea scallops (about 8)
For the Tomatillo Guacamole
Juice of 1 lime
1 teaspoon salt
1 teaspoon ground cumin
1/2 onion, coarsely chopped
2 cloves garlic, smashed and quartered
1/2 jalapeno, coarsely chopped with seeds
1 avocado, halved, pitted, peeled and diced
3/4 cup coarsely chopped fresh cilantro leaves
6 to 8 tomatillos, husked and coarsely chopped (about 8 ounces)
For the Mango Salsa
1/2 cup diced mango
1/2 cup diced tomatoes
Zest and juice of 1 lime
2 tablespoons minced onion
2 teaspoons minced Serrano chilli
2 tablespoons chopped fresh cilantro
For the Cilantro-Lime Rice
1/2 cup rice
Juice of 1 lime
1 cup chicken broth
5 sprigs fresh cilantro
Method
Prepare the guacamole by combining the cumin, lime juice, garlic, jalapeno, onion, avocado, cilantro, tomatillos and salt in a blender or food processor and pulse until just combined. Make the salsa by combining lime juice, lime zest, chilli, cilantro, minced onion, tomatoes and mango in a small bowl and mix well. Prepare the rice by bringing the cilantro, broth, rice and lime juice to a boil over high heat in a small saucepan. Then reduce the heat to a gentle simmer, and cook covered for 15-20 minutes, until the rice is just tender.
Prepare the scallops by removing the tough ligament from the side of each scallop. Dry the scallops dry using paper towels, and sprinkle each scallop with salt, pepper and cumin. Melt the butter over medium-high heat in a Dutch oven or deep heavy pan until moderately hot, without burning the butter. Briefly sear the scallops for 2-4 minutes, turning once, until golden brown and just cooked through. Transfer to a platter. Toast the corm tortillas and assemble with 1 tablespoon guacamole, 2 tablespoons rice, 1-2 scallops. Top with mango salsa, sour cream, cheese and fresh herbs.
Gourmet Shrimp Tacos with Fresh Herbs
Ingredients
1 cup canola oil
1/4 cup mayonnaise
1 tablespoon sugar
8 soft corn tortillas
1 tablespoon Sriracha
1 tablespoon soy sauce
1 tablespoon cornstarch
Zest and juice of 1 lime
1/2 cup scallions, chopped
1 egg white, lightly whisked
1/2 cup fresh cilantro leaves
1 stalk celery, sliced very thinly
2 cups finely shredded white cabbage
1/4 cup honey roasted peanuts, chopped
2 teaspoons fresh ginger, finely chopped
1 pound (500 g) green shrimp, peeled and de-veined.
1 tablespoon red wine vinegar or Chinese red vinegar
1 tablespoon sambal oelek or similar garlic and chili sauce
Method
Slice the shrimp into small pieces (1/2-inch; 1.5 cm). Whisk the egg white and cornstarch and set aside for 15-20 minutes. Heat the oil to 375 degrees F (190 degrees C) in a wok or deep fryer. Add the shrimp and fry until just cooked through. Remove from the oil and set aside. Heat a small amount of oil to a frying pan. When hot fry ginger and sambal oelek sauce for one minute. Add the vinegar, soy sauce and sugar to the pan, stirring for 2 minutes to make a sauce. Transfer the cooked shrimp to the pan together with the scallions. Mix to combine and keep warm. Mix the cilantro, cabbage and celery together in a small bowl. In another bowl, combine the lime zest and juice, mayonnaise and Sriricha.
Warm the tortillas on a griddle or dry pan. Place an equal portion of the shrimp on the tortillas. Top with a serving of the cabbage mixture, the Sriracha sauce and garnish with the chopped honey roasted peanuts and fresh herbs. Serve immediately.
Images for Recipes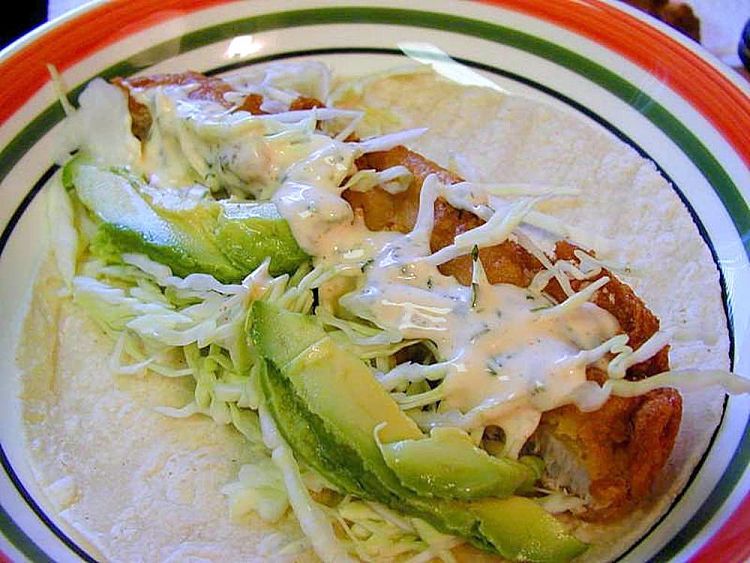 Delicious gourmet fish taccos.
Source: https://commons.wikimedia.org/wiki/File%3AFish_tacos_food_cabbage_tortillas.jpg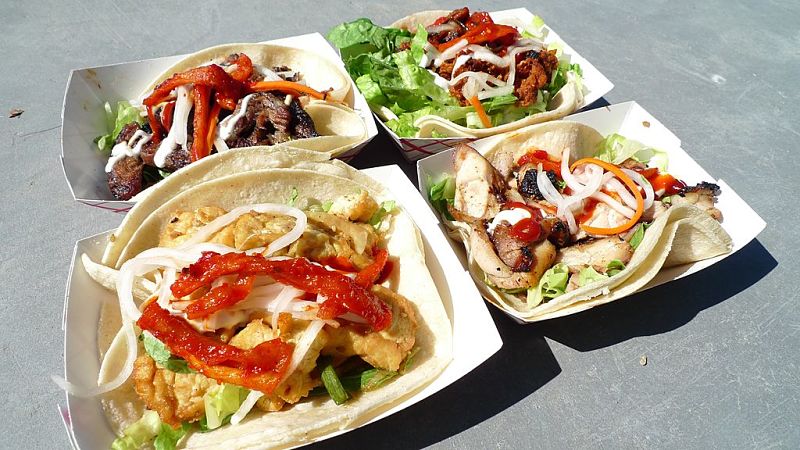 Delicious gourmet grilled meat tacos. See the fabulous recipes in this article.
Source: https://commons.wikimedia.org/wiki/File%3AKoreantacos1.jpg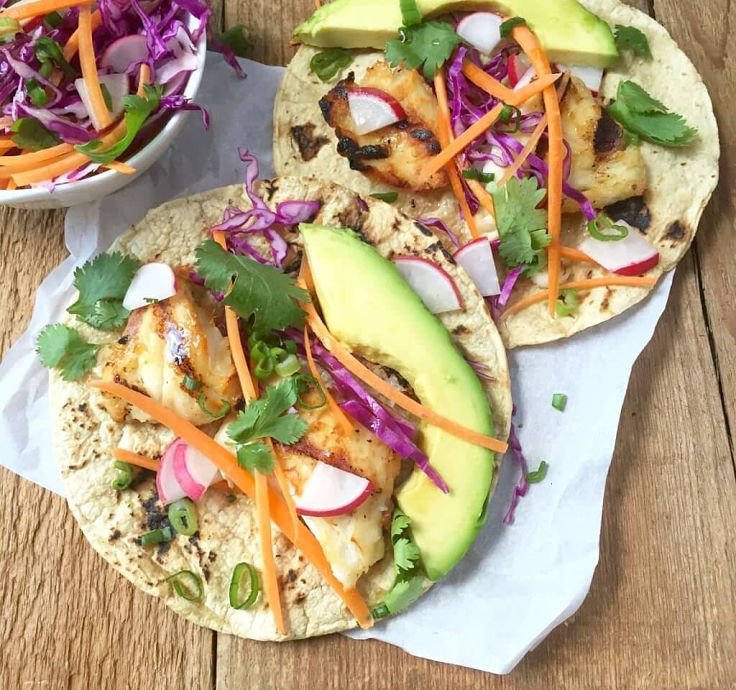 Tacos need not be mundane and boring. See the fabulous gourmet taco recipes that your guests and family with enjoy.
Source: https://commons.wikimedia.org/wiki/File%3AAl_pastor%2C_cabeza%2C_and_lengua._-tacos_(16491963973).jpg