Best Grilled and Barbecued Vegetable Recipes
The main focus for a barbecue is meat. Generally the vegetables are an after thought and they are often nor cooked very well and can be disappointing. Well it is time to realise your expectations and expand your horizons with some fabulous grilled and roasted vegetable recipes specifically designed for the barbecue.
There are some unusual vegetables to try, and many great tips, ideas and guides for cooking fabulous BBQ vegetables. As with most cooking, timing is critical and food should be served as soon as it is cooked.
You will need to ensure that you start cooking the various vegetables and meat so that all items are cooked to perfection at the same time.
You can achieve this with experience and planning.
=> Prepare the vegetables well before you start cooking the meat.
=> Choose fresh vegetables in season that are firm and full of flavor.
Best Barbecued Asparagus Recipe, with Mint and Nuts
Cooking asparagus can be tricky as it is easy to burn on the outside before the inside has softened. Plain asparagus requires other ingredients to lift and complements its taste. This recipe uses a combination of mint and hazelnuts to add aroma and texture.
Ingredients
4 bunches good quality firm asparagus
1/3 cup fresh mint leaves, other other fresh aromatic herb
Oil spray such as olive oil, safflower or another vegetable oil
1/2 cup dry-roasted hazelnuts, coarsely broken or chopped (almonds or Macadamia nuts can also be used)
Method
Preheat a barbecue grill or a chargrill to moderate temperature, or set aside an area on your barbecue with lower heat, suitable for the job. To keep the spears together and enable them to be turned easily, each bunch of asparagus needs to be skewered using a metal skewer or a bamboo one soaked in water. Pass one skewer through the top a bottom of the spears to form a raft shape. Spray both side of the asparagus with oil. Cook on a grill for about one minute on each side. Start off with a higher heat to brown the outside and then move to a cooler part to cook the inside until tender. The asparagus should be bright green with slightly charred patches, and softened inside. When cooked remove the skewers and place on a serving dish. Top with a fine spray of olive oil, mint and the nuts.
Barbecued Mixed Vegetables, - Eggplant, Bell Pepper, Zucchini and Mushrooms
It is convenient to cook a number of vegetables at the same time. But this can be difficult as each vegetable requires a different amount of time. The vegetables may also be bland when cooked. The tip here is to carefully cut the vegetables into pieces of similar thickness so that they require the same amount of time to cook. Slice the eggplant and zucchini lengthwise into quarters of similar thickness. Cut the bell pepper into segments after removing the stalks and seeds. Similarly use whole small mushrooms, or larger mushrooms cut into pieces of similar thickness as the other vegetables. The next tip is to skewer all the vegetable pieces to and bottom to form flat 'rafts'. Alternatively you can use a wire grilling frame, often used when camping to hold the vegetables together when grilling. This keeps them together and helps enable them to be turned easily. Using a marinade of basil, lemon juice, fresh basil or cilantro in olive oil enhances the flavor of the vegetables. The marinade can be used to give extra flavor by basting the 'rafts' of vegetables when they are turned. Getting the temperature just right is also critical.
Ingredients
1/4 cup lemon juice
1/4 cup extra-virgin olive oil
6 fresh mushrooms halved or quartered
2 cloves garlic, peeled and finely chopped
3 zucchinis, sliced vertically into segments
1 small eggplant, cut vertically into thick strips
1/4 cup fresh basil, coarsely chopped (or cilantro)
2 small red bell peppers (or one large one), seeded and sliced into long flat strips
Method
Place the sliced red bell peppers, eggplant, mushrooms and zucchinis in a large bowl. In a jug or cup, whisk the lemon juice, olive oil, basil and garlic together. Then, pour the mixture over the vegetables. Cover and marinate the vegetables in the refrigerator at 1 - 3 hours. Preheat your barbecue grill to moderate-high heat. Use pairs of long metal or bamboo skewers to for a fart of vegetables, or place then in a wire frame device. Grill the vegetables for about 2-4 minutes per side, basting with the marinade each time the vegetables are turned. Check that the vegetables are cooked through and then remove from the skewers and serve topped with a sprinkling of the marinade.
Recipe for Barbecuing Carrots, Beetroot, Sweet Potatoes and Courgettes in Foil Parcels
Foil parcels of vegetables are a great way of cooking a mixture of vegetables simply and easily on the barbecue. The trick is to cut each vegetable into suitable sizes so that all items will be just cooked at the same time. You may want to split the vegetables into two or more parcels according to size. The other trick is to add fresh herbs and spices to the parcels to add flavor and aromatics to the vegetables which are virtually steamed in the parcels. Try oregano with peppers, mint with sweet potatoes and thyme with beets.
Ingredients
1/4 teaspoon of cumin seeds
Salt and freshly ground black pepper
250 g (8 oz) carrots or other vegetables, or a combination
1 large knob of butter or 1 tablespoon of extra virgin olive oil
Method
Pre heat the barbecue to medium, or set aside an area when cooking meat. Peel the carrots and other vegetables into large pieces of similar size. Add the vegetables to a medium bowl and toss with the garlic, cumin, garlic, salt and freshly ground pepper. Roll off about 3 ft (1 m) of foil and fold in half to provide a double layer. Add the carrots and other vegetables, top with a knob of butter, gather the edges together and seal loosely. Place the parcels on the griller around the edge. Use tongs to shake the contents periodically to ensure the vegetables are evenly cooked. Remove the vegetables from the foil when cooked, and serve immediately.
Barbecued Seasoned Corn on the Cob Recipe
Barbecuing corn cubs in their husks is generally disappointing and the corn is unevenly cooked and too rustic. Putting the whole husked corn cobs onto the grill is often disappointing as the corn can burn on the outside, but can be uncooked on the inside or unevenly cooked. Cooking corn cobbets in foil does not provide the smoky flavor that is unique to a barbecue. This recipe uses whole cobs which are cooked in foil with herbs and spices. The cobs are then removed from the foil and placed directly on the grill to finish the cooking and impart the smoky taste.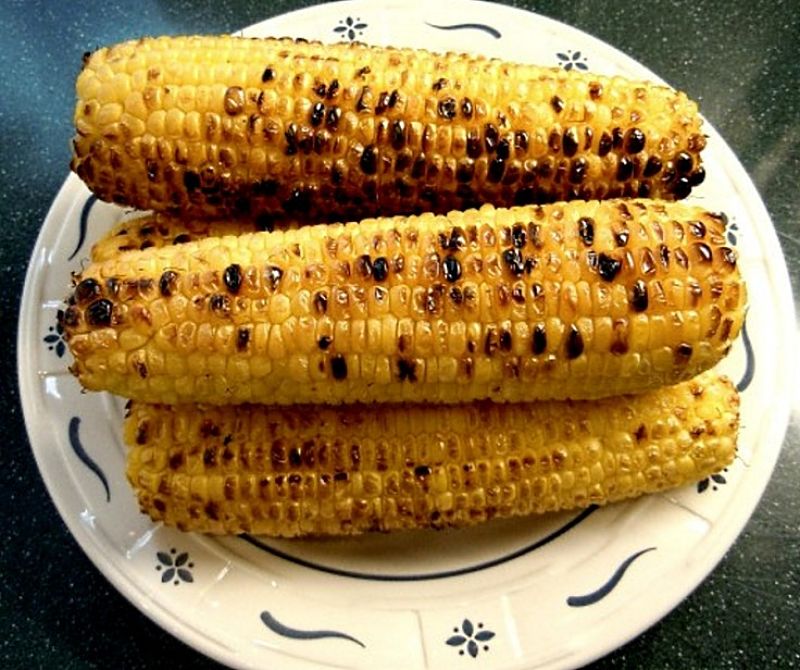 Source: Original Image - John Anderson
Ingredients
1/4 teaspoon cumin
1 teaspoon chili powder
1 teaspoon garlic powder
1 stick butter, softened
4 ears or corn, fresh, plump and firm
3 teaspoons of salt and freshly ground pepper
1 tablespoon basil leaves, shredded (or fresh dill or oregano)
Method
Preheat your barbecue a medium temperature. Mix the chili powder, garlic powder, cumin, herb, salt and pepper with the butter to make a rub. Remove the husks from the corn. Place the ears in a deep bowl with salty cold water. Set aside for about 1 hour in the refrigerator. Drain the corn cobs and smear the butter mixture over all surfaces. Then, wrap each cob in several layers of foil. Place them on the grill cook until the corn just starts to become tender (generally about 15-30 minutes). Remove the foil and place each cob directly on the grill over moderate heat. Cook briefly rotating each cob to complete the cooking.
Barbecued Cauliflower Recipe with Cheese
Cauliflower is seldom cooked for a barbecue, but it can be done in a foil parcel which is opened to finish the cooking.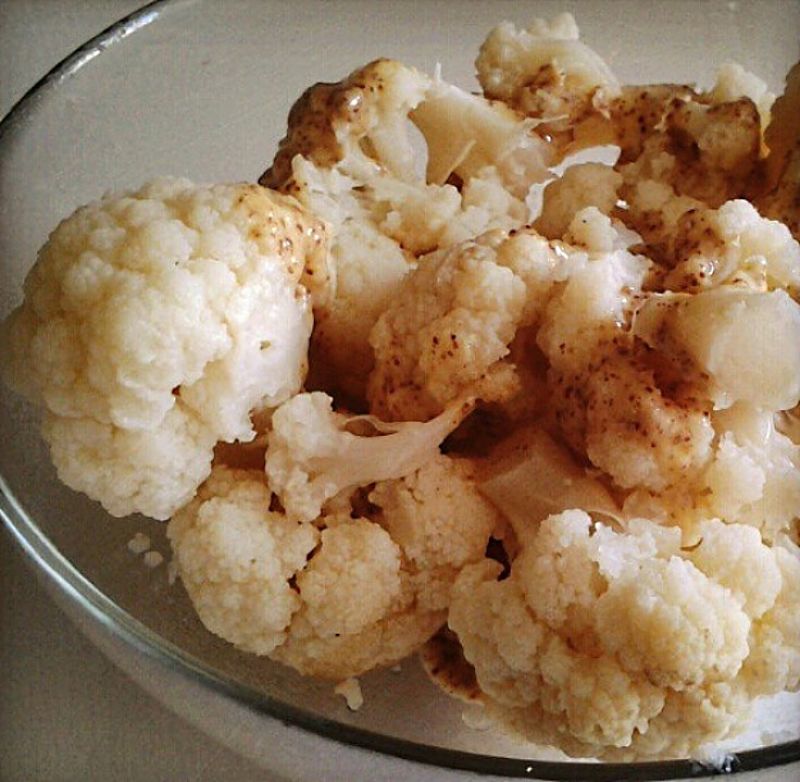 Source:
Lablascovegmenu [CC-BY-2.0], via Wikimedia Commons
Ingredients
One large cauliflower
2 tablespoons of Olive oil
Salt and freshly ground pepper
1 cup of shredded tasty cheese
Spices and mixed herbs you prefer
Method
Slice the cauliflower into large slices rather than chunks about 1/2 inch thick (1 cm). This helps the cauliflower to cook quickly. Brush each slice with olive oil and sprinkle with spices and herbs. Wrap each slice in two layers of foil and cook on a moderate grill for about 10 - 15 minutes. When just about cooked, slice open the top of each parcel and sprinkle with the cheese, salt and pepper. Leave cooking for another 5 minutes to allow the cheese to melt and the smoky taste of the barbecue to infuse into the cauliflower. Serve immediately.
Chargrilled Mixed Vegetables with Zucchini Hummus, Pine nuts and Mint
Ingredients
salt and black pepper
60 g (2 oz) feta cheese
150 g (5 oz) cherry tomatoes
2 tablespoons mint leaves, torn
1 tablespoon extra-virgin olive oil
2 tablespoons pine nuts, lightly toasted
300 g (10 oz) yellow squash, halved horizontally
320 g (11 oz) zucchini, cut on the diagonal into 1.5 cm thick slices
for the Zucchini Hummus
1 large zucchini
3–4 teaspoons tahini
1 tablespoon lemon juice
1/2 teaspoon ground cumin
1 small clove garlic, minced
1 tablespoon extra-virgin olive oil
Method
Make the zucchini hummus by firstly coarsely grating the zucchini, and squeezing to remove as much liquid as possible. Add the zucchini and the remaining ingredients to the bowl of a blender or food processor and pulse until the mixture is relatively smooth. Season to taste with salt and freshly ground black pepper, and by adding more lemon juice and tahini. Preheat your grill, chargrill pan or barbecue or over high heat. Brush the squash and zucchini with the olive oil and season lightly. Grill the zucchini and squash, in small batches, for about 4–5 minutes on each side until golden on the outside and tender inside. Place the tomatoes on the grill and cook for about 2–3 minutes. Spoon a serving of the zucchini hummus onto serving dishes and place the vegetables on top. Sprinkle crumbled feta, pine nuts and mint on top and serve immediately.
Grilled or Barbecued Sweet Potato Recipe with Cilantro Dressing
Ingredients
Kosher salt
2 lb (1 kg) sweet potatoes
4 tablespoons of grape seed or rice bran oil
For the Dressing
Pinch of salt
1/4 cup olive oil
Freshly ground black pepper
1 teaspoon of lime or lemon zest
1/4 cup fresh cilantro, finely chopped
2 tablespoons of fresh lime or lemon juice
Method
Pre-heat your grill or barbecue to moderate-high. Peel the sweet potatoes into thick slices. Coat the slices with oil and season with salt and freshly grated black pepper. Prepare the dressing by mixing all of the dressing ingredients into a small bowl. Place the sweet potato pieces onto the hot grill or barbecue. Cover the grill and cook the sweet potato until each side is brown and shows dark brown grill marks (about 3-6 minutes for each side). Serve hot after tossing the sweet potatoes in the dressing.
Roasted Spiced Sweet Potato Wedges Recipe
Ingredients
1 teaspoon kosher salt
1/2 teaspoon fennel seeds
1 teaspoon coriander seeds
1/2 teaspoon dried oregano
2 lb (1 kg) medium sweet potatoes
1/2 teaspoon dried hot red pepper flakes
3 tablespoons grape seed or rice bran oil
Method
Preheat your barbecue oven to 425 degrees F (220 degrees C). Grind the fennel, oregano, coriander and red pepper flakes in a mortar and pestle and combine with the salt. Wash and slice the potatoes lengthwise into wedges about 1 inch (2.5 cm) wide. Toss wedges in the oil and then dust with the spices and roast for about 15 minutes for each side.
Source:
Kathryn Decker [CC-BY-2.0], via Wikimedia Commons
Source: Public Domain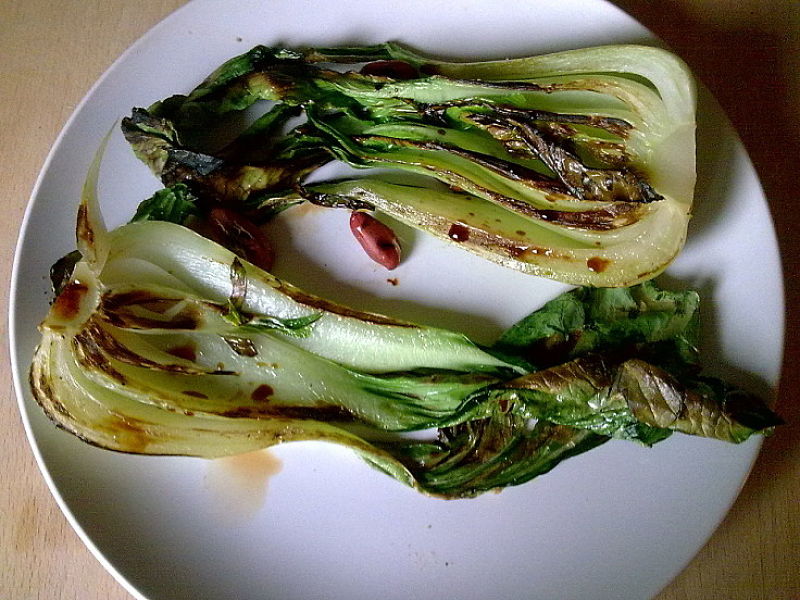 Source:
Lablascovegmenu [CC-BY-2.0], via Wikimedia Commons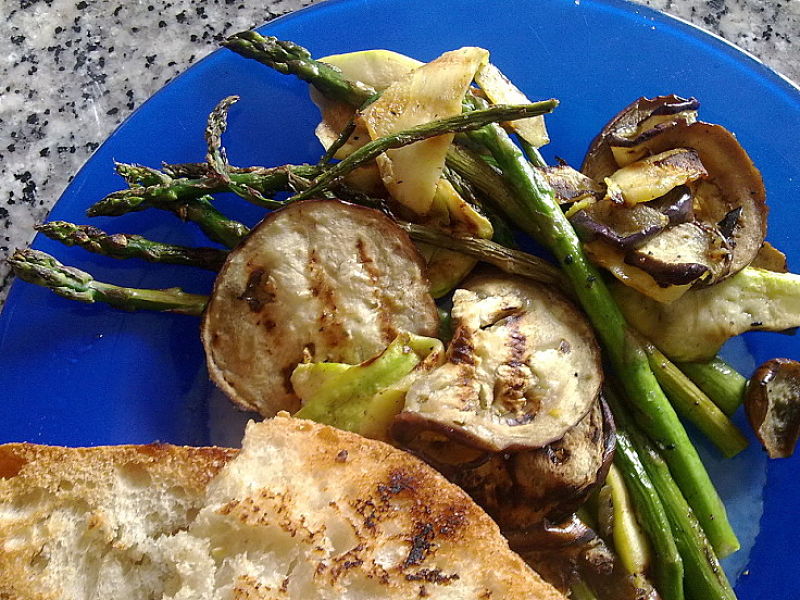 Source:
Lablascovegmenu [CC-BY-2.0], via Wikimedia Commonss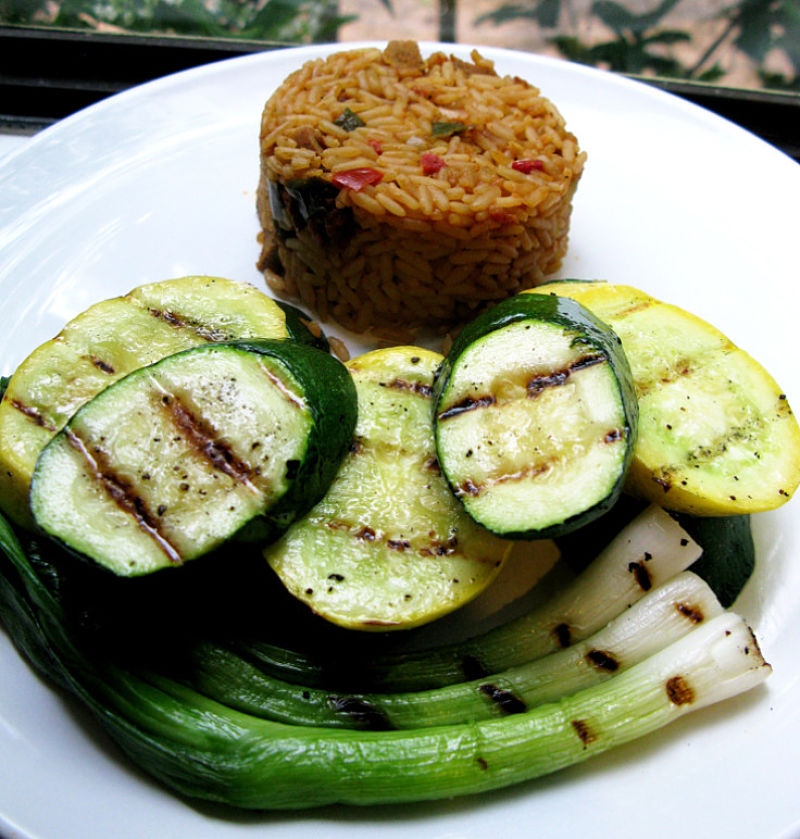 Source:
Kari Sullivan from Austin [CC-BY-2.0], via Wikimedia Commons