Best Healthy Baked Ziti Recipe Options, Skim Milk, Cottage Cheese
Baked ziti is a favorite comfort food. It is very nice, but it is loaded with fat and calories via ricotta and mozzarella and sometimes other cheeses as well. Often the dish includes a meat sauce and sour cream as well. A single serve of ziti with meat sauce (370 g) contains a whopping 480 Calories and 15 g of fat. This is about the same calories and fat in a Big Mac (550 Calories and 10 g of fat).

The good news is that you can make much healthier versions of ziti using low fat cheese made form skim milk and cottage cheese which has fewer calories than most other cheeses. You can still enjoy the full flavor of ziti. The nutrients can be boosted by adding fresh herbs, garlic, onion and vegetables.

This article includes three fabulous healthy, Baked ziti recipes to try.
Low-fat Baked Ziti with Part-skim Milk Cheeses
Ingredients
1/4 teaspoon salt
1 teaspoon dried thyme
1 teaspoon dried oregano
1/2 teaspoon onion powder
1/2 teaspoon garlic powder
16 ounces (500 g) ziti pasta
1/4 teaspoon ground black pepper
16 ounces (500 g) part-skim ricotta cheese
2 cups pasta sauce such as marinara sauce (low cal version)
1 1/2 cups part-skim mozzarella cheese, shredded and separated
Method
Preheat the oven to 350 degrees F (175 degrees C). Cook the ziti pasta following the directions on the package. Drain in a colander and set aside to cool. In a large bowl, mix together the ricotta cheese, 1 cup of the mozzarella, onion powder, garlic powder, oregano, thyme, freshly ground black pepper, salt. Grease a baking dish with oil or spray oil. Put about 1/2 cup of pasta sauce into the baking dish and add half the cooked ziti pasta. Sprinkle the ricotta cheese mixture on top and distribute to form an evenly thick layer. Add another 1/2 cup of the sauce and then add the rest of the ziti pasta on top, followed by the remaining sauce and mozzarella cheese. Bake, uncovered in the preheated oven for 15-20 minutes, or until the cheese melts and the mixture is heated in the center.
Nutritional Data for one Serving
Calories: 371, Fiber: 3 grams, Protein: 20 g, Sugars: 7 g, Total Carbohydrate: 51 g, Saturated Fat: 5.5 g and Total Fat: 9 g
Baked Low-Fat Cottage Cheese Ziti
Ingredients

salt
1 teaspoon sugar
3/4 teaspoon cornstarch
1 teaspoon dried oregano
1 cup cream (fat reduced)
1 cup fresh basil, chopped
Freshly ground black pepper
16 ounces (500 g) ziti pasta
2 large eggs, beaten lightly
2 tablespoons extra virgin olive oil
1 (28 ounce; 800 g) can tomato sauce
1 (16 ounce; 500 g) can diced tomatoes
16 ounces (500 g) 1% fat cottage cheese
3 ounces (100 g) Parmesan cheese, grated
5 medium garlic cloves, peeled and finely minced
8 ounces (250 g) part-slim mozzarella cheese, cut into pieces
Method
Place a rack in the central position in the oven and preheat to 350 degrees F (173 degrees C). Whisk the eggs and combine with the cottage cheese, 1 cup Parmesan cheese and set aside. Cook the pasta following the instructions provided. Drain in a colander and set aside.

Next, fry the garlic in a small skillet using medium heat until garlic is fragrant. Do not brown the garlic. Add the tomato sauce, oregano and diced tomatoes to the pan and simmer until thickened (generally about 10 minutes). Remove from the heat and mix in the sugar and in 1/2 cup basil. Season with freshly ground black pepper and salt to taste.

Next, using a small bowl, add the cornstarch to the cream. Warm a Dutch oven or deep pot on the stove over medium heat. Add the cream and simmer until the mixture thicken, (generally about 3-4 minutes. Take the pot off the stove, and add 1 cup tomato sauce, the cottage cheese mixture, 3/4 cup mozzarella, mixing to combine well. Then add the pasta and mix well to coat all the pasta pieces.

Next, spoon the pasta mixture into a 13 x 9 inch (33 x 20 cm) baking dish and cover with the remaining tomato sauce. Sprinkle over about 3/4 cup mozzarella cheese and 1/2 cup Parmesan cheese on top, spreading evenly. Cover the baking dish loosely with foil and bake for about 30-40 minutes. Then, remove foil and cook for another 30 minutes until the cheese has started to bubble and turn a golden brown color. Remove from the oven and let cool for 15-20 minutes and serve with basil leaves as a garnish.
Low-Fat Baked Ziti Pasta with Spinach
Ingredients
1 teaspoon oregano
1 teaspoon olive oil
olive oil cooking spray
12 oz uncooked ziti pasta
8 oz ( 250 g)fat-free ricotta
3 cloves garlic, finely minced
1/4 cup grated Parmesan cheese
2 tablespoons chopped fresh basil
28 oz can (800 g) crushed tomatoes
2 cups shredded part-skim mozzarella cheese
10 oz fresh spinach or frozen spinach, thawed
salt and freshly ground fresh pepper to taste
Method
Preheat oven to 375 degrees F (180 degrees C). Spray a 13 x 9 inch (33 x 20 cm) baking pan with oil spray or wipe over with olive oil on a paper towel. Cook the pasta following the instructions until just al dente. Drain in a colander and set aside.

Using a medium saucepan, fry the garlic for 2-3 minutes garlic. Then add the tomatoes, chopped spinach, basil, oregano, salt and pepper. Add the cooked pasta, Add half of the mozzarella, ricotta and Parmesan cheeses. Combine well to coat all the pasta and then transfer to the the greased baking pan. Top with the rest of the mozzarella.

Bake for 30-40 minutes, until mozzarella is melted and the edges have started to brown. Let it cool for 10 minutes, then slice and serve.
Nutritional Facts for One Serve
Calories 290, Sodium: 524 mg, Sugar: 5 g, Fiber: 5.5 g, Carbohydrate: 44 g, Protein: 16 g and Fat: 7 g.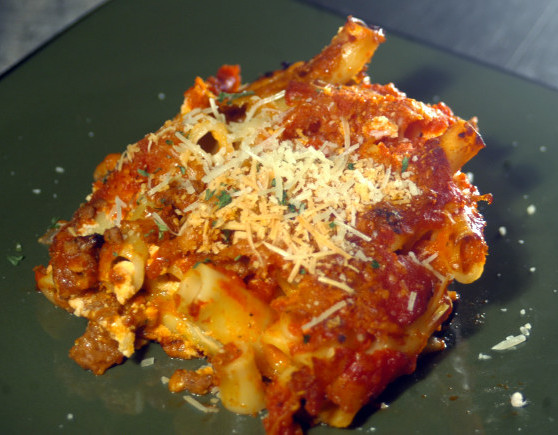 Ziti is a favorite comfort food. See these recipes for Low Fat and Low Calorie, Healthy versions with full flavor
By Lili [CC-BY-2.0], via Wikimedia Commons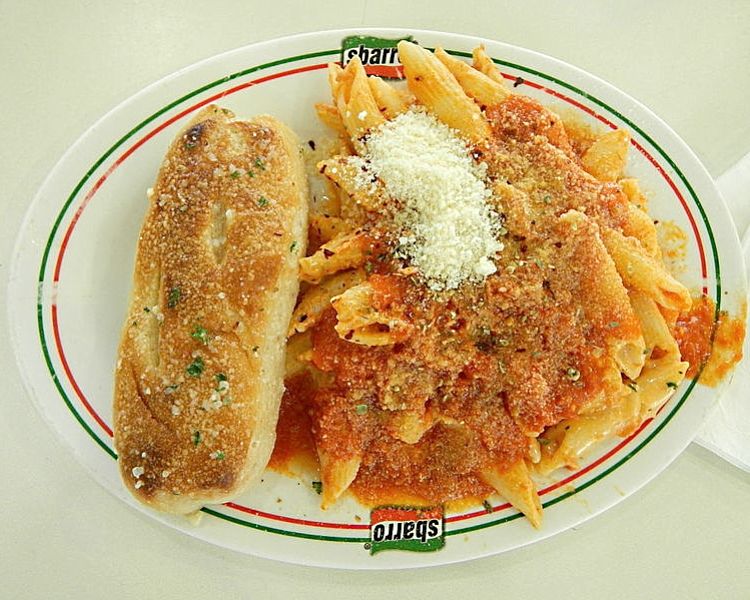 Four fabulous recipes for healthy reduced calorie and reduced fat version of Baked Ziti
Ramon FVelasquez [CC-BY-SA-3.0], via Wikimedia Commons