Best Hot Chocolate Recipes - Homemade with Cocoa, Chocolate, Spices
Hot chocolate is a favorite comfort drink designed to bribe you to sleep, relax or simply enjoy something hot and sweet. It is opulent and can be restrained, but a low-cal hot chocolate is a contradiction and hardly worth considering.
Why would you bother? All genuine homemade hot chocolate recipes contain cocoa or chocolate, sometimes both. However, it is what you add to the base ingredients that makes all the difference.
Forget those fake hot chocolate powders you can buy and learn to make the real thing, just the way you like it.
Discover some of the best hot chocolate recipes ever conceived to get you started on the path to hot chocolate perfection.
The fabulous recipes provided in this article include spiked and spiced hot chocolate recipes, and those made with milk, cream, yogurt, sugar and coffee. Enjoy!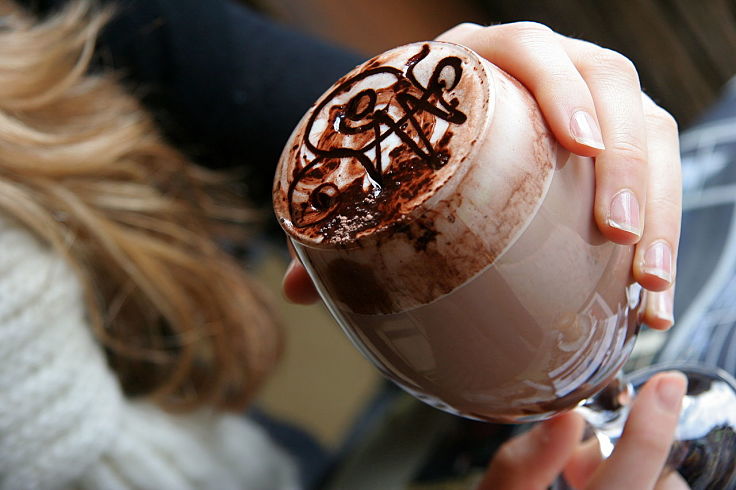 Rich and Spicy Hot Chocolate Recipe
Ingredients
1 cinnamon stick
1/4 cup heavy cream
1 3/4 cups whole milk
1 teaspoon vanilla extract
2 tablespoons sugar, or honey (to taste)
2 tablespoons unsweetened cocoa powder
3 oz (85g) bittersweet chocolate, chopped
1/2 teaspoon chili powder (less or more to taste)
Method
Combine the cocoa, sugar, chocolate and chili in a small saucepan. Heat using a medium-low heat setting and whisk vigorously until the chocolate starts to melt. Slowly add the milk and cream while mixing. Add the cinnamon stick and heat until the mixture is just about to simmer. Then remove the pan from the stove. Set aside for 30-60 minutes, if you have time as this helps the full flavors to develop and mesh together. When ready to serve, stain the mixture, add sugar and vanilla to taste. Reheat and serve with whipped cream and marshmallows.
Simply the Best, Simple Hot Chocolate Recipe
Ingredients
4 cups whole milk
1/2 cup caster sugar
whipped cream to serve
1 1/2 cups pure (thin) cream
3/4 cup good-quality cocoa powder
125g ( 4.5 oz) high-quality rich dark chocolate, broken in pieces
Method
Add the sugar to 1/2 cup of water to a pan set to medium-low heat. Mix to dissolve the sugar and then simmer for 2-3 minutes to thicken the syrup. Add the chocolate and mix until it melts. Then whisk in cocoa, cream and 1/3 cup of milk. Transfer the mixture to a small jug.

Heat the remaining milk in a saucepan over medium-low heat till it is just about to simmer, but do not allow to boil. Pour in portions of the warm warm chocolate mixture and top up with hot milk. Serve with whipped cream and marshmallows and a sprinkling of cocoa.
Hot Chocolate Recipes Spiked with Alcohol
Ingredients
3 1/2 ounces best-quality dark, bittersweet or semisweet chocolate
1 teaspoon brown sugar
2 tablespoons dark rum (more or less or to taste) or one of the alternative spirits suggested below
2 cups milk
2 teaspoons honey
1 teaspoon vanilla extract
1 cinnamon stick
Method
Break the chocolate into pieces and add to the milk in a saucepan. Add the cinnamon stick, honey and sugar. Heat and mix gently over low-moderate temperature until the chocolate is melted. Add the vanilla and slowly add the rum while whisking. Taste and add more or less sugar and rum to suit your preferences. Remove the cinnamon stick, heat to just below boiling and serve.

Other Ways to Spike Hot Chocolate with Alcohol

► Baileys Irish Cream, topped with a little whiskey.

► Kahlua goes very well with cinnamon and spices

► Peppermint Schnapps - pairs well with chocolate and cocoa

► Tequila - sounds unusual, but it does work
Double Choc Hot Chocolate Recipe
Ingredients
1 cup milk
1 cup half and half
8 teaspoons of sugar
1/2 teaspoon vanilla
1 tablespoons brown sugar
1 oz (30g) semisweet chocolate, chopped
1 oz (30g) unsweetened chocolate, chopped (or rich dark chocolate)
Method
Heat all the ingredients, except for the vanilla, in a saucepan, until the sugar dissolves and the chocolate melts. For added creaminess, pour about half the mixture into a blender and pulse until foamy. Transfer back into the saucepan, heat until just below boiling, mix to combine, add the vanilla and serve hot.
Related Articles and Recipes
=> Dark Chocolate is a Healthy Choice with Many Proven Health Benefits
=> Easy Chocolate Truffles Recipes with Liqueurs, Mint, Nuts and Spices
=> Chocolate Truffles Recipes with Liqueurs, Mint, Nuts and Spices
=> Dutch Chocolate Pastry Balls Recipe, Cream Filled
=> Best Homemade Hot Chocolate Recipe Collection Spiked with Alcohol and Spices
=> Best Whoopie Pie Recipes - Red Velvet, Chocolate, Carrot and Walnut
=> Easy Vegan Chocolate Frosting Recipes