Best Indian Chaat Recipes - Great Indian Snacks and Street Food Dishes
There are many Indian snacks, appetizers and street food styles dishes that are referred to using the term 'chaat', derived from Hindi 'cat' meaning 'tasting', or a 'delicacy'. Chaat dishes come in many variations, which often include mixtures of potato pieces, crisp fried bread, chickpeas, tamarind, dahl, a wonderful array of spices and chili, various chutneys and sauces. They are often served with garnishes of fresh green coriander leaves, or mint, and yogurt. The dishes are served on bread, in wraps, in small bowls or on lettuce leaves.
There are many items available from Indian and Asian food stores that help to simplify the recipes. For example, 'chaat masala' is a sweet-sour spice, 'chaat puri' are puffed fried bread disks about the size of a small cracker, and canned chickpeas are also very useful. Fresh chickpeas take a lot of time to soak and cook. These products and many prepared Indian Chutneys can be used to make chaat recipes quicker and easier to prepare.
This article includes a collection of the best Indian chaat recipes you can make at home. Discover how to make, and enjoy these delightful Indian style snacks and appetizers.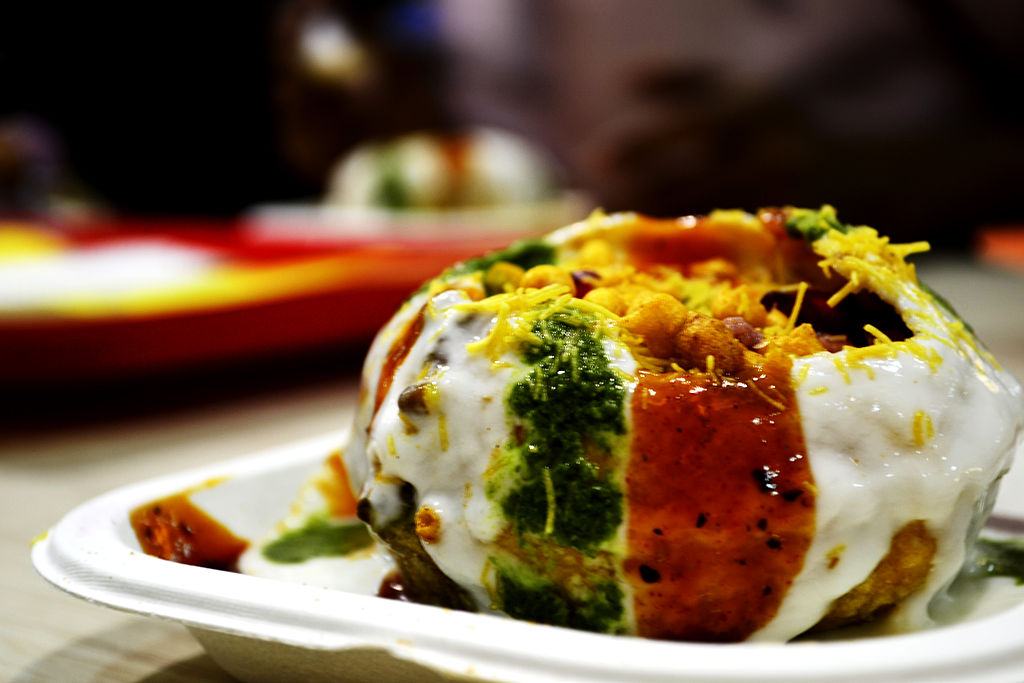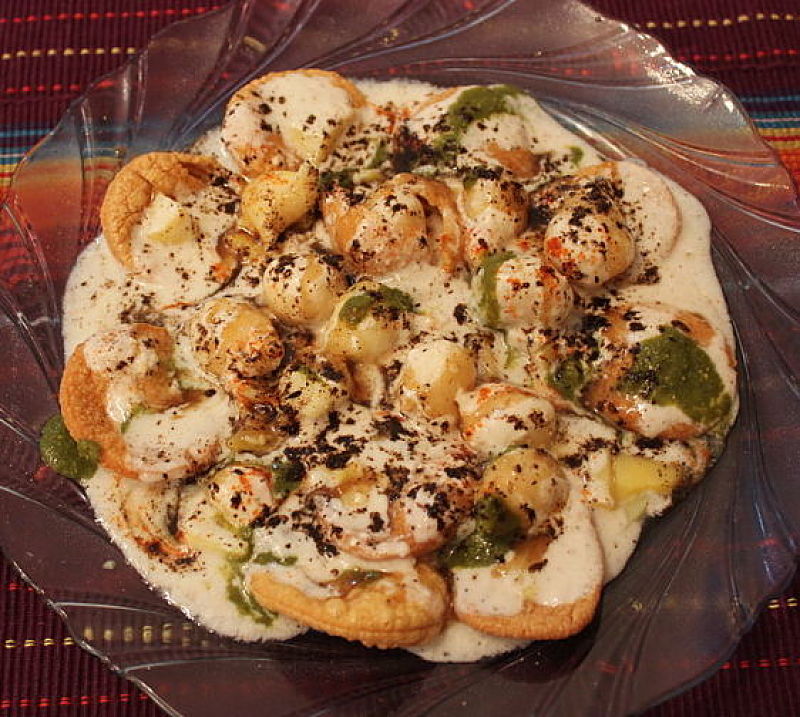 Aloo Chana Chaat Recipe with Potatoes
Ingredients
2 1/4 cups) water
1/4 cup curry leaves
100 ml vegetable oil
2 teaspoons cumin seeds
6 cloves garlic, crushed
1 teaspoon ground turmeric
1 red onion, finely chopped
2 teaspoons black mustard seeds
2 teaspoons amchur (mango powder)
1 large green chili, finely sliced
2 tablespoons finely chopped ginger
500 g ( 1 lb) chat potatoes, cut into quarters
medium sev (fried chickpea noodles, for serving
1 1/4 cups tamarind and date chutney (or similar)
2 x 400 g (14 oz) can chickpeas, drained and rinsed
For the mint yogurt
1 cup plain Greek yogurt
1/4 cup mint leaves, finely chopped
Method
Heat the oil in a large deep pan or Dutch oven over moderate to high heat. Add the mustard seeds and cook in the dry pan for 2-3 minutes. Then, add about a quarter of the onion, plus the garlic, turmeric, cumin seeds, ginger and the amchur and stir fry for 4-5 minutes. Then, add the curry leaves, chili and potato pieces and cook, stirring frequently, for about 5 minutes, until the potatoes just start to soften. Add the chickpeas and 2 cups of water. Season to taste with sea salt and freshly ground black pepper. Bring the mixture to the boil, the reduce to a simmer cook with the pan covered for 5 minutes. Then, remove the lid and cook for another 10-12 minutes, until the potatoes are cooked and most of the liquid has evaporated. Next, add the chutney to a small bowl and mix with enough water to form a moderately thick mixture. Serve by adding the chickpea mixture to small bowls, spoon over some of the tamarind chutney mixture. Sprinkle some extra onion and 'sev' noodles and add a dollop of yogurt mixed with chopped mint leaves.
Spicy Potato Chaat Recipe (Aloo Chaat) with Two Homemade Chutneys
Ingredients
1/2 teaspoon salt
1/4 cup vegetable oil
3 teaspoons chaat masala
1 tablespoon lemon juice
1/2 teaspoon ground chili
1 small red onion, chopped
1 kg (2 lb) roasting potatoes
1 tablespoon finely chopped coriander
For the Hari Chutney
1/4 cup lime juice
3 long green chilies
1 teaspoon white sugar
1/2 teaspoon ground cumin
2 tablespoons vegetable oil
1/2 teaspoon ground coriander
1 packed cup coriander, chopped
2 teaspoons finely grated ginger
1/2 packed cup mint leaves, chopped
50 g (2 oz) baby spinach or similar
1 small garlic clove, finely chopped
For the Tamarind Chutney
1/4 teaspoon salt
1/2 teaspoon ground ginger
2 tablespoons vegetable oil
1 pinch asafetida (optional)
1 teaspoon dried chili flakes
1 teaspoon finely grated ginger
60 g (2 oz)grated jaggery or palm sugar
200 g (7 oz) seedless tamarind
Method
Make the hari chutney by placing the spinach in a bowl and cover with boiling water. Set aside for about 30 seconds to wilt the leaves and then drain, squeezing out excess water, and setting aside to cool. The, blend the spinach with remaining ingredients to a rough purée. Season with salt and freshly ground black pepper. Adjust the consistency by adding extra water if required. Stir well before serving. The chutney can be stored in the fridge for 5 days.
Make tamarind chutney, by breaking the tamarind apart in a bowl with your fingers or a wooden spoon. Next, pour over 1 1/2 cups of boiling water and use a fork to break up the tamarind further, and then aside for 20-30 minutes. Then, strain the tamarind through a fine sieve squeezing out as much fruit as possible. Discard the solids. Gradually mix the extract, adding the jaggery gradually. Taste frequency to ensure the jaggery overcomes the sourness of the tamarind. Add the remaining ingredients and mix well, seasoning with salt, pepper and some extra sugar, if required. Pour the mixture into a small saucepan and heat over low to moderate heat. Cook the mixture, stirring continually, for about 5 minutes, until then mixture starts to darken. Cool before using. The tamarind chutney can be stored in the refrigerator for about a week.
Cook the potatoes by placing into a saucepan half filled with cold, salted water and bringing to the boil. Boil vigorously for about 10 minutes or until just tender. Drain the potatoes and set aside to cool. Peel the potatoes and then cut potatoes into 3 cm (1 inch) thick pieces. Pre-heat a large heavy frying pan or Dutch oven over moderate–high heat. Mix the oil, chaat masala, chili and salt in a large bowl. Toss the cool potato pieces into this mixture in the bowl to coat all sides. Fry the potatoes, in small batches, until the slices are golden and crisp. Keep the cooked potatoes warm in the low oven while you fry the remainder of the potatoes. Combine onion, lemon juice and coriander in a bowl. Serve the fried potatoes with a small amount of the onion mixture and topped with fresh herbs. Serve with the two chutneys in small bowls or jugs.
Peanut Chaat Recipe with Cucumber and Tomatoes
Ingredients
1 teaspoon salt
1/4 teaspoon raw sugar
1 tablespoon lemon juice
1/2 cup raw fresh peanuts
1/4 teaspoon black pepper
1/4 teaspoon turmeric powder
1/4 teaspoon red chili powder
1/2 teaspoon mango powder (amchoor)
1/2 teaspoon roasted cumin seed powder
3/4 cup cucumber, cut into small cubes
3/4 cup tomatoes seeded, and sliced into small cubes
1 green chili finally chopped (more or less to suit)
1 tablespoon fresh ginger root, peeled and finely chopped
Method
Add the raw peanuts to 2 cups of water in a small saucepan. Add the turmeric and 1/2 teaspoon of salt. Cook the peanuts over moderate-high heat for about 20-30 minutes until the peanuts start to soften. Drain the peanuts in a colander and set them aside to cool. Next, combine the green chili, cumin seed powder, red chili powder, black pepper, ginger, 1/2 teaspoon salt, sugar, mango powder and lemon juice together in a small bowl. Mix the peanuts with the cucumbers and tomatoes, and then add the spice mix and toss to combine. Serve the peanut chaat in small bowls or lettuce leaves.
Spicy Matar (Matra) Chaat Recipe with Beans or Field Peas
Ingredients
2 teaspoons salt
1/4 teaspoon sugar
1 tablespoon coriander
1 tablespoon cumin seed
1 tablespoon lemon juice
1/4 teaspoon black pepper
2 tablespoons tamarind pulp
2 tablespoons fresh ginger, finely chopped
2 small green or red chilies, finely chopped
1 cup matar, (light brown colored field peas, available in Indian grocery stores), or white beans
For garnishing
Slices of lemon
2 green chilies, finely chopped
2 tablespoons fresh ginger, finely chopped
Method
Wash and soak the matar in three cups of water, and leave overnight. The matar will absorb water and increase in volume two-fold. Dry fry the cumin seeds and the coriander seeds, until they are brown and aromatic. Let the seeds cool and grind to a powder in a mortar and pestle. Place the matar in a pressure cooker with 2 1/2 cups of water. Add the ginger, salt and green chili. Cook on medium-high heat for about 10 minutes, or 30 minutes in a regular saucepan, until the peas or beans are soft and tender. Add all the spices and season with salt and pepper to your taste. Serve warm, garnished with green chili, ginger and lemon slices.
Spicy Chickpeas Chaat Recipe with Potatoes
Ingredients
2 tablespoons oil
1 tablespoon lemon juice
1 tablespoon garam masala
1 medium size potato, boiled
1 teaspoon roasted cumin powder
1 teaspoon mango powder (amchoor)
1/4 cup gram flour (besan or similar)
1/2 teaspoon freshly ground black pepper
1 tablespoon fresh ginger, finely chopped
1 1/2 teaspoon salt., more or less to taste
1 teaspoon black salt (kala namak) or other salt
1 green chili, seeds removed and finely chopped
1 cup chickpeas (or Garbanzo beans, Kabuli chana)
For garnishing
Few slices of lemon
8 Romaine lettuce leaves
2 tablespoon Ginger Relish or fresh ginger finely chopped
Method
Peel the boiled potato and slice into small cubes. Wash the chickpeas and soak in 4 cups water for at least 8 hours (overnight). Then, drain the water from the chickpeas and rinse several times with fresh water. Boil the chickpeas in a pressure cooker, or in a heavy saucepan, with 4 cups water, until the chickpeas are tender. Next, heat the oil in a heavy saucepan or Dutch oven over moderate heat, add the gram flour (besan) and fry for 1-2 minutes, until the color of the flour changes to golden brown. Add the minced green chili, grated ginger and stir fry for 1 minute. Next, add the chickpeas, salt, roasted cumin seed powder, salt, freshly ground black pepper and mango powder. Lightly mash the chickpeas with a fork, while combining with the spices. Cook using low heat for 10-15 minutes. Then turn off the heat and let stand on the stove for a further 10-15 minutes. Next, add the potatoes, lemon juices, garam masala and mix through. Set the dish aside covered for 30 minutes to 'rest' so that all the flavors permeate through the chickpeas. Serve warm, on lettuce leaves with a sprinkle of ginger and a squeeze of lemon juice.
Sundal - Chickpea Snack Recipe
Ingredients
Salt, to taste
2 dry red chillies
1 tablespoon of oil
Several curry Leaves
1/2 teaspoon mustard seeds
1/4 teaspoon of Asafetida
1/2 onion (sliced lengthwise)
1 cup of chick peas (or other beans)
2 tablespoons coconut (fresh grated)
Method
Soak the chickpeas overnight, or for at least 8 hours in water. Then, wash the chickpeas and cook using a pressure cooker or saucepan until tender. Alternatively, you can use canned and drained chickpeas. Heat the oil in a large heavy pan using high heat, and fry the asafetida, dry red chili, mustard seeds and curry leaves. Then, add the onions and sauté until the onion turns golden brown. Next add the cooked peas and fry for 1 minute. Add the freshly grated coconut, mix everything together and serve warm in small bowls or lettuce leaves.
Dahi Puri Chaat Recipe
Ingredients
For the yogurt mixture
3/4 cup of plain yogurt
1/4 teaspoon chaat masala
1/2 teaspoon red chili powder
1/2 teaspoon roasted cumin powder
Salt, to taste
Three Chutneys
1/2 cup tamarind and date chutney
1/2 cup green coriander chutney
1/4 cup red garlic chutney
Other Ingredients
28-30 Puris or golgappas
1 cup potato, boiled, peeled and chopped
1 cup of onion, finely chopped
1 cup black chickpeas or kala chana (or regular chickpeas)
1 cup of sev
Method
Wash and boil the chickpeas until tender. Boil the potato until just tender, then peel and chop into small cubes. Peel and finely chop the onions. Add the red chili, chaat masala, roasted cumin powder and salt to the yogurt in a small bowl. To prepare the dhai puri, gently make hole in the center of each puri and arrange 7-8 puri on a plate. Fill each puri with 1-2 teaspoons of potato, and 1 teaspoon of chopped onions. Finally, add about 2 teaspoons of boiled chickpeas. Drizzle a teaspoon or each of the chutneys on top followed by a dollop of yogurt and a sprinkle of sev. Serve dahi puri immediately they are assembled.