Best Low Calorie, Low Fat Caesar Salad Dressing Recipes - Healthy Homemade
The very popular Caesar salad was first introduced to the world by Caesar Cardini, an Italian who ran a restaurant in Tijuana, Baja California Peninsula, San Diego in the early 1900s.
The original recipe includes raw eggs, garlic oil and lots of olive oil, which boosts the fat and calories in the dressing.
Many people love Caesar salad but are concerned about the fat and calories. However don't despair.
The good news is that there are a variety of low calorie, and low fat Caesar salad recipes made without eggs and much less oil, without compromising greatly on the original taste. You can even include small amounts of bacon pieces and Parmesan Cheese in the salad that are so much part of a traditional Caesar salad experience.
This article includes recipes for making delightful homemade low calorie and low fat Caesar Salads that don't compromise on the taste and enjoyment.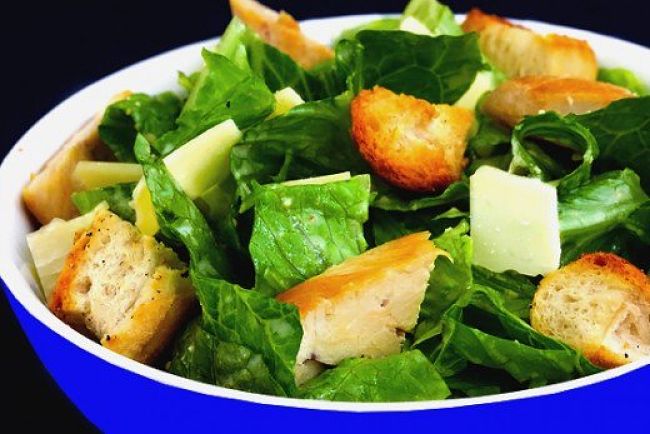 The commercial low fat Caesar Salad versions you can buy and insipid and are full of highly processed ingredients and taste badly. Caesar salad dressing need to be creamy, not watery and delicious not skinny makeover that appears to be missing something. Try the following recipes.
Low Fat, Low Calorie Caesar Salad Dressing - Recipe 1
2 heads romaine lettuce
2 anchovy fillets
1-1/2 oz. (50 g) Parmigiano-Reggiano
1 cup reduced-fat croutons

Dressing
1/2 cup non-fat yogurt
2 tablespoons honey
2 tablespoons Dijon mustard
2 tablespoons fresh lemon juice
1/4 teaspoon fresh ground black pepper
2 garlic cloves

Rinse the lettuce with cold water, discard the stump and separate the leaves and make several lengthwise slits down the middle of the leaves. Mix all the dressing ingredients placed in a bowl using a whisk. Keep mixing until the ingredients are well blended together evenly to produce a smooth dressing. To serve mix the lettuce with the dressing using a pair of tongs making sure all the lettuce leaves are evenly coated. Add the fresh grated Parmigiano Reggiano, or a low fat substitute and the croutons. You can also add a sprinkling or well-cooked and chopped bacon pieces, but these add extra calories.
Low Fat, Low Calorie Caesar Salad Dressing Recipe 2
1/2 teaspoons Kosher salt
1 teaspoon Worcestershire sauce
4 anchovy fillets
1 tablespoons fresh lemon juice
3 teaspoons olive oil
1/4 cup fat free vegetable or chicken broth
2 tablespoons fat free plain Greek Yogurt
3 large garlic cloves, finely chopped or crushed
2 tablespoons grated Parmesan cheese, fresh
1 cup fat-free packaged croutons
1 head romaine lettuce, chopped
pinch black pepper, freshly ground

In a large salad bowl, mix the Parmesan cheese, oil, lemon juice, garlic, broth, Worcestershire sauce, yogurt, anchovies, and pepper until very combined and creamy. Set aside the mixture for stand 5-15 minutes to blend and combine. Next add the lettuce to the bowl and using tongs, toss the lettuce leaves to coat evenly. Sprinkle with the croutons and serve.
Low Fat, Low Calorie Chicken Caesar Salad Recipe
For the chicken:
1 tablespoons olive oil
2 garlic cloves, peeled
2 skinless chicken breasts
juice of 1 lemon

For the croutons:
2 slices wholemeal, crusty bread
2 teaspoons olive oil

For the salad:
1 head romaine lettuce, washed with the leaves separated and sliced vertically

For the salad dressing:
salt and black pepper to taste
50 g (2 ounce) parmesan cheese, grated
2 tablespoons low-fat mayonnaise
2 tablespoons plain low-fat yogurt
2 anchovy fillets, finely chopped
1 tablespoons lemon juice
2 teaspoons Dijon mustard
garlic clove, peeled and chopped

Place the chicken in a shallow dish, cover with the crushed garlic cloves, olive oil, lemon juice and turning to coat. Season with black pepper and marinate for 15-30 minutes. Preheat the oven to 200 degrees C (390 degrees F). Cut the bread into small cubes, drizzle with olive oil and spread out as a single layer on a baking tray. Bake for 10-12 minutes, turning once, until crisp and golden. Add garlic, Dijon mustard, lemon juice and anchovies to a blender or food processor and blend until smooth. Then add the yogurt, two-thirds of the parmesan, and mayonnaise to the bowl and blend again briefly. Cook the chicken on a griddle pan or griller over a high heat. Add the chicken breasts and cook for 8-10 minutes on each side or until cooked through (test to make sure they are cooked in the center). Leave the cooked chicken pieces to rest for a few minutes before slicing. Place the lettuce in a bowl, tearing or slicing the larger leaves into serving size pieces. Pour on blended dressing and mix gently using tongs. Add the chicken and croutons and toss together and serve.
Related Articles, Information and Recipes to Try
=> Easy Homemade Salad Dressing Recipes - Healthy and Tasty
=> Best Homemade Salad Dressing Recipes, Tips for Perfect Vinaigrette
=> Best Waldorf Salad and Dressing Recipe - Modern Healthy Versions
=> Best Panzanella Recipe Collection - Tuscan Salads with Bread, Tomato, Basil
=> Best Tabbouleh Salad Recipes with Couscous, Bulgur, Quinoa, Fruit and Herbs