Best Malfatti Recipes with Spinach, Chard, Ricotta, Other Options
Malfatti are tiny dumplings or gnocchi made with spinach and ricotta, that are light and robust with a kaleidescope of flavors inside: chard or spinach, fresh creamy ricotta, grated nutmeg, savory browned butter and herbs, such as sage.
They are somewhat, similar to classic gnoocchi in size and texture, but without potato, or course. They are easy to make. Kids love them. They are ideal for lunch, for snacks or a light lunch.
There are many variations to try, including using a variety of leafy greens, fresh herbs, spices and cheeses. Because Malfatti don't have traditional pasta on the outside, and contain very little flour inside, they are suitable for those on whole foods diets, and also low-carb, high protein diets as well.
Below are some fabulous Malfatti recipes to try.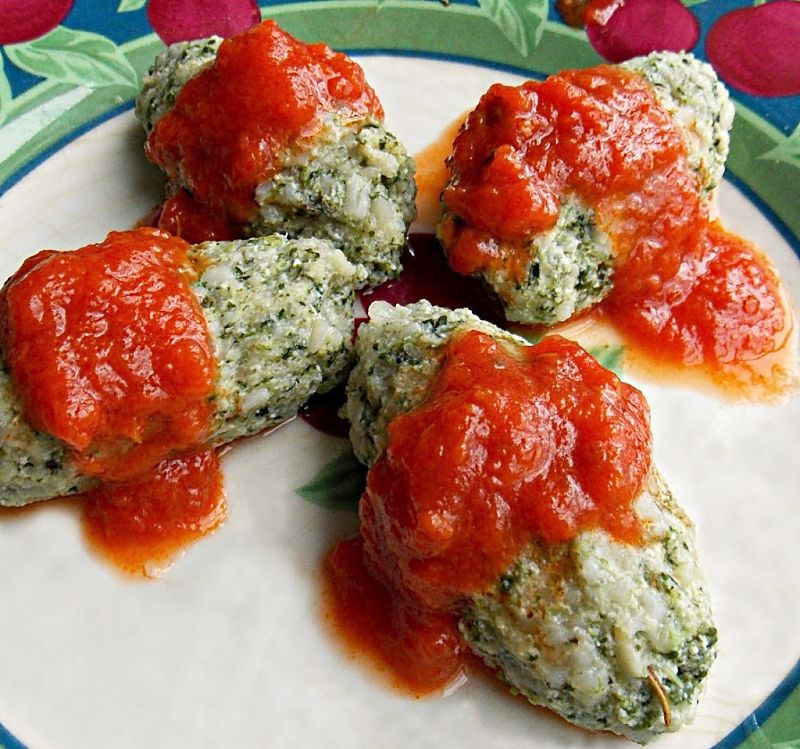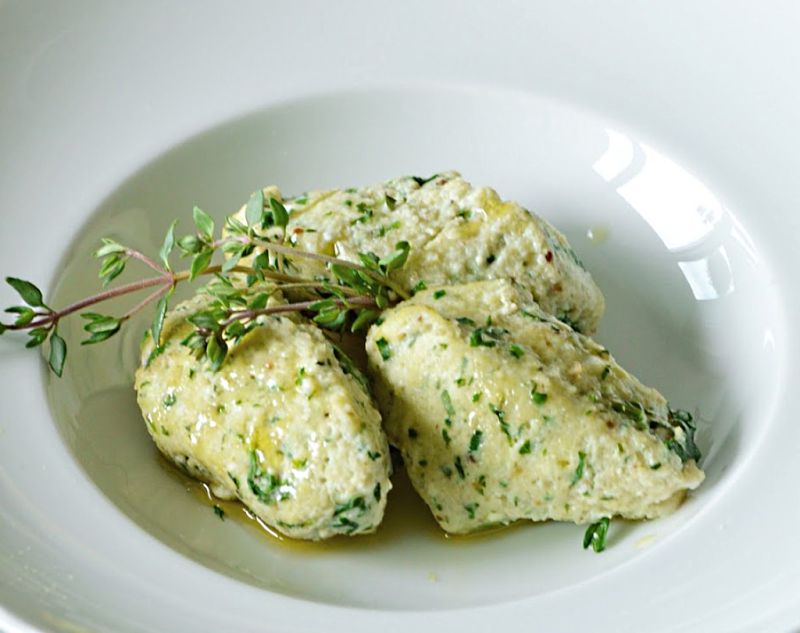 Nutrients in Standard Spinach and Ricotta Malfatti
A summary of the nutrients in 100 g and a cup of Malfatti is shown below.
The key points are:

► Low calories (122/100g)
► Very low fat (3g/100g)
► High protein (5.9g/100g
► High fiber (5.5g/100g)
► Low Carbs (16.5g/100g)

For comparison the nutrients in 100g of Potato Gnocchi, with comparisons highlighted are:

Calories 133; Fat 6.24g (double); Protein 2.36g (half); Fiber 1g (one fifth); Carbs 17g

Also the nutrients in a 100g serving of Cheese and Spinach Filled Ravioli with Cream Sauce are:

Calories 145; Fat 6.66g (double); Protein 5.85g; Fiber 0.7g (one fifth); Carbs 15.16g.

Clearly Malfatti is the healthier option.

Malfatti Nutrition Summary
| Nutrients in Malfatti | Serving 100 g | Serving per cup |
| --- | --- | --- |
| Calories | 122 | 230 |
| Calories from Fat | 28 | 52 |
| Total Fat (g) | 3.1 | 5.8 |
| Saturated Fat (g) | 1.7 | 3.2 |
| Cholesterol (mg) | 9.9 | 18.7 |
| Sodium (mg) | 111.9 | 210.3 |
| Total Carbohydrates (g) | 16.5 | 31.0 |
| Dietary Fiber (g) | 5.5 | 10.4 |
| Sugars (g) | 0.7 | 1.4 |
| Protein (g) | 5.9 | 11.1 |
Chard and Ricotta Malfatti Recipe
Ingredients
Kosher salt
1 pound (500g) ricotta
8 ounces butter
4 large egg yolks
1 large whole egg
24 fresh sage leaves
Freshly ground black pepper
Parmesan cheese for serving
1/4 cup general purpose flour
1/2 teaspoon freshly grated nutmeg
4 bunches Swiss chard (about 4 pounds; 2kg)
Method
Drain the ricotta in a colander or sieve lined with cheesecloth. Se aside to drain in the refrigerator overnight. Measure out 1 1/4 cups of ricotta cheese.

Heat a large pot of salty water to boiling. Trim the chard, removing any stems or fibrous ridges. Plunge about half of the chard into boiling water and cook until just soft(generally about 3 minutes). Quickly remove the chard and plunge into a bowl of ice water. Cool and cool the remaining chard. Squeeze out any excess moisture in the chard using your hands. Using a kitchen towel spread the chard out in a ring, about the the size of a pie. Roll the towel up and squeeze any extra moisture out of the chard. Transfer to a food processor and pulse until very finely chopped. You should have about one cup of dry chard. Place it into a medium size bowl and mix through the ricotta.

Next, melt half the butter in a saucepan. Pour the melted butter into the bowl with the chard and ricotta. Then add 1/4 cup flour, 1/2 teaspoon of nutmeg, 1 heaped teaspoon salt and mix thoroughly. Add the egg and the 4 egg yolks and mix again. Season with freshly ground black pepper.

To make the , sprinkle flour over a cutting board. Taking portions of about 1 tablespoon, shape them into balls and put them on the cutting board.

To shape the Malfatti, add a teaspoon of flour to a narrow, dry wineglass. Drop one ball at a time into the glass swirl around until it forms an oval. Repeat this process with several wine glasses. You may freeze them at this point.

To cook the Malfatti, bring a pot of salty water to the boil over moderate heat. Drop Malfatti ovals and cook until they float. This will generally take about 7-8 minutes (10 minutes if frozen). Add the rest of the butter to a small frying pan and heat until bubbling, and starting to release a nutty aroma. Add the sage and cook for about 30-45 seconds. Season with salt and pepper. Drain the Malfatti and place on serving plates. Spoon over some of the butter and sage. Add a sprinkle of freshly grated Parmesan and serve immediately.
Spinach, Ricotta and Parmesan Malfatti
Ingredients
Half a lemon
Salt and pepper
1 large free-range egg
1/4 teaspoon of nutmeg
40g (1 oz) plain flour
250g (8 oz)fresh ricotta
200g (7 oz) fine semolina flour
100g (3.5 oz) butter, for serving
about 20 fresh sage leaves, for serving
125g (4 oz) Parmesan, plus extra for serving
500g (1 lb) spinach leaves - washed and dried
Method
Wilt the spinach in a pan using medium heat for about 2-3 minutes. Drain the cooked spinach and squeeze out all the water. In a large bowl, mix together the plain flour and ricotta. Stir in the spinach, nutmeg, beaten egg, grated cheese and seasoning.

Flour a chopping board with about half of the semolina. Take about 1 tablespoon of the Malfatti mix at a time and roll on the board into about 25 balls (about the size of a golf ball). Transfer the balls to a tray. Bring a pan of salted water to the boil. Reduce the heat to a brisk simmer. Then add the Malfatti balls and cook for about 2-3 minutes, until they float to the surface float to the surface. Drain and keep warm in the pan used for cooking them.

Next, make the simple butter sauce, by melting the butter in a small pan and gently frying the sage leaves for 30 seconds to activate them. Add a squeeze of lemon juice.

Assemble the Malfatti onto plates, pour over the buttery sauce. Sprinkle with extra herbs and Parmesan, and serve.