Best Oven Roasted, Dried Tomatoes Recipe Collection
Sun and oven-dried tomatoes are made from ripe tomatoes that are placed in the sun or oven to preserve them by removing most of the moisture in the tomatoes.
Large tomatoes can lose 90% of their moisture during drying.
If you grow your own tomatoes, drying them can be a great way to preserve them for the winter months, and to create another great way to prepare and eat tomatoes.
Dried tomatoes are very popular in their own right for salads, pizza, snacks and savories.
This article shows how to dry tomatoes at home in your own oven or dehydrator to ensure you get the taste and texture you want.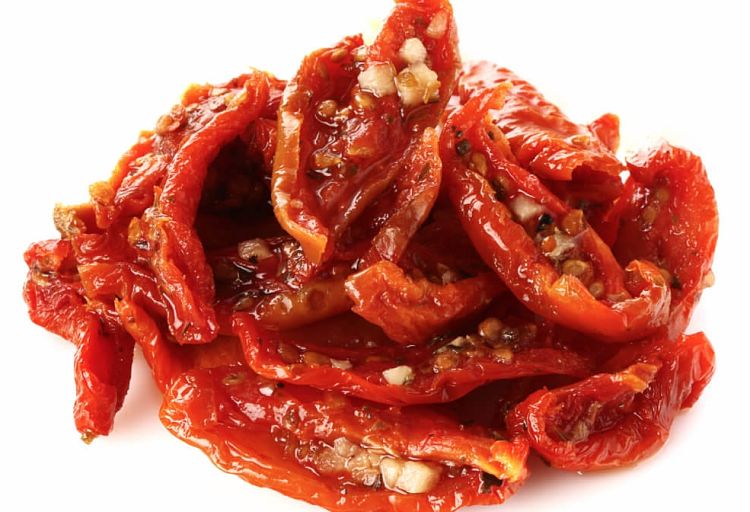 Homemade Dried Tomatoes
The good news is that tomatoes will keep their wonderful health benefits and nutritional values when dried. The nutritional values of tomatoes are listed in the table below. Tomatoes are rich in lycopene, many antioxidants, vitamins A, K and C. They are also rich in potassium but low in sodium, cholesterol, fat and calories. All the various varieties of tomatoes can be dried - such as the popular cherry and Roma tomatoes and the modern hybrid varieties of round tomatoes. For full flavor tomatoes are best dried when ripe, but green tomatoes can also be dried providing a different flavor.
Below are a set of fabulous recipes to produce roasted dried tomatoes in your own home. There are many options using herbs and spices as flavors and various techniques and methods. Dried tomatoes that are to be stored for a long time are best preserved in olive oil to which other ingredients such as basil, dried paprika, rosemary, chili and garlic are added. Dried tomatoes in olive oil are stored in sealed glass jars and opened as needed.
Roasted Dried Round Tomatoes Recipe
2.5 kg (5 lb) ripe but still firm, medium-sized round tomatoes
570 ml (1 pint) extra virgin olive oil, or equivalent
3 level teaspoons salt
Pre-heat the oven to about 175 degrees F (80 degrees C), or lower. Start by thoroughly cleaning the tomatoes using running water. Eliminate the stalks, then cut them in half by slicing down the middle. Eject the seeds by cutting in half, holding with the cut sides facing down, and squeezing the seeds out over a plate. Place the cut halves face down on kitchen paper, two layers thick and allow them to drain for 5-10 minutes.
Next, turn the slices over and sprinkle the cut surfaces with a little salt. Don't use too much salt as this can ruin destroy the delicate natural sweetness and flavor of the tomato. Place the tomato halves, cut side face down onto wire cooling racks, keeping them separate so they are not touching. Place a sheet of foil over the bottom rack or base of the oven to catch any drips as the tomatoes dry.
Place one or two racks with the tomatoes in the oven leaving space for the air circulation between the racks. Insert a wooden ruler, a spoon or something else in the oven door to stop it closing completely, leaving a gap of about 1/4 inch (5 mm). This will allow some moisture to escape, helping the drying process and will stop the oven from getting too hot. You only want to dry the tomatoes not cook them. Large to medium size tomatoes take about 8 hours to dry, such check them several times as it could take a lot less. After a couple of hours remove the racks and flip the spices over. You want the tomatoes to be dried well, but to still retain some flexibility – don't let them become hard and brittle.
The best test for doneness is to taste one. They should be dry and chewy like a dried apricot of peach, and have a concentrated, slightly sweet tomato taste.

Cool the dried tomatoes and keep in the refrigerator if they are to be used within a couple of days. For longer storage pack them loosely into glass jars and top up with extra virgin olive oil before sealing and labeling. They can be kept in oil for about 4-6 months.
Slow Roasted Dried Cherry Tomatoes
40-50 ripe, but firm cherry tomatoes
Freshly ground pepper and spies to taste
1 tablespoon of sea salt or other salt
2 tablespoons of chopped garlic
4 sprigs of thyme
1/4 cup extra virgin olive oil
Preheat your oven to 200 degrees F (90 degrees C). Rub a little olive oil over the surface of a rimmed baking tray, or spray with oil. Slice the tomatoes in half and position the halves cut side facing up on the baking sheet, so that none touch each other. Drizzle liberally with the remaining olive oil. Pull the leaves off the thyme sprigs and spread over tomatoes, then sprinkle the garlic, salt, pepper and herbs over the tomatoes.Transfer the baking sheet to the oven bake for 3-4 hours or until tomatoes have shrunk and the edges have started to dry out. The dried tomatoes can be store in the refrigerator or under olive oil in sealed glass jars for longer storage.
Slow Dried Roasted Roma Tomatoes Recipe
12 Roma tomatoes, ripe but still firm
2 tablespoons Extra Virgin Olive Oil
Salt, caster sugar, herbs and spices to taste and freshly-ground black pepper
Preheat your oven to about 200 degrees F (90 degrees C). Cut the Roma tomatoes into half lengthwise and position place cut facing side up on a greased baking tray. Sprinkle with spices, salt, pepper and caster sugar. Drizzle the olive oil over the tomatoes, and roast with the oven door slightly open for 2-4 hours. The exact cooking time will vary depending on the moisture content of the tomatoes you use. Check frequently and remove when dried to your liking.

These dried tomatoes can be served hot as an accompaniment to grilled steak or sausages. They can be added to pasta sauce or chilled and added to a salad.
Nutrition Summary for Fresh Tomatoes (100g)
| Nutrients in 100 g Serving | Nutrient Value | % of recommended daily allowance |
| --- | --- | --- |
| Calcium | 10 mg | 1% |
| Carbohydrates | 3.9 g | 3% |
| Carotene-alpha | 101 mcg | -- |
| Carotene-beta | 449 mcg | -- |
| Cholesterol | 0 mg | 0% |
| Dietary Fiber | 1.2 g | 3% |
| Energy | 18 Cal | 1% |
| Folates | 15 mcg | 4% |
| Iron | 0.3 mg | 4% |
| Lutein-zeaxanthin | 123 mcg | -- |
| Lycopene | 2573 mcg | -- |
| Magnesium | 11 mg | 3% |
| Manganese | 0.15 mg | 6% |
| Niacin | 0.6 mg | 4% |
| Phosphorus | 24 mg | 3% |
| Potassium | 237 mg | 5% |
| Protein | 0.9 g | 2% |
| Pyridoxine | 0.08 mg | 6% |
| Sodium | 5 mg | 2% |
| Thiamin | 0.04 mg | 3% |
| Total Fat | 0.2 g | 1% |
| Vitamin A | 833 IU | 28% |
| Vitamin C | 13 mg | 21% |
| Vitamin E | 0.54 mg | 4% |
| Vitamin K | 7.9 microg | 6% |
| Zinc | 0.17 mg | 2% |