Best Oven Roasted Vegetables Recipes - Best Baked Vegetable Secrets and Tips
Most people can roast vegetables, but are disappointed with the results - too oily, not crisp enough, and not cooked just right. Like many things, it is easy to roast vegetables, but hard to get perfect results, every time. It is the simple things than matter - the size of the pieces, the oven temperature, the amount of oil to use and the right combination of herbs and spices.
This article reveals the secrets of roasting success, offer tips for different vegetables, and some of the best ever recipes for roasted vegetables. Discover how to roast vegetable that are cooked perfectly and delight the senses - look wonderful, tintillate the taste buds and have a delightful aroma.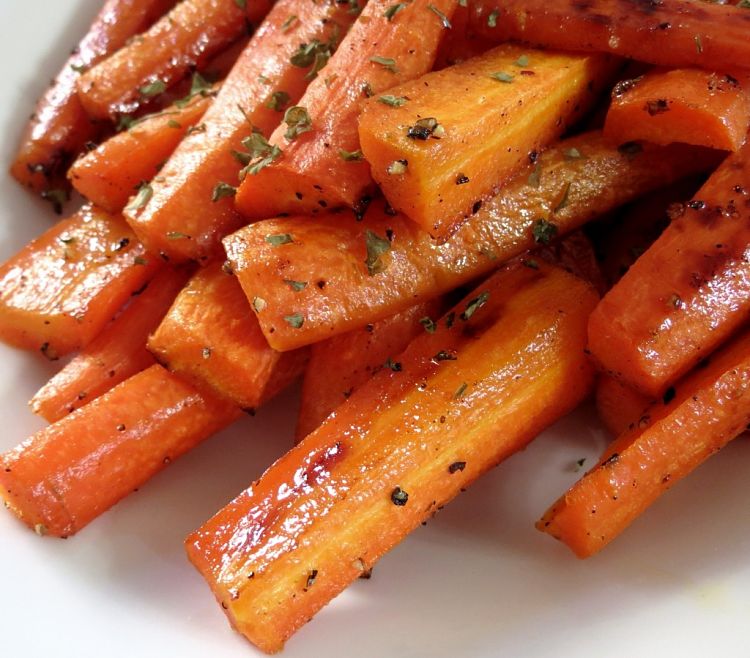 Top Tips for Roasting Vegetables
Preheat your oven thoroughly and well. Opening the oven releases heat and ovens that have not reached the high temperatures needed to roast vegetables quickly and evenly will create soft and soggy vegetables. Roasting requires a high temperature and, a dry heat in the oven. High temperature enhances the flavor of the vegetables and caramelizes the natural sugars in the outer layers adding rich complex flavors and color to the dish. Aim for a very high temperature - 450 degrees F (230 degrees C) and preheat thoroughly.
Roast like with like, but avoid incompatible companions. Piling a mixture of many different vegetables onto a baking sheet and hoping for the best is often very disappointing. Different vegetables and different size pieces require different cooking times. It can be done by carefully cutting different vegetables into various size so that they will all be finished cooking at the same time. Similarly various vegetables can be added progressively - starting with the hard ones such as potatoes and carrots and adding pumpkin and turnips, a little later, and greens later still. It is rather like a stir fry. You can fry all the ingredients in the same wok by adding items according to how long they tale to cook. But it takes a lot of experience and often fails. It is better to roast groups of like vegetables in separate pans, and to combine them in a single pan for the last 10-15 minutes. Better still is to cook the groups separately and to return the pans to the oven for the last heating before serving. This has the added advantage that each of the groups can be spiced and flavored separately. This provides variety and intrigue to the taste and colors, that is missing from a single dish. the table below provides the ideal spices and other ingredients for each vegetable
Use oil sparingly - just enough to barley cover each surface. Too much oil will leave the vegetables soggy with oil or may cause burning at high temperature. Use just enough oil to coat. Too much oil may cause burning. The more porous vegetables such as mushrooms and eggplant, need more oil than the hard root vegetables. Green vegetables require only a sprinkling of oil. The type of oil used is also important. Olive oil has a distinct taste which you may want. It also has a low smoke point and is unsuitable for high temperatures. Neutral tasting high smoke point oils such as rice bran and grape seed oil may be preferable in most cases. As a general guide, each 1 pound (500 g) of vegetables requires about 1 tablespoon of oil.
Position the vegetables in a single layer with plenty of space around each item.This ensures that the hot air in the oven circulates around the vegetables evenly. Piling vegetables on top of each other leads to uneven an incomplete cooking, despite mixing them during the cooking process. Allowing more space means that the steam released from the vegetables can escape.
Rotate the pans several times during the cooking, especially if you do not have a fan-forced oven. All ovens have hot spots and cold spots and rotating the pans avoids the consequences of this. The position on the pans on the shelves in the oven is also important.
Add robust seasoning such as salt and spices first, but more delicate seasonings such as herbs last during the cooking process. Minced garlic, fresh and dried herbs, more delicate spices, and various sweeteners can burn at high heat. Add the more delicate seasonings, and stir them through about 10-20 minutes before the cooking is completed.
Don't overcook any of the vegetables. They should be tender, but firm, rather than soft and mushy. The final texture is very important to the taste and flavor of the cooked vegetables. Similar the outside of the vegetables should be brown and crisp, but not burned. Remember that the cooked hot vegetables in the serving plate will keep on cooking, even after being removed from the oven.
Cut the vegetables into pieces that will cook evenly and will finish cooking at the same time. Huge chunks are bad, except for whole, half or quartered potatoes, where the soft interior is important. Smaller pieces have more surface area that will be exposed to the heat, giving them a better chance to crisp and brown.It is also important to allow for a crisp exterior and a soft center with potatoes and other root vegetables. Carrots are better in larger pieces for taste, but no variation in outside and inside is needed. You also need to think about how the cooked pieces will be eaten and whether they will require cutting, or will be served in bite-size pieces. How the items are cut is also important (lengthwise, crosswise, diagonally or even crinkle cut).
Very shallow baking pans or a sheet pan is best for roasting vegetables, even if you need two or three sheets to allow the items to be placed in a well spaced single layer. Vegetables release steam when roasted and deep pans tend to retain this steam causing the vegetables to become mushy and lose their crisp outer coatings.
Don't over mix the vegetables during cooking. Give them one or two mixes during the cooking, but no more.
Preparation Cooking Times and Tips for Serving Roast Vegetables
The table below summarizes how to cook and serve a wide range of vegetables. The entries are sorted alphabetically. Cooking times vary depending on the size of the pieces, thickness and the performance of your oven. You can barbecue vegetables using similar methods under a cover fitted with a thermometer.
Some of the best ever roast vegetable recipes are shown below.
Spicy Baked Parsnips Glazed with Honey and Apple Cider
Ingredients
salt to taste
1 tablespoon honey
freshly ground black pepper
2 tablespoons unsalted butter
1 tablespoon apple cider vinegar
1/4 cup grape seed, rice bran oil or olive oil
1 teaspoons red pepper flakes or finely chopped fresh chilli
1 kg (2 lb) young parsnips, peeled, cut into short lengths, then halved, or quartered
Method
Preheat oven to 450 degrees F (230 degrees C). Toss parsnips and oil in a small bowl, ensuring all surfaces are covered. Place the turnip segments onto a baking sheet or rimmed, shallow baking sheet, so that they are well separated (two sheets may be required). Season with salt and freshly ground pepper. Roast parsnips, tossing once or twice, until deep golden brown in spots on the outside and tender on the inside (generally 35–40 minutes; shorter in fan-forced oven. Add the heat chillies, vinegar, butter and honey to a small saucepan and heat over moderate heat, stirring occasionally. Drizzle this mixture over parsnips, about 15 minutes before they are cooked. Remove and serve sprinkled with rosemary or dried basil.
Diced Roasted Vegetable Combo Recipe
Although baking a medley of vegetables together is no recommended, in this case all the vegetable are sliced into small cubes or equal size so that they all cook in the same time.
Ingredients
2 carrots
1 zucchini
1 eggplant
1 medium onion
2 small potatoes
5 small tomatoes
2 cloves of garlic
1 red or yellow pepper
Salt and pepper to taste
Mixture of various dried herbs (sage, thyme, rosemary, fennel, dill, chilli flakes)
4 to 5 tablespoons of olive oil (or use a neutral tasting oil such as rice bran or grape seed oil)
Method
Preheat the oven to 375 degrees F 180 C). Peel and quarter the onions and then and slice thinly. Dice all the vegetables into cubes (1/2 inch; 1 cm) that are about the same size. This ensures all the vegetables cook in the same time. Dry on paper towels. Place the vegetables in a small bowl. Drizzle the oil over the vegetables and season with salt and pepper and the mixed herbs. Spread the vegetables (except for the tomatoes) thinly over a baking sheet. Season with salt, pepper and herbs to taste and then pour the olive oil over the vegetables. Bake in the oven for 30 minutes, stirring once. Add the tomatoes, an extra sprinkling of herbs and bake for an extra 55 minutes to an hour. Remove from the oven, cool slightly and sprinkle with fresh chopped herbs before serving.
Crispy Baby Potatoes and Onions Recipe
Ingredients
2 tablespoon olive oil
1 teaspoon Dijon mustard
3/4 teaspoon salt
1/4 teaspoon freshly ground black pepper
1 lb (500 g) mixed baby potatoes (various varieties), halved or quartered
2 small red onions, peeled and cut into edges other sweet onion varieties can be used as well as white onions)
1 tablespoons fresh thyme leaves (or 2 teaspoons of fry thyme)
1 teaspoon fennel seed
1/4 cup tasty cheddar cheese, coarsely grated
Method
Preheat oven to 450 degrees F (230 degrees C). Mix the oil and mustard in a bowl, seasoned with salt and pepper. Add the sliced potatoes and onions, and mix to ensure all surfaces are coated with oil. Spread the vegetables evenly over a baking sheet. Roast for about 20 minutes, or until the potatoes begin to turn brown in color. Flip the potatoes and onions over using tongs or a spatula. Rotate pan position in the oven and roast for an additional 10 minutes. Check that the potatoes are cooked inside. Remove baking sheet from oven, sprinkle grated cheese and the thyme and fennel seeds over the potatoes and onions. Return to oven, and bale for 2-5 minutes until the cheese has melted. Season with extra salt and pepper and serve hot.
Roasted Broccoli Recipe with Parmesan Cheese
Ingredients
1 1/2 teaspoons salt
4 lb ( 2 kg) broccoli
Extra virgin olive oil
2 teaspoons grated lemon zest
3 tablespoons pine nuts, toasted
1/3 cup freshly grated Parmesan cheese
1/2 teaspoon freshly ground black pepper
2 tablespoons lemon juice, freshly squeezed
4 cloves of garlic, peeled and thinly sliced
2 tablespoons fresh basil leaves (about 12 leaves)
Method
Preheat the oven to 425 degrees F (220 degrees C). Remove the broccoli florets from the thick stalks, retaining about 1 inch (2 cm) of stalk attached to the florets. Cut and pull the larger florets apart. You will need about 8 cups of florets for the ingredients. Spread the florets on a large baking sheet in a single layer. Drizzle 5 tablespoons olive oil over the florets and sprinkle with the garlic slices salt and pepper. Roast for about 20-25 minutes, until the florets are crisp-tender and the tips start to brown slightly. Remove the broccoli, place in a serving bowl and toss with 1 1/2 tablespoons olive oil, lemon juice, the lemon zest, pine nuts, Parmesan cheese and basil. Serve immediately while hot.
Roasted Turnips Recipe with Mushrooms
Ingredients
2 tablespoons olive oil
salt and freshly ground black pepper to taste
1 pound (500 g) baby turnips halved or quartered
2 teaspoons chopped rosemary or 1 teaspoon of dried rosemary
10 ounces (350 g) small white mushroom caps, or larger mushrooms quartered
Method
Place the turnips and mushroom caps in a small bowl and toss with the olive oil, salt and pepper and rosemary. Spread the vegetables on a baking sheet so no pieces are toughing and roast in a preheated oven at 425 degrees F (220 degrees C), until the turnips are golden brown and tender (about 25-30 minutes).
Best Ever Simple Roast Potato Recipe
Ingredients
2 teaspoons of flour
Salt and freshly ground black pepper to serve
100 g (3 oz) duck or goose fat or 1/2 olive oil
1 kg (2 lb) good quality roasting Potatoes, medium size)
Method
Place a large roasting sheet in the oven and preheat to 200 degrees C (390 degrees F). The sheet needs to be large enough to hold the potatoes in a single layer, otherwise use a second sheet. Peel the potatoes and cut each into quarters. Drop the potatoes into a large saucepan and add enough water to barely cover them. Add the salt, and bring to the boil, then simmer vigorously for 2 minutes. Do not boil for longer as the aim is to only partially cook the outside of the potatoes. Next, put the duck fat or olive oil into the hot roasting sheet and transfer the pan back to the over for 5 minutes. You need to ensure the fat or oil is very hot. Drain the potatoes in a colander and shake them about to roughen the outer layers. Sprinkle with the flour while tossing about. Carefully place the potatoes in a single layer into the hot fat. Beware that the oil will sizzle and may spit as you add them. Roast the potatoes for 15 minutes before rotating them in the pan. Roast for an extra 15 minutes, before rotating them again to ensuring all surface become crisp and nicely browned. Roast for an extra 10-20 minutes and serve immediately while they are piping hot.
Caramelized Butternut Squash Recipe with Brown Sugar
Ingredients
1 1/2 teaspoons salt
6 tablespoons butter, melted
1/4 cup (packed) light brown sugar
1/2 teaspoon freshly ground black pepper
2 medium size butternut squash (about 4 lb; 2 kg in total)
Method
Preheat the oven to 400 degrees F (200 degrees C). Remove the ends of each butternut squash, remove the seeds, peel them, and cut them in half lengthwise. Then, slice the pieces in even size cubes ( 1 1/2 inches; 3 cm) and add to a bowl. Add the melted butter, salt, brown sugar, and freshly ground black pepper. Toss all the ingredients together until the squash cubes are well coated. Spread the pieces out onto a large baking sheet so no pieces are touching. Roast for 40-50 minutes, turning twice, until the squash pieces are is tender and the glaze on the outer surfaces starts to caramelize. Sprinkle with rosemary or other herbs and roast for another 10 minutes. Serve immediately, while hot.
Just Perfect Roast Pumpkin Recipe with Cinnamon
Ingredients
1 teaspoon salt
1 teaspoon ground cinnamon
1 kg (2 lb pumpkin)- most varieties are suitable
2 tablespoons Extra Virgin olive oil, macadamia nut oil, grape seed oil or coconut oil
Method
Preheat your oven to 450 degrees F (230 degrees C). Peel the pumpkin and cut into moderate size chunks. You can leave some skin on if you like with certain varieties. Place in a small bowl and drizzle with the oil. Sprinkle with salt, pepper and the cinnamon and sea salt. Mix well with a wooden spoon, coating all the pumpkin surfaces. Spread the pumping pieces out well in a single layer on 1-2 baking trays. Roast for 40-45 minutes, turning twice, until the pumpkin is caramelized on the outside and just soft inside. Serve immediately while hot.
Roast Garlic Recipe
Ingredients
Olive oil
Several heads of garlic, with the outer 'paper' layers removed
Method
Preheat the oven to 400 degrees F (205 degrees C). Set a rack in the middle position. Cut the top off each head of garlic, but leave the head intact. Drizzle olive oil over the cut surface so that some oil seeps between the cloves. Wrap the garlic heads in foil and roast in the oven for about 40 minutes, or until the center cloves are soft and tender when pared with a knife and the outside surfaces have started to caramelize and brown slightly. Remove from the foil and serve hot.
Roasting Vegetable Guide with Cooking Times, Preparation and Serving Tips
| Vegetables for Roasting | Preparation | Approximate Roasting Times at 450 degrees F (230 degrees C) | Serving Tips After Roasting |
| --- | --- | --- | --- |
| Asparagus | Wash and break off woody bases where spears snap easily. Leave spears whole or cut into 1-inch pieces. | 10 to 15 minutes | Season with salt and pepper |
| Baby Leeks | Trim and halve lengthwise. Rinse well and pat dry with paper towels. | 10 to 15 minutes | Season with salt and pepper |
| Beets | Scrub and peel beets, or peel after roasting (prick beets to allow steam to escape). Trim off stem and root ends. If desired, halve or quarter baby beets. Cut regular beets into 1-inch pieces. | 30 to 40 minutes | Season with salt and pepper |
| Broccoli | Trim and remove long stems; split florets into pieces | 10 to 15 minutes | Sprinkle with 1 tablespoons grated Cheddar cheese |
| Brussels sprouts | Trim stems and remove any wilted outer leaves. Wash and cut any large sprouts in half lengthwise. | 30 to 40 minutes | Sprinkle with salt and pepper and dabs of butter, and serve immediately. |
| Butternut Squash | Chop into 2 in (5 cm pieces). Toss with 1/2 teaspoon dried rosemary, crumbled, before roasting. | 30 to 40 minutes | Sprinkle with salt and fresh ground black pepper, and cumin (optional) |
| Carrots | Leave small to medium carrots whole. Cut larger carrots into bite-size pieces or diagonal strips. | 40 to 45 minutes (julienne strips may cook faster) | Toss with spices and a little honey or maple syrup before serving |
| Cauliflower | Wash and remove leaves and woody stem. Break into florets. | 10 to 15 minutes | Sprinkle with 2 tablespoons chopped fresh parsley after roasting |
| Eggplant | Peel if desired. Cut into quarters lengthwise, and cut into 1/2-inch-thick slices. | 10 to 15 minutes | Drizzle with 1 tablespoons extra virgin olive oil, and season with salt and pepper after roasting |
| Fennel | Trim the stalks and cut a thin slice from the bottom of the bulb. Cut bulb into fairly thin wedges. | 35 to 40 minutes | Season with salt and pepper |
| Onions | Remove papery outer layer. Cut into fairly thin wedges. | 30 to 45 minutes | Add garlic, salt and pepper |
| Parsnips | Trim and peel parsnips. Cut into bite-size pieces or julienne strips. | 40 to 45 minutes (julienne strips may cook faster) | Season with salt and pepper |
| Potatoes | Whole tiny new potatoes, quartered, work especially well. Cut larger potatoes into bite-size pieces. Peeling is not necessary, but scrub well before using. Try dry roasting unpeeled potatoes placed directly on oven racks with no oil. | 40 to 45 minutes | Sprinkle with chopped dill. Chives or other herbs |
| Roma tomatoes | Wash and halve lengthwise. | 20 to 30 minutes | Sprinkle with salt and pepper and dried basil after roasting |
| Sweet peppers, Capsicum | Cut into wide strips | 30 to 40 minutes | Sprinkle with chopped basil or coriander leaves after roasting |
| Sweet peppers, regular size or small | For regular-size peppers, wash, seed, and cut into 1/2-inch-wide strips. For small peppers, if desired, roast whole, then remove stems and seeds. | 10 to 15 minutes | Season with salt and pepper |
| Sweet potatoes | Scrub and peel. Cut into bite-size pieces or quarters. | 40 to 45 minutes | Toss with 2 tablespoons chopped fresh rosemary before roasting |
| Turnips | Peeled and cut into wedges or sliced lengthwise | 45 to 50 minutes | Toss with chopped mint or parsley after roasting |
| Zucchini | Baby zucchini can be roasted whole. Cut larger squash into bite-size pieces or slices. | 10 to 15 minutes | Top with 1 tablespoons freshly grated Parmesan cheese |