Best Pearl Barley Mushroom Risotto Recipes with Chicken, Vegetables
Using pearl barley instead of Arborio rice gives risotto a delightful nutty taste and opens up all sorts of ideas to pair with the savory taste of barley. It is also has a more 'chewy' texture and a more earthy taste.
The process of making the risotto with barley is much the same as with the rice-based versions. The barley is cooked briefly and then stock of water is added in small amounts, stirring until the barley absorbed the liquid before adding more liquid. Care is required not to overcook the barley, or it will lose the characteristic bite and crunch of a perfect barley risotto.
The ideal pairing for barley are with mushrooms, roasted vegetables such as carrots, and roast chicken, pork and beef pieces. Think of the ingredients that are used in stews and soups, and use the same ones to make barley risotto with similar flavor combinations.
The recipes below will get you started. Barley risottos are not really suitable for seafood.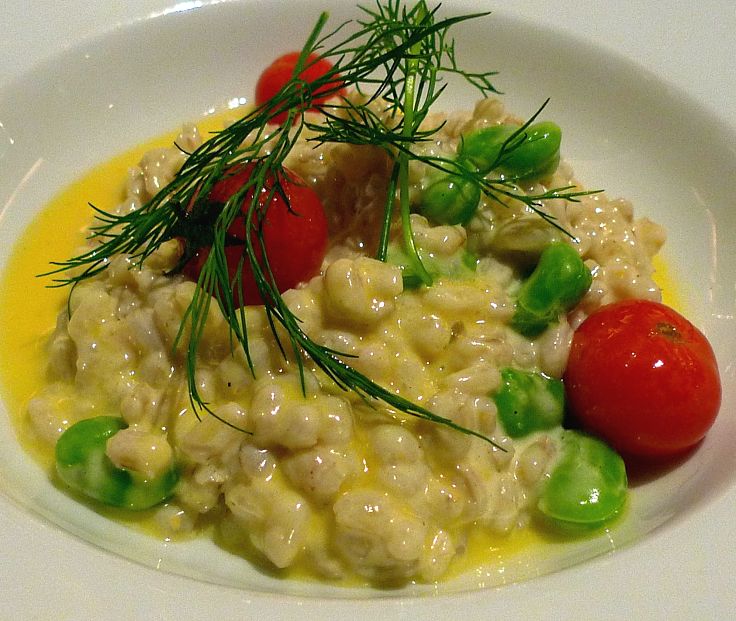 Health Benefits of Using Barley Instead of Rice
One real benefit is that barley is much healthier that white rice, which is almost pure carbohydrate. To prove this point, a nutrient comparison chart is provided below for barley compared with for white rice, brown rice and wild rice. The data in each case is for 100g serving of cooked rice or barley.

The data in the table shows that Barley has more fiber than brown or wild rice. White rice gas no fiber. There are very low levels of vitamins in white rice and less protein. The mineral levels are about 30% of those in brown rice and wild rice, and 25% of the levels in barley. White rice has about 20% extra calories tan brown rice and barley. Clearly barley is a healthier alternative than white rice. Brown rice is rarely used to make risotto.
Recipes
Barley Risotto with Mushrooms, Strong Italian Cheeses and Herbs
Ingredients
4 fresh bay leaves
1 cup pearl barley
1/2 cup white wine
4 cups chicken stock
1 clove garlic, minced
1 tablespoon olive oil
3 teaspoon fresh thyme, finely chopped
8 oz (250 g) cremini mushrooms (or similar)
6 oz (170 g) sliced portabella caps (or similar)
1/2 large onion, diced (about 1 1/2 cups of onion)
3.5 oz (100 g) fresh shittake mushrooms (or similar)
1/2 cup manchego Cheese, grated (or Pecorino Romano, Asiago, Parmesan)
Method
Clean the mushrooms and wash and dry if necessary. Then slice then into large pieces. Then sauté the mushrooms in olive oil over moderate heat. Fry them in small batches to avoid overcrowding the pan, otherwise they will steam rather than fry in the pan. The mushrooms should be soft and well browned. Remove from heat and set aside.

Pour the chicken stock into a small saucepan. Bring to the boil and then reduce to a very gentle simmer. The stock has to be hot when added to the barley.

Next, add 2 tablespoons butter to large, deep skillet or pot over moderate heat. This pot needs to be large enough to take all the ingredients. When the butter has melted and started to bubble add the onions and cook for about 3-5 minutes, until the onion soften.

Add the barley, and stir to cook the grains and coat them all with melted butter (generally about 2-3 minutes). The grains should be glossy. Add the thyme, garlic and bay leaves cook for 1-2 minutes to release the flavors. Next add the white wine and season with pepper and salt. Stir until the liquid disappears as it is absorbed by the barley.

Next, add the hot stock in small batches, waiting until all the liquid is absorbed before adding the next amount. Use a ladle and add about 1/2 cup at a time. Stir after each addition and maintain a moderate heat. Keep adding more stock and stirring. When the mixture starts to get creamy, start tasting the grains. Stop the process when the grains are tender but still have a tiny amount of crunch in the center. Don't overcook the barley or it will become soggy and lose its characteristic texture. It may take 20-30 minutes to reach this stage.

When the barley is cooked add the cooked mushrooms, with their juices and most of the three cheeses. Mix to combine and serve with extra cheese on top, garnished with parsley of fresh herbs.
Spicy Asian Style Pearl Barley Risotto with Chicken and Chilli
Ingredients
1/2 teaspoon salt
1 tablespoon water
1 tablespoon sesame oil
2 cups of chicken broth
1 tablespoon brown sugar
1 cup light coconut milk
1/4 cup fresh lime juice
1/8 teaspoon black pepper
1 teaspoon light soy sauce
4 teaspoons chopped peanuts
1 1/2 teaspoons rice vinegar
2 tablespoons garlic, minced
1/2 teaspoon red curry paste
1/2 cup uncooked pearl barley
1 cup fresh snap peas, trimmed
1 teaspoon fresh ginger, grated
1 1/2 cups green onions, chopped
2 jalapeño peppers, seeded and minced
1/2 cup fresh cilantro, roughly chopped
1 tablespoon fresh lemon grass, chopped
1 1/4 cups red bell pepper, cut into thin strips
3 cups (1 lb; 500 g) chicken breast, cooked and shredded
Method
Heat 2 teaspoons oil in a saucepan over moderate heat. Add onions and 1 tablespoon garlic. Sauté for 1-3 minutes and the add the barley and stir for 1 minute. Then add, 1/2 cup broth, salt, 1/4 cup cilantro, salt, jalapeños and black pepper. Stir and bring the mixture to the boil. Keep stirring until most of the liquid has been absorbed. Add 1/2 cup batches of the broth, stirring and waiting for the next batch to be absorbed, before adding the next portion of stock. When the barley is just cooked, set aside.

Heat a little oil in a large frying pan over moderate heat. Add 1 cup onions, lemon grass, ginger and 1 tablespoon garlic. Fry for 1-2 minutes then add the chicken, bell pepper, peas and all the spices, juices and other ingredients. Stir in the cooked barley and bring the mixture to the boil. Then reduce the heat to a gentle simmer and cook for 5 minutes, stirring occasionally. Add some extra cilantro, other herbs and some nuts. Serve immediately.
Cream Cheese Pearl Barley Risotto with Carrots and Mushrooms
Ingredients
4 carrots, diced
3 tablespoon oil
300 g pearl barley
100 g cream cheese
1 onion, finely sliced
200 g mushrooms, sliced
2 teaspoon mixed dried herbs
400 ml vegetable or chicken stock (hot)
2 fat cloves of garlic, finely chopped
Method
Fry the carrots in a large heavy base frying pan on with moderate heat for 10 minutes, until the edges begin to caramelise. Then add the garlic, mushrooms, mixed herbs and onions. Add a little extra oil if required. Sauté for about 10 minutes to soften the the onions and cook the garlic.

Add the pearl barley and mix thoroughly to coat all the grains and cook for 2-3 minutes over medium-high heat. Add about 1/2 cup of hot stock and stir until the moisture is absorbed by the barley. Keep adding small portion of the stock and stirring until the liquid disappears. Test the grains, and when just cooked remove the pot from the stove. Then stir the cream cheese through the risotto with a wooden spoon and serve immediately. Note: You can replace the carrots with sweet potato.
Pearl Barley Risotto with Squash and Sage
Ingredients
75g ( 2 1/2 oz) butter
1 onion, finely chopped
2 sprigs sage,finely sliced
2 garlic cloves, finely chopped
250 g (9 oz) pearl barley, rinsed
salt and fresh ground black pepper
1 liter (1 3/4 pints) vegetable stock (or chicken stock)
2 lb (1kg) butternut squash (or similar), peeled and diced
Method
Melt about 1 oz (25 g) of butter in a large saucepan or pot over a medium heat. Add the squash pieces and onion. Season with salt and pepper and fry, slowly for 10-15 minutes. The onion should be translucent and the squash should be starting to soften. Add the garlic and cook for 2-4 minutes until the garlic has softened.

Using a separate saucepan, heat the stock to boiling, and then reduce to a gentle simmer. Add half of the sage leaves. Add 1 oz (25g) of butter to the

Add more butter to the pan with the onion and squash. Once the butter has melted, add the pearl barley and stir while cooking for 2-3 minutes, using medium-high heat. Reduce the heat to moderate and add about 1/2 of hot stock. Stir to mix until the stock is absorbed. Keep adding stock, 1/2 cup at a time and stirring until the liquid is absorbed, until the barley has just cooked, but is still firm (generally about 30 minutes).

Once the risotto is cooked, season with salt and pepper, top with Parmesan cheese and some extra sage and serve hot.
Comparison of the Nutrients in Pearl Barley with Brown, White and Wild Rice
| Serving Size 100g | Barley, pearled | Rice, brown, medium-grain | Rice, white, medium-grain | Rice, wild |
| --- | --- | --- | --- | --- |
| Calories (kcal) | 124 | 112 | 130 | 101 |
| Protein (g) | 2.25 | 2.32 | 2.38 | 3.99 |
| Total Fat (g) | 0.45 | 0.83 | 0.22 | 0.34 |
| Total Carbohydrates (g) | 28.22 | 23.51 | 28.59 | 21.34 |
| Dietary Fiber (g) | 3.82 | 1.85 | | 1.83 |
| Sugar (g) | 0.28 | | | |
| Vitamins | ***** | ***** | ***** | ***** |
| Thiamin (mg) | 0.08 | 0.10 | 0.02 | 0.05 |
| Riboflavin (mg) | 0.06 | 0.01 | 0.02 | 0.09 |
| Niacin (mg) | 2.06 | 1.33 | 0.40 | 1.29 |
| Pantothenic Acid (mg) | 0.14 | 0.39 | 0.41 | 0.15 |
| Vitamin B6 (mg) | 0.11 | 0.15 | 0.05 | 0.14 |
| Folate (mcg) | 16.56 | 4.10 | 2.15 | 25.61 |
| Vitamin E (mg) | 0.01 | | | 0.24 |
| Vitamin K (mcg) | 0.76 | | | 0.49 |
| Minerals | ***** | ***** | ***** | ***** |
| Calcium (mg) | 11.46 | 10.26 | 3.23 | 2.44 |
| Iron (mg) | 1.32 | 0.53 | 0.20 | 0.60 |
| Magnesium (mg) | 21.66 | 44.10 | 12.90 | 31.71 |
| Phosphorus (mg) | 53.50 | 76.92 | 36.56 | 81.71 |
| Potassium (mg) | 92.99 | 78.97 | 29.03 | 101.22 |
| Sodium (mg) | 2.55 | 1.03 | 0.00 | 2.44 |
| Zinc (mg) | 0.82 | 0.62 | 0.42 | 1.34 |
| Copper (mg) | 0.10 | 0.08 | 0.04 | 0.12 |
| Manganese (mg) | 0.26 | 1.10 | 0.38 | 0.28 |
| Selenium (mcg) | 8.66 | | | 0.85 |
| Fatty Acids | ***** | ***** | ***** | ***** |
| Saturated Fat (g) | 0.09 | 0.17 | 0.06 | 0.05 |
| Monounsaturated Fat (g) | 0.06 | 0.30 | 0.06 | 0.05 |
| Polyunsaturated Fat (g) | 0.21 | 0.30 | 0.06 | 0.21 |
See More Barley and Risotto Recipes
=> Barley Health Benefits, Nutritional Facts, Use Tips and Great Recipes
=> Quick Leek and Herb Risotto Recipe, Cooked in Microwave
=> Best Easy to Prepare Risotto Recipes and Essential Tips