Best Simple and Easy Fish Curry Recipes
Fish has a soft and delicate texture, and has fragile flavors. Curry can be strong and overpowering. The trick for a wonderful fish curry is simplicity and restraint so that the curry flavor accentuates rather than kills the delicate flavor, color and texture of the fish.
A good fish curry starts with good fish. It should be very fresh and preferably white firm fish that does not disintegrate when cooked. Otherwise your curry may turn to a mushy soup.
Large fillets and stakes of large fish species such as swordfish, mackerel, snapper or other similar species is best, but smaller fillets can also work well if left in large pieces.
A classic long cooked meat curry is designed to make the meat tender and allow the flavors to penetrate into the meat pieces. This is not necessary with fish, which takes only a few minutes to cook, and will disintegrate if over cooked.
This means that the fish in curries does not need to be slow cooked for hours. The trick is to slow cook the vegetables and spices, to fully develop and combine the flavors, but to add the fish at the last minute, especially for delicate Asian style fish curries.
Enjoy the collection of the best ever fish curries that area simple and easy to prepare.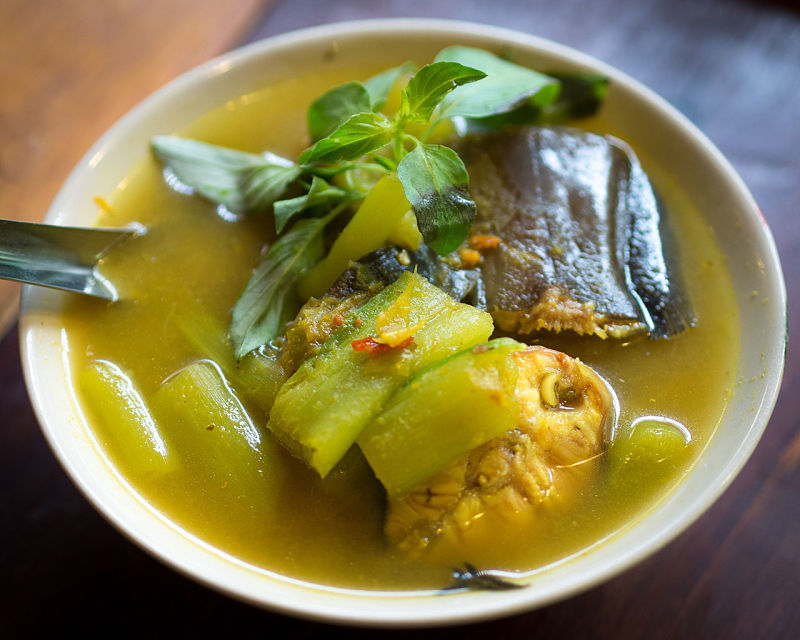 Classic Quick Fish Curry with Tamarind, Tomatoes and Chillies
Ingredients
1 teaspoons salt
30 fresh curry leaves (or similar if available)
1/2 cup tamarind liquid
4 tablespoons rice bran or grape seed oil (or similar frying oil with a high smoke point)
1 large onion, finely chopped
3 garlic cloves, finely crushed
2 tablespoons Indian curry powder
1 tablespoons brown mustard seeds
400 g (14 oz) can tomatoes, chopped
2 green chillies, roughly sliced, and including with seeds
800 g firm fleshed fish fillets (snapper, mackerel, tuna or similar) cut into 5 cm (2 inch) chunks
Method
Heat the oil in a heavy-based frying pan or saucepan over moderate heat. When the oil is hot, add the mustard seeds and sauté for about 30 seconds. Next, add the garlic and onions and stir fry gently until the onions are soft, slightly brown in color , and transparent (about 10 minutes). Add the curry powder and curry leaves and sauté for about 2 minutes. Add the green chillies, tomatoes, tamarind liquid and salt and simmer the mixture, stirring occasionally for about 10 minutes until the flavors are well combined and the liquid has reduced a little. Finally add the fish chunks, cook for only about 3-5 minutes. You only want to just cook the fish and allow then curry flavors to infuse into the fish. Slightly undercooked fish is far better than over-cooked fish. The large size of the fish pieces and minimal cooking ensures that then delicate flavors of the fish will be retained and on show.
Barbecued Fish Tikka Curry Recipe, Served with Fresh Mango Chutney
Ingredients
1/2 teaspoon salt
1 teaspoon turmeric
2 teaspoons garam masala
1 tablespoon lemon juice
2 garlic cloves, finely chopped
200 g ( 7 oz) plain natural yoghurt
1-2 tablespoons fresh ginger, finely chopped
1 lemon or a lime cut into wedges for serving
100 g (3 oz) baby spinach leaves or similar fresh herbs
4 salmon, tuna, swordfish or ocean trout fillets, skinned
Ingredients for the Fresh Mango Chutney
1 fresh mango, ripe preferred
1 small chilli, finely sliced
4 tablespoons mango chutney (prepared)
2 tablespoons fresh mint, basil or coriander leaves, broken into pieces
Method
Soak several the bamboo skewers in water for an hour or so. Otherwise use metal skewers. Combine the garlic, spices, yoghurt, ginger, salt and lemon juice in a bowl, and mixing well to provide a coating sauce for the fish pieces. Cut the fish into large bite-sized chunks suitable for skewering. Coat all the fish pieces with the yoghurt mixture, and set aside for about 30 minutes to develop the flavors.
To prepare the mango chutney, remove the mango flesh from the skin a seed. Combine the mango flesh with the prepared chutney and add a squeeze of lime juice, the mint and chilli. Mix to combine as a chutney.
Heat the barbecue to moderate and oil well. Thread three chunks of fish onto each skewer, at a time. Use twin skewers to stop the fish rotating. Barbecue the skewered fish in batches for about three minutes or until the pieces are lightly scorched on one side. Turn the fish over and barbecue of the other side for about 90 seconds. Set aside and serve with baby spinach, fresh herbs and wedges of lemon or lime.
Indian Style Fish Curry with Chickpea Raita
Ingredients
1 teaspoon turmeric
1 teaspoon cumin seeds
2 tablespoons plain flour
sea salt and black pepper
1 lime or lemon, cut into wedges for serving
4 fresh fish fillets (firm flesh), about 800 g or 12 oz in total
Ingredients for the Raita
1 teaspoon ground cumin
1 tablespoon lemon juice
300 g (10 oz) plain yoghurt
1 garlic clove, crushed or finely chopped
400 g (12 oz) canned chickpeas, well-drained
1 tablespoon rice bran or grape seed oil for frying
2 tablespoons chopped fresh coriander leaves (or basil)
Method
Rinse the fillets well and ensure scales and bones are removed. Then, pat the fillets dry with kitchen paper dry. Cut fillet into 2-3 pieces. Mix the pepper, salt, cumin seeds, turmeric and flour in a shallow bowl. Coat each piece of fish well with the flour and spices mixture. To make the Raita, add the pepper, salt, coriander, cumin, lemon juice and garlic to the yoghurt and combine well. Add the drained chickpeas and set aside.
Next, heat the high smoke point oil in a heavy pan to moderate temperature. When hot, fry the fish pieces in batches until brown and crisp on both sides. Serve the fish immediately with lime or lemon wedges, topped with nigella seeds and a sprinkling of chopped fresh coriander.
Simple Red Thai Fish Curry
Ingredients
1/2 cup water
1 teaspoon Thai fish sauce
1 tablespoon Thai red curry paste
1 yellow capsicum, cut into thin strips
270 ml can light coconut cream (about 1 cup)
1 bunch broccolini, sliced or 10 snow peas halved
600 g (1 1/4 lb) white fish fillets, cut medium size chunks
Method
Mix the curry paste with the coconut cream and 1/2 cup water in a saucepan over high heat until the liquid boils. Add the capsicum and simmer for about 2 minutes. Add broccolini or snow peas and fish and simmer for about 3 minutes, or until the fish is just cooked. Add the fish sauce, stir and season to taste. Serve with lemon or lime wedges over steamed rice.