Best Stuffed Cabbage Rolls Recipes and Homemade Spicy Fillings for Cabbage Leaves
Stuffed cabbage rolls, made as wraps by rolling a filling in a cabbage leaf and baking are very easy to make. The secret in making a good cabbage roll into a fabulous snack, entrée or side dish is the filling. The cabbage leaves add fiber and a deceptive flavor to the dish.
Stuffed cabbage leaves are best served with a colorful and super tasty sauce or relish, which give you the opportunity to really impress your family or guests. Choose a good quality prepared stellar and exciting relish. Better still make your own using one of the recipes provided below.
Time to roll your own and get stuffing and relishing!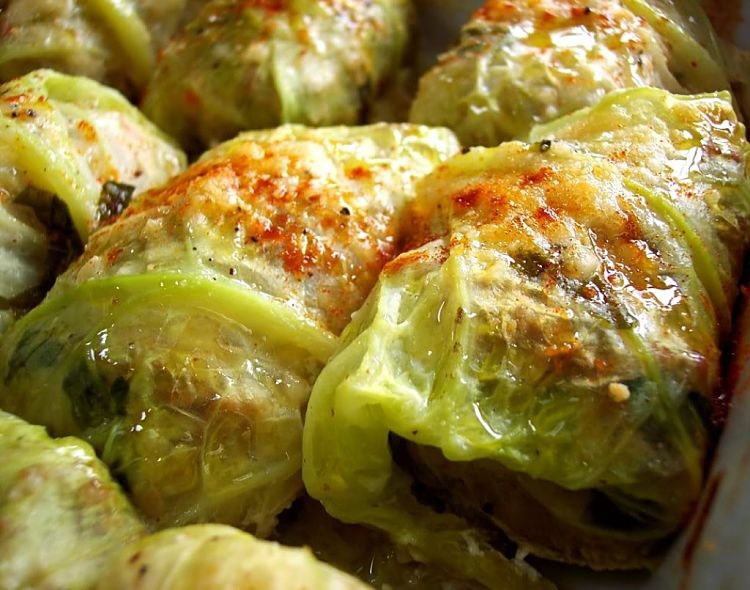 Simple Stuffed Cabbage Rolls with Rice, Raisins and Cider
Ingredients
1/2 cup apple cider
100 g (3.5 oz) raisins
1 small head savoy cabbage
1 onion, very finely chopped
4 cloves garlic, finely chopped
600 ml (2 1/2 cups) vegetable stock
140 g equal mix of basmati and wild rice
Method
Preheat the oven to 180 degrees C (350 degrees F). Wash the rice and place into a medium-sized saucepan. Cover with water to a depth of about 1 fingernail above the level of the rice. Bring to the boil, then lower the heat and simmer very slowly for about 50 minutes, to gently steam the rice. Add a little extra water if required. Drain (if necessary) and set aside to cool.
Next, put the cider into a small pan over moderate heat. Gently cook the onion, garlic and raisins in the cider until the onion is soft. Add the cooked rice and mix well. Pull leaves off the cabbage that are large enough to be used as wrappers. Drop the leaves into boiling water and set aside for 3-5 minutes to soften. Drain the cabbage leaves and then stuff each one with a spoonful of the rice mixture. Roll the leaves up leaving some to fold over. Fold up the sides and finish with the flap you left. You can secure the rolls with toothpicks. To cook the cabbage rolls, pour a little stock into the bottom of a baking dish and arrange the cabbage rolls over the base so that they are packed quite tightly. Pour the rest of the stock over the cabbage rolls. Cover the baking dish with a lid or foil and bake for 30-45 minutes. Serve warm with a tasty sauce.
Hungarian Style Stuffed Cabbage Rolls with Pork
Ingredients
salt to taste
1 smoked pork shank
2 large brown onions
2 tablespoon olive oil
mild paprika, to taste
1 kg (2 lb) minced pork
500 g (1 lb) sauerkraut
200 g (7 oz) smoked bacon
200 g (7 oz) long grain rice
freshly ground black pepper, to taste
1 large sour cabbage (pickled or boiled to soften)
Method
Finely dice one of the brown onions. Heat 1 tablespoon of olive oil in heavy saucepan or Dutch oven over moderate heat and fry the onion until lightly browned. Add the rice and mix with the onion for about 5 minutes, then remove from the heat and set aside. Finely chop the bacon and mix with raw minced pork meat. Using a medium size bowl, add the rice to the meat mixture and sprinkle with salt, freshly ground black pepper and the paprika. Combine these ingredients by mixing in the bowl to finalize the filling. Gently peel off large leaves from the cabbage, after removing the thick stalks from the centre of each leaf. To assemble the cabbage rolls, place a small 1/4 cup of meat mixture at one end of a leaf, and roll up the leaf to about 3/4 of its length. Fold in the sides and complete rolling to complete.
To make the sauce, start by coarsely chopping the remaining onion. Heat 1 tablespoon of oil in a large saucepan over moderate heat. Cook the onion until soft. Slice the pork shank into small pieces and add to the onion in the pan. Spread half of the sauerkraut on top of the mixture in the pan, and sprinkle some paprika. Place the cabbage rolls in 1-2 layers on top of the sauerkraut. Then, cover with the rest of the sauerkraut. Pour over enough water into the pan to just cover the mixture in the pan. Bring the pan to the boil and then lower the temperature to a very gentle simmer, Cook for about 1- 2 hours, until rice is cooked and the meat is tender. Serve hot topped with sour cream and fresh herbs.
Vegan Cabbage Rolls with Lentils
Ingredients
For the filling
1/4 teaspoon allspice
2 teaspoons lemon juice
1/2 teaspoon salt (to taste)
1 medium onion, finely chopped
2 cloves garlic, finely chopped
1 teaspoon paprika (regular or smoked)
1/2 teaspoon freshly ground black pepper
2 tablespoons fresh parsley, finely chopped
3 cups cooked lentils (from 1 1/4 cup dry nethils)
1 cup cooked grain (bulgur wheat, brown rice, kasha, quinoa, or other variety)
For the Sauce
1/4 cup raisins
pinch baking soda
1 tablespoon tomato paste
1 teaspoon salt (or to taste)
1 medium onion, finely chopped
4 cloves garlic clove, finely chopped
freshly ground black pepper (to taste)
1/4 teaspoon of red pepper flakes or cayenne (optional)
28-ounce (800 g) can diced tomatoes (fire roasted)
16-ounce (500 g) can diced tomatoes (fire-roasted), pureed to a smooth paste in a blender
Method
Combine all the filling ingredients in a small bowl and mix well. To make the sauce, heat a large non-stick frying pan over moderate heat with 1 teaspoon of oil. Add the onions and a pinch of baking soda and fry until the onions soften (about 3-4 minutes). Add the chopped garlic and fry for 1-2 minutes. Add the remaining sauce ingredients (except the raisins). Lower heat to a low setting, and simmer gently for 30-40 minutes while you are preparing the cabbage leaves and filling.
To assemble the cabbage rolls, place a cabbage leaf on your work area, and add 1/3 cup of the filling mixture near the edge of one side. Roll the cabbage leaf up, folding in the sides as you go. To cook the cabbage rolls, place about half of the sauce in the bottom of a heavy pan or Dutch oven. Place a layer of cabbage rolls, with the seam-side down on top of the sauce in the pan. Two layers is fine if they all won't fit. Spread the remaining tomato sauce over the rolls. Cover the pan with a lid or foil and cook on a very low heat setting for 45-60 minutes. Check for doneness and add a little water to stop the rolls burning on the bottom. Serve warm, with the tomato sauce spooned on top.
Stuffed Savoy Cabbage with Pork, Beef and Rice Recipe, Topped with a Spicy Tomato Sauce
Ingredients
For the cabbage rolls
Salt to taste
For the cabbage rolls
2 cups cooked brown rice
1 tablespoon hot paprika
1 cup onion, finely chopped
12 ounces (350 g) ground pork
1/4 cup chopped fresh flat-leaf parsley
12 ounces (350 g) ground lean chuck steak
1 large head Savoy cabbage (2-3 pounds; 1-1/2 kg)
For the Spicy Tomato Sauce
Salt to taste
1 cup onion, finely chopped
1/8 teaspoon red-pepper flakes
2 garlic cloves, finely chopped
2 tablespoons extra-virgin olive oil
1 can (28 ounces) whole peeled Romano tomatoes, with juice
Method
Preheat oven to 375 degrees F (190 degrees C). Start making the sauce by blending the tomatoes until finely chopped (not pureed). Heat oil in a heavy saucepan or Dutch oven over moderate heat. Fry the garlic, onion, and red-pepper flakes, until the onion is soft (about 4-6 minutes). Add the chopped tomatoes, stir and then bring to a boil. Lower the heat to a simmer and cook for about 20 minutes, stirring occasionally. Season with salt and pepper. Set aside to cool. Next, bring a large pot of water to the boil. Add the whole head of cabbage and boil for 3-4 minutes. Remove 1-2 leaves, return the cabbage head to the water and boil for several minutes. Continue until all the larger leaves have been harvested. Pat each of the larger leaves dry with a kitchen towel.
Make the filling by mixing together the pork, rice, beef, paprika, onion, parsley, freshly ground black pepper and salt. Take a cabbage leaf and add 1/3 cup of filling to one side. Roll up the leaf, folding in the two sides. As the rolls are assembled place each one, seam-side down, into a large, shallow, greased baking dish. Spread the sauce over the stuffed cabbage rolls in the baking dish, and cover with foil. Bake in the preheated oven for 60-75 minutes. Check for doneness and serve warm with the sauce poured on top.
Stuffed Cabbage Roll Sauce Recipes
The method for these recipes is similar. The onions and garlic (if present) are fried in oil until tender. Then the other ingredients are added and sauce is mixed and simmered very slowly for 5-10 minutes.
Simple Sauce
1/3 cup ketchup
1/4 teaspoon salt
1/4 teaspoon pepper
2 tablespoons brown sugar
2 tablespoons white vinegar
1 can (8 ounces) tomato sauce
Sweet and Sour Tomato Sauce Recipe
1/2 cup raisins
1/3 cup red wine
2 tablespoons oil
1/3 cup (soft brown sugar
2 tablespoons lemon juice
225 g (8 oz) puréed tomato
1 large onion, finely chopped
6 hard ginger biscuits (or similar), finely crushed
3 × 400 g (14 oz) cans whole tomatoes, pulsed to chop
This sauce should be simmered for 20-30 minutes, stirring regularly
Lemon sauce for Cabbage Rolls (Greek Style)
3/4 of a cup milk
2 tablespoons of butter
1/2 tablespoon of flour
salt and freshly ground pepper
juice of 1 lemon (or more, if you like)
Melt the butter over moderate heat in a small saucepan. Add the flour and mix well to form a paste. Pour in the lemon juice and cook for 1-2 2 minutes. Add the milk slowly in small amounts while whisking constantly. Add 3/4 of a cup of hot water a little at a time. Whisk until the sauce thickens.