Best Tostones Recipes with Fresh Green Plaintains or Bananas
The word Tostones is derived from the Spanish verb 'tostar' meaning 'to toast'. It refers to a very popular side dish side dish in many Latin American countries made by frying slices of green (unripe) plantains (cousin of the sweeter Banana varieties found throughout the world).
These dishes are found in West African cuisine, often referred to as plantain crisps and elsewhere are also known as patacones.
In Puerto Rico and northern Colombia, patacones are sometimes made from green bananas, providing a sweeter, lighter flavour (see below for a green banana recipe).
However the starchy and less sweet plantains are traditionally used in tostone recipes.
Green and unripe (not yellow) plantains are cut either length-wise, diagonally or cross-wise and are twice fried.
The plantain slices are fried firstly for about two minutes on each side and then they are removed and pounded flat and fried once again until they are golden brown and crisp.
The double-fried tostones are salted and eaten as savory snacks similar to the way potato chips are eaten as snacks in many western countries.
In some countries the tostones are dipped a garlic sauce, or topped with cheese as an appetizer. Many other varieties are available.
This article includes several fabulous tostone recipes including one for using green bananas as a substitute for plantains if they are unavailable.
Prepared and packaged tostones are available commercially in many countries. Breadfruit can also be made into tostones.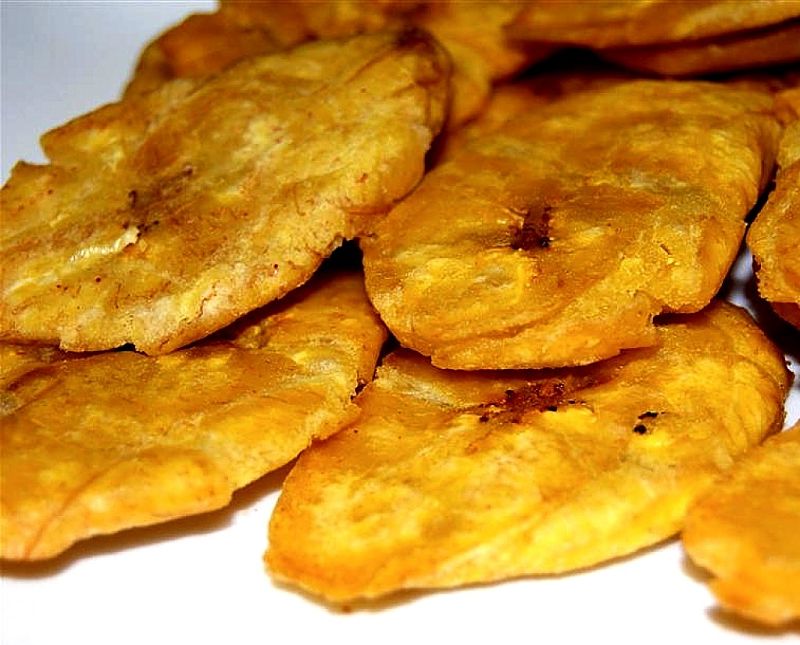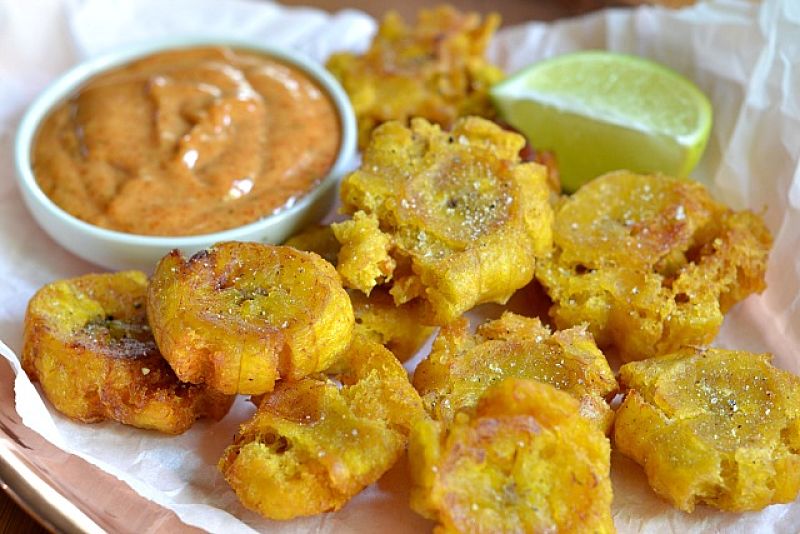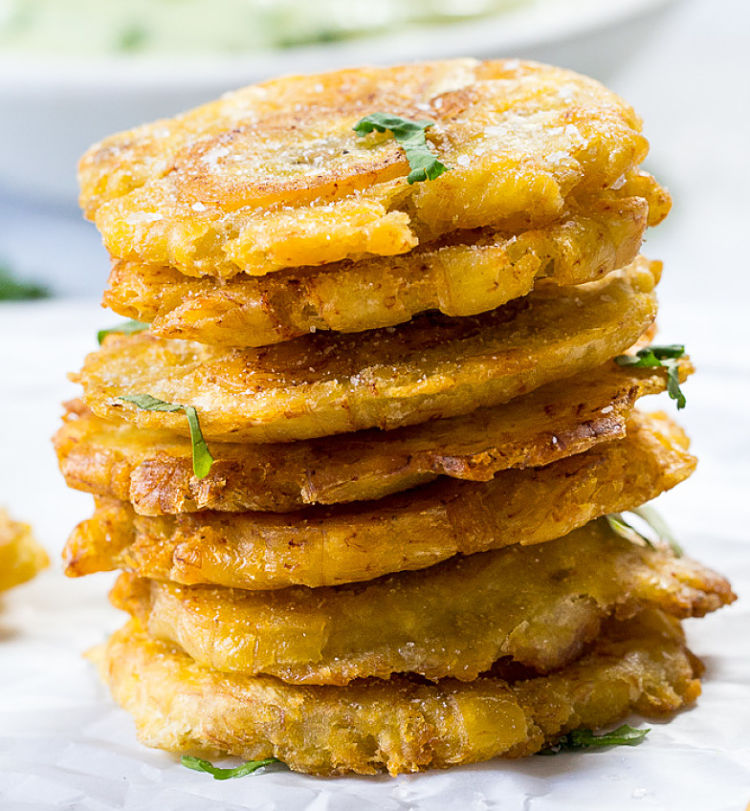 Plantains versus Bananas
While many people tend to regard plantains and bananas as the same thing, plantains are a different variety and the fruit are longer, less sweet and more starchy than bananas.
► Plantains are treated as a vegetable and are cooked before eating, unlike bananas that are eaten raw as a fruit.
► Plantains are often effectively the potatoes of the Caribbean and are baked or fried in many dishes and are often served as a side dish.
► Plantains are rich in starch and when are unripe have a bland flavor and a stiff texture, and do not go 'mushy' when cooked.
► Plantains do become sweeter when they ripen and turn yellow, but they do not go soft and are upalatable when eaten raw. Green unripe plantains are required for tostones.
► Plantains and bananas are very healthy and are renowned as a great source of potassium.
► Plantains are also rich in dietary fiber, and in Vitamins C and A.
Tostone Recipe 1
2 Green plantains
Salt and Pepper
Oil for frying (grape seed, rice bran of similar high temperature frying oil)
Start heating the oil to 375 degrees F (190 degrees C) and meanwhile peel the green, unripe plantains and then slice them cross-ways into 3/4 inch (20 mm) slices. Fry the slices in the oil for about 3 minutes until they turn brown (use a thermostat or a thermometer to maintain the temperature when frying). They should be semi-soft and a light brown color. Remove the fried slices using a metal slotted spoon and drain well using paper towels. Let the plantain slices cool down so that they can be handle (generally about 1-2 minutes). Then pound them into flat rounds using a heavy metal kitchen mallet of a special tostone press. Fry the flattened rounds in the hot oil for about 3 minutes. They should have turned a medium brown color and become crisp. Remove the tostones from the oil using a slotted spoon and drain on paper towels. Add salt and pepper to taste.
Puerto Rican Tostones (Recipe 2)
1 plantain, peeled and divided into chunks
5 tablespoons oil for frying
salt to taste
3 cups cold water
Heat the oil in a large heavy skillet to 375 degrees F (190 degrees C). Transfer the plantains pieces to the oil and fry each side for about 3-4 minutes turning once. Remove the plantains from the pan using a slotted spoon, drain and then flatten by placing them under a frying pan or large Chinese cleaver and pressing down firmly. Dip the plantains briefly in water to help them become crisp. Then return the pieces to the hot oil and fry for an additional 1-2 minutes on each side. Add salt to taste and serve straight away. The recipe can be multiplied for larger yields.
Tostones Recipe 3
Green plantains, peeled and sliced diagonally into 1-inch pieces and soaked in salted water for about an hour and then dried well before frying
Oil for deep frying
Salt to taste
mojo garlic sauce or equivalent
Heat about 1/2-inch ( 12 cm) of oil in a heavy skillet and apply medium-high heat. Add about half the slices of plantain to the hot oil and fry until the start to turn golden brown on all sides. Turn frequently to cook evenly. Remove the first batch of slices with a slotted spoon, drain and transfer to a paper towel to remove excess oil. Repeat for the second batch of slices.
Using a glass, a small plate or a heavy cleaver on its side, squash each slice to about half its original thickness. Then return the flattened slices to the hot oil in batches and fry again on each side until crispy and well browned on all sides. Drain on paper towels, sprinkle with salt and serve hot with mojo garlic sauce.
Tostone Recipe Using Green Unripe Bananas
4 Green, unripe Bananas
2 cups of Vegetable Oil for frying ( grape seed oil, recipre bran oil or peanut oil)
Salt to taste
Peel four green, unripe bananas. Make sure they are hard and very unripe to match the taste and texture of plantains. Slice the bananas into diagonal or criss-cross pieces about one inch (2 cm thick). Fry them right away or put them into water to stop them browning until you are ready. Heat two cups of high temperature frying oil in a heavy skillet until quite hot but not smoking. Fry the banana slices in small batches for 1-2 minutes per side. Remove them from heat and let cool. Then flatten the slices with a plate, glass, bowl base or similar flat object, down to about 1/4 inch ( 5 mm) thick. Return the flattened slices to the pan and fry again for about 30 seconds per side. Remove the dark brown banana tostones from the pan and drain on paper towels before serving. Season with salt if desired. They will not be as crisp as the ones made with plantain but will be sweeter and just as delicious.
Serving Ideas
Tostones are ideal as appetizers, snacks (like potato crisps) or as a party food. They are also wonderful as a side dish to meat, fish pork, chicken or another main course dishes. Tostones can also be served with salsa or other dips. They can also be served as a dessert with ice cream and chocolate syrup.