Best Veggie Burgers Recipes - Easy Vegetarian Burgers, Beans, Tofu, Lentils
The old fake meat veggie burger of old has been buried for good.
The new veggie burger heralds and proclaims vegetables in their own right, not as meat substitutes. Make your veggie burgers at home with nuts, soy, beans and grains - all excellent sources of vegetable protein, essential minerals, and vitamins. They tastes so good and have wonderful textures.
The huge variety of veggie burgers are very healthy choices for people trying to lose weight or trying to eat healthy whole foods.
These burgers help reduce saturated fats, complex carbohydrates and increase natural fiber in the diet in a delicious way.
In the following article I have gathered some of the best tips for making the perfect veggie burger at home that will avoid all the pitfalls. I also include some of the best recipes for veggie and tofu burgers.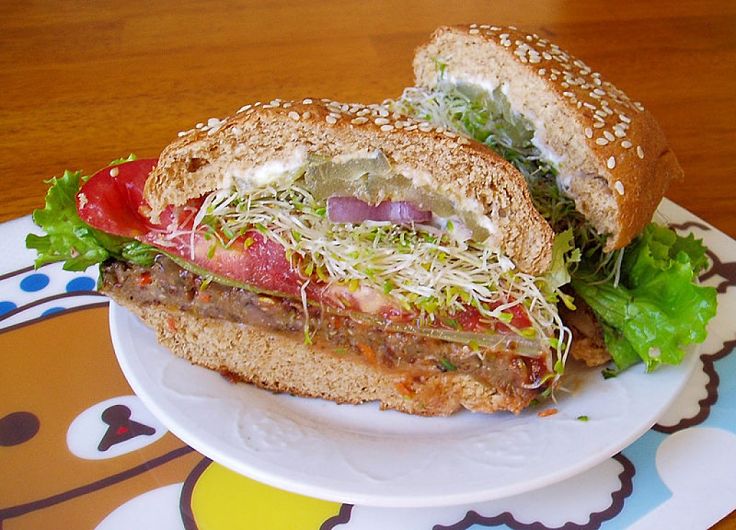 Tips and Recipe Ideas for Veggie Burgers
Binding the ingredients together - This is perhaps the commonest source of problems.Some of the ideas are:
Starchier grains absorb more moisture and help hold the burger together by drying them out. Good ideas are brown rice, oats and quinoa, which can be tricky to work with but is very nutritious.
Fresh herbs have superior taste but the extra moisture can make them fall apart. Don't chop them too finely and replace some with dried herbs.
Eggs are the traditional binding ingredient if your diet does not prohibit them. For a good substitute try 1/4 cup of silken tofu combined with a vegan egg replacement powder
For vegan burgers, try steaming and mashing a potato and folding it into the main ingredients.
Oat bran can be used to soak up some of the moisture and help bind the burgers
Wheat gluten is a great veggie burger binder. Opt for some chickpea flour or fine oatmeal and some added starch if you can't eat gluten.
Pureed beans make a wonderful binder for vegetable and grain burgers, and an egg added to the mixture will help to hold it together, if you can eat eggs.
Use lighter soy or alternatives - Dark soys can swamp the taste and so use a lighter variety or substitutes such as soy sauce with tamari.
Cooking options - meat burgers have a lot of fat that helps stop them drying out on a grill and cooking properly.
One trick is to cover the veggie burger with a 'tent' of foil or a saucepan lid. This increases the heat and effectively cooks the burgers by steaming them. Cooking by steaming may be a very good alternative for cooking delicately flavored burgers.
Another option is to fry or grill the veggie burger over high heat on the stove top or in a pan and then complete the cooking in the oven. This adds flavor and texture with crispy brown crust, and cooks the inside perfectly without burning the exterior.
Cook them initially in a ring mold or egg ring. This helps to keep them the same size and thickness and stops them falling apart. You can pop them out of the rings when they are half-cooked
Dairy Substitutes - there are many great substitutes that work very well such as coconut, soy, almond milk and hemp milk. Finding a cheese substitute may be more difficult, but you can use chopped tofu. Don't try to imitate the cheese - go for a unique taste instead.
Don't overdo the variety - Many veggie burgers can become a mash or ingredients with no real fundamental flavors, especially when everything is finely chopped. One good idea is to pick on one or two main ingredients and primarily focus on those. That can mean anything from eggplant, nuts or chickpeas as the star ingredient.
Go Bold with the Flavors - So many veggie burgers can be rather bland and uninteresting with everything blended together. The two solutions are not to chop the ingredients so finely so you can taste and enjoy the texture of the individual foods. Also try to be bolder and more adventurous with the flavors. Use fresh or dried spices and herbs - a little more than you would normally need. Incorporating ingredients with intense flavors, like dried or roasted tomatoes, olives and capers.
Be Adventurous with the Toppings - Don't be limited to the iceberg lettuce, chilli sauce or ketchup. Veggie burgers tastes better with strongly flavored and adventurous toppings, like olive tapenade, chipotle mayo, mustard, aioli, guacamole, pickled onions and one of the many spicy relishes that are available. Strongly flavored cheese is also a good idea.
Try adding finely ground smoked almonds which gives the burgers a deep, rich flavor without overwhelming them with too many nuts.
Best Ever Vegetarian Burger Recipes
Quinoa and Greens Veggie Burger Recipe
Salt to taste
2 garlic cloves
1 egg (optional)
Freshly ground pepper
1 cup finely chopped onion
1 cup finely chopped carrot
2 teaspoons minced fresh ginger
1 can chickpeas, drained and rinsed
1 to 2 tablespoons fresh lemon juice (to taste)
2 cups cooked quinoa, preferably rainbow quinoa
2 - 3 tablespoons extra virgin olive oil, as needed
1 bunch beet greens, stemmed and washed (1/2 to 3/4 pound)
1 teaspoon toasted cumin seeds, crushed in a mortar and pestle
Preheat the oven to 375 F( 190 deg C). Cook the beet greens by steaming or blanching for 1-2 minutes, drain and finely chop. Add to large bowl with the cooked quinoa. Fry onion, ginger and carrot in a pan with a little oil until just cooked, then add the cumin and garlic and cook for another minute, cool and then add to the bowl with the quinoa mixture. Using food processor, puree the chickpeas with the egg (optional) and the lemon juice. Add to the bowl with the quinoa mixture, season with salt and pepper and mix everything together. Cook in a heavy ovenproof skillet over medium-high heat with 2 tablespoons of olive oil. Using slightly moist hands shape the mixture into patties or your required size. Fry the burgers for 1 - 2 minutes on each side until top and bottom is browned. Transfer the pan to an oven (or use a flat baking dish). Bake for 10 - 15 minutes, until the patties are browned all over. Remove from the oven and serve.
Tofu Veggie Burger Recipe with Herbs

2-3 cloves of garlic
350 gm (11 oz) hard tofu
3-4 tablespoons cilantro
hot chilli sauce to serve
1 red onion, finely chopped
2 tablespoons balsamic vinegar
1 heaped tablespoons tomato paste
sundried tomatoes to taste (for dressing)
200 gm (6-1/2 oz) mushrooms, finely chopped
2 tablespoons chilli garlic sauce (to taste)
60 gm (2 oz) baby spinach leaves (for dressing)
6 wholegrain bread rolls (or gluten free rolls)
1/2 cup Mayo (or eggless Vegan Mayo) (for dressing)
1-1/2 cups (150 gm / 5oz) wholegrain flaxseed bread crumbs, extra
2 cups (200 gm / 6-1/2 oz) wholegrain bread crumbs (optional use gluten free)
Add one teaspoon of a high-temperature oil to a pan and fry the onions until soft. Add the mushrooms and shallow-fry for another 3-4 minutes, then cool. Using a food processor, blend the garlic and cilantro with two-thirds of the tofu until smooth. Grate the rest of the tofu and add mixture. Combine everything in a large bowl and stir well until well mixed. Refrigerate the mixture for about 30 minutes. Using wet hands or a large spoon divide into 6-8 burger patties. Roll them in some extra breadcrumbs.
Black Beans Veggie Burger Recipe
1/4 cup water
1/2 teaspoon cumin
1/2 cup bread crumbs
2 cloves garlic, minced
1/2 small onion, grated
2 tablespoons olive oil
1 teaspoon chilli powder
wholemeal hamburger buns
1 tablespoon tomato paste
1/2 cup vital wheat gluten
1/4 cup cilantro, finely chopped
1 (15 oz) can black beans, rinsed and drained
Add the black beans to a mixing bowl and roughly mash them using a fork. Add the cumin, water, chili powder, garlic, tomato paste, cilantro, and onion and combine together with a fork. Add the bread crumbs and wheat gluten. Using clean hands knead the mixture until it is firm and thoroughly mixed. Cook as above.
Chickpeas Veggie Burger Recipe with Fresh Herbs
1 onion, chopped
1 cup sprouts, chopped
4 large eggs (optional)
1/3 cup chopped fresh cilantro
Grated zest of one large lemon
1/2 teaspoon fine-grain sea salt
1 cup toasted whole-grain bread crumbs
1 tablespoon extra-virgin olive oil or a high-temperature oil
2 1/2 cups sprouted or canned garbanzo beans (chickpeas), rinsed and drained
Steam the sprouted garbanzos until just tender, or rinse and drain the caned beans. Add the beans, eggs, and salt to a food processor and blend until the mixture thick but stick chunky. Transfer to a large mixing bowl and add the onion, zest, cilantro and sprouts and combine. Add the breadcrumbs and set aside for several minutes to allow the moisture to be absorbed by the bread crumbs. Add extra bread crumbs or water if needed. Form the mixture into about 12 patties using a large spoon or you hands.
Indian Style Veggie Burger Recipe
6 eggs
2 large potatoes
2 cups plain flour
1/4 cup vegetable oil
1 tablespoons ground cumin
1 tablespoons ground coriander
6 wholemeal burger buns, halved
300 ml plain yogurt (for sauce)
200 gm canned chickpeas, drained
1 tablespoons brown mustard seeds
2 tablespoons finely chopped coriander leaves
1/3 cup mint leaves, finely chopped (for sauce)
2 carrots, peeled and coarsely grated (for dressing)
400 gm butternut pumpkin, peeled and cut into 1cm pieces
2 beetroots, peeled, chopped or coarsely grated (for dressing)
1 telegraph cucumber, seeds removed and finely chopped (for dressing)
Cook the potatoes and pumpkin in boiling water until tender, drain, cool and cut into 1 cm pieces. Transfer to a large bowl, add the cumin, chickpeas and coriander and mix until just combined. Cook the mustard seeds over high heat, in 1 tablespoon of oil in a large pan. Add the seed to the mixture in the bowl and add the coriander leaves. Season to taste with salt and pepper and gently mix to an even consistency. Using wet hands, form the mixture into burgers and the size that suits and refrigerate for about 30 minutes. Cook as above.
Vegetarian Tofu Burger with Walnuts and Mustard

1 cup breadcrumbs
2 cups diced onions
2 tablespoons tahini
1 teaspoon dried dill
1 teaspoon dried basil
2 tablespoons soy sauce
2/3 cup chopped walnuts
1 cup diced bell pepper
1 teaspoon dried oregano
2 tablespoons light miso
3 tablespoons vegetable oil
1 cup peeled and grated carrot
1-2 tablespoon Dijon mustard (optional)
2 (16 oz; 900 g) packages firm tofu
Preheat the oven to about 400 degrees F (200 degrees C). Generously oil baking sheet. To squeeze the liquid from the tofu, place it between two plates, and place a heavy weight of some kind on top (a large saucepan of water can be used). Leave for about 15-30 minutes and then drain off the liquid. Fry the peppers, oregano, onions, carrots, basil and dill for about 7 minutes in a large frying pan with a little oil. Don't overcook - leave them a little tender to add texture and crunch. Break the pressed tofu into small pieces and add to a large bowl. Add the walnuts, miso, soy sauce, tahini, bread crumbs and mustard (optional). Then add the sauteed vegetables, and combine well. Form the mixture into 8-10 patties using your hands. Place, well separated, onto the greased baking sheet and bake for about 30 minutes, or until burgers are golden brown and firm to touch.
Vegetarian Mexican Black Bean and Quinoa Burgers Recipe
2 teaspoon adobo sauce
2 chipotle chillies, chopped
2 teaspoon Mexican seasoning
80 g (3 oz) feta cheese, crumbled
1/2 cup Greek yogurt (or cashew
1/3 cup quinoa, washed and drained
1 tablespoon Extra Virgin olive oil
juice and finely grated rind of 1 lemon
440 g (16 oz) canned black beans, rinsed and drained or cooked dried beans
Preheat oven to 220 degrees C (430 degrees F). Cook the quinoa by simmering in a cup of salt water for 13-15 minutes until tender. Drain well and set aside. Spread the black beans over a oven sheet lined with baking paper and bake for 15 minutes.

Then transfer the black beans to food processor or blender and pulse to chop. Add the cooked quinoa, Mexican seasoning, lemon rind, feta cheese, chipotle chilli and half the lemon juice. Pulse until the mixture just binds together. Divide the mixture into quarters and shape into burger patties. Prepare the sauce by combining the adobo sauce, yogurt, and a pinch of Mexican seasoning, salt and pepper to taste, and 2 teaspoons of lemon juice in a bowl. Heat the olive oil in a heavy frying pan over moderate heat. Cook the burgers for 3-4 minutes on each side until crisp and golden brown.

To serve, cover the burger buns with a spread of the chipotle yogurt mixture, add a pattie and top with avocado, tomato and shredded lettuce and extra sauce. Serve immediately.
Related Articles and Recipes
=> Low Carb and Healthy Beef Burger Recipe with Zucchini and Smoky Sauce
=> Easy Bean Burger Recipe for Simple Tasty Vegetarian Burgers at Home
=> Easy Quick Recipes - Tex-Mex Style Chicken Burger Recipe
=> Beer Can Burgers - Bacon and Meat Bowl Burger Recipes with Stuffing, Toppings, Sauces
=> Easy Vegetarian Sushi Rolls Recipes
=> Easy Bean Burger Recipe for Simple Tasty Vegetarian Burgers at Home
=> Homemade Yakitori Recipes - Chicken, Beef, Pork, Fish, Seafood, Vegan
=> Best Ever Patties Recipes: Salmon, Beef, Pork, Chicken, Seafood, Vegan
=> Top 20 Taco Recipe Collection - Beef, Pork, Chicken, Seafood, Vegetable, Vegan