Best Way to Cook Vegetables - Quick Easy Vegetable Recipe Ideas
Everyone is trying to eat more vegetables, but most people are unclear about the best ways to cook them, both in terms of flavor and the retention of the vitamins, nutrients and other benefits from eating them. Various research studies have shown that poor-prepared vegetables can have all the goodness destroyed or lost in the cooking liquid.
Different vegetables are best cooked in different ways and so there is a need for a chart summarizing cooking times and methods that best suit your favorite vegetables.
Various dietary guidelines call for about 6 to 12 servings per day, with vegetables included with breakfast, lunch and dinner and so it is important to prepare them properly, both in terms of taste and value. The recommended amount is about 3-6 cups per day. The first thought is to eat them raw, but surprisingly, research has shown that plain raw vegetables are not always best and some are not palatable when raw.
A small amount of cooking in the right way can make the vitamins and nutrients much more accessible and available when the food is eaten. Cooking also breaks down the thick cell walls of plants, releasing the contents for the body to use. That is why processed tomato products have higher nutrient content than fresh tomatoes for some nutrients.
This article provides all the information you need to discover the best method for cooking vegetables.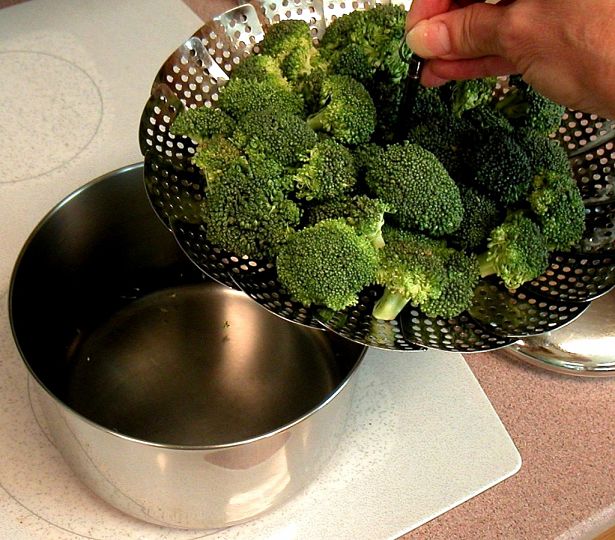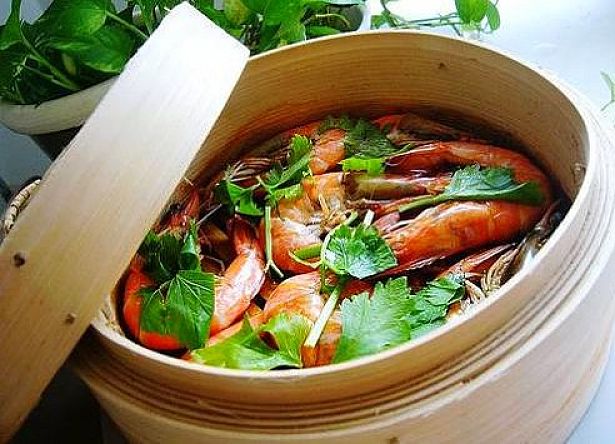 Pros and Cons of Vegetable Cooking Methods
No single cooking or preparation method is best for all vegetables. Water-soluble nutrients like vitamins C and B and the polyphenolics group of nutrients, are often lost in processing. For example, studies have shown that frozen cherries have lost as much as 50 percent of anthocyanins a pigment related nutrient after just six months. Fresh spinach is known to lose two-thirds of its vitamin C after boiling and draining. Canned carrots and peas and only have about 20% the vitamin C in fresh produce.
Vitamin C, which is water-soluble, is also sensitive to light, heat and oxygen, and can be leached to the water the vegetables are cooked in, and lost when the vegetable is drained. Even in raw foods Vitamin C can degrade quickly after harvest. Depending on the food type, as much as three-quarters of the vitamins and other nutrients (in green beans for example) may be lost in seven days storage at about 4 degrees C (39 degrees F). A lot of Vitamin C disappears when vegetables are blanched, but many fruits and vegetables have Vitamin C added to them to stop browning, so the net nutrient level may be higher in the frozen food than in the fresh equivalent. Between 10 to 90% of vitamin C is lost during canning depending on the food type, but once in the can the levels remain unchanged.
For the B group vitamins, B6, thiamin and riboflavin are sensitive to light and heat, causing losses during cooking and in canning. Because these nutrients are also soluble in water about one quarter to a half can be lost in the blanching process prior to freezing. Water soluble polyphenolic compounds, that are found in the skins of pears, peaches, apples and other vegetables, are lower in products canned without the skin, that those with the skin on, even though extra vitamins may be added boosting the levels of these nutrients.
Mineral and fiber contents are generally similar in canned, fresh and frozen fruits and vegetables.
Fat soluble nutrients, including vitamin E, A and various carotenoids including lycopene are sensitive to light, heat and oxygen. But being fat soluble, little is lost in blanching or boiling. Nutrient loss rates varies with food type.
Carbohydrates and protein as well as many fatty acids are not significantly affected by canning, cooking or freezing. For instance, the level of Omega 3 fatty acids in canned or cooked fish is similar to fresh fish eaten raw.
The Table below compares the relative loss rate of various nutrients through boiling.
Nutrients Lost in Cooking (boiling) and Draining
| Nutrients | Lost in Cooking (boiling) | Lost in Cooking (boiling) and draining |
| --- | --- | --- |
| VITAMINS | | |
| Vitamin A | 25% | 35% |
| Retinol Activity Equivalent | 25% | 35% |
| Alpha Carotene | 25% | 35% |
| Beta Carotene | 25% | 35% |
| Beta Cryptoxanthin | 25% | 35% |
| Lycopene | 25% | 35% |
| Lutein+Zeaxanthin | 25% | 35% |
| Vitamin C | 50% | 75% |
| Thiamin | 55% | 70% |
| Riboflavin | 25% | 45% |
| Niacin | 40% | 55% |
| Vitamin B6 | 50% | 65% |
| Folate | 70% | 75% |
| Food Folate | 70% | 75% |
| Folic Acid | 70% | 75% |
| Vitamin B12 | 45% | 50% |
| MINERALS | | |
| Calcium | 20% | 25% |
| Iron | 35% | 40% |
| Magnesium | 25% | 40% |
| Phosphorus | 25% | 35% |
| Potassium | 30% | 70% |
| Sodium | 25% | 55% |
| Zinc | 25% | 25% |
| Copper | 40% | 45% |
How Do the Various Cooking methods Compare in terms of Nutrient Retention.
A major research studywas undertaken to compare five domestic cooking methods on the nutrients and health-promoting compounds of broccoli. The cooking methods including:
steaming,
microwaving,
boiling,
stir-frying,
stir-frying followed by boiling (stir-frying/boiling)
Don't Throw the Baby out with the Bathwater
Nutrients can be leached out of foods into the cooking water or oil, and lost of the liquids are not retained. For example, when a potato is boiled much of the vitamin C and B, ends up in the boiling water. Similar leaching occurs when you roast, broil, or fry vegetables in oil, and then drain off the oil or cooking water.
The table below compares the average nutrient lost when cooking using the most methods: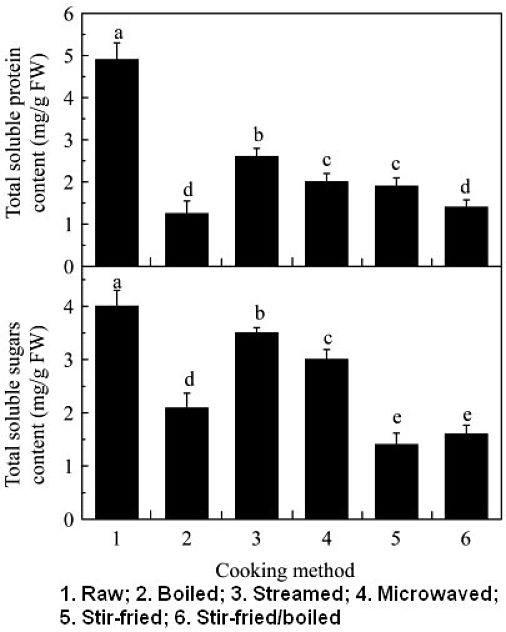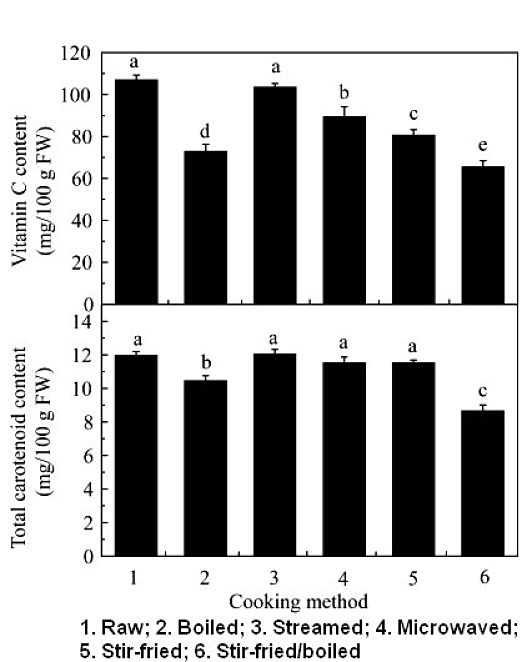 Taste is Very Important
Despite the evidence that steaming is the best cooking method it does not impart flavor and can leave the vegetables limp and not very attractive. It is not all about retention of nutrients - people will get none if they don't eat the vegetables. Many research studies of young adults have shown that they were not eating vegetables simply because they didn't like the taste. Many of the vegetables presented to them are bland and unattractive. The trick is to prepare and eat vegetables prepared in a variety of ways, add flavors and to each a variety of different vegetables. Make them more interesting by cooking them in several different ways rather than always using the same method.
Two Simple Methods for Preparing Practically Any Vegetable
Steaming
Steaming, rather than boiling, is much better because there is less nutrient loss through leaching. Steamed vegetables taste better and retain their texture and color. Don't use your microwave as a substitute for steaming. Use a simple stove-top method instead. You will need metal or bamboo steamer that fits into or above a pot or a steamer/pot assembly. The metal pop-up steamers work very well, are widely available and inexpensive and fit inside a mid-sized pot.
The basic way to steam vegetables is to partially fill a saucepan (with the level below that of the steaming container, and bring the water to boil. Then add the vegetables, place a lid on top and set a timer for the correct steaming time (5-15 minutes depending on the vegetable; see the table below).
You can steam just about anything: Carrots, broccoli, Chinese greens, brussel sprouts, corn, tiny potatoes, cauliflower, green beans, asparagus, cabbage, greens, sweet potato, and just about everything else.
Great Ways to Perk Up Steamed Vegetables
Naked steamed vegetables can be very bland and unappealing. Once cooked add some butter or olive oils, sprinkle with salt and various spices. You can also cook finely chopped garlic, chili and ginger to a little oil and well cooked finely chopped bacon. Other ways to try include:
Fresh herbs - Add a mixture of your favorite chopped herbs such as thyme, rosemary, basil, coriander, parsley or dill over the steaming vegetables.
Garlic - Add chopped or sliced garlic to the steaming vegetables.
Ginger - Add thinly sliced or minced ginger to the steaming vegetables or to the boiling water.
Lemon - Add lemon zest or a few lemon slices or lemon zest when steaming vegetables like peas, snow peas, broccoli, summer squash and green beans. You can also add some lemon juice to the boiling water.
Olive oil - Toss vegetables in salt, olive oil, spices and freshly ground black pepper.
Sesame oil - Toss steamed vegetables with sesame oil, salt and white pepper before steaming.
Soy sauce - Sprinkle tiny drops of soy sauce over the steaming vegetables.
Vinegar - Add a splash of red wine, balsamic, white or other vinegar to steaming vegetables.
Sauce for Steamed Vegetables - Add 1-2 tablespoons of cashew butter, tahini, and thick coconut milk, to a little water. Add a dash of minces garlic and ginger, and some soy sauce. Mix well.
Pan Cooking / With Splashes of Water added to Create Steam
This is essentially similar to stir-frying. Chop the vegetables up into bit size pieces. Heat the wok or pan to medium to hot and add a tablespoon of a high temperature frying oil. Do the vegetables in batches depending on their thickness and hardness. Stir fry until just cooked but still crunchy. One trick with the leafy vegetables is to add small splashed of water. This creates steam which helps to cook the vegetables much faster. You can add fresh herbs, dried hers such as Italian mix and a variety of sauces - chili sesame oil. soy, lemon juice and even ample syrup.
Vegetable Cooking Chart
Below is a guide for cooking the most popular vegetables using a variety of methods. The times on the chart are generally for 500 gm (1 pound). The times are in minutes and there are a range of times due to the size and age of the vegetables. Under-cook the vegetables slightly so that they are tender, but still crisp. (Remember that they keep cooking while still hot). Blanching is used to prepare the vegetables for freezing. The timing refers to the time spent in the boiling water before that are plunged immediately into ice water after blanching. Cooking methods that are suitable for particular vegetables are shown on the chart.
Cooking Times for Various Methods
| Vegetable | Steam (min) | Microwave (min) | Blanch (min) | Boil (min) | Bake or Stir-fry (min) |
| --- | --- | --- | --- | --- | --- |
| Artichoke, whole | 30 to 60 | 4 to 5 each | Not suitable | 25 to 40 | Not suitable |
| Artichoke, hearts | 10 to 15 | 6 to 7 | 8 to 12 | 10 to 15 | Stir to fry 10 |
| Asparagus | 8 to 10 | 4 to 6 | 2 to 3 | 5 to 12 | Stir to fry pieces 5 |
| Beans, green | 5 to 15 | 6 to 12 | 4 to 5 | 10 to 20 | Stir to fry 3 to 4 |
| Beans, lima | 10 to 20 | 8 to 12 | 5 to 10 | 20 to 30 | Not suitable |
| Beets | 40 to 60 | 14 to 18 | Not suitable | 30 to 60 | Bake 60 at 350 degrees F |
| Broccoli, spears | 8 to 15 | 6 to 7 | 3 to 4 | 5 to 10 | Blanch, then bake |
| Broccoli, flowerets | 5 to 6 | 4 to 5 | 2 to 3 | 4 to 5 | Stir to fry 3 to 4 |
| Brussels sprouts | 6 to 12 | 7 to 8 | 4 to 5 | 5 to 10 | Halve; stir to fry 3 to 4 |
| Cabbage, wedges | 6 to 9 | 10 to 12 | Not suitable | 10 to 15 | Blanch leaves, stuff and bake |
| Cabbage, shredded | 5 to 8 | 8 to 10 | Not suitable | 5 to 10 | Stir to fry 3 to 4 |
| Carrots, whole | 10 to 15 | 8 to 10 | 4 to 5 | 15 to 20 | Bake 30 to 40 at 350 degrees F |
| Carrots, sliced | 4 to 5 | 4 to 7 | 3 to 4 | 5 to 10 | Stir to fry 3 to 4 |
| Cauliflower, whole | 15 to 20 | 6 to 7 | 4 to 5 | 10 to 15 | Blanch, then back 20 at 350 degrees F |
| Cauliflower, florets | 6 to 10 | 3 to 4 | 3 to 4 | 5 to 8 | Stir to fry 3 to 4 |
| Corn, on cob | 6 to 10 | 3 to 4 | 3 to 4 | 4 to 7 | Soak 10; bake at 375 degrees F |
| Corn, cut | 4 to 6 | 2 per cup | 2 1/2 to 4 | 3 to 4 | Stir to fry 3 to 4 |
| Eggplant, whole | 15 to 30 | 7 to 10 | 10 to 15 | 10 to 15 | Bake 30 at 400 |
| Eggplant, diced | 5 to 6 | 5 to 6 | 3 to 4 | 5 to 10 | Bake 10 to 15 425 degrees F |
| Greens, collard/mustard/turnip | Not suitable | 18 to 20 | 8 to 15 | 30 to 60 | Stir to fry mustard greens 4 to 6 |
| Greens, kale/beet | 4 to 6 | 8 to 10 | 4 to 5 | 5 to 8 | Stir to fry 2 to 3 |
| Kohlrabi | 30 to 35 | 8 to 12 | Not suitable | 15 to 30 | Bake 50 to 60 at 350 degrees F |
| Mushrooms | 4 to 5 | 3 to 4 | Not suitable | 3 to 4 in broth or wine | Stir to fry or broil 4 to 5 |
| Onions, whole | 20 to 25 | 6 to 10 | Not suitable | 20 to 30 | Bake 60 at 400 degrees F |
| Onions, pearl | 15 to 20 | 5 to 7 | 2 to 3 | 10 to 20 | Braise in broth 15 to 25 |
| Parsnips | 8 to 10 | 4 to 6 | 3 to 4 | 5 to 10 | Bake 30 at 325 degrees F |
| Peas | 3 to 5 | 5 to 7 | 1 to 2 | 8 to 12 | Stir to fry 2 to 3 |
| Peppers, bell | 2 to 4 | 2 to 4 | 2 to 3 | 4 to 5 | Stir to fry 2 to 3 |
| Pota to es, whole | 12 to 30 | 6 to 8 | Not suitable | 20 to 30 | Bake 40 to 60 at 400 degrees F |
| Pota to es, cut | 10 to 12 | 8 to 10 | Not suitable | 15 to 20 | Bake 25 to 30 at 400 degrees F |
| Spinach | 5 to 6 | 3 to 4 | 2 to 3 | 2 to 5 | Stir to fry 3 |
| Squash, sliced | 5 to 10 | 3 to 6 | 2 to 3 | 5 to 10 | Not suitable |
| Squash, halves | 15 to 40 | 6 to 10 | Not suitable | 5 to 10 | Bake 40 to 60 at 375 degrees F |
| Squash, whole | Not suitable | 5 to 6 | Not suitable | 20 to 30 | Bake 40 to 90 at 350 degrees F |
| to ma to es | 2 to 3 | 3 to 4 | 1 to 2 | Not suitable | Bake havles 8 to 15 at 400 |
| Turnips, whole | 20 to 25 | 9 to 12 | Not suitable | 15 to 20 | Bake 30 to 45 at 350 degrees F |
| Turnips, cubed | 12 to 15 | 6 to 8 | 2 to 3 | 5 to 8 | Stir to fry 2 to 3 |
| Zucchini | 5 to 10 | 3 to 6 | 2 to 3 | 5 to 10 | Broil halves 5 |
| | | | | | |