Best Way to Ripen Green Tomatoes with Recipes and Storage Tips
If your tomato plants are failing, or winter fronts are on the way, but your tomato plants are still covered in unripe green tomatoes, what should you do? Similarly you may need to pick green tomatoes early because of insect or bird attack. What can you do with unripe green tomatoes?
Don't despair as this article offers great tips for:
► how to get green tomatoes to ripen quickly on the vine,
► best ways to ripen picked green tomatoes,
► best ways to use green tomatoes,
► how to store and freeze green tomatoes, and
► a great collection of the best ever green tomato recipes.
Tips for Green Tomatoes
Will Green Tomatoes Ripen off the Bush When Picked?
You can use a simple test to check whether full-size green tomatoes you pick have a chance of ripening. Do they have a little color? Also, you cut a typical one open with a knife and look at the seeds. If each of the seeds is covered in a gel-like substance, the fruits will probably ripen. Otherwise, you can use the green tomatoes in one of the many recipes provided later in this article.
How to Ripen Picked Green Tomatoes
Do not try to ripen the tomatoes in the fridge as nothing will happen. Instead, choose a warm airy spot on your bench, window sill, or in a box or basket inside. Placing the green tomatoes next to a banana will help as the ethylene released from bananas will help ripen the tomatoes. This works well of the tomatoes and banana are placed together in a paper bag or in a covered, well-ventilated cardboard box. The tomatoes will generally ripen within a week or so, especially if they have a little color at the start. Leave the box out of direct sunlight at room temperature. Checking the tomatoes every few days to remove any fruit that may have spoiled. Mature green tomatoes will ripen in about 14 days at 70 degrees F (21 degrees C) and 28 days at 55 degrees F (13 degrees C).
Storing Green Tomatoes
You can store thick-skinned tomato varieties just like apples, in a slightly humid, but well-ventilated store in a cool place. But these tick-skinned varieties are rare. You can also freeze whole green tomatoes, given that you are going to cook with them and use them to make relishes and chutney. Any mushiness after thawing is not really a problem with firm green tomatoes. Following these steps for freezing tomatoes:
► Wash the tomatoes under cold, running water and remove any dirt with your fingertips. Using a sharp knife, cut out the stem scar at the top of each tomato.
► You can optionally cut the tomatoes into slices or quarters, depending on how you want to use the tomatoes when thawed.
► Cover a shallow pan sheet with wax paper. Lay the tomato slices, quarters or whole tomatoes in a single layer so that none of the pieces are touching. Freeze the pan sheet with the tomatoes until they are frozen solid (about 2-3 hours).
► Transfer the frozen tomatoes pieces or whole frozen green tomatoes to an airtight freezer storage container or bag, and store in the freezer.
Best Ever Green Tomatoes Recipes
Fried Green Tomatoes Recipe
Ingredients
1/2 cup milk
1/2 cup cornmeal
2 free-range eggs
1/2 cup bread crumbs
4 large green tomatoes
1 cup all-purpose flour
2 teaspoons coarse kosher salt
1/4 teaspoon freshly ground black pepper
1 quart (1 liter) rice bran or grape seed oil for frying
Method
Cut the tomatoes into thick slices (1/2 inch; 1 cm), discarding the ends. Whisk the free-range eggs and milk together in a moderate-size bowl. Place the flour onto one plate. Place the bread crumbs, cornmeal and salt and pepper onto another plate and mix well. Dip the tomato slices into flour to coat. Then, dip the slices into the eggs and milk mixture. Drop the slices into the breadcrumbs to complete the coat. Pour the vegetable oil into a large heavy skillet, to a depth of 1 inch (2 cm) and heat to hot over a moderate heat. Fry the tomato slices in small batches (3-5, depending on the size of the pan). Fry the tomatoes until are browned on both sides and drain them on paper towels. Serve immediately.
Mixed Green and Red Tomato Chutney Recipe
Ingredients
1 teaspoon salt
90 g (3 oz) raisins
350 g (12 oz) onions
1 medium sized, hot red chilli
2 teaspoon yellow mustard seeds
250 g (9 oz) light muscovado sugar
300 ml (10 fl oz) white wine vinegar
900 g (32 oz) tomatoes, mixture of firm green and red
Method
Cut the tomatoes in half and then add to a bowl with the roughly chopped onions. Add the vinegar, sugar, raisins, chilli, salt and mustard seeds. Bring the mixture to the boil. Then, lower the heat and simmer for 60-75 minutes, stirring occasionally. Keep any ripe tomatoes aside and add after the mixture has been cooking for about 25 minutes. Spoon the cooked mixture into sterilized jars and seal. Store in the refrigerator.
Simple Green Tomato Relish Recipe
Note: Halve the ingredients for a smaller volume
Ingredients
2 large onions
1 tablespoon salt
5 cups white sugar
24 large green tomatoes
3 tablespoons celery seed
3 tablespoons mustard seed
3 red bell peppers, halved and seeded
3 green bell peppers, halved and seeded
Method
Sterilize sufficient jars and lids to hold about (12 pints or 6 liters of relish). Using a food processor or blender, pulse the green bell peppers, tomatoes, red bell peppers and onions in batches until chopped into very small pieces. Add the tomato mixture, celery seed, mustard seed, salt, sugar, and vinegar to a heavy saucepan. Bring the mixture to the boil and ten lower the heat and simmer for 5-10 minutes, stirring often. Spoon the relish into sterilized jars. Press down with a spoon to pack the mixture well. Make sure there are no air pockets or bubbles and fill the jars right to the top. Screw on lids. Place the sealed jars in a large pot of water so that the jars are fully submerged. Bring the water to the boil and simmer vigorously for 30-45 minutes. Cool the jars and keep in the refrigerator. Relish in boiled jars can be stored for up to 12 months.
Classic Green Tomato Chutney Recipe
Ingredients
1 cup demerara sugar
2 teaspoons salt, to taste
Freshly ground black pepper, to taste
2 medium brown onions, finely chopped
3 lb (1.3 kg) green (unripe) tomatoes, diced
2 1/4 cups malt vinegar or apple cider vinegar
2 tablespoons mixed spice (your choice of individual spices)
2 Granny Smith apples (or similar), peeled, cored and finely chopped
Method
Place the spices in a small muslin bag so that they can be removed easily. Add the salt, demerara sugar, malt vinegar, apples, onions, green tomatoes, pepper (to taste) and spice bag to a large heavy-based saucepan or Dutch oven and heat to boiling point. Then, lower the heat and simmer uncovered, for 60-75 minutes, stirring occasionally. The mixture will thicken. Reduce the volume to your desired consistency. Remove the spice bag and spoon the hot chutney into hot jars that you have sterilised in boiling water for about 30 minutes (including the lids). Seal immediately and cool to room temperature. Boil the chutney jars for 30 minutes and then set aside to cool. Then, store in a cool dark place. Use within 2-3 months.
Green Tomato Curry Recipe with Potatoes and Garlic
Ingredients
2 teaspoons garam masala
1 1/2 teaspoons kosher salt
1/4 teaspoon ground turmeric
Freshly ground black pepper to taste
2 tablespoons cilantro, finely chopped
2 tablespoons grape seed or rice bran oil
4 cloves of garlic cloves, finely chopped
8 ounces (250 g) potatoes, peeled, and sliced into small cubes
8 ounces (250 g) green tomatoes, cores removed, sliced thickly
Method
Pour the oil into a large heavy frying pan or Dutch oven and heat to hot using a moderate-high heat setting. Add the garlic and fry for 1-2 minutes until starting to brown slightly. Then, quickly add the green tomatoes, potatoes, garam masala, salt, pepper and turmeric. Lower the heat and simmer, stirring often, for about 10-15 minutes. Pour in a cup of water and scrape the pan with a wooden spoon to loosen any browned bits. Bring the mixture to the boil over high heat and then reduce to a simmer, cover the pan, and cook for an additional 12-15 minutes, until the tomatoes and potatoes are just becoming tender. Turn off the heat, cool a little and add the cilantro, just before serving.
Spicy Curried Green Tomatoes Recipe
Ingredients
1 onion, finely chopped
1 garlic clove, finely chopped
2 cups green tomatoes, roughly chopped
1 tablespoon rice bran or grape seed oil
1/2 teaspoon salt, more or less to taste
1-2 teaspoons fresh ginger, finely chopped
1/2 teaspoon cayenne pepper powder, to taste
2 tablespoons chopped cilantro leaves, roughly chopped
1/2 teaspoon freshly ground black pepper, more or less to taste
2 teaspoons hot curry powder (or your choice of curry ingredients)
Method
Heat a heavy frying pan, or Dutch oven over moderate heat. Add the oil when the pan is hot and when the oil starts to shimmer, add the chopped onions, ginger, garlic and 1/2 teaspoon of salt . Fry the mixture while stirring frequently until the onions become translucent (about 5-6 minutes). Add the chopped green tomatoes and cook for several minutes. Then, mix in the curry powder, cayenne pepper and season as required with slat and pepper. Fry for about 3-4 minutes, stirring often. Do not overcook. You want the green tomatoes to be firm, not mushy. Cool a little and then add the chopped cilantro leaves and serve hot or warm with rice or bread.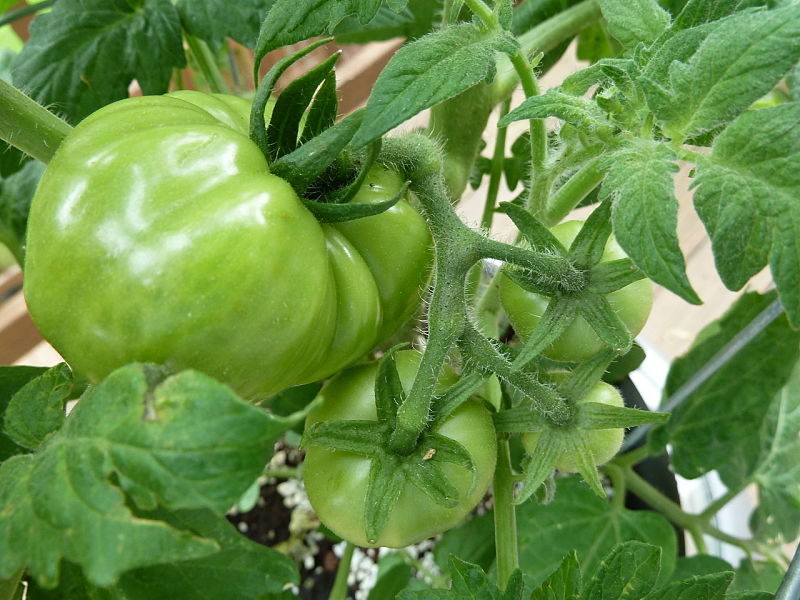 Source:
Chris Haines [CC BY-SA 3.0], via Wikimedia Commons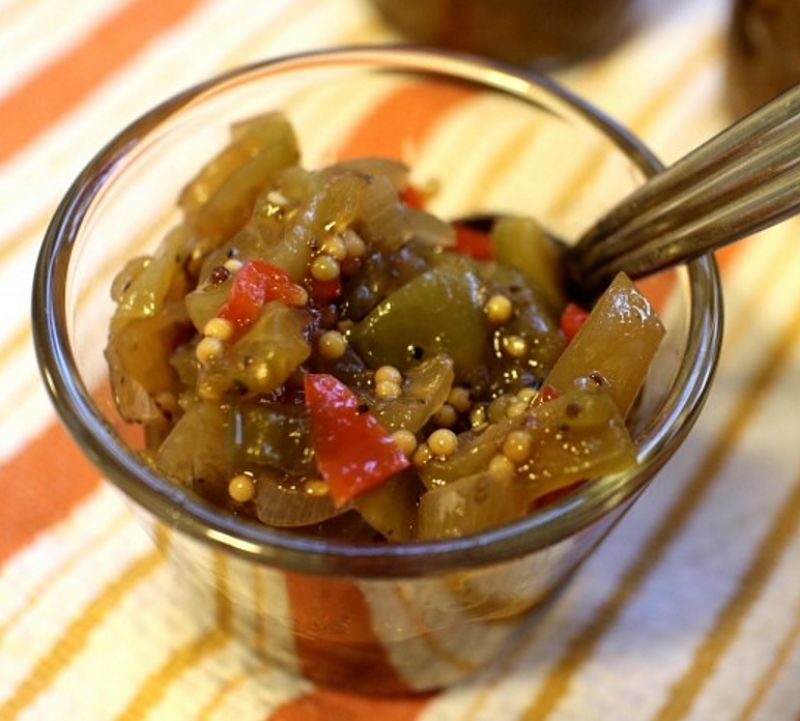 Source: Original Image - John Anderson 2016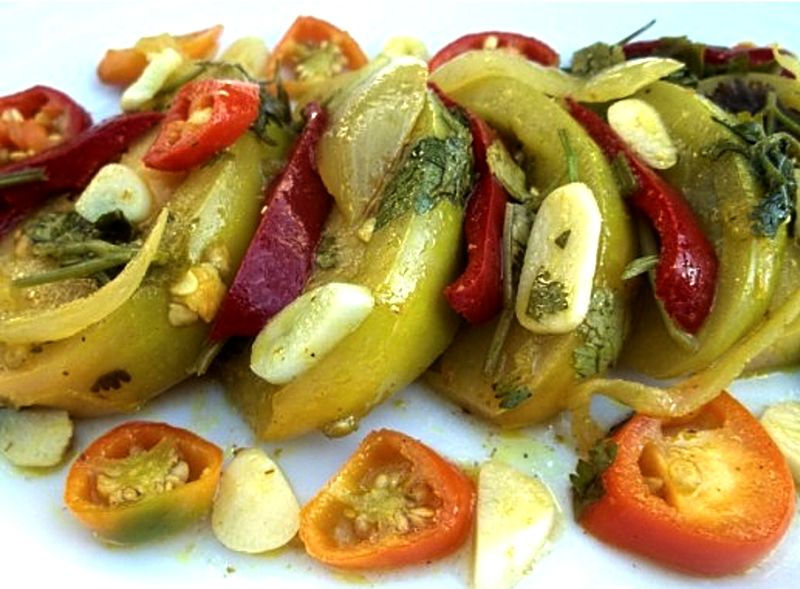 Source: Original Image - John Anderson 2016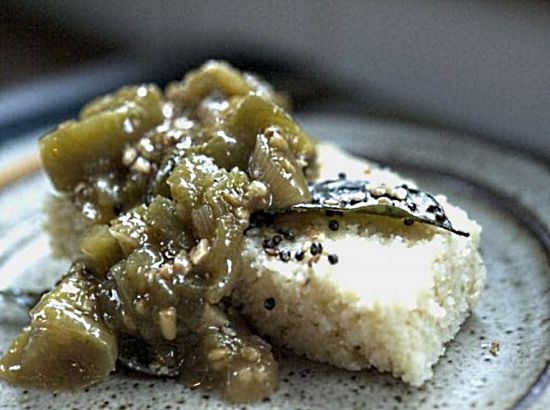 Source: Original Image - John Anderson 2016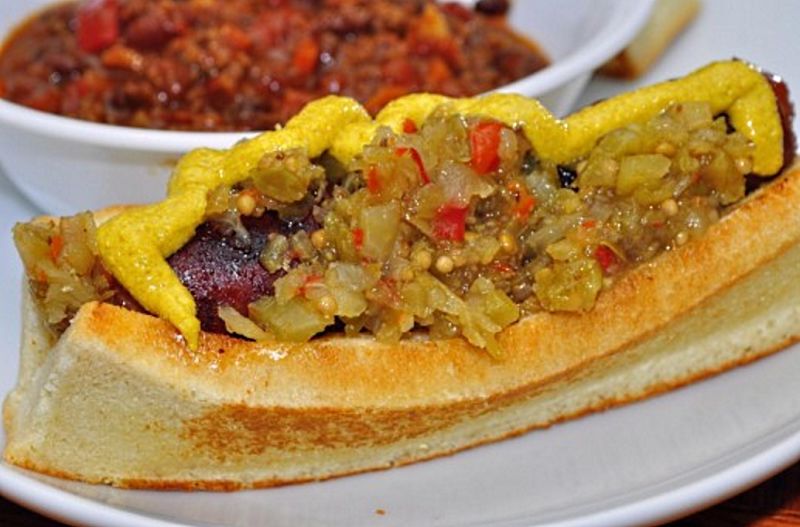 Source: Original Image - John Anderson 2016
Source: Original Image - John Anderson 2016