Best Ways to Use Fresh Herbs - Great Recipe and Use Ideas for Basil, Parsley, Coriander, Cilantro
Fresh herbs add so much zing to the aroma and taste of even the simplest meals - much more than dried herbs. The herbs you grow yourself and pick just before using are the best of the best, but fresh herbs can be bought at supermarkets and farmers markets that are generally OK.
Make sure there is no sign of wilting or browning on the leaves and herbs that have vibrant colors and lively aromas.
Always wash the fresh herbs well even if they are packaged nicely, to get rid of dirt and any chemical residues that may remain.
Tougher herbs with tiny leathery leaves like marjoram, rosemary and sage will stay alive and fragrant for 7-10 days in the refrigerator, or a couple of days at room temperature.
More delicate herbs, such as cilantro (coriander), tarragon,basil, dill and chervil, won't last as long and will require careful treatment to last more than a day or so.
Decisions about the best ways to use fresh herbs depend on what's available and what sort of dishes are appropriate for each herb.
Another consideration is nutrients. If several herbs are suitable, and two are available, it is best the use the one that is the most nutritious.
Fresh herbs can be expensive and it pays to use them wisely.
This article discussed the best ways to use fresh herbs, their nutrient data and health benefits.
It includes the herbs that are more commonly available fresh and which are easy to grow in your own garden - Basil, Parsley, Coriander, Cilantro, Marjoram, Rosemary, Sage, Tarragon, Dill and Chervil.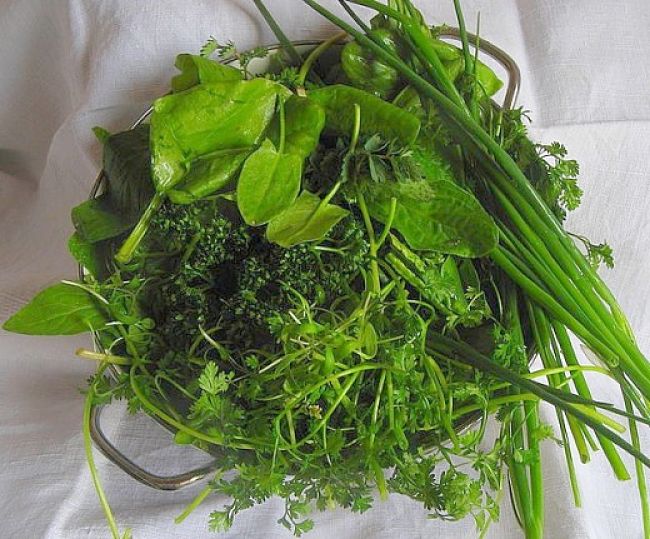 Storage and Preparation of Herbs
Only wash herbs just before you are ready to use them.
Any excess moisture left on the plants after washing tends to shortens their effective life in the refrigerator.
The best way to wash herbs and to save water is to, remove the roots and stems and then put them in a large bowl of cool water and swirl around to release grit and wash all the surfaces.
Take the herbs out and shake them dry. You can also use paper towels to dry them, but this is generally not required.
Always chop herbs with a very sharp knife or snip with sharp scissors. If the edges blacken your knife is too blunt and it is crushing rather than making clean slices.
The same applies to your blender or food processor - the blades need to be sharp. The more delicate the herb, the closer to cooking time you should chop the herbs.
When is the Best Time to Add the Herb?
The time the herb is added, and how finely you chop it or break apart, depends on both the herb and the effect you want.
If you want the herb to contribute a rounded background flavor, add finely chopped herbs at the beginning of cooking.
Strong herbs in resinous leaves like thyme, marjoram and savory do best when allowed to mellow during the cooking process.
To gently release flavor oils in a herb to a slow-cooking soup, sauce or stew, lightly crush or bruise the herb or sprig before adding it to the dish being cooked.
For a more pronounce herb flavor and aroma, chop or break the herb into large pieces and add them towards the end of cooking. For delicate herbs such as cilantro you may want to add it just before serving. The herb will retain its color, aroma and taste rather than being dissipated into the dish.
Don't be afraid to use multiple herbs for different purposes and flavors. For example you may use one herb as a general background taste and add another as a highlight when serving the dish.
Quick Guide for Using Fresh Herbs
Basil - pasta, chicken or fish, added to tomatoes and other vegetables ( Many Italian Dishes)
Burnet - salads or poultry
Chervil - salads or fish
Cilantro (Coriander) - fish, chicken, fish, pasta, salads and salsas. Widely used in Asian dishes (especially Thai curries and stir fries)
Dill - vegetables, chicken or fish
Lemon balm - fruit or fish
Mint - salads or fruits, curries and casseroles
Oregano - vegetables or pasta
Rosemary - veal, lamb, chicken or potatoes
Summer savory - vegetables or dried beans
Tarragon - chicken, vegetables, fish salads
Thyme - poultry, fish, meats, vegetables or salads
Nutrients in Herbs
The table below compares the nutrients in 100 g of the most popular fresh herbs. This is a large amount, but is done to allow comparisons. The major points are:
Lowest calories - Cilantro (coriander), Parsley and Dill
Highest protein - Thyme, Dill, Rosemary and Basil
Lowest total fat - Chili, Basil and Cilantro
Highest Dietary Fiber- Rosemary and Thyme
Best overall for Vitamins - Parsley, Dill
Best overall for minerals - Thyme, Rosemary
Best Vitamin C - Thyme, Chili, Parsley
Best G group Vitamins - Parsley, Dill
Best Vitamin B6 - Chili, Rosemary and Thyme
Best Folate - Dill, Parsley
Best Vitamin A - Dill, Parsley and Cilantro (Coriander)
Best Vitamin E - Parsley, Basil
Best Vitamin K - Parsley, Basil
Best Iron - Parsley, Dill, Rosemary
Best Magnesium - Rosemary, Thyme
Best Potassium - Dill, Rosemary, Thyme
Best Copper - Oregano, Thyme
Best Manganese - Basil, Rosemary
General Guide for Use of Fresh Herbs
Basil
Basil is a close relative to mint, and has a very strong flavor and aroma, especially when first cut. There are two main types of basil: Asian basil, and Sweet, or Genoese, basil . In Western food, basil is mostly used in Mediterranean foods like pesto and pasta sauces, since it goes so well with tomato. Asian basil has a prominent anise flavor and is commonly used in stews, stir fries, soups and curry pastes.
Cilantro (Coriander)
Cilantro, also called coriander, is one of the most popular herbs and is a staple for Asian and Latin American cooking. It is generally added to a dish at the last minute or as a garnish. The roots are also used for Thai curry paste and other dishes.
Mint (many varieties)
Mint is generally used for with sweet treats and candies. Mint has a cool, refreshing peppery and slightly spicy taste that complements many savory dishes and is popular in many dishes from North Africa and the Middle East. Fresh mint is fabulous for summer salads and many side dishes. It provides a contrast in curries.
Parsley (many varieties)
Parsley is a very versatile and widely used herb with a relatively mild, slightly peppery flavor. It is commonly used in salads, sauces and is often sprinkled over dishes just before serving, sometimes as a substitute to cilantro. Italian parsley (Flat-leaf variety) has the best flavor and texture for cooking. The common curly parsley is best used as a a garnish and to add flavor to white sauces.
Rosemary
Rosemary is a tough, woody small shrub, rather than an annual herb like many of the others. The tiny, tough green leaves have a pungent flavor and distinct aroma. The leaves are used for a wide variety of dishes such as soups, meats (especially lamb), stews casseroles and sauces. Because the flavor of the leaves is intense it is best to add the rosemary sparingly at the start of the cooking to allow the flavors to dissipate through the dish as a mild background flavor. Rosemary stalks keep well if the stems are places in a glass of water.
Thyme
Thyme is a very popular herb in European and American cooking and is very versatile. It is used to flavor virtually any kind of poultry, fish, various meats. It is also great on vegetables. To use fresh thyme, simply strip some leaves off the stems with your fingers. Thyme keeps well in the refrigerator.
Sage
Most people probably use dried sage only once or twice a year for stuffing poultry at Christmas or Thanksgiving. However, this is a shame because there are many other delicious uses for the fresh herb, particularly for dishes that include with pork, potatoes, pumpkins, pulse, peas and beans. Many people enjoy the fabulous classic sage and brown butter sauce. Use sage sparingly because the flavor, especially when using dried sage can be overwhelming
Chives
Chives add a delicate and subtle flavor similar to onion but without the acidity and bite. They also add to the appearance of a dish when added as a garnish.
Dill
The feathery fronds and leaves of the dill plant impart a pleasant anise-like flavor to soups, salads, seafood and a variety of sauces. Dill is also widely used for fish and shellfish and its delicate tastes do not overwhelm foods with gentle of soft flavors. Dill is a favorite herbs for a variety of Middle Eastern and European dishes.
Oregano

Oregano has a pungent taste and aroma and is popular in many Mexican and Mediterranean and Mexican dishes. It is more widely available as a dried herb. It is popular for sprinkling on vegetables, fish and poultry dishes. It is also widely used for Foccacia and other breads and baked goods.
| Serving 100 g | Basil | Chili | Cilantro Coriander | Dill | Parsley | Rosemary | Thyme | Oregano |
| --- | --- | --- | --- | --- | --- | --- | --- | --- |
| Calories (Cal) | 19 | 40 | 25 | 45 | 26 | 118 | 83 | 72 |
| Protein (g) | 3.21 | 1.87 | 2.25 | 3.37 | 2.89 | 3.24 | 5.42 | 2.4 |
| Total Fat (g) | 0.57 | 0.44 | 0.5 | 1.12 | 0.79 | 5.88 | 1.67 | 2.4 |
| Total Carbs (g) | 2.64 | 8.8 | 3.75 | 6.97 | 6.32 | 20.59 | 24.58 | 10 |
| Dietary Fiber (g) | 1.89 | 1.56 | 2.5 | 2.25 | 2.63 | 14.71 | 12.5 | 4 |
| Sugar (g) | 0.38 | 5.29 | 0.75 | | 0.79 | | | 0 |
| Vitamins | | | | | | | | |
| Vitamin C (mg) | 18.87 | 143.78 | 27.5 | 85.39 | 134.21 | 20.59 | 158.33 | 5 |
| Thiamin (mg) | 0.04 | 0.07 | 0.08 | 0.07 | 0.08 | 0.03 | 0.04 | 0.04 |
| Riboflavin (mg) | 0.08 | 0.09 | 0.15 | 0.29 | 0.11 | 0.15 | 0.46 | 0.18 |
| Niacin (mg) | 0.91 | 1.24 | 1.13 | 1.57 | 1.32 | 0.91 | 1.83 | 1 |
| Pantothenic Acid (mg) | 0.21 | 0.2 | 0.58 | 0.4 | 0.39 | 0.79 | 0.42 | 0.4 |
| Vitamin B6 (mg) | 0.15 | 0.51 | 0.15 | 0.18 | 0.08 | 0.32 | 0.33 | 0 |
| Folate (mcg) | 75.47 | 22.22 | 50 | 157.3 | 157.89 | 117.65 | 41.67 | 27 |
| Vitamin B12 (mcg) | 0 | 0 | 0 | 0 | 0 | 0 | 0 | 0 |
| Vitamin A (IU) | 5283 | 951 | 6750 | 7708 | 8421 | 2912 | 4750 | 690 |
| Vitamin E (mg) | 0.75 | 0.69 | 2.5 | | 0.79 | | | 2 |
| Vitamin K (mcg) | 415.09 | 14 | 310 | | 1639.47 | | | 62 |
| Minerals | | | | | | | | |
| Calcium (mg) | 169.81 | 13.33 | 75 | 202.25 | 131.58 | 323.53 | 416.67 | 158 |
| Iron (mg) | 3.21 | 1.02 | 1.75 | 6.52 | 6.32 | 6.76 | 17.5 | 0 |
| Magnesium (mg) | 56.6 | 22.22 | 25 | 44.94 | 52.63 | 88.24 | 166.67 | 27 |
| Phosphorus (mg) | 56.6 | 42.22 | 50 | 67.42 | 52.63 | 58.82 | 125 | 20 |
| Potassium (mg) | 301.89 | 322.22 | 525 | 741.57 | 552.63 | 676.47 | 625 | 167 |
| Sodium (mg) | 0 | 8.89 | 50 | 67.42 | 52.63 | 29.41 | 0 | 2 |
| Zinc (mg) | 0.75 | 0.27 | 0.5 | 0.9 | 1.05 | 0.88 | 1.67 | 0.44 |
| Copper (mg) | 0.38 | 0.13 | 0.23 | 0.13 | 0.16 | 0.29 | 0.54 | 0.94 |
| Manganese (mg) | 1.15 | 0.19 | 0.43 | 1.26 | 0.16 | 0.97 | 1.71 | 0.47 |