Best Wonton Soup Recipes - Easy to Make Homemade Won Tons
Like most foods, making your own won tons is better than buying ready-made ones, because you can control the ingredients and the taste. Homemade wonton soup is much healthier than using frozen options or prepackaged wonton soups.
The won ton skins are widely available and are just perfect for the job. They have perfect thickness, size, moisture content and texture. Meat is the foundation of most fillings and you can use beef, chicken, duck, fish, pork, shrimp, scallops or any combination. The meat should be fresh, lean and of high quality.
You can add garlic, ginger, sesame oil, chilies, herbs and leafy green vegetables to the filling along with spices and flavors you like.
There are many options for cooking won tons including steaming, boiling and frying. They can also be served in a traditional wonton soup or broth.
This article shows you how to make won tons at home using a stunning collection of the best ever recipes.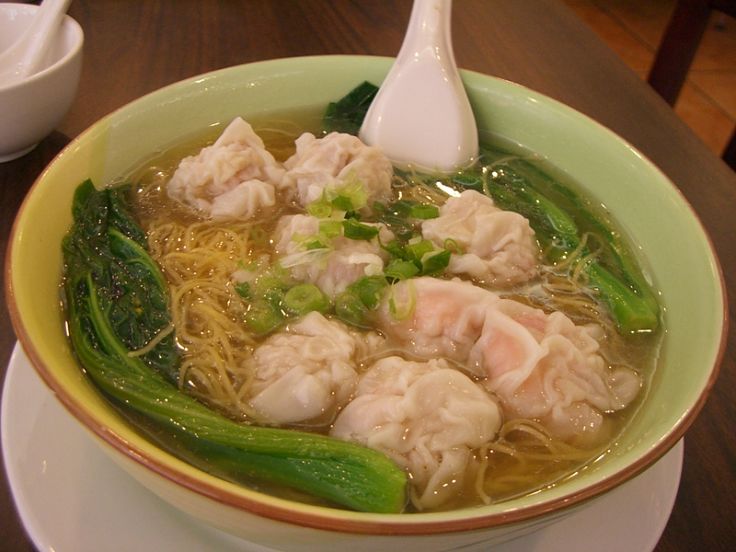 Pork and Shrimp Wontons Recipe with Ginger, Chilies Garlic and Herbs
Ingredients
1 tablespoon sugar
1 small egg, beaten
1 tablespoon soy sauce
Cornstarch for dusting
Red pepper oil (optional)
2 cloves garlic, finely chopped
1/2 pound (250g) lean pork, ground
8 ounces (250g) baby spinach leaves
1 tablespoon finely grated fresh ginger
3/4 cup chopped scallions, finely chopped
2 serrano chilies, finely chopped (or similar)
1/2 cup fresh cilantro (coriander), finely chopped
1 teaspoon spicy Chinese bean paste (or chile paste)
8 cups good quality chicken broth (homemade preferred)
1 tablespoon sweet rice wine (Shaoxing wine , use sherry
36 wonton skins, about 3 by 3 inches (7 by 7 cm) in size
1/2 pound (250g) fresh shrimp, peeled, with veins removed and chopped
Salt and pepper
Method

Place the chopped shrimp and ground pork into a chilled mixing bowl. Season with pepper and salt and mix well. Add scallions, serrano chilies, bean paste, garlic, ginger, sugar, soy sauce and rice wine. Mix well and set aside for 30-60 minutes, longer if you have time.

Remove the wontons in batches from the packaging and spread them out on a dry bench or chopping board. Place about one teaspoon of filling in the center of each skin. Brush the edges of each square with beaten egg. Gently fold one side over the opposite, pinching edges together to make a folded rectangle. Next, draw the corners in and pinch together to make the classic curved wonton shape. Place the wontons about 1 inch (2.5 cm) apart on a tray or baking sheet. Sprinkle the wontons with cornstarch and place in the fridge (uncovered) until you are ready to cook them.

Prepare the large individual serving bowls by adding about 1 tablespoon of spinach leaves and 2 tablespoons cilantro to each bowl. Heat the chicken broth and add the spices you like. Bring a large pot of salted water to the boil to cook and cook the won tons in batches of 10 at a time, cooking each batch for about 2 minutes (check to see if this timing is working as you don't want them overcooked. Remove the cooked wontons, set aside and continue with another batch of 10, until they are all cooked.

To serve, add 3-4 wontons to each bowl and pour about 1 1/2 cups hot broth into each bowl. Drizzle with red pepper oil, or chile flakes if desired.
Chicken and Vegetables Wonton Soup Recipe
Ingredients
16 wonton wrappers
2 teaspoons cornflour
1 garlic clove, crushed
1/2 small carrot, chopped
1/2 small zucchini, chopped
1 1/2 tablespoons soy sauce
4 cups salt-reduced chicken stock
2 button or white mushrooms, finely chopped
2 teaspoons fresh chives, finely chopped
5 oz (150g) high quality, low-fat chicken mince
chopped fresh chives or spring onions, to serve
One large piece fresh ginger, peeled and chopped
Method

Place 2 cups cold water, 1 tablespoon soy sauce, ginger and stock in a large saucepan and heat to boiling using moderate heat. Then reduce the temperature to a gentle simmer.

Meanwhile. mix the remaining soy sauce, garlic, chives, mushroom, zucchini, carrot, cornflour and chicken mince in a small bowl.

In batches of 5-10, spread the wonton wrapper out on a clean dry surface. Place one heaped teaspoon on the mixture into the center or each square. Brush the edges with water or beaten egg. Fold up the sides to form a pouch and then pinch to shape and enclose. Repeat with the remaining shells and mixture.

Add the wontons to simmering stock mixture. Cook, by simmering uncovered for 5-7 minutes, until the wontons start to float. Test one to ensure the filling is cooked cooked through and float to the surface. Using a slotted spoon, transfer a serving of wontons to each of the serving bowls. Top with the stock mixture. Sprinkle with chives and serve hot.
Clear Mushroom and Prawn Wonton Soup with Spinach
Ingredients for the Soup
1/2 cup soy sauce
sesame oil, for serving
1 shallot, finely sliced
one large piece of ginger, finely sliced
Cooked prawn and mushroom wontons (see below)
2 liters (8 cup) good quality, low-fat chicken stock
1 bunch water spinach (kang kong; or baby English spinach), cut into short lengths
Ingredients for the prawn and mushroom wontons
1 teaspoon sesame oil
1 egg, lightly beaten
4 shallots, finely chopped
1 tablespoon grated ginger
1 packet of wonton wrappers
1 tablespoon shao shin wine (or sherry)
24 medium green prawns, shelled, veins removed and chopped
4-6 medium sized dried shiitake mushrooms, soaked in hot water, drained and then finely chopped
Method

Heat the ingredients for the chicken broth in a saucepan, except for the spinach, which should be added to the serving bowls just before serving

Make the prawn and mushroom filling by combine all ingredients in a bowl. Cover and refrigerate overnight to fully develop the flavors. Spread the wonton wrappers out add 1 heaped teaspoon of filling. Moisten the edges with water, then fold and shape into the preferred form. Heat a large volume of water in a pan to boiling. Reduce to a simmer, and then boil the wontons for about 4–5 minutes, then remove with a slotted spoon.

Divide the wontons between the bowls. Pour in the chicken broth, add a few drops of sesame oil. Then top with a serving of spinach leaves and other herbs if desired. Mix and then serve hot.
Related Soup Articles and Recipes
=>10 Best Vietnamese Pho Soup Recipes
=> Best Easy Homemade Stock Recipes for Soups, Stews, Curries and Drinks
=> Best Spicy Shrimp, Fish and Seafood Soup Recipes - Hot, Sweet and Sour Flavors
=> Best Vegan Vegetable Soup and Stew Recipes Showcasing a Wealth of Vegetable Tastes and Textures
=> New Summer Blended Gazpacho Soup Recipes Made Without Bread
=> Quick and Easy Soup Recipes Made with Whole Foods
=> Seafood Chowder Soup Recipes - Homemade, Simple, Tasty