Bibimbap Korean Recipes - Sizzling Meat, Crisp Vegetables, Tasty Sauces
Bibimbap, along with Korean barbecues are probably the best known and loved Korean dishes. Bibimbap is a traditional 'mixed rice dish in a stone bowl'. It consists of hot steamed rice, fresh and fermented vegetables and herbs, sizzling grilled or stir-fried meat, and is topped with raw egg yolks and a sauce.
The hot rice cooks the egg yolks, which are blended with the other ingredients when the dish is eaten. In some ways it resembles a Korean barbecue, served with rice in a bowl, which often features fermented and fresh vegetables.
Bibimap is very versatile and you can make endless variations to suit your taster preferences and availability of ingredients. The meat can be beef, pork or chicken. Various sauces can be used. Seafood is another option.
You can substitute fresh stir-fried vegetables with added vinegar to create the taste of traditional Korean fermented vegetables. Traditional versions of Bibimbap are served with raw beef and egg yolk, but many people prefer to cook the meat and let the egg yolk cook on the steaming rice.
The simplified recipes are almost as good and the authentic recipes, especially with traditional Korean sauces which you can buy or make yourself.
The color and texture variations of Bibimap are simply stunning and so attractive.
The various ingredients are traditionally aligned in a circle in a flat wide serving dish (stone or ceramic) so diners can choose to pick the combinations they want from their serving bowls.
Try one of the simple bibimbap recipes shown below to enjoy this delightful and healthy dish at home with family or friends.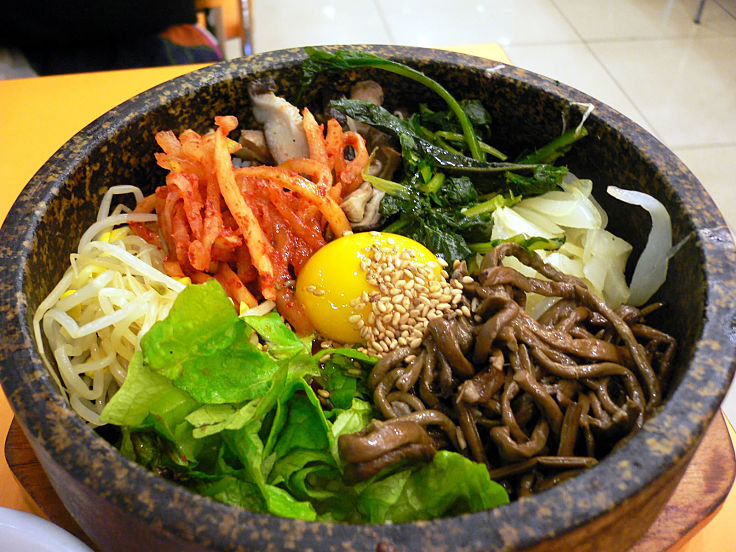 Simple Korean Bibimbap Recipe with Grilled or Barbecued Marinated Beef
Ingredients
For the beef
1/3 cup dark soy sauce
Freshly ground black pepper
2 1/2 tablespoons brown sugar
1 clove garlic, finely chopped
1/2 teaspoon of red pepper flakes
1 teaspoon fresh ginger, finely chopped
2 teaspoons rice bran or grape seed oil
1/4 cup grated red onion (sweeter varieties)
1/4 cup apple based sauce or homemade Korean sauce
2 pounds (1 kg) rib-eye beef steak without the bone cut into strips
For the vegetables and rice
Salt and pepper to taste
4 cups fresh bean sprouts
6 cups cooked white rice, hot
1 teaspoon apple cider vinegar
4 large egg yolks (free range eggs)
2 scallions, finely sliced, diagonally
1/4 cup kimchi, thinly sliced or chopped
3 tablespoons rice bran or grape seed oil
4 cups shredded or finely chopped carrots
2 cups thinly sliced red cabbage or similar vegetable
1 pound shiitake (500 g) or other mushrooms, thinly sliced
4 to 6 tablespoons Korean gochujang (fermented chile paste) or similar
1 bunch spinach, stemmed and chopped ( other other similar green leafy vegetable
Method
Marinade the beef in a bowl in the refrigerator with the ingredients listed above, for about 60-90 minutes. Squeeze the beef to remove excess marinade. Stir-fry, grill or barbecue the beef medium-high heat in batches, browning the sides, while leaving the interior pink. Set aside on a plate covered with foil. Heat a tablespoon of oil in a large skillet or wok until it just starts to smoke. Stir fry the carrots, mushroom, spinach and other vegetables separately to ensure each ingredient is just cooked. Then transfer all the vegetables into the wok and add the vinegar until the liquid is just evaporated. This recreates the taste of fermented vegetables. To serve add hot rice to each bowl. The rice must be piping hot to cook the egg yolks. Reheat the beef and vegetables so they are sizzling. Add servings of the beef, vegetables and other ingredients to each bowl. Add a dollop the gochujang dissolved in a little hot water. Drop the egg yolks on top of the food in the dish. Serve immediately, while the rice is still hot and the beef is sizzling. Your dinner guests will stir to combine the ingredients before eating.
Minced Beef Bibimbap with Homemade Sesame Sauce
Ingredients
For the Meat and Marinade
1 tablespoon soy sauce
1 tablespoon sesame oil
100 g (3.5 oz) beef mince
1/4 teaspoons minced garlic
1 teaspoons sugar – I used brown sugar
1 teaspoon of chili, finely chopped
For the Vegetables
100 g 3.5 oz) shiitake mushroom
350 g (12 oz) washed bean sprouts
Korean fermented vegetables (if available)
Other vegetables and fresh herbs (optional)
120 g (4 oz) carrots, thin sliced diagonally
Korean seasoned seaweed, shredded (optional)
2 teaspoons of salt - for seasoning the vegetables
2 tablespoons of rice bran or grape seed oil for frying
200 g (7 oz) spinach (baby spinach or Chinese green vegetables)
For Serving
3 or 4 free range eggs
3 to 4 servings of hot steamed rice

For the Bibimbap sauce
1 tablespoon water
2 tablespoons gochujang
1 tablespoon raw sugar
1 tablespoon sesame oil
1 tablespoon roasted sesame seeds
1 teaspoon garlic, finely chopped
1 teaspoon vinegar (apple vinegar or Chinese)
Method
Mix the beef mince with the marinade ingredients, listed above, and set aside in the refrigerator for 30 minutes. Cook the mince in a wok using a very high temperature (about 3-5 minutes) Add some vegetable oil into a wok and cook the meat on medium high to high heat. Stir fry the vegetables and mushrooms until just cooked or wilted. Fry the eggs for serving sunny side up with the yolks still runny. Combine the sauce ingredients in a small bowl. Will all the ingredients piping hot, add some rice to a bowl and add the ingredients in a circle with the egg on top. Drizzle the sauce over the dish and serve.
Simplified Bibimbap Recipe with Easy to Find Ingredients
Ingredients
4 free range eggs
2 teaspoons sesame oil
2 teaspoons caster sugar
2 tablespoons peanut oil
1 tablespoon sesame seeds
2 brown onions, thinly sliced
2 tablespoons light soy sauce
120 g (4 oz) baby spinach leaves
2 carrots, sliced into matchsticks
1 1/2 cups Japanese Style Sushi Rice
5 dried shiitake mushrooms (or similar
2 teaspoons fresh ginger, finely grated
2 garlic cloves, crushed or finely chopped
700 g (1 1/2 lb)) beef eye fillet, thinly sliced diagonally
1 large Lebanese cucumber (or similar), sliced into matchsticks
For the Sauce
2 teaspoons sugar
1/4 teaspoon sesame oil
1/3 cup hot chilli sauce
Method
Combine all the sauce ingredients in a bowl and mix well. Marinate the beef in a bowl with the soy sauce, onion, sugar, garlic, ginger and sesame oil. Set aside in the refrigerator for 20-30 minutes to marinate. Put the mushrooms in a bowl and just cover with boiling water. Set aside for about 15-20 minutes until they soften. Then, drain the mushrooms well and slice thinly. Steam the rice and keep hot. Toast the sesame seeds in a dry frying pan over medium heat for 5 minutes. Barbecue or stir fry the beef in batches, but do not overcook. Stir fry the spinach until it just wilts. Lightly fry the eggs. To serve, add hot steaming rice to the bowls and add small servings of the ingredients arranged in a circle around the eggs. Sprinkle with sauce and serve hot.