Boneless Pork Loin Roast Recipes - Oven, Slow Cooked, Grilled, BBQ
Pork sirloin roasts are often cooked bone in, but the bone makes the roast difficult to carve. Is it better to choose boneless pork sirloin?
Boneless pork sirloin is much more versatile and can be roasted in the oven, slow cooked, grilled or barbecued and is easier to carve.
The boneless pork loin also takes less time to cook and can be flavoured more easily with various spices, rubs and marinades.
This article provides tips for cooking boneless pork loin and a set of fabulous recipes for each of the cooking methods.
There are also recipes for marinades, rubs, brines and glazes to enhance the flavor of the pork loin.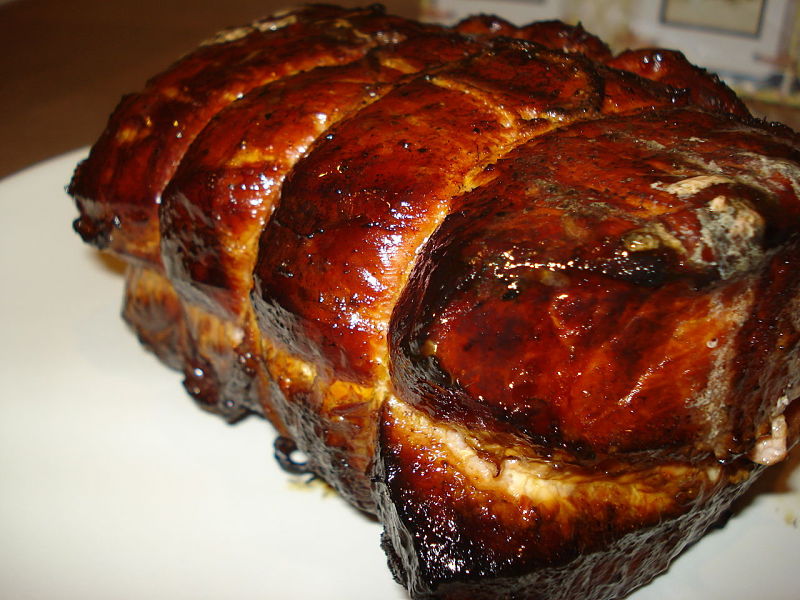 Choosing a Pork Loin Cut
Look for a lean center cut or top pork loin without the bone has about 130 calories per 4 oz (115 g) serving, 5g of fat, 2 g of saturated fat and 45 mg of cholesterol. Pork tenderloin has even less fat. Pork top loin roast has 147 calories per 4 oz (115 g) serving, 5.3 g of fat, 1.5 g of saturated fat and only 68 mg of cholesterol.
Cooking Warnings and Safeguards
As with any pork meat you have to meet minimum heating requirements or avoid the risk of parasites. Pink cooked meat is fine as long as juices visible in or around the meat should be clear and never be reddish or pink. Always use a meat thermometer and ensure that it registers a minimum of 145 degrees F (65 degrees C) in the thickest area for a minimum continuous time of 1-5 minutes.
Adding Flavor to Pork Loin Before Cooking
There are many fabulous ways to boost and enhance the flavor or pork loin and to increase its tenderness by brining, glazing, marinating or using various dry rubs. Detailed recipes and instructions are provided in the recipes at the end of the article.
Marinating Pork Loin
Marinades can be as simple as olive oil, lemon juice and garlic. There are many great marinade recipes available such as teriyaki marinade. The best way is to mix the marinade and add it to a plastic bag with the pork. Toss to coat all sides and then seal the bag and leave overnight. You can reuse the marinade as a sauce but it must be brought to the boil in a small saucepan and simmered for 5-10 minutes to make it safe. Otherwise you may contaminate the meat with bacteria or parasites.
Marinade Recipe 1
3 tablespoons Dijon honey mustard
1 clove garlic, minced
1/4 cup soy sauce
1/4 cup olive oil
salt and pepper to taste
Combine all the ingredients and transfer to a plastic bag, add the pork, seal and marinate in the refrigerator for several hours or overnight.
Marinade Recipe 2 (with Herbs)
2 teaspoons Dijon mustard
1 tablespoon fresh thyme leaves, finely chopped
1 1/2 tablespoons fresh rosemary leaves, finely chopped
2 tablespoons minced or finely chopped garlic (6 cloves)
Extra Virgin olive oil
3/4 cup freshly squeezed lemon juice (4 to 6 lemons)
zest of one lemon, grated
Salt and Pepper to taste
Dry Rub Preparation for Pork Loin
Dry rubs are very popular, particularly for barbecued and grilled pork. There are many pork rub recipes that use a wide variety of spices, ground herbs and fresh herbs such as basil, coriander (cilantro) and parsley. The dry rub can be applied well before cooking and even after using a brine marinade .
Dry Rub Recipe 1
Salt and pepper
1 teaspoon dried thyme
1 teaspoon ground coriander
1 teaspoon ground cumin
1 teaspoon dried oregano
1 teaspoon garlic powder
Mix all the dry ingredients well. Sprinkle the rub over the pork, pressing gently so the seasoning adheres well to the tenderloin. You may need a little oil or greasing spray to help the rub adhere to the pork, covering all sides.
Dry Rub Recipe 2
4 teaspoons kosher salt
1/2 teaspoon freshly ground black pepper
1 teaspoon dried thyme or sage leaves
1 bay leaf, crushed
1/4 teaspoon ground allspice
2 cloves garlic, minced or put through a press
Dry the pork well with paper towels. Mix the all the ingredients together on a small bowl and rub into the outer layer of the pork. Place in a covered dish and leave the refrigerator to marinate for at least 6 hours or overnight.
Brining Pork Loin
Brining is used to enhance the tenderness and juiciness of the pork loin. The piece of pork is soaked in saltwater with added spices and sugar in the refrigerator. Spices and herbs added to the brine enhance the flavor of the pork.
Pork Brine Recipe 1
1/2 teaspoon red pepper flakes
1 tablespoon freshly ground black pepper
2 teaspoons dried rosemary
3 tablespoons chopped fresh ginger
3 cloves garlic, crushed
1/3 cup maple syrup
1/4 cup salt
1 quart (2 litres) cold water
Mix all the ingredients in a large bowl. add the pork loin piece and set aside in the refrigerator for 8 -10 hours.

Pork Brine Recipe 2 (includes a spice rub)
For the Brine
1/4 cup wine vinegar
1/4 cup sugar
1/4 cup kosher salt
3 1/2 cups water
Other Ingredients
2 teaspoons olive oil
2 garlic cloves, minced
1 teaspoon chopped fresh thyme
1 teaspoon chopped fresh sage
1 teaspoon freshly ground black pepper
2 teaspoons sugar
2 tablespoons paprika
1 (1 1/2-pound) pork tenderloin, trimmed
1 cup ice cubes
Cooking spray
Combine the brine ingredients in a large bowl and mix to dissolve the sugar and salt. Pour salt mixture into a large bowl or a large plastic bag. Add ice and pork; seal or cover the bowl. Refrigerate for about 3 hours, turning the pork several times.
Combine the paprika and the remaining ingredients. Remove pork from bag or bowl, and discard the brine. Dry the pork with paper towels. Brush oil evenly all over pork and rub with paprika spice mixture. Place pork on grill rack with the temperature set to medium-high and grill both sides of the pork for about six minutes, browning on all sides. Turn the heat down to low and grill the pork for an additional 20 minutes. Test with a meat thermometer, and aim for an internal temperature of 155 degrees F(70 degrees C) (slightly pink). Turn the pork several times during the slow cooking stage.
Glazing Pork Loin
Adding a glaze to a partially cooked pork loin added a delightful flavor to the external surface.

Pork Loin Glaze Recipe 1
3 tablespoons balsamic or cider vinegar
2 teaspoons Dijon mustard
2 tablespoons flour
1 1/2 cups light brown sugar, packed
Mix all ingredients and brush on the pork when half-cooked
Pork Loin Glaze Recipe 2 (Blackberry and Jalapeno)
1 or 2 jalapenos, roasted, seeded and minced
1/2 teaspoon cornstarch
1/2 cup blackberry preserves, with seeds removed
1 1/4 cups red wine
1 tablespoon unsalted butter
1 tablespoon chopped garlic
Melt the butter in a saucepan over medium to high heat. Add the garlic and jalapenos and sauté for about 3 - 4 minutes. Mix in one cup of wine and the blackberry preserves. Simmer until the mixture reduces to about a half. Add the cornstarch to the 1/4 cup of red wine in a small bowl, mix well and add to the pan. Cook for and additional 5-6 minutes
Pork Loin Glaze Recipe 2 (Lime and Ginger)
1/2 teaspoon pepper
2 cloves of garlic , finely minced
2 tablespoons of finely minced ginger root
1 small onion , finely diced
3 tablespoons of lime juice
2 teaspoons of grated lime rind
1/4 cup (60 ml) liquid honey
1/4 cup (60 ml) soy sauce
Mix all the ingredients in a small bowl. Brush on the pork when about half-cooked.
Pork Loin Recipes
Grilled or Barbecued Pork Sirloin Roast
Brine the pork using one of the recipes above. Remove the pork from the brine, rinse and dry thoroughly. Set aside to warm to room temperature before grilling or barbecuing. Prepare the grill for barbecue for indirect heat. Place the pork on the grill set on high and cook for about 5 minutes, then reduce the heat to medium and cover. Cook the pork for about 15 minutes per pound (500g). Test for doneness with a meat thermometer (155 degrees F (70 degrees C). When cooked remove the pork to rest for 15 minutes before carving and serving
Traditional Roasted Pork Loin
Preheat your oven to 375 degrees F (190 degrees C). Make a seasoning mix with your favorite fresh herbs, seasonings with a tablespoon of olive oil in a in a small bowl. Use a sharp knife to make several deep hole lengthwise through the pork loin. Add the herb and oil mixture to the cuts. Season the outside of the roast with the same herb mixture. Heat 2 tablespoons of olive oil in a large frying pan. Heat to medium-high temperature and brown the roast on all sides. Transfer the browned roast to the oven (preheated) and roast until the inside of the pork reaches a temperature of 155 degrees F (70 degrees C). Allow to rest for 15-20 minutes before serving.
Pork Loin Rubbed and Grilled
1/2 teaspoon ground coriander
1/2 teaspoon ground cumin
1/2 teaspoon chili powder
1 teaspoon ground black pepper
1 1/2 teaspoons garlic salt
1 1/2 teaspoons onion salt
2 teaspoons paprika
2 teaspoons granulated sugar
1 teaspoon olive oil
1 (4 pound; 2 kg) pork top loin roast, with bone removed
Mix all the dry ingredients together, Dry the pork well and then rub the spices mix all over the pork. Prepare the grill or barbecue so that there are areas of medium high direct heat and cook quickly for about 10 minutes, browning each side. Move the pork to the area with indirect heat. Cook, covered for about 80 minutes. Test for doneness and remove when the temperature inside the thickest part reaches 145 degrees F (63 degrees C). Rest for 15 minutes before serving.
Pork Loin and Beans – Slow Cooked
1/2 teaspoon salt, or to taste
1 large can (20 ounces) pork and beans
1 cup barbecue sauce
1 can (15 to 16 ounces) lima beans or baby limas, drained
1/2 cup water
1 can (15 to 16 ounces) black beans, drained
1 large onion, chopped
seasoned salt or barbecue seasoning blend
1 boneless pork loin roast, about 3 to 4 pounds (2 kg)
dash ground black pepper
Rub the pork roast all over with the barbecue seasonings or seasoned salt. Add to the crockpot with the onion and water. Cover the pot and cook on a low setting for 6 hours. Remove the liquid and then add beans, 1/2 teaspoon of salt, barbecue sauce and pepper. Cook for and additional 2 - 3 hours.
Pork Loin with Brown Sugar – Slow Cooked
1/4 teaspoon cinnamon
1 tablespoon balsamic vinegar
salt and pepper
1 1/3 cups brown sugar, divided
1 tablespoon Dijon mustard
2 cloves or garlic, separated
1 boneless pork loin roast, 4 to 6 pounds (2 to 3 kg)
Trim any excess fat from the pork, then wash and pat dry with paper towels. Rub all over with the garlic halves. Sprinkle with salt and pepper, then using a fork or skewer, prick the pork roast all over. Combine 1 cup of the brown sugar, the vinegar and mustard in a small bowl. Rub all over all side of the roast. Transfer to a crockpot, cover and cook on a low setting for about 8 hours. When cooked, drain off the excess liquid. Mix the remaining 1/3 cup brown sugar with the cinnamon. Apply the mixture to the top of the roast and rub it. Cover and finish the cooking on a low setting for an extra 60 minutes.
Pork Pot Roast with Cider and Allspice
2 tablespoons cider vinegar
2 cups natural apple juice or cider
1 teaspoon dried thyme or marjoram or similar spice, to taste
1 teaspoon chili powder
1/2 teaspoon allspice
1/8 teaspoon pepper
1/2 teaspoon salt
2 cloves garlic, minced
4 to 6 carrots, cut in 1-inch pieces
1 boneless pork sirloin or shoulder roast, about 3 1/2 to 4 1/2 pounds
2 medium onions, halved and sliced
Place the onions in a layer on the bottom of the slow cooker. Add the pork roast and place the carrots around the roast. Sprinkle the roast with the garlic, allspice, salt, pepper, chili powder, thyme or marjoram. Mix the apple juice and vinegar and pour over the roast. Cover and cook on a high setting for about 60 minutes. Reduce the heat to a low setting and cook for another 6 to 8 hours longer. Remove the liquid, place in a saucepan, heat and thicken with the flour, dissolved in a little water. Serve the liquid as a gravy for the pork.