Carne Guisada Slow Cooked Beef Stew with Tomatoes, Spices, Potatoes
Carne Guisada is a lovely Mexican beef stew, simmered with tomatoes, onions, cumin, chillies, spices, carrots and potatoes.
Slow cooking the dish ensures the meat is very tender and the flavors are combine and intensified right through the dish. It has a thick gravy and can be eaten with tortillas, rice break and by itself as a main meal. It keeps well in the refrigerator and tastes better the second time.
You can use cheaper cuts of meat such as chuck roast and gravy beef, but look for flavor without gristle and fat. it is worth spending a few extra dollars to get a good cut of meat that you and your family will enjoy, even if you use less of it.
This dish can be very time consuming as it requires 30 minutes of conventional cooking followed by 5-6 hours of slow cooking in a crock pot or on the stove using very low heat.
This is a beautiful thick, rich and spicy stew that the whole family or your dinner guests will enjoy.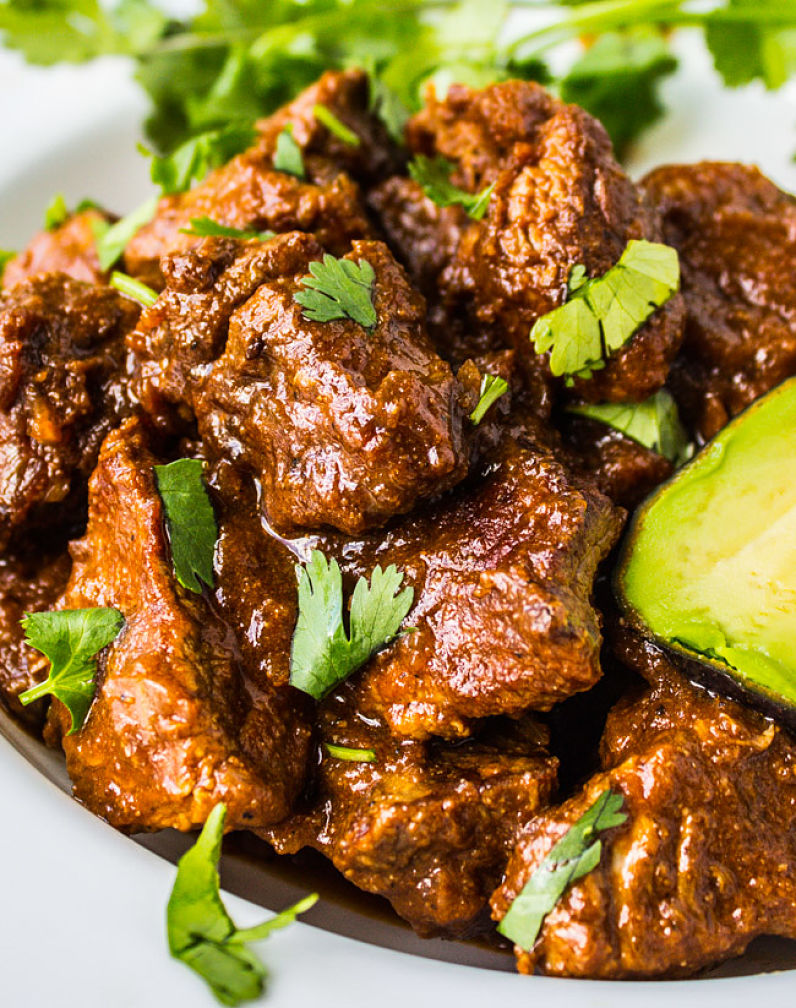 Classic Carne Guisada Recipe
Ingredients
1/2 cup flour
2 cups chicken broth
1 bell pepper, chopped
salt and pepper to taste
1 teaspoon dried oregano
1 tablespoon ground cumin
2 tablespoons vegetable oil
2-3 medium tomatoes, chopped
6 cloves of garlic, finely chopped
1 cup onion chopped (white or brown)
1/2 lb (250 g) carrots (peeled if necessary)
1 jalapeno pepper, seeded and chopped finely
1 pound (500 g) potatoes (washed with skins on or peeled)
2 teaspoons chili powder or fresh chili, finely chopped
2 1/2 lb (1.25 kg) beef chuck roast (or similar flavor intense beef that is best slow cooked)
Method
Cut the meat into bite sized pieces after removing the fat. Season with pepper and salt and pepper and then brown all sides in a medium size pan with one tablespoon of oil heated on medium. Transfer the meat to a 5-6 quart (4-5 litre) slow cooker or a Dutch oven. Add the remaining oil to the pan used to brown the meat

Then add spices and flour, and stir to combine and pour in the chicken broth. Scrape the base of the skillet to extract the brown it and mix well for 1-2 minutes. Then pour the sauce over the meat in the slow cooker or Dutch oven. Place a lid on the pan and cook for 4 1/2 hours on low heat. Place the sliced carrots and potatoes in the pan and cook for the remaining 1 1/2 hours.

Serve the stew with rice, bread or tortillas. The dish can be refrigerated and used the next day.
Rio Grande Style Carne Guisada Recipe
Ingredients
3 cups water
1 teaspoon paprika
1 1/2 teaspoons salt
1 teaspoon cumin seed
1 fresh tomato, diced
1 1/2 lb round steaks
1 small onion, sliced
1 clove garlic, minced
1 tablespoon vegetable oil
1/2 cup spicy tomato sauce
1 small bell pepper, diced
2 tablespoons vegetable oil
2 teaspoons all-purpose flour
1/4 teaspoon dried oregano leaves
1 tablespoon chilli, finely chopped
1 teaspoon fresh ground black pepper
Method
Cut the meat into small cubes, removing all fat and gristle. Fry the meat in hot oil until well browned on all sides. Add water and cook on moderate heat for about 30-40 minutes, stirring as needed. Dry fry the cumin seeds in a frying pan over moderate heat until they release their aromas. Then, grind the cumin seeds with a mortar and pestle. Then, add the ground mixture to the meat in the pot with the oregano, black pepper, salt and garlic. Add the tomato, bell pepper and onion and simmer gently for about 30 minutes. Add the paprika, tomato sauce and chilli powder and simmer for an additional 15-20 minutes.
Meanwhile, heat 2 tablespoons oil in a small frying pan and heat to medium-low. Cook the flour in the oil until it browns a little. Add a little water to release it and then transfer to the pan with the meat. Simmer the meat for about 30 minutes, until it softens. Note: This dish can be cooked in a pressure cooker or slow-cooker unit.
Tejano Style Carne Guisada Recipe
Ingredients
3 cups water
1 teaspoon salt
1/2 teaspoon cumin
1 large onion, chopped well
2 tablespoons garlic powder
1 (8 oz, 250 g) can tomato sauce
1 teaspoon freshly ground black pepper
2 tablespoons good quality beef bullion
2 tablespoons rice bran or grape seed oil
2-3 lb chuck steak, cut into bite-size cubes
Method
Heat a large, heavy frying pan or Dutch Oven, over moderate heat. Rub salt and pepper into the beef chunks and cook in batch in hot oil until the pieces are well-browned. Remove from the pan. Saute the onions over moderate heat for 5-10 minutes. Then add the water, garlic powder, tomato sauce, salt, beef bullion, pepper, and cumin. Bring the mixture to a boil, then reduce to a low simmer and cook for 2-3 hours, or until the meat is tender and the gravy has thickened. You can also cook for 6-7 hours in a slow-cooker with less water.
South Texas Style Carne Guisada Recipe
Ingredients
1 teaspoon salt
1/2 teaspoon paprika
1 large onion, chopped
5 cloves garlic, minced
4 large tomatoes, chopped
1 tablespoon vegetable oil
1 tablespoon garlic powder
2 tablespoons ground cumin
1 large red bell pepper, chopped
1/2 teaspoon ground black pepper
2 lb (1 kg) beef sirloin, cut into cubes
1 teaspoon dried, crushed Mexican oregano
Method
Heat vegetable oil in a Dutch oven or heavy similar pan over moderate heat. Add the beef and cook until the cubes are well-browned on all sides. Reduce the heat to moderate and add the paprika, water, black pepper, salt, garlic powder, oregano, cumin, garlic, tomatoes, red bell pepper and onion. Continue cooking, stirring frequently, until the meat is tender, about 30-45 minutes.
Pork Carne Guisada Recipe - Slow Cooker Version
Ingredients
1 cup water
1 cup onion, chopped
1 (12 oz) bottle beer
1 teaspoon salt, to taste
1 heaping tablespoon cumin
6 cloves of garlic, minced
1 (15 oz) can tomato sauce
1 heaping tablespoon chili powder
1 teaspoon black pepper, to taste
1/4 cup grape seed or rice bran oil
3 tablespoons Masa Harina (corn flour)
4 large jalapeno peppers, seeded and chopped
4 lb (2 kg) Pork Steak or Roast, cut into medium cubes
For Serving
1/2 cup fresh cilantro, chopped
4 ripe avocados, sliced
24 fresh flour tortillas, warmed
1 white onion, diced
lime wedges
Method
Method
In a cast iron, heavy bottom skillet or Dutch oven heat 2 tablespoons oil and brown the pork, in batches, over high heat until lightly brown on all sides. Transfer the meat to the bowl of a slow cooker. Using the same pan, Add 2 tablespoons of oil and saute the onions and peppers over moderate-high heat for about 10 minutes or until the onions are translucent and softened. Transfer the onions to the slow cooker. Add the Masa and garlic to the frying pan, stirring to combine and cook over moderate heat for several minutes. Add the beer and water and whisk to smooth out any lumps. Then stir through the tomato sauce, cumin, chili powder, salt and pepper. Pour this mixture over the meat in the slow cooker, stirring to combine well. Cover and set slow cooker to a low setting. Cook for about 6 hours or until meat is tender. Serve hot with warm tortillas, chopped fresh cilantro, sliced avocado, diced onion and lime wedges.
Cabrito Guisada Carne with Goat Meat
Ingredients
1/2 cup water
2 teaspoons salt
1 cup tomato sauce
3 cloves of garlic
3 teaspoons cumin seeds
2 tablespoons of flour
2 teaspoons peppercorns
4 lb (2 kg) Goat meat cut into cubes
1 tablespoon grape seed or rice bran oil
Method
Brown the meat in the hot oil and then add the salt. Grind the spices and garlic, with a small amount of water. Then, add the spices, tomato sauce and water to meat. Simmer for 30-60 minutes until the meat is tender. Mix the flour with 1/2 cup water, and add to the meat in the pan to make gravy, thickening the sauce.