Cheese Gougeres Recipe Collection - Savory Choux Pastry Puffs
Cheese gougeres are a baked savory choux pastry puffs made with a variety of cheese and sometimes dried fruit. They are the ideal dish to serve with wines while guests await the dinner to start.
They are easy to make and are an ideal size, about 3-5 cm (2-4 inches) in diameter. They can be made into larger sizes as an aperitif and can be filled with mushrooms, vegetables, meats or ham.
The key to creating delightful gougeres is the cheese you choose.
Traditionally they are made with Gruyère cheese, but try other exotic varieties Mimolette, which is a bright orange cheese, Comté, or a sharp cheddar cheese. You can blend the cheese and replace some with Parmesan or Pecorino.
Try to pair the taste with the wines you intend to serve.
Tips for Making Gougeres Savory Puffs
► Make sure you have all the ingredients ready to go before you start mixing and cooking. this includes grating the cheese. this means you can focus on the job at hand.

► Let the batter cool for 3-5 minutes before adding the eggs so they don't start to cook.

► Whisk in the eggs using a vigorous action to get as much air into the mixture as possible. You can use an electric mixer or food processor for the mixing.

► Use a pastry bag with a plain tip to create even size portions for baking. If you don't have one, put the dough into a heavy plastic bad and snip off a corner.

► To increase the crispy and make the puffs a little crunchy poke the puffs with a sharp knife when they are cooked to allow the steam to escape and bake for 5-10 minutes more.

► If the puffs collapse, here are some remedies:
Most often the dough is too wet, probably because the eggs are too large.
Make sure the cheese is dry and use a higher temperature and cook until they are dark brown to prevent under-baking the puffs.
Some deflated one adds character and so don't be too fussy if the shapes are uneven.
► The recipe can be doubled to make a larger quantity.
Basic Cheese Gougeres Recipe
1/2 teaspoon of chile powder
Freshly-ground black pepper to taste
3 tablespoons (40g) butter, sliced into cubes
12 chives, finely chopped (or 1 - 2 teaspoons fresh thyme leaves minced)
3/4 cup (3 ounces, about 90g) grated Gruyère cheese (or other cheese you choose)
Preheat the oven to 425 degrees F (220 degrees C). Line a baking sheet with baking (parchment) paper or use a silicone baking mat. Add the butter, water, salt, chile or pepper to a saucepan and heat slowly until the butter melts. Dump in the flour, on one go and stir quickly and vigorously until the mixture starts to form a smooth ball. Remove from heat and let the dough rest and cool for 2-3 minutes.

Next, add the eggs one after the other stirring very quickly as each is added to ensure the eggs don't begin to cook before they are mixed in. The batter may initially appear to be lumpy, but after an additional minute of so of mixing it will become smooth. Add about 3/4 of the grated cheese and the chives, and mix well. (You can do this mixing step in a food processor or using an electric mixer, if you prefer)

Transfer the dough to a pastry bag fitted with a wide plain tip (or plastic bag with the corner cut off). Pipe the dough into even size mounds about the size of a cherry on the lined baking tray, leaving plenty of space between them.

Sprinkle a little extra cheese on top of each puff and transfer the tray to the preheated oven. Bake for 10 minutes at the initial temperature and then lower the temperature to 375 degrees F (190 degrees C) and bake for an extra 20-25 minutes, until the puffs are a medium dark, golden brown all over.

The puffs are best served warm. You can reheat baked cheese puffs by placing them in a low temperature oven for 5-10 minutes before serving.
Cheese and Cranberry Gougeres Recipe
3 tablespoons dried cranberries, finely chopped
3 ounces unsalted butter (about 6 tablespoons)
1 cup grated sharp Cheddar cheese or other variety
Preheat the oven to 425 degrees F (220 degrees C). Line a large baking sheets with parchment. Put one cup water in a medium size saucepan. Add the salt and butter, bring to the boil and then lower the heat to a simmer and cook until the butter just melts. Remove the pan from heat, add flour one go and stir quickly and firmly with a wooden spoon. Return saucepan to the stove over medium heat to cook the dough for 1-2 minutes, while stirring.

Transfer dough to food processor and start the blending. Add the eggs one at a time. Next, add the chopped cranberries and grated Cheddar cheese and pulse to make a smooth dough. Drop teaspoons of batter to form mounds about 1 inch (2.5 cm) across, well spaced on the baking sheet, leaving 2 inches between them. Brush each with beaten egg, taking care not to let any egg drip onto the baking sheet, or it will burn.

Bake the puffs for about 15 minutes, until they have puffed up and they are started to color. Reduce heat to 350 degrees F (180 degrees C) and bake for an extra 10 to 15 minutes, until well browned. Turn the oven off. Open the oven door slightly and leave gougères in the oven for 10-15 minutes before removing them. This helps to make them crisper and the outside firmer. Serve warm.
Gruyere Gougeres Recipe with Mustard and Cayenne Pepper
Ingredients
1 cup water
1/2 teaspoon salt
1 teaspoon dry mustard
1 cup all-purpose flour
2 large free range eggs
1 pinch of cayenne pepper
8 tablespoons unsalted butter
1/4 teaspoon granulated sugar
2/3 cup grated gruyere cheese
Method
Preheat your oven to 375 degrees F (190 degrees C). Grease 2 half-sheet pans with a little butter and line with baking paper. Heat the water in a medium-size saucepan to a simmer. Add the sugar, mustard, butter, salt and cayenne pepper. Mix to combine and simmer for several minutes until all the butter has melted. Using a whisk, slowly add the flour while whisking vigorously, until all the flour has been incorporated and the mixture is smooth. The mixture should be very tacky. Transfer the mixture to the bowl of a stand mixer or food processor. Beat the dough and add the eggs one a time until the mixture is smooth and silky. Fold in the gruyere. Using a spoon or a pastry bag, transfer dollops of dough onto the paper-lined pans. Bake in the preheated oven for 30-35 minutes, or until the gougeres are puffed up and have begun to turn golden brown on top. Cool the puffs and pole a tiny hole in each one to allow steam inside to escape. This stops the gougeres from becoming soggy. Serve warm, immediately or after re-heating them in the oven.
Parmesan and Bacon Gougeres Recipe
Ingredients
1/2 cup whole milk
1/2 teaspoon sugar
1 teaspoon kosher salt
1 teaspoon onion powder
3 large free range eggs
1/8 teaspoon cayenne pepper
4 tablespoons unsalted butter
1-1/4 cups bread flour, well sifted
4 strips of thick-sliced, low fat bacon
1-1/4 cups freshly grated Parmesan cheese
Method
Pre-heat your oven to 425 degrees F (218 degrees C). Lightly grease two baking sheets with butter and line with parchment paper. Fry or grill the bacon until just crisp. Reserve the fat. Cool and then dry the bacon on paper towels. Finely chop the bacon and set aside. You will need about 1/2 cup of chopped bacon. Next, pour the milk into a medium-size saucepan. Add the reserved bacon fat, 1/2 cup of water and the butter. Bring the mixture to the boil and then quickly reduce the heat to a gentle simmer. Add the salt, sugar, onion powder and cayenne pepper. Fold in the flour and mix quickly by stirring in one direction with a wooden spoon, until a dough form. Cook the dough for several minutes to get rid of the 'raw' taste. Transfer the dough to the bowl of a food processor or an electric mixer. Using a paddle attachment add the eggs one at a time while mixing on a moderate setting. Keep mixing until the dough is shiny and smooth. Stir 1 cup of the Parmesan cheese and the reserved cooked bacon through the mixture. Use a tablespoon or small ice cream scoop to transfer dollops of the dough onto the prepared baking sheets. Sprinkle the gougeres on both sheets an the remaining 1/2 cup Parmesan cheese. Bake until the gougeres are puffed and golden brown in color (generally, 20-25 minutes). Serve the gougeres warm with your favorite wine or other drinks.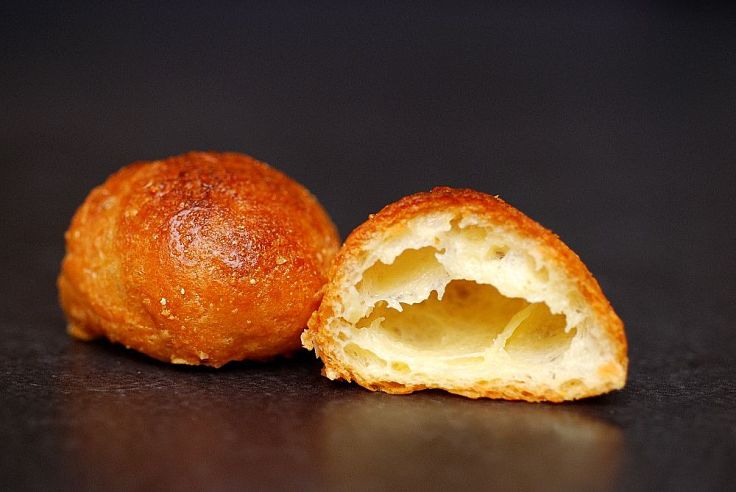 Source:
FXcuisine [CC-BY-SA-3.0 ], via Wikimedia Commons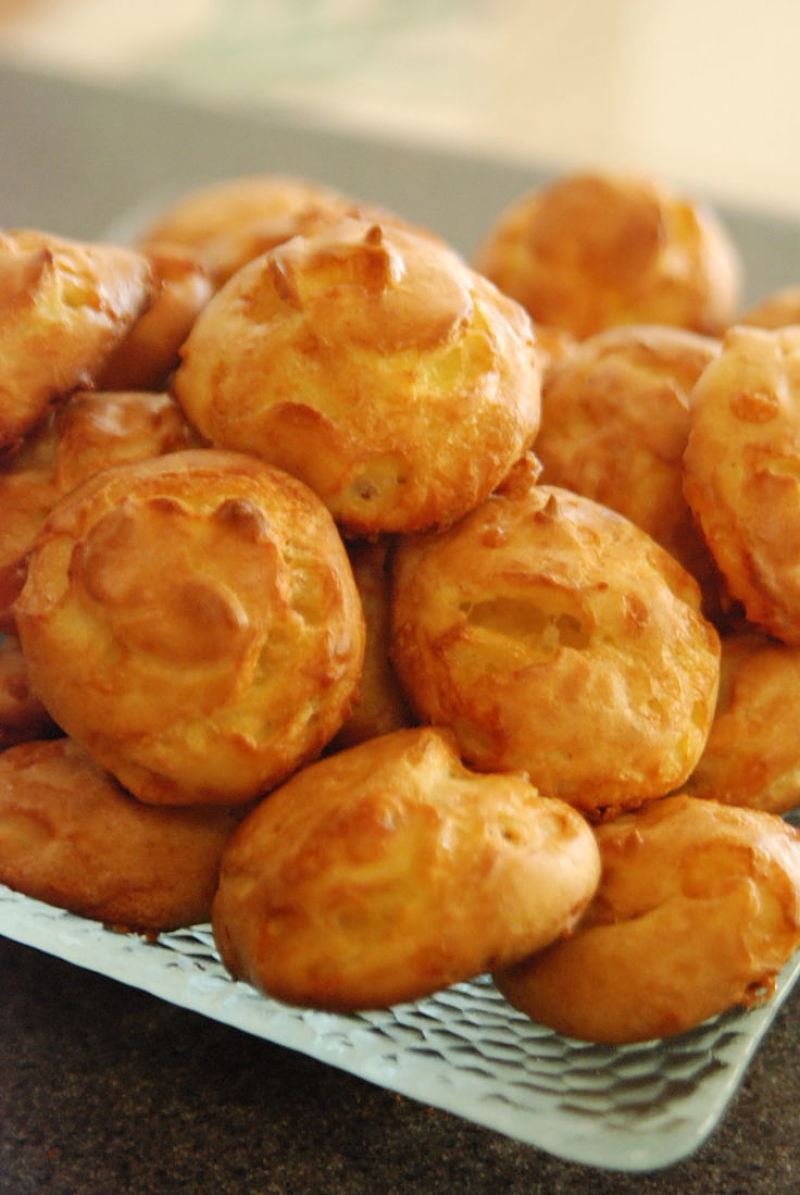 Source:
Jules Morgan [CC-BY-2.0 ], via Wikimedia Commons
Source:
By Luigi Anzivino [CC-BY-SA-2.0 ], via Wikimedia Commons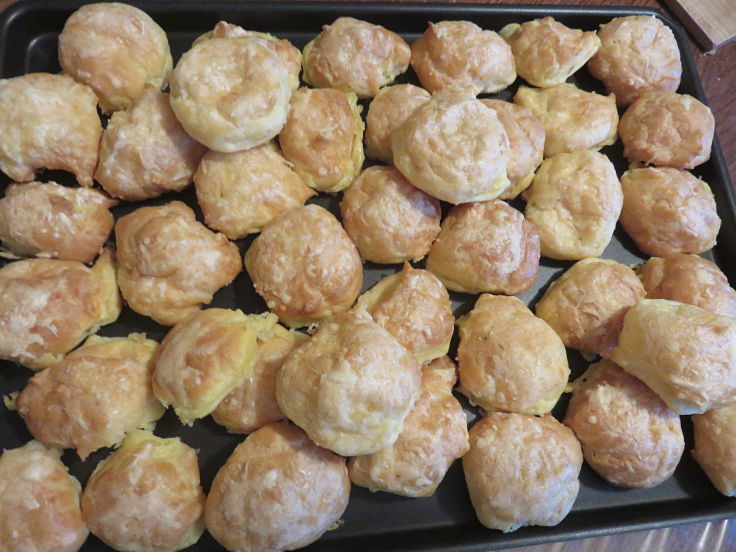 Source:
By Arnaud 25 (Own work) [CC BY-SA 4.0], via Wikimedia Commons