Best Cheese Platter Ideas and Recipes - Cheese and Fruit Party Plates
A perfect cheese platter is a defining feature for any party or celebration. Too often cheese platters are just thrown together, and the platters are simply a random pile of assorted cheeses served dry and too cold, in a sea of dried fruit and nuts. Calm the sea and add order to the disarray to improve the look for your cheese platter.
Cheese is expensive, and it is worth taking the time to make the cheese platter memorable and appealing for your guests. Like most snack and party food dishes, presentation and thoughtfulness are the keys to impressing your guests.
Cheese platter should be colorful works of art, especially since the ingredients (cheese, fruit and nuts) have so much color and textural contracts. This article outlines a set of simple rules and tips for making perfect cheese platters that will impress and please your party guests.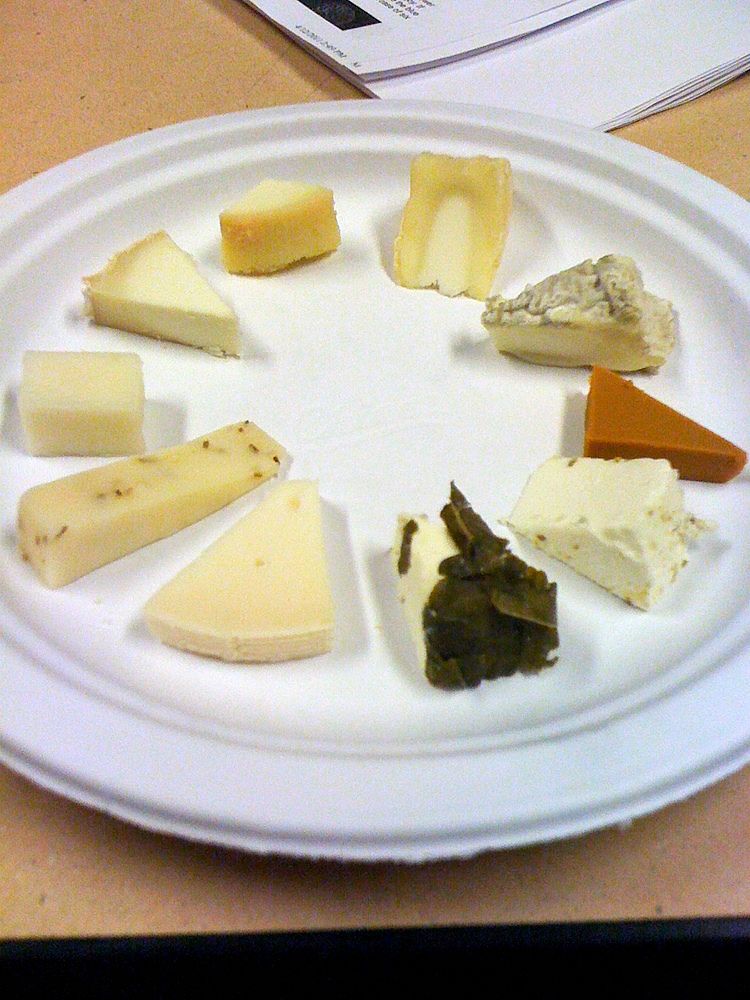 Put High Quality and Intrigue Ahead of Boring Diverse Varieties on Cheese Platters
The first mistake many people make is to assume that the platter has to have 8-15 cheeses as well as a variety of dried fruits and nuts. It is better to select 4-6 good quality and intriguing cheese that will fascinate your guests rather than the tied old gang of cheddars and common cheeses.
Choose cheese that you know your guests will really like. Some cheeses are very expensive, but you can save money by focusing on fewer cheeses and serving in smaller portions. Buy several really good cheeses that your friends recommend.
Keep the platter simple and focus on a single theme that can be better paired with the wines you are serving. There is no point in serving boring common cheeses. However, avoid really stinky and unusual cheeses that most guests will not like.
Aim for a compromise for distinctive, high quality cheeses that are interesting and appealing. Your guests will really appreciate the extra effort. Choose cheeses made with cow, goat, and sheep's milk to add interest and variety.
Cheese Platter Layout and Design
Don't just serve a jumbled pile of cheeses. Take care to make the layout and presentation of the cheeses interesting and appealing. Try to create a work of art, combining cheese pieces, dried fruit and nuts in a colorful way that is carefully laid out.
Allow adequate space between cheese pieces and other items so that they can be picked up easily without being mixed with other items. Pair the cheeses with colorful fresh fruits such as cherries, blueberries, grapes, figs, grilled peaches and dried fruits such as apricots, peaches and pears.
Pecans, walnuts and Macadamia nuts go well with cheeses. However, avoid peanuts and almonds. Try to adopt a theme such as a clock face or other layouts based on an image.
Presentation is the key to creating a stunning cheese platter that everyone will admire. Put similar cheeses together and arrange a transition from mildest to strongest from left to right, or perhaps in a clockwise direction around the platter. This helps people choose the type of cheese that they like. It is also worth considering making two or three separate platters focused on different types of cheese and the fruit and nuts that pairs well with them. You also pair these individual platters with suitable matching wines.
Preparation of Cheese Platters
The key points for preparation and serving are temperature and humidity. Cheeses should be allowed to come to room temperature before serving. But the cheese platter needs to be covered with a damp cloth or tea towel for 30-90 minutes before serving. This will prevent the cheese drying out.
The portions should be small, or served with cheese knives and wooden boards so that the guests can choose the size of the portions they want. Some cheese will require individual preparation to ensure that they are perfect when served.
Ensure you choose high quality cheeses that encourage your guests to try something new. Covered cheese platters can be prepared an hour or two in advance allowing plenty of time to put the extra effort into the presentation. Choose intriguing and interesting plates for your platter.
Accompaniments for the Cheese Platters
Dry hard crackers such as 'Jatz' clash with the soft texture of many cheeses. Many traditional crackers are very boring and shatter in your mouth. Try to find interesting alternatives. Really good breads are softer and go well with cheeses. Avoid breads or crackers strongly flavored with garlic, salt, sesame seeds are spices as these flavors can detract from the delicate tastes of the cheese. This includes many of the darker breads such a pumpernickel and multi-grain varieties. Cut the breads into tiny thin portions. Soft and medium hard wholemeal crackers are better than the very hard varieties.
Try to provide several alternatives for your guests. Interesting crackers, side serves and accompaniments add intrigue and appeal for your guests who will enjoy something new and interesting. Add some panforte which goes really well with many milder cheeses - fruit, nuts and honey in a mouthful with your cheese.
Serving Ideas for Cheese Platters
Offer several different knives for each cheese to avoid remnants spoiling the flavor of each variety. Replace the knives with clean ones while the platter is being served. Places the bread and crackers in separate bowls. Choose interesting bowls or baskets to add to the presentation. Fresh flowers and herbs, dotted on the platter adds to the presentation.