Cooking Fresh Chestnuts - Roasting, Dessert, Chestnut Stuffing Recipes
Chestnuts when they fall from the tree are enclosed in prickly, spiky husks. When this husk is split open it tells you that the nut is ripe and ready to process for cooking. Fortunately there are mechanical processes for freeing the nut from the husks and most people buy them as in the shops and stalls as de-husked nuts.
When selecting your chestnuts, look for those that are shiny, plump, smooth and without blemishes.
Unfortunately mouldy chestnuts are quite common, so always shake and squeeze the chestnuts to see if their nuts inside have pulled away from the shell and shrivelled up inside.
Remember that the bigger the chestnut, the longer it will take to cook. Choose chestnuts that are fairly uniform in size and will therefore finish roasting at the same time. Chestnuts and chestnut flour and puree can be used for a variety of purposes generally after roasting.
They can be used in soups, desserts, cakes, stuffing and in a variety of other ways. This article shows you how to prepare and roast the nuts and also provided lots of recipe ideas.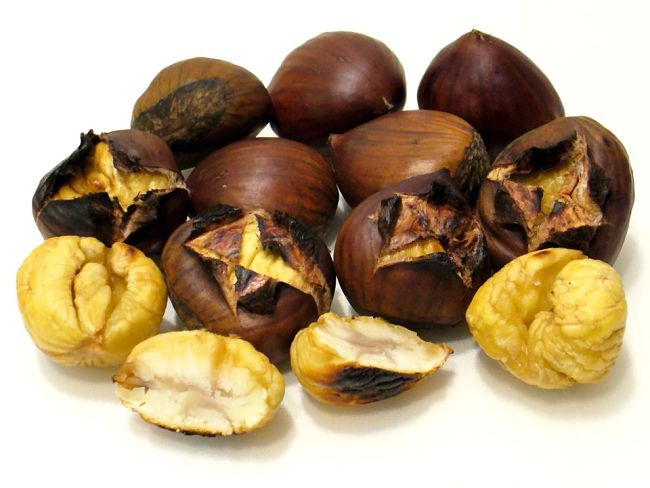 How to Roast Chestnuts
Most people prepare chestnuts by roasting them. Make a cross on the flat side of each nut with the point of a sharp knife. Some people also cut a slit across the face of the nut.
This is important as it will release steam as they cook, avoiding explosions. Roasted chestnuts are best enjoyed right out of the oven. Simply peel away the shell and enjoy.

Baking - Preheat oven to about 200 degrees C (395 degrees F). Arrange the chestnuts on flat baking pan or shallow dish with the flat side down. A pizza baking dish with holes is ideal. Sprinkle a tiny amount of water over the nuts, just to slightly dampen the outer shell of the nuts, without leaving excess water in the pan. Do not soak the nuts in water.
Position the pan on the bottom shelf of the oven, close to the heat source. Roast the chestnuts in the oven for about ten minutes, turn all the nuts over and roast for an extra 10 minutes until they are done. To test for doneness remove a nut and see whether they can be easily peeled with your fingers.
Roasting Under an Electric Grill - Place the scored chestnuts under a moderately hot grill for about 10-15 minutes, depending on their size. Parts of their skin will char, but this is normal as long as you don't overdo it.
When cooked, wrap the chestnuts in a clean tea towel and leave them for about 5 minutes to cook, before removing the outer shell and the pellicle and serving or using in various recipes.

Roasting in the Microwave - Position chestnuts on a microwave-safe plate, in a single layer. Cook, uncovered, using a high setting for about 5 minutes or until flesh is tender. Timing will depend on the number of nuts and the settings you use for your machine.
Roasting on a Barbecue - Place the chestnuts in a pan with a lid, or a covered frying pan, and cook, turning occasionally, over medium heat on the barbecue for about 20-30 minutes or until shells start to split.

Roasting in an Open Fire - To roast your chestnuts in an open fire you will need a specially designed pan, a popcorn pan, a barbecue pan or improvised a pan that can be placed over an open fire. Pans with lids make it easier to flip them than when using a lid-less pan. You can use a cast-iron skillet or some similar pan.
Place the chestnuts in a single layer in the pan. Generally you will need little oil or grease as the chestnuts release their own oil when being cooked.
Cover the pan with a lid and place it on a rack or hold it in the fire, but away from the flames and hottest part of the fire. After about five minutes stir or shake the chestnuts to ensure all sides are roasted adequately.
Most chestnuts will be fully roasted after about 20 minutes, depending on the temperature. Don't try to cook them too quickly.
The chestnuts are finished roasting when you see the shells starting to open, where you made the score mark, or you begin to hear popping noises.
Test for doneness by inserting a knife; the cooked chestnut should be tender inside.
Removing the Shells of Roasted Chestnuts
Remove the roasted chestnuts from the heat source and transfer them to a bowl lined with a cloth towel and let them to cool for about 10-15 minutes. Then peel the chestnuts by hand while they are still warm. The somewhat fuzzy inner skin will generally peel off along with the outer shell if the nuts are warm. You can eat the chestnuts straight away as they are or dip them in butter and cinnamon.
Boiling Chestnuts for Puree
To prepare the chestnuts for boiling to make puree, place them into a pan of cold water. Bring the water to the boil, cover with a lid and simmer slowly for about 15-20 minutes or until flesh is tender (test them with a knife). Wrap the boiled chestnuts in a tea-towel, and then cool a little and remove the shell while still warm. Chestnuts are hard to peel if they are not warm.
Chestnut Nutrients
The nutrients in chestnuts is shown at the end of the article.
Selection of the Best Chestnut Recipes
Chestnut Crepes with Ricotta
Ingredients
60 g ( 2 oz) brown sugar
1 level tablespoons icing sugar
300 g (10.5 oz) fresh ricotta
450 ml ( 15 fl oz) water
30 ml ( 1 fl oz) extra virgin olive oil
Pinch salt
2 eggs
200 g (7 oz) chestnut flour
Method
>Sift chestnut flour using a fine sieve to break up any lumps. Whisk the two eggs in a bowl and add the salt and sifted flour. Mix until the batter is smooth and there are no lumps, then mix in the olive oil and drizzle in the water in a fine stream. Keep mixing the batter until its smooth and runny. Put it in the refrigerator mix for 6-75 minutes. Meanwhile mix the icing sugar into the ricotta and refrigerate. Heat a non stick or heavy cast iron pan or griddle and add a tiny amount of butter or oil to cook one crepe at a time. Pour enough batter into the pan for one crepe. When the upper surface starts to bubble through, turn the crepe over and cook the other side.
Leek Soup with Fresh Chestnuts
Ingredients
500 g (18 oz) fresh chestnuts
1.5 (34 fl oz) chicken or veal broth
3 cups leek, thinly sliced
100 g (3.5 oz) butter
50 ml (1.7 fl oz) extra virgin olive oil
Salt and pepper
Parmesan, to serve
Country-style bread, to serve
Method
Score chestnuts with a knife, to stop them breaking apart due to pressure, and transfer them to a pot and just cover with cold water. Bring to the boil and then reduce the heat and simmer for 5-10 minutes (test for doneness with a knife). Drain, cool the boiled chestnuts and peel. Add the leak and broth to a saucepan, add the boiled chestnuts and simmer gently for about an 60-75 minutes. Add a little butter and olive oil, season with freshly ground pepper and salt and serve the soup with freshly grated parmesan cheese and toasted crusty bread.
Cranberry, Chestnut and Meringues Dessert
Ingredients
40-50 fresh chestnuts
2 tablespoons icing sugar
500 ml (1 pint) double cream
80 g (3oz) caster sugar
200 g (7 oz) small ready-made meringues
For the cranberry sauce
200 g (7 oz) fresh cranberries
90 g (3 oz)sugar
1 sticks cinnamon
the fresh juice from one orange
Method
Roast the chestnuts using the methods described above. Peel them and place them on a baking tray lined with foil and lightly dust with the icing sugar. Bake again at 200 degrees C (390 degree F) for about 15-20 minutes, turning the nuts several times. Set aside to cool. To make the cranberry sauce: put the sugar, cinnamon orange juice and cranberries in a saucepan. Stir continuously over low heat to dissolve the sugar then simmer slowly for about 20-27 minutes until the cranberries have just begun to softened. Adjust the sweetness if required and set aside to cool.
Whip the caster sugar and cream until very thick. To assemble the dessert, break apart the meringues into large pieces, mix into the cream and add about three-quarters of the chestnuts. Spoon the mixture onto individual serving plates, place some chestnuts on top and spoon on some cranberry sauce.
Chestnut and Butternut Squash Pie
Ingredients
9 shallots, peeled and quartered
1 butternut squash, cut into 2cm chunks
8 cloves garlic, peeled and halved
1 1/2 tsp ground cumin
1 1/2 ground coriander
1/4 tsp dried red chilli flakes
7 tablespoons olive oil
150 g (5 oz) spinach leaves
25 g (1 oz) butter
200 g (7 oz) roasted and peeled chestnuts, halved
300 g (10 oz) mushrooms, roughly chopped
1 tablespoons leaves lemon thyme
1 tablespoons chopped flat-leaf parsley
4 tablespoons dried cranberries
1 beaten egg, to glaze
500 g (18 oz) ready-rolled shortcrust pastry
sea salt and freshly ground pepper
Method
Preheat the oven to 200 degrees C/ (390 degrees F). Place the shallots, squash and garlic in a large roasting tin and add the coriander, ground cumin and chillies with five tablespoons of oil and combine. Season with pepper and salt and roast for about 20-25 minutes until the vegetables are just starting to soften. Remove the vegetables from the oven and add the spinach while the pan it hot, so that it wilts and then set aside to cool.
Stir-fry the chestnuts in a little butter, remove, and then stir-fry the mushrooms. Combine with the nut in a bowl. Add the parsley, thyme and cranberries and season with pepper and set aside to cool. Roll out 2/3rds of the pastry on a lightly floured surface and use it to line a deep spring form or loose-bottomed tart tin. Add about half of the squash mixture, spoon in the chestnut mixture and then top up with the rest of the squash. Roll out the remainder of the pastry and add as a top for the pie, sealing with a little beaten egg. Bake on a moderately hot baking tray (previously inserted into the oven) for about 15 - 20 minutes, then increase the heat to 200 degrees C (390 degrees F) and bake for an additional 25-30 minutes until the pastry is golden. Remove the pie from the oven and remove from the pan after about 10 minutes.
Chestnut Stuffing
Ingredients
6 cups torn pieces of day-old bread
1/2 cup finely chopped fresh parsley leaves
2 onions, chopped
4 ribs of celery, chopped
3 tablespoons chopped fresh sage leaves or 1 tablespoon dried
2 tablespoons chopped fresh thyme leaves or 2 teaspoons dried
1 tablespoon chopped fresh rosemary leaves or 1 1/2 teaspoons dried
1 tablespoon chopped fresh savory leaves or 1 teaspoon dried
1 stick (1/2 cup) unsalted butter
1 pound fresh chestnuts
Method
Roast the chestnuts as above and peel them while still warm. Heat the oven to 170 degrees C (325 degrees F). Bake the bread pieces in a single layer on a tray for about 10 to 15 minutes. In a large frying pan, cook the onions, sage, celery, thyme, savory and the rosemary in a little butter over low to moderate heat, until the onions and celery soften. Add the chestnuts and fry for an extra minute. Add the bread pieces and vegetable mixture to a bowl, add the parsley, salt and pepper and combine to form the stuffing.
List of Nutrients for Chestnuts
| Element | Fresh Chestnuts | Dried Chestnuts | Roasted Chestnuts |
| --- | --- | --- | --- |
| Protein (N x 6.25) g/100g | 3.4 | 5.2 | 3.4 |
| Fat g/100g | 0.2 | 1.0 | 0.6 |
| Total Carbohydrate g/100g | 32.1 | 57.4 | 34.3 |
| Sugars g/100g | 3.3 | 9.6 | 3.8 |
| Dietary Fibre g/100g | 14.9 | 22.1 | 8.1 |
| Energy kJ/100g | 730 | 1278 | 732 |
| Energy Cal/100g | 175 | 307 | 175 |
| Calcium mg/100g | 17.6 | 34.8 | 13.4 |
| Folic acid mcg/100g | | | 70 mcg |
| Iron mg/100g | 0.7 | 1.0 | 0.8 |
| Niacin mg/100g | | 7.4 | 2.0 |
| Potassium mg/100g | 468 | 876 | 574 |
| Sodium mg/100g | 0.8 | 0.7 | 0.7 |
| Vitamin B1 mg/100g | | 0.2 | 0.3 |
| Vitamin B2 mg/100g | | 0.0 | 0.1 |
| Vitamin C mg/100g | | Freeze Dried 53mg | 26.0 |
| Zinc mg/100g | 0.4 | 0.7 | 0.5 |