Chewy Oatmeal Cookie Recipes - Free of Sugar, Gluten and Peanuts
Some like 'em - Hard! Some like 'em - Crunchy! Some like 'em - Soft! But I like 'em Thick and Chewy with Raisins. The edges can be a little crisp and crunchy but the interior has to be thick and chewy. To some this is 'disaster pudding' a sure sign that the oatmeal cookie recipe has failed - but I like them like that, with lots of warm sweet raisins or sultanas.
The oatmeal raisin cookie recipes in this article have their own unique texture and taste that you can't get from the standard crunchy oatmeal cookie recipes. The other ones I like are peanut butter oatmeal cookies. To add to the suite of great recipes and ideas I have added recipes for sugar free and gluten free oatmeal recipes as well.
The basic recipe is adapted from the standard one with less sugar and lots more raisins. You can use, brown sugar, honey or golden syrup instead of white sugar. You can also add chopped walnuts or almond slivers. One tip for getting a very thick and nice chewy cookies is to cool the dough down before you bake it. You can make the mixture and freeze it, then cook it when the dough is still cold. Cooling the dough helps the cookies to remain thicker when cooker, rather than spreading out from the cold — only a couple extra minutes baking is needed.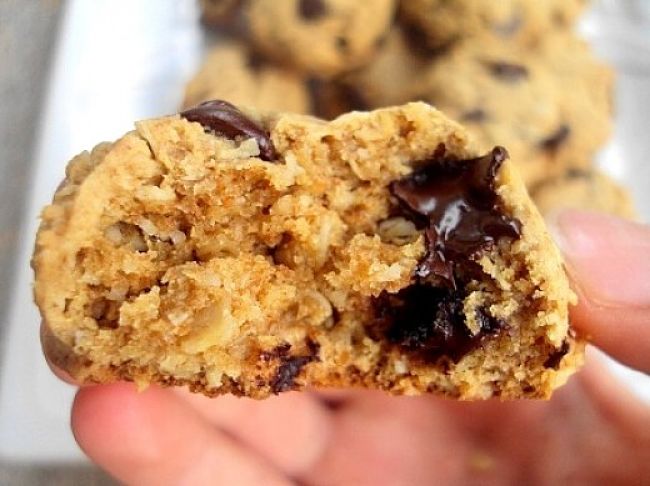 Chewy Thick, Oatmeal Cookies with Raisins or Sultanas
This is a full recipe for 2 dozen cookies - Just halve it for a smaller batch
1 cup chopped walnuts or slivered almonds (optional)
1 1/2 cup raisins or sultans
3 cups rolled oats
1/2 teaspoon salt (I often use a half teaspoon, but I like more salt in my baked goods)
1 teaspoon ground cinnamon
1 teaspoon baking soda
1 1/2 cup all-purpose flour
1 teaspoon vanilla extract
2 eggs
1 1/3 cup light brown sugar, packed (or 1 cup honey or golden syrup)
1 cup (2 stick or 8 ounces) butter, softened
Preheat the oven to about 350 degrees F (175 degrees C). In a large bowl, whisk together thebrown sugar, eggs, butterand vanilla until smooth and creamy. In a separate bowl, sieve the cinnamon, baking soda, flourand salt together, and mix to combine together. Add these dry ingredientsto thecreamed buttermixture. Add the oats sultanas or raisins and nuts if desired. Transfer the dough in the bowl to a refrigerator and chill the dough for a couple of hours, or overnight.You could also bake them without chilling, but the cookies will be thinner.
Line a baking sheet with parchment paper and scoop out portions of dough for the cookies and place them two inches apart. Bake them for about 10 - 15 minutes (times will vary depending on your oven and how cold the dough is before baking). Remove the cookies from the oven when golden brown at the edges but not browned on top. Let remain on the baking sheet for about 5 minutes and then transfer them to a rack finish cooling.
Sugar Free Oatmeal Cookies (Using Banana)
1 teaspoon vanilla extract
1/4 cup fat free milk
1/3 cup margarine, melted (trans-fat free, if possible)
1/2 seedless raisins
2 cup quick cooking rolled oats
3 large bananas , mashed
Preheat your oven to 350 degrees F (175 degrees C). In a large bowl, mix together all ingredients in the list and let stand for 5-10 minutes allow the oats to soak up moisture. Place heaped tablespoons of the mixture onto greased or paper lined cookie baking sheets. Bake for about 15 -20 minutes or until the cookies have browned a little. Allow to cool for about one minute on baking sheet and then transfer the cookies onto to wire racks to finish cooling.
Gluten-Free Oatmeal Raisin Cookies
1/2 cup milk or water
1/2 cup butter, melted
3 eggs
1/2 teaspoon baking soda
1/4 teaspoon salt
3/4 teaspoon cinnamon
3/4 cup brown sugar
1/2 cups raisins
1 1/4 cup brown rice flour
1 1/2 cups gluten-free oats (double check to verify gluten-free)
Preheat your oven to 350 degrees F (175 degrees C). Combine the brown rice flour, sugar, cinnamon, oats, raisins, salt, and baking soda. Mix in the butter, eggs and liquid and mix thoroughly but quickly. Refrigerate the mixture for 15-20 minutes to thicken. Preheat your oven to 350 degrees F (175 degrees C). Spoon the dough into a small mounds on a non-stick baking trays leaving some space for the cookies to spread a little (the colder the dough, the less the mixture will spread and the thicker the cookies). Bake for about 12-15 minutes until the centers of the cookies are firm and the outside slightly brown. Remove from the oven and let the cookies cool a little before lifting off the trays. Finish the cooling on a wire rack.
Vegan, Sugar-Free, Peanut Butter, Oatmeal and Banana Cookies
1/4 cup flour
dash cinnamon (optional)
2 1/2 cups quick cooking or rolled oatmeal
2 tablespoon maple syrup
2 tablespoon soy milk (make sure unsweetened)
1 tsp vanilla
2 ripe bananas (ripe one will be sweeter)
1/3 cup peanut butter (make sure sugar-free)
In a large bowl, break-up and mash bananas using a fork until smooth. Add peanut butter, soy milk, vanilla and maple syrup, and mix well. Add the rest of the ingredients and mix well. Place spoonfuls of the dough onto greased cookie sheets (or paper lined) and bake 12-15 minutes at 350 degrees F (175 degrees C), or until done.
Gluten-Free, Egg-Free, Sugar-Free Oatmeal Cookies
1 teaspoon vanilla extract
1/2 cup walnuts (or almonds - optional)
1/2 cup raisins
1/4 cup skim milk
2 cup uncooked gluten-free oats (verify that gluten-free)
1/3 cup margarine or butter (melted)
3 medium-ripe bananas, mashed with a fork
Preheat your oven to 350 degrees F (175 degrees C). Mix all the ingredients together in a bowl making sure that the oats are evenly moistened (leave for 5 minutes or so). Transfer heaped teaspoons of dough (or tablespoons for larger cookies) onto greased cookie sheets. Bake for about 15 to 20 minutes (the cookies should be lightly browned, darker on the edges). Transfer to a wire rack to cool. Makes about 2 dozen cookies.
YES they are all CHEWY.
Related Articles about Cookies and slices
=> Best Cookie Recipes for Special Occasions, Celebrations
=> Best Alfajores Recipe Collection for Shortbread Sandwich Cookies
=> Tips for Baking - Tricks for Cakes, Muffins, Cupcakes, Cookies, Scones
=> Are Snack Bars Healthy - Cereal, Protein, Fruits, Granola - Myths and Facts
=> Best Homemade Marshmallow Recipe Collection for Slices and Desserts
=> Smart Healthy Snacks - Ideas, Tips and Best Food Choices