Chicken Enchilada Soup Recipe Collection - Slow Cooked in Crock Pot
These fabulous chicken soup recipes are made in your slow cooker and so the chicken is soft and moist. This soup tastes just like a chicken enchilada. It originated relatively recently in the Tex-mex restaurants in the American Southwest and Northern areas of Mexico.
It is related to 'Tortilla Soup' and shares the tradition of soups topped with diced jalepeno, diced raw onion, cheese, cilantro, lemon or lime juice, tortilla strips, avocado chunks and chili salsa. It generally includes beans, tomatoes, corn and a variety of fresh vegetables and herbs.
For this soup the chicken is slow cooked and this separated into thin strips, Enchilada sauce is added to provide extra zing and zest. If you love Mexican food you will love this slow cooked chicken soup.
This article includes descriptions for three great Crock Pot Enchilada Soup Recipes for you to try. There is also a recipe for Classic Tortilla Soup.
Chicken Enchilada Soup Recipe with Cheese and Black Beans
Ingredients
1 cup Pepper Jack Cheese
2 whole Chicken Breasts
1 1/2 cups Milk
1 can Condensed Cream Of Chicken Soup
1 can (10 oz; 285 g) Enchilada Sauce
1/2 cup Red Pepper, Diced
1/2 cup Onion, Chopped
1 package (10 oz; 285 g) Frozen Corn
1 can (15 oz; 425 g) Diced Tomatoes
1 can (15 oz; 425 g) Black Beans, Rinsed And Drained
Tortilla chips (to garnish)
Green Onion and herbs (to garnish)
Avocado and sour cream
Method
Add the corn, onion, drained beans, tomatoes, and chopped bell pepper to a slow cooker with a capacity of about 4-5 quarts ( 4-5 litres). Position the 2 chicken breasts on top of the mixture. In a large bowl, mix the chicken soup and enchilada sauce together and then gradually add the milk in batches, whisking in the milk until smooth. Pour the mixture over the chicken and other ingredients in cooker.
Cover and slow cook on a high heat setting for 3 - 4 hours or on a low heat setting for 6 - 8 hours. Transfer the soup to a large serving bowl. Remove the chicken breast from the cooker and cut into bite size pieces or pull the pieces apart into shreds. Place the chicken back into the soup. Sprinkle pepper jack cheese on top and serve in bowls.
You can add extra toppings such as sour cream, avocado, chopped chillies and broken tortilla chips.
Chicken Enchilada Soup Recipe with Fresh Herbs and Spices
Ingredients
1 pound (500 g) skinless, boneless chicken breast halves or equivalent in thigh meat
1 teaspoon salt
1 teaspoon ground cumin
1 teaspoon chili powder
3 cloves garlic, finely chopped
2 bay leaves
1/4 cup chopped fresh cilantro
1 onion, finely chopped
1 cup diced green chilies
1 can (10 oz; 285 g) enchilada sauce
1 can (15 oz; 425 g) chicken broth
1 can (15 oz; 425 g) diced tomatoes
1 can (15 oz; 425 g) can whole kernel corn, drained
Method
Wash and dry the chicken pieces. Position them on the bottom of a slow cooker. Add the black pepper, salt, chili powder, cumin, garlic, bay leaves, cilantro, onion, green chilies, enchilada sauce, chicken broth, tomatoes and corn. Mix to combine.
Slow cook on a low setting for 6 hours. Remove the chicken and shed into strips. Transfer the chicken back into the slow cooker and cook for an additional 30-60 minutes. Serve into bowls and garnish with cheese, sour cream and fresh herbs
Spicy Chicken Enchilada Soup Recipe with Chili and Cumin
Ingredients
1 lb (500 g) chicken breast or thigh meat
1/2 teaspoon chili powder
1/2 teaspoon of cumin powder
1 teaspoon salt
2 teaspoons garlic or garlic powder
2 cups water
1 cup masa harina
1 - 2 cups shredded cheese
1 (10 oz; 285 g) can enchilada sauce
32 fl oz (1 litre) chicken or vegetable broth
1 onion finely chopped
tortilla chips (to garnish)
freshly chopped cilantro, to taste
sour cream to garnish
taco seasoning (optional)
green onion (to garnish)
Method
Chop the onion and place it in a single layer on the bottom of the crock pot. Fry the chicken breasts to brown and cook them. Shred them into strips with a fork or cut them into long pieces. Position the chicken strips over the onion in the crockpot. Add a teaspoon of chopped garlic and about 1/4 cup of fresh cilantro (or two teaspoons of dried cilanto). Add the salt, chili and cumin powder (and garlic powder to taste). Add the enchilada sauce and pour in the broth.
Cook the mixture in the crock pot on a high setting for about 3 hours.
Next, in a separate bow, mix the two cups of water with the cup of masa harina. Whisk thoroughly to ensure the mixture is smooth with no lumps. The masa harina imparts a delightful corn tortilla-type flavor to the soup, without making it too thick. Stir the masa harina into the soup and cook for another 30 minutes.
Serve into bowls, add the cheese, tortilla chips, green onion and herbs as garnish.
Chicken Tortilla Soup Recipe Served with Fresh Herbs and Shredded Chicken
Ingredients
salt, to taste
6 sprigs thyme
2 cloves of garlic
3 black peppercorns
4 cups chicken stock
2 tablespoons olive oil
4 dried chipotle chillies
1 white onion, finely sliced
3 corn tortillas, cut into strips
1 cup rice bran or grape seed oil
4 ripe tomatoes, cut into quarters
For serving
1 lime, quartered
80 g queso fresco
1/2 cup chopped coriander
2 cups shredded chicken thigh
1/2 cup finely diced white onion
1 ripe avocado, peeled and sliced
Method
Fry the tortilla strips, in 2-3 batches, for 3 minutes, or until crisp and golden in color. Remove the fried strips and drain using paper towels. Fry the chipotle in the same pan for a few seconds and set aside. Add the tomato, garlic, thyme, onion and peppers to the bowl of a blender or food processor and pulse until smooth. Next, heat the olive oil in a large saucepan over moderate-high heat. Add the puréed tomato mixture and fry for about 10 minutes. Add the chicken stock and mix well. Bring the mixture to the boil and then lower the heat and simmer for a further 15 minutes.
To serve, add a serving of fried tortilla strips, avocado, chicken, chipotle chilli and queso fresco to small bowls. Add a serving of tomato broth to the bowls and serve immediately with coriander, other fresh herbs and lime wedges.
Source: Public Domain CC0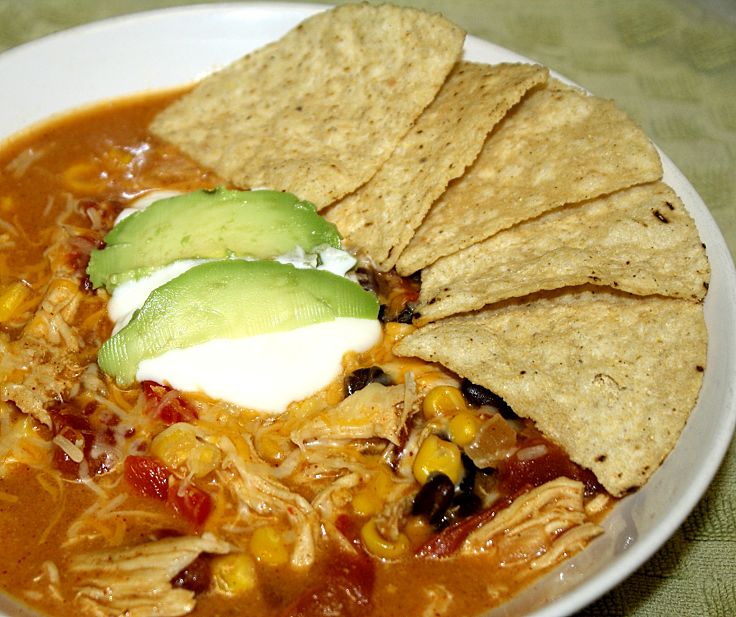 Source: Public Domain CC0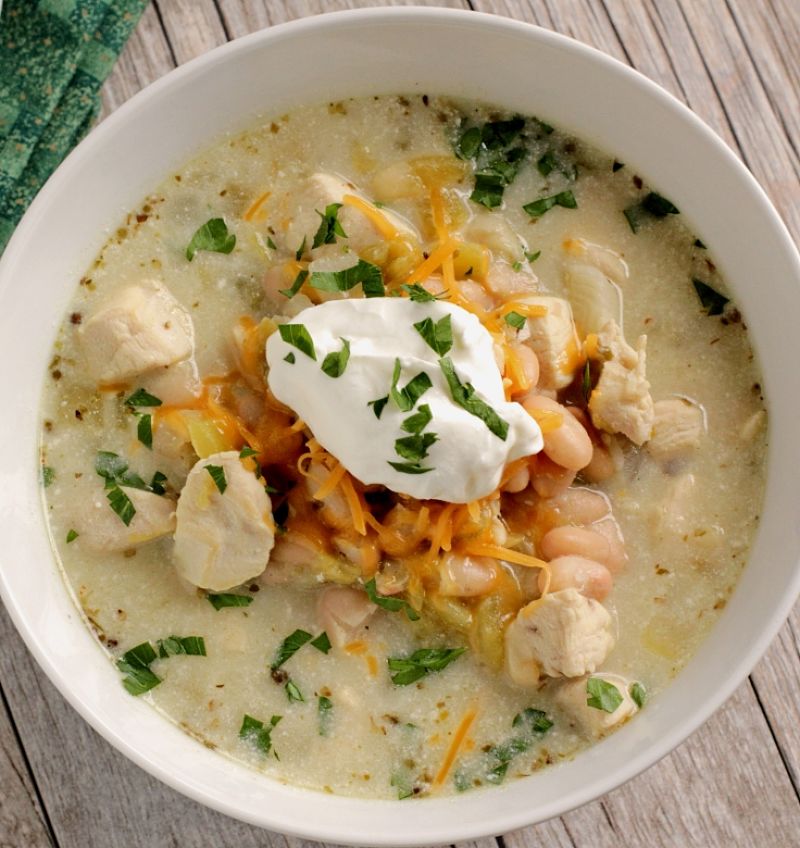 Source: Public Domain CC0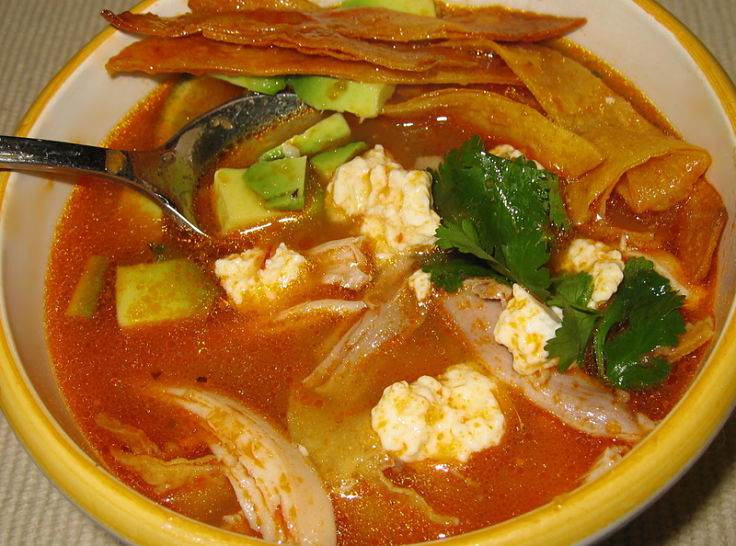 Source: Public Domain CC0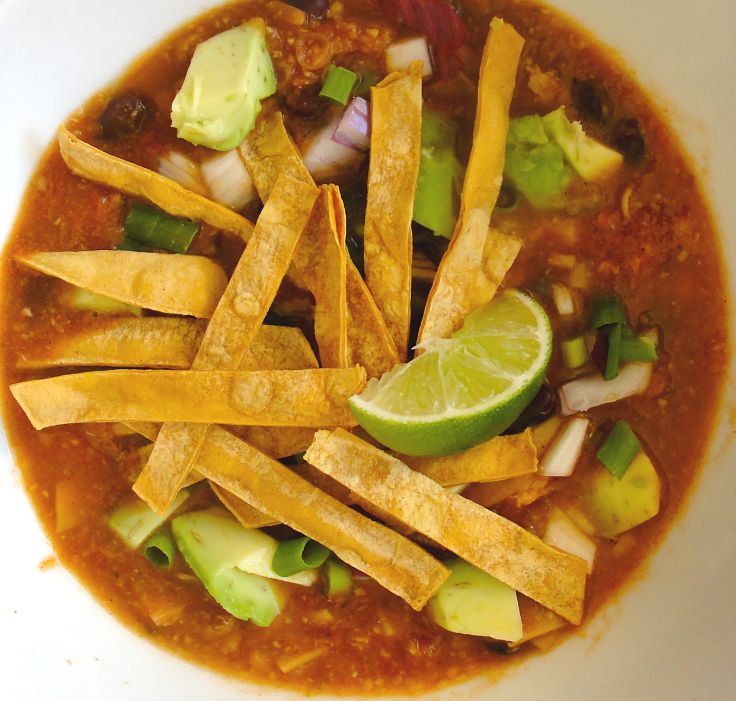 Source: Public Domain CC0