Chinese Five Treasure Duck and Five Treasure Vegetables Recipes
For special occasions, Five Treasure Duck and Five Treasure Vegetables are worth the effort of gathering the long list of ingredients. A sauce and stock, made with fragrant hoisin sauce, Chinese white wine and soy sauce is a distinctive feature of these dishes.
The duck dish includes a variety of meats: pork belly, chicken thigh meat and shrimp (king prawns) as well as ginger, garlic and sesame seeds.
The vegetable dish includes baby corn, mushrooms, boiled broccoli florets, boiled asparagus, beans sprouts, onions and ginger.
The complexity of these dished is well justified by the diverse flavors and textures of these delightful dishes that are ideal for a special occasion.
See => Crispy Duck Recipes Roasted, Fried, Chinese Crispy Peking Duck, Thai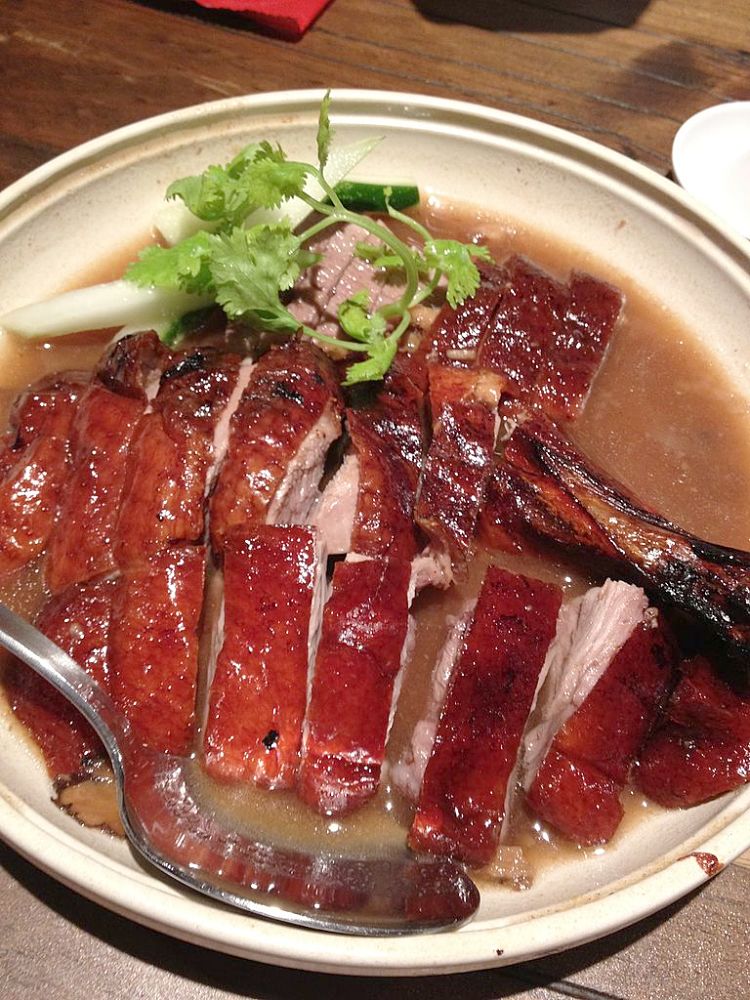 Chinese Five Treasure Duck Recipe
Ingredients

1 onion
1/2 peanut oil
1/2 hoisin sauce
10 cloves garlic
3 stems of shallots
1 cup fresh coriander
2 teaspoons sesame oil
2 teaspoons white pepper
2 teaspoons sesame seeds
2 teaspoons oyster sauce
30 g (1 oz) salted black beans
200 g (7 oz) skinless pork belly
1/2 cup Chinese rice wine (Shaoxing)
400 g (14 oz) raw King prawns (shrimps)
Large piece of peeled fresh ginger (about 7 cm long; 3 inches))
2 duck marylands (joined leg and thigh pieces)
200 g (7 oz) chicken thigh fillets (with skin on)
1 bunch choy sum (or similar) cut into bite-size pieces
1 medium size duck, tunnel-boned by your butcher or supplier

Master stock Recipe

8 star anise
6 stems shallots
2 cups dark soy sauce
3 cups light soy sauce
3 cups Chinese rice wine (Shaohsing)
2 teaspoons Szechuan pepper (or similar)
2 cm (1 inch) piece of fresh ginger, finely sliced
Method

Make the master stock by adding all the stock ingredients to 2 liters (8 cups) water in a large, deep baking pan, pot or saucepan. Bring the liquid to the boil and then reduce the heat to a brisk simmer. Add the two duck marylands and simmer gently for 80-90 minutes, until the duck is tender. Remove the duck from the stock and set aside to cool. Strain master stock through a sieve. Retain the liquid, but discard the solid. Put the liquid back into the pot or pan.

Remove the bones from the cooked duck marylands. Place in a small bowl and mix with the hoisin sauce.

Next, prepare the pork filling by finely slicing and dicing the pork belly. Place in a small bowl and mix with the salted black beans, 1/4 cup (60 ml) rice wine, 3 cloves of garlic, chopped finely, 2 tablespoons finely diced ginger and white pepper.

Next prepare the choy sum filling, blanch the chopped choy sum by plunging into in boiling salt water for about 30 seconds. Remove from the pan, place in a sieve, and thoroughly squeeze out any excess water from the choy sum. Mix with half a finely diced onion, 1 teaspoon sesame seeds, 2 teaspoons oyster sauce and 1 clove chopped garlic.

Next, prepare the chicken filling by finely slicing and dicing the chicken thighs with skin on, but bones removed. Place the chicken in a small bowl, and mix with 60 ml rice wine, 1 teaspoon sesame seeds, salt, white pepper, 2 stems finely diced shallots, 3 cloves finely chopped garlic and 5 tablespoons of finely grated ginger.

Next, prepare the prawn filling, shell by peeling the prawns, removing the veins and chopping coarsely. Place the prawn meat in a small bowl and mix with 1 cup chopped coriander, white pepper, 1 stem chopped shallot, 3 cloves finely chopped garlic and half a finely diced onion.

Finally, prepare the tunnel-boned duck by tying the neck with string to close the cavity. Then begin to stuff the duck cavity, starting with the pork filling. Following by stuffing with the chicken mix, prawn, choy sum and finish with the duck filling. Stitch the two sides of the duck cavity closed using one or metal skewers, The cavity needs to be securely sealed to retain the filling when cooked.

When the duck has been stuffed and sealed transfer it to master stock in the deep pot. Add more water if required to ensure the stock completely covers the duck. Bring the stock to the boil and then lower the heat and simmer gently, with the lid on for 70-90 minutes (1 1/2 hours), or until the duck and filled is just cooked through. Remove the duck from the stock and allow to drain on a wire rack.

Flatten the duck by covering and pressing down firmly with your hands, to create flat surfaces to be browned by frying.

Add the peanut oil and sesame oil to a large frying pan and heat to medium-high temperature. Carefully add the duck and fry both sides until well browned. When cooked, remove the string and metal skewer and serve immediately.
Chinese Five Treasure Vegetables Recipe
Ingredients

salt to taste
3 tablespoons oil
1 cup fresh bean sprouts
1/2 cup finely chopped onions
1/2 cup par-boiled mushroom, sliced
1/2 cup par-boiled asparagus, sliced
1 tablespoon garlic, finely chopped
1 cup par-boiled small broccoli florets
2 teaspoons fresh ginger, finely chopped
1 cup par-boiled baby corn, diagonally cut
2 teaspoons fresh green chilies, finely chopped

Sauce Ingredients

1/2 cup water
1/2 teaspoons sugar
1 teaspoon soy sauce
2 teaspoons cornflour
4 teaspoons hoisin sauce

Method

Heat the oil in a wok or frying pan and sauté the ginger, garlic and green chilies, briefly. Add the onions and stir fry for 1-2 minutes. Then, add the broccoli, asparagus, baby corn, sliced mushrooms, and bean sprouts. Stir fry over high heat for 2-3 minutes. Lower the heat to moderate and pour in the sauce. Sprinkle with salt and cook over medium heat for about 2 minutes. Serve immediately.