Easy Devilled Eggs - Quick, Easy, Delicious Deviled Egg Recipes
The best ever finger food and part food is devilled eggs. They are just the right size, they look fabulous and are delicious. They can be creamy, tangy, spicy or slightly sweet and the firm white egg forms a lovely container that provides a contrasting texture to the filling.
Deviled eggs are surprisingly easy to make and offer great rewards for the party host. It is easy to prepare a variety to fillings to tempt all of your guests.
The classic version uses the cooked egg white as a shell and is generally made with two types of mustard and served with paprika or other spices.
You can add all sorts of embellishments to finish off your creations from smoked salmon, caviar, crispy bacon pieces, olive slices and jalapeno.

This article provides several proven recipes or making your own fabulous deviled eggs at home.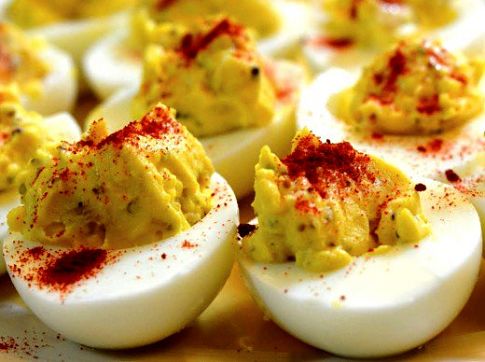 Tangy Deviled Eggs with Mustard and Paprika
1/8 teaspoon salt
1 teaspoon yellow mustard
1 teaspoon white vinegar
1/4 cup mayonnaise
6 eggs
Freshly ground black pepper
Paprika, and caviar (optional) for garnish
Boil the eggs until just hard-boiled. Rinse under cold water for 1 minute to cool. Carefully peel the eggs under cool running water. Dry each egg carefully with a paper towel. Carefully slice the eggs lengthwise into equal halves. Remove the yolks and transfer to a small to medium bowl. Placing the egg whites on a serving platter ready to be filled. using a fork, crush the yolks to form a fine even mixture. Add the vinegar, mayonnaise, mustard, pepper and salt, and mix well. Transfer generous teaspoons of the yolk mixture into the egg whites. Garnish with paprika, caviar or other creative and colorful things and serve.
Four Peppers Deviled Eggs
1/4 teaspoon salt
1 teaspoon Dijon mustard
1/4 cup mayonnaise
1/2 teaspoon caper liquid
1/2 teaspoon whole green peppercorns
1/2 teaspoon whole black peppercorns
1/2 teaspoon whole white peppercorns
1 teaspoon whole pink peppercorns
Pinch sugar
Put all the peppercorns, apart from 1/2 teaspoon of the pink ones, into a spice grinder and process until ground well (or grind with a pestle and mortar). Mash the yolks removed from the hard boiled eggs in a small bowl, and add the peppers, caper liquid, mustard, mayonnaise, salt and sugar and mix well. Using a small plastic bag with one corner cut out or a piping bag, load the mixture into the white egg halves. Garnish with ground pink peppercorns.
Smoky Paprika and Crispy Bacon Deviled Eggs
1/4 cup vegetable oil
1 shallot finely chopped
1 tablespoon of bacon, fried until very crisp and finely chopped
1 1/2 teaspoon smoked paprika
2 tablespoons sundried tomatoes, drained
4 tablespoons mayonnaise
salt and pepper to taste
Finely chop the drained sundried tomatoes and mix with the mashed egg yolks, mayonnaise, smoked paprika, and salt and pepper to taste. Spoon or pipe the mixture into the egg white halves. Garnish each deviled egg with a chopped shallot and bacon pieces
Avocado and Pepper Deviled Eggs
1/8 teaspoon cayenne pepper, or to taste
1/8 teaspoon garlic powder, or 1/4 finely chopped fresh garlic
2 teaspoons freshly squeezed lemon juice
3 tablespoons good quality mayonnaise
1 medium avocado, diced small
Salt and pepper to taste
Mash the yolks using a fork. Add the mayonnaise, diced avocados, cayenne pepper, lemon juice, garlic powder, and salt and pepper to taste. Fill egg whites with yolk mixture and garnish with tiny slices of avocado and chopped parsley.
Deviled Eggs with Ham, Spinach and Parmesan
2 tablespoons grated Parmesan cheese
1 tablespoon light mayonnaise
1 cup fresh spinach or chard, finely chopped
2 slices deli ham, finely chopped (or a bit of leftover roast ham)
1 teaspoon canola oil
Salt and pepper to taste
Heat the oil in a saucepan and using moderate heat fry the ham for a few minutes. Add the spinach and cook while tossing occasionally, until wilted. Set aside to cool. Mash the egg yolks with a fork in a small bowl. Add the mayonnaise, salt and pepper and Parmesan cheese and mix until smooth. Add the ham and spinach mixture and combine. Spoon the filling mixture into the egg halves. Garnish with finely chopped spring onions.
Related Articles about Eggs
=> Vegan Egg Substitutes for Baking, Cooking - Best Egg Replacements - Guide and Tips
=> 10 Facts About Eggs - Myths Cracked
=>Raising Chickens for Eggs, Meat, Gardens, Plus Showing, Family Fun, Education
=> Best Scrambled Eggs Recipes - Tips for Perfect Timing and Fabulous Flavors