Cooking Mussels in Beer, Wine : Recipes for Baking, Grilling, Frying
Mussels are a delicious and fabulous way to get your heart-health boosting omega-3 fatty acids while enjoying the delightful taste and texture of freshly cooked mussels. Most people associate these crucial fatty acids with oily fish such as mackerel, salmon and tuna. But the lowly mussel has about 70 - 80% of the same weight of fish.
You can buy wild or farmed mussels of various species. Look for mussels that are shiny and dark (black or green depending on the species), and plumb heavy for their size. Avoid any mussels that are open. After buying them you can store them in the refrigerator by placing them in a bowl and covering with a damp cloth.
Mussels can be cooked in a huge variety of ways including steaming in water, wine and beer, baked, grilled and roasted on a barbecue, pan-fried or deep-fried. Mussels and other seafood are part of the recommended Mediterranean Diet.
This article describes how to prepare and cook mussels and recipes for each of the cooking methods.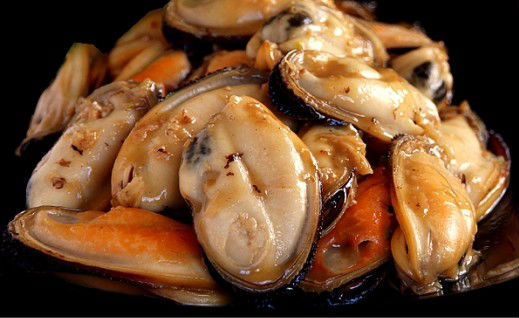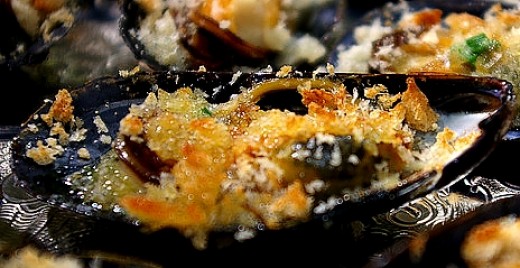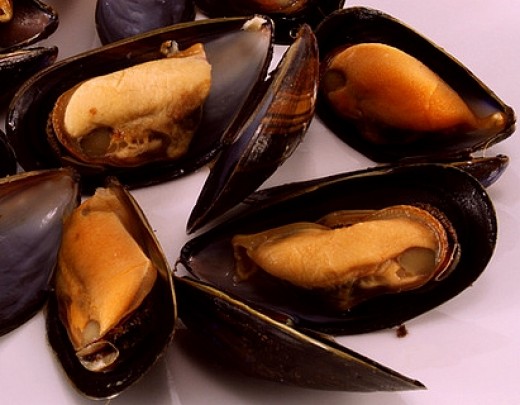 Nutrients in Mussels
A comprehensive table is provided at the end of the article that summaries the main nutrition details for mussels removed from the shells.
Mussels are a health choice with 172 calories, 24 g protein and 4 g of fat in every 100 g of mussel flesh.
Most people would only consume half this amount in a serve. In comparison farmed salmon has 182 calories, 20 g of protein and 6 g of fat. Raw fillet steak has 150 calories, 21g of protein and 8 g of fat.
So mussels have the same amount of protein but less fat than the other two examples.
Mussels are an excellent source of vitamin B12 and of thiamine. They are also rich in many minerals (see the table below which show nutrient levels compared with the daily allowance). A serving of 100g of mussels provides 7 mg of iron, which is about or about 40% percent of the daily value allowance this mineral that helps prevent anemia.
Preparing Mussels for Cooking
Mussels must be thoroughly cleaned and rinsed off once or twice before cooking. Uncleaned wild mussels should be well brushed to remove any sand, grit or barnacles, and their beard must also be removed.
The beard can be removed simply by giving it a strong tug with your fingers and pulling it away. Or it can be cut it off with a sharp knife. Farmed mussels are often cleaned ready for use. Rinse the mussels several times in salty water. Do not let them stand in freshwater as this will kill them.
Steaming the Mussels Open
The cooking process for mussels generally starts by steaming them until they just open. Even at this stage overcooking should be avoided as they will end up tasteless and rubbery. After steaming the mussels open the flesh can be grilled, baked, pan-fried or deep-fried. They can also be added to pasta dishes, salads, stir fries, sauces, soups or stews.
Once the mussels are clean, eliminate any shells that are broken, or are open and do not close when tapped or disturbed. Only a tiny amount of liquid is required when steaming because when they open up they release the liquid inside.
The liquid that remains after steaming makes the start of tasty broth or sauce. Generally you don't need to add salt when steaming or to season the left-over liquid as it is quite salty.
Mussels can be steamed in a wide variety of liquids but the most common are white wine, beer, water or various combinations. The freshly steamed mussels can be served immediately or the flesh can used for a variety of dishes.
Generally about a pound (lb) (450 g) of mussels in shells is usually enough for each person. To steam them place about 1 or 2 cups of white wine or water into a large saucepan, add the mussels and cover the pan. Bring the liquid to the boil and when you see steam being released from the sides of the pan, turn the heat down and gently simmer the mussels until they start to open. This will generally take about 5 minutes. When cooking, shake the pan frequently so that the mussels are mixed and cook evenly. Its best to remove each mussel as it opens. This sounds very tedious, but it is worthwhile, because this makes sure each mussel is removed when its just cooked and avoids overcooking which can make the mussels rubbery. Discard any mussels that have not opened.
Basic Methods for Baking, Barbecueing or Grilling Mussels
Steam the mussels as above, to open the shells and start the cooing process. Discard any mussels that do not open. Preheat the grill, barbecue to a medium high settling, or your oven to 350°F (175°C). Take off the empty shell of each mussel, and place the shells with meat on a baking tray. Pour a tiny stream of olive oil over the mussels, sprinkle them with the garlic and parsley, season to taste with salt and pepper and top them with dry breadcrumbs. Bake in the oven on a moderate setting for about 8 - 10 minutes or until the breadcrumbs are stating to turn brown. If using the grill, or barbecue with a hood the cooking time may be less, watch to see when the breadcrumbs start to brown.
Recipe Ideas
Beer Steamed Mussels

2 pounds (1 g) fresh mussels, scrubbed and bearded
Handful of sliced cabbage (curly variety) or other similar vegetable
Handful fresh Italian parsley, chopped
Juice of 1/2 lime
1 bottle (340 ml) beer (a lighter style beer, such as an ale)
1 red pepper, diced
1 small spicy Italian sausage, chopped
2 teaspoons Dijon mustard
2 cloves garlic, finely sliced
1 large sweet onion, sliced
1/4 cup butter
Coarse freshly cracked pepper and salt to taste
In a large heavy skillet or frying pan, melt the butter over medium high heat. Add garlic, onion and fry until softened and the onion is translucent (about 3 minutes). Add the red pepper and chopped sausage and fry for an additional 5 minutes until the sausage is golden brown. Add the lime juice, beer, mustard and then the mussels. Sprinkle the cabbage over top of mussels. Then cover the pan and steam gently over moderate heat until mussels open (generally about 5 to 7 minutes, but check to avoid over-cooking). Stir in chopped parsley, season with salt and pepper, and serve immediately.

French-Style Wine-Steamed Mussels

2 pounds (1 kg) fresh mussels
2 cloves chopped garlic
3/4 cup white wine
2 chopped scallions or 1 chopped shallot
1 tablespoon unsalted butter

Scrub the mussels and remove the tassel or 'beard'. Heat the butter over moderate heat in a large, broad-based heavy pot, frying pan, such as a Dutch oven. Fry the shallot until it is soft but not colored. Add the chopped garlic cloves, then the white wine (such as chenin blanc or another dry white wine), and heat till the mixture boils. Add the mussels in one layer if possible (so you can check to see when they open). Cover the pot and steam the mussels for about 3 to 8 minutes. Regularly check the mussels to see when they are all just opened. Remove any mussels that did not open in a reasonable time and do not overcook. Serve the whole opened mussels with the broth from the pan and some fresh crusty bread.

Thai- Style Steamed Mussels with Coconut Milk

5 pounds fresh mussels, de-bearded and scrubbed
1 tablespoon white sugar
1 tablespoon Asian fish sauce
1 1/2 tablespoons minced garlic
1 1/2 tablespoons Thai red curry paste
1/3 cup dry white wine
1 can unsweetened coconut milk
1/3 cup fresh lime juice
2 cups chopped fresh cilantro (coriander)

Using a large stock pot or Dutch oven, combine the sugar, fish sauce, garlic, curry paste, wine, coconut milk and lime juice. Stir to dissolve sugar over low heat and to blend in the curry paste and then increase the heat and bring to a boil over high heat. Then add the whole mussels. Place a lid on the pot and cook, stirring regularly, until just about all the mussels are opened. Generally this will take 5 to 8 minutes, but check regularly to avoid over-cooking, When most have opened, discard the remaining unopened ones, and remove the pot from the heat. Pour mussels and liquid into a serving dish and toss with cilantro (coriander).

Barbecued Mussels

1 lb (500g) fresh mussels
dry white wine
olive oil
1 garlic clove
black pepper
fresh parsley, finely chopped
1 small onion, finely chopped

Scrub the mussels thoroughly and remove the beards (tassels). Using a large piece of aluminium cooking foil, position the mussels in the middle. Add the onion, garlic, some parsley, black pepper to taste. Sprinkle with a drizzle of olive oil and some wine. Fold up the foil to make a well sealed packet. Wrap a second layer of foil sheet around the package. Try to ensure the moisture is kept within the package so that the mussels will steam. Put the foil package on the barbecue above the hot coals and close the lid. Grill for about 8 to 10 minutes when the mussels should have opened, if not reseal the package and leave for another two minutes. Remove the mussels from the package and discard any mussels that did not open. Retain the liquid in the package to pour over the mussels (with or without the shells).

Grilled Mussels with White Wine Sauce

2 pounds (1 kg) mussels
1/3 cup coarsely chopped fresh parsley
1/8 teaspoon freshly ground black pepper
1/8 teaspoon salt
2 garlic cloves, minced
1/2 teaspoon dried red pepper or chilli
1/4 teaspoon hot sauce
1 cup dry white wine
6 tablespoons butter or margarine, melted $
1/2 cup fresh lemon juice, divided

Scrub the mussels and remove the beards. Discard any mussels that are open or cracked. mussels. Add the mussels to a large bowl and sprinkle with 2 tablespoons of lemon juice, salt and pepper, then add the remaining ingredients. Place mussels in a grill basket or heavy pan. Grill, with the lid on, over high heat for about 8 - 10 minutes or until shells open. Drizzle a little extra lemon juice over the mussels, sprinkle with parsley and serve.

Mussel Paella Recipe

1 lb (500g) fresh mussels
150g fresh or frozen peas
200g raw peeled prawn tails
500ml hot chicken or fish stock
Large pinch saffron strands
250ml white wine
1 1/2 teaspoon smoked paprika
300g Paella Rice
1 pepper, de-seeded and chopped
2 cloves garlic, crushed
1 large onion, finely chopped
1 tablespoon peanut oil

Place the mussels in a colander or sieve, brush and rinse under cold running water, removing any dirt and pulling off the beard. Discard any mussels that are open and do not close when tapped firmly. In a large wok or frying pan heat the oil and sauté the onion for about 4-5 minutes until translucent and starting to soften. Add the peppers and garlic and cook for an additional 2-3 minutes. Add the paprika and rice, and cook for 1 to 2 minutes, stirring constantly, to cover the surface of the grains with oil. Add the wine and cook for an extra 1-2 minutes, and then add the stock and saffron. Mix the contents well, reduce the heat and then simmer for about 10 minutes, stirring regularly. Next add the peas, cleaned mussels prawns. Seasoning with pepper and add a little more stock or water, if there is not enough liquid to make steam. Cover with a lid or foil and cook over moderate heat for about an additional 10 minutes. Check that the prawns are cooked and that the mussels have opened (remove any mussels that remain closed). Sprinkle with lemon juice and serve with crusty bread.
Nutrients in Mussels
Source: USDA National Nutrient Database (Adapted)
| Nutrients- Green Mussels | Units | US Daily Value | For 100g serving | % Daily Value |
| --- | --- | --- | --- | --- |
| Calories | Cal (kcal) | 2000 | 172 | 9% |
| Protein | g | 50 | 23.8 | 48% |
| Total Fat | g | 65 | 4.48 | 7% |
| Carbohydrale | g | 300 | 7.39 | 2% |
| Dietary Fiber | g | 25 | 0 | na |
| Calcium | mg | 1000 | 33 | 3% |
| Cholesterol | mg | 300 | 56 | 19% |
| Copper | mg | 2 | 0.149 | 7% |
| Folate | micro g | 400 | 76 | 19% |
| Iron | mg | 18 | 6.72 | 37% |
| Magnesium | mg | 400 | 37 | 9% |
| Manganese | mg | 2 | 6.8 | 340% |
| Monounsaturated Fat | g | na | 1.014 | na |
| Niacin | mg | 20 | 3 | 15% |
| Pantothenic acid | mg | 10 | 0.95 | 10% |
| Phosphorus | mg | 1000 | 285 | 29% |
| Polyunsaturated Fat | g | na | 1.212 | na |
| Potassium | mg | 3500 | 268 | 8% |
| Riboflavin | mg | 1.7 | 0.42 | 25% |
| Saturated Fat | g | 20 | 0.85 | 4% |
| Selenium | micro g | 70 | 89.6 | 128% |
| Sodium | mg | 2400 | 369 | 15% |
| Thiamin | mg | 1.5 | 0.3 | 20% |
| Vitamin A | IU | 5000 | 304 | 6% |
| Vitamin B-12 | micro g | 6 | 24 | 400% |
| Vitamin B-6 | mg | 2 | 0.1 | 5% |
| Vitamin C | mg | 60 | 13.6 | 23% |
| Zinc | mg | 15 | 2.67 | 18% |