Corn Fritters Recipe Simple and Easy to Make with Roasted Spicy Salsa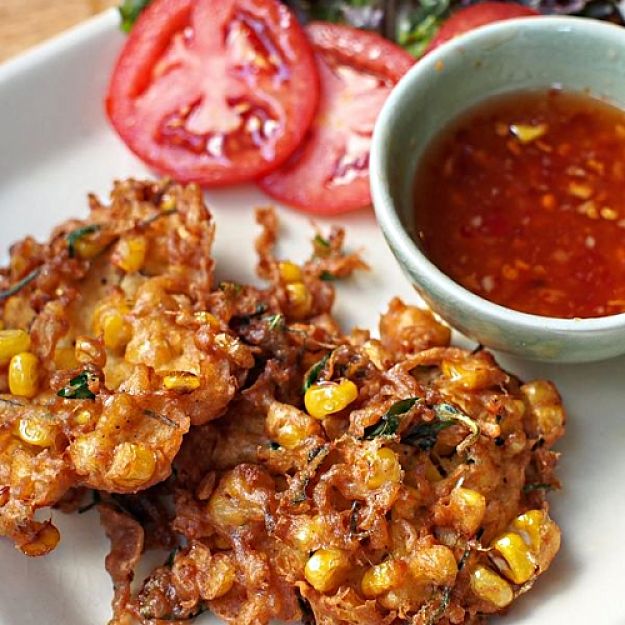 Delicious Homemade Corn Fritters with fresh baked tomato salsa
Takeaway [CC-BY-SA-3.0], via Wikimedia Commons
Corn fritters are a delightful treat for breakfast, lunch, dinner or as a savory snack any time. the kernel add unique texture to this favorite dish. The traditional ingredients include corn kernels (fresh, frozen or canned), milk, eggs, flour and melted butter. They are generally shallow fried, grilled, barbecued or baked. The following recipe is simple and easy to follow and includes a tangy Zucchini salsa sauce recipe.


Ingredients
1 egg
1/2 teaspoon sea salt
1/2 teaspoon ground cumin
1/4 teaspoon baking powder
1 cup general purpose flour
2 tablespoons fresh lime juice
1 1/2 cups diced fresh zucchini
1/2 cup chopped cilantro (coriander)
1 medium red onion, diced with pieces separated
2 cups corn kernels (fresh or thawed if frozen)
1 1/2 cups cherry tomatoes, cut in half if large
3 large cloves garlic, crushed or finely chopped
1 jalapeno chile, with seeds removed and finely diced
1 1/2 tablespoons rice bran oil of extra-virgin olive oil
Cooking spray oil
Pre-Heat the oven to 400 degrees F (200 degrees C). Mix the zucchini, tomatoes, half of the onion, garlic, 1/4 teaspoon salt, jalapeno chile with the oil in a small pan and toss to coat. Spread the mixture out on a baking sheet sprayed with cooking spray or greased with butter. Roast the ingredients turning once. Cook until the zucchinis and tomatoes are light brown (generally about 20-25 minutes). Remove from the oven and transfer to a serving dish. Add 1 tablespoon juice and 1/4 cup cilantro and mix well while still hot. Set aside to cool.
In a second bowl, combine the flour, baking powder, cumin and 1/4 teaspoon salt. Then add an egg, 1/2 cup water and 1 tablespoon juice. Mix well until smooth. Next add the corn kernels and the remaining half of the onions and 1/4 cup of cilantro. Heat a large frying pan over moderate heat and spray with cooking spray or add a little rice bran oil. Let the frying pan get quite hot. Take 1/4 cup portions of the corn mixture and shape into a disk shaped patty. Repeat the process with the rest of the mixture to make about 12 patties. Cook the patties, three at a time in the pan adding extra cooking spray as needed. Cook until brown on each side, turning once (generally takes about 5 - 8 minutes for each side).
Place the patties on serving plates and add a serving of salsa to one side.